---
Sarah Moule
-

Cores End United Reform Church, Bourne End, 19/9/2016
published: 8 / 2 / 2017
---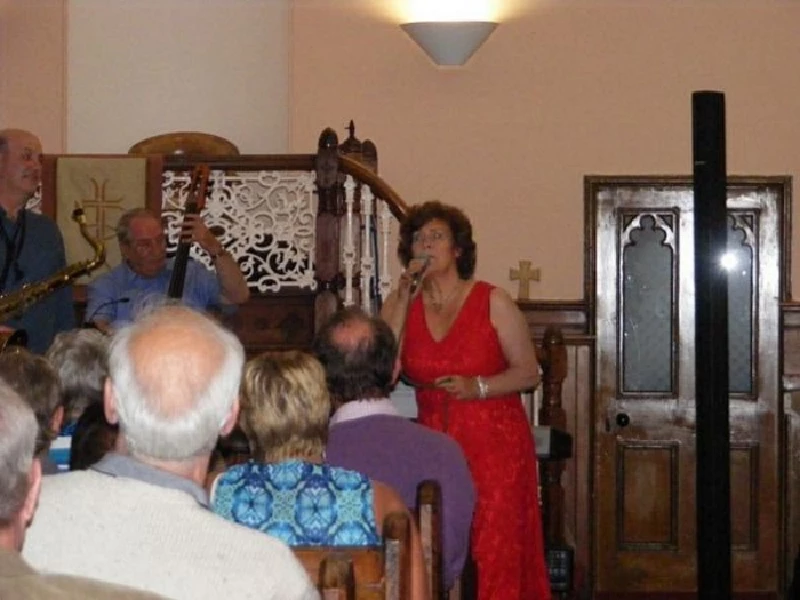 intro
Owen Peters, exploring another church in search of great jazz, finds that Sarah Moule and a band of local musicians don't disappoint
Over recent years I seem to spend more time in church than in my local pub. That's in line with most of the population, it has to be said, but not as a Sunday attendee. The reason for my non-sabbatical attendance is music. I thought I'd begin on a confessional tone. The use of churches and cathedrals of all denominations has become an ever-growing trend for artists and promoters when selecting gig venues for forthcoming tours. These respected, iconic institutions have become more than buildings passed by without a thought, as part of our daily routines. They have become buildings where the devil's music can be heard, and in most cases enjoyed. One of the more humorous religious faux pas's I've witnessed was at the Union Chapel in London. A certain Americana dude was clearly relaxed by the liquid refreshment he was partaking whilst on stage. Looking up to the chapel's ceiling, he announced: "Man, this place is fucking awesome." Putting his hand to his mouth, as in realisation of his utterance, he followed it up with, "Fuck, I don't think I'm allowed to swear in here. I mean, shit." I'm sure St. Peter was smiling. On a cold Saturday night, I once again joined the local brethren. I take my place on the wooden pews of Cores End United Reformed Church in the leafy (in summer) village of Bourne End, nestled between the local towns of High Wycombe and Maidenhead. Tonight is a jazz concert headlined by the acclaimed singer Sarah Moule, along with, as the programme notes state…"some of the best local jazz men around today". The last time I saw Sarah Moule perform was at the Stables in Wavendon on the outskirts of Milton Keynes. She was elegantly attired in evening dress, accompanied by her husband Simon Wallace on piano, not to be outdone in his dapper evening suit and crisp, white shirt. If that show was more akin to black tie and champagne, this evening is cardigans, tea and homemade cakes. The church setting is small, cosy, comfortable and relaxed, with dress code erring to casual and wrap up warm. Tonight Mark Aston on saxophone is compere and band leader, welcoming the small thermally wrapped audience. He is accompanied by John Coverdale (guitar), Nigel Fox (keyboards), John Monney (stick bass) and Mike Jeffries on drums. The band open the show with a couple of Duke Ellington numbers: 'Don't Get Around Much Anymore' and 'Take the A Train'. Moule steps up to the microphone, having shed her cardigan. With Nigel Fox on keyboards, she offers a wonderful rendition of 'Prelude to a Kiss'. In just one song she demonstrates why she has established a reputation as one of the country's leading jazz vocal talents. The band are clearly having fun when they mash up the 1944 classic, 'You're Nobody 'til Somebody Loves You" made popular by Dexter Gordon. The Frank Loesser composition 'If I were a Bell' from the 1950 musical 'Guys and Dolls' has been covered by many jazz greats: Miles Davis and Stacey Kent quickly come to mind. Moule's stylish version brings a freshness to the song due to her timing and phrasing. A cardigan replacement is required whilst John Coverdale takes a solo slot with the 1941 Lane/Freed composition 'How about You?' Coverdale's electric guitar chords stir up memories of Julie London's spine tingling version of 'Cry Me a River'. He takes a well-deserved and enthusiastic round of applause from the appreciative crowd. Next we are back to Duke Ellington with 'Cotton Tail', a tune from 1940. Although the tune is based on varied rhythm changes the band swings it with touches of New Orleans blues and ragtime. Who said it was cold? Moule and the band close the first half with the Ella Fitzgerald classic, 'That Old Black Magic'. They offer a swing version which works really well, with Moule's pitch and range spot on. During the break, I catch up with tonight's concert organiser Geoff Cronin. He tells me, "On the whole, I'm pleased with the size of tonight's audience. One can never tell with jazz who has seen the adverts, etc. Most jazz people don't seem to like prebooking tickets, which leaves the organiser with no feeling of safety! Jazz is a spontaneous kind of music, and I suppose the audience is therefore made up of a more spontaneous kind of person." "Another factor is the age range of people who like jazz. It's more on the mature side, certainly in this area I would say! If younger people became more exposed to jazz, then they would find jazz performed live so much more interesting than they might imagine. Lots of young musicians are coming out of the colleges and universities, but because of the small number of venues to play in, they can't get to play and get paid enough to live on." Cronin has been associated with the local Hedsor Jazz Club for over a decade, which has built up a regular and enthusiastic following. "We struggle to pay the musicians enough, but most guest musicians like to come and play jazz at Hedsor because they can. Because you are always running with poor financial backing, you can hardly ever pay for advertising, which makes it all a vicious circle. As an organiser, I have often lost money." Which begs the question, what is the motivation to continue? His wry smile confirms he's been asked this before. "I carry on because I want people to actually hear live jazz. Like Duke Ellington, I think jazz should swing. I think within the improvisation there should be some tune. If people can identify with what they hear, you can usually see them smile, which is great. Jazz is both art and entertainment." Band and audience collectively refreshed with tea, wine and nibbles, they set off again with the popular jazz standard 'Just Friends'. Clearly this is a set of musicians who have played professionally and for fun over the years. They sound good with a limited amount of practice time for this particular gig. When it came to their solo slots, they excelled. No more than the keyboards of Nigel Fox on his rendition of Leonard Bernstein's, 'Some other Time'. They bring proceedings a little more up to date with Van Morrison's 'Moondance', Mark Aston taking centre stage on clarinet. His rendition of Dave Brubeck's 'Take Five' was "interesting" as he struggled with sticky clarinet pads! Moule closed off the show with two Ella Fitzgerald classics: 'Where and When' and 'Cheek to Cheek' from the 1935 film 'Top Hat'. For once, I'm pleased Fred Astaire and Ginger Rogers didn't dominate proceedings. One of the pleasures of attending small concerts like this is the ability to appreciate an artist's talent up close. Sarah Moule is on top of her game, it's a sheer pleasure to watch and hear note perfect phrasing throughout the evening (with or without cardigan). Yes, the programme notes were right, she was backed by some of the best local jazz men around today. There is a nice touch at the end with a prayer and blessing offered by the church minister. Now you don't get that at Ronnie Scott's. Mainstream jazz programmes on various radio stations are viewed by many to be scheduled either too late in the day, or plonked in a badly selected noon slot. Unless you have a recording device, or access to iPlayer radio, many programmes can be difficult to capture. Last year we had two films featuring the jazz greats, Miles Davis ('Miles Ahead') and Chet Baker ('Born to Be Blue') at multiplex screens across the UK. Whilst the films reminded, rekindled or introduced jazz to mass audiences, nothing really compares with a live set. So when a church, a passionate jazz sponsor, a leading jazz vocalist and local musicians come together, what do you get? Answer: A concert to remember, one which will bring warmth and smiles throughout those long winter nights.
Band Links:-
http://www.sarahmoule.net/
https://www.facebook.com/sarah.moule1
https://twitter.com/sarahmoule1
http://jazzfromgeoff.blogspot.co.uk/
Picture Gallery:-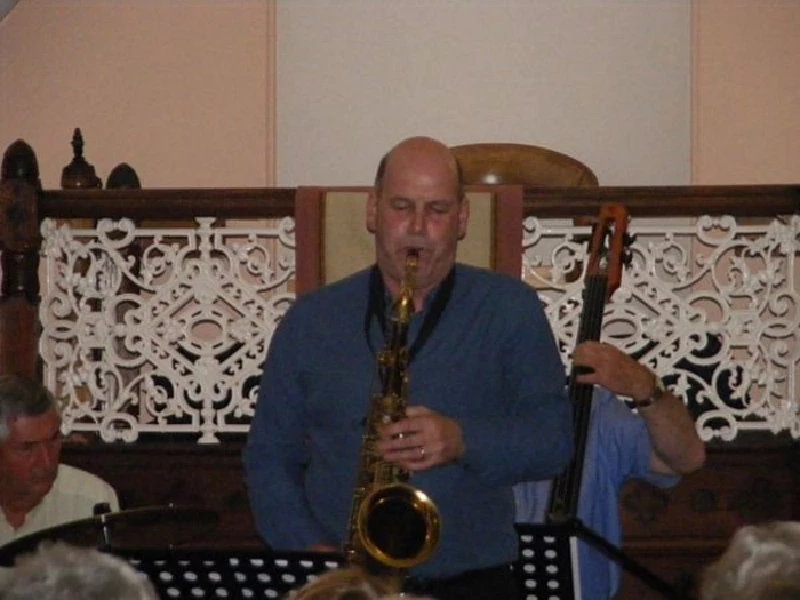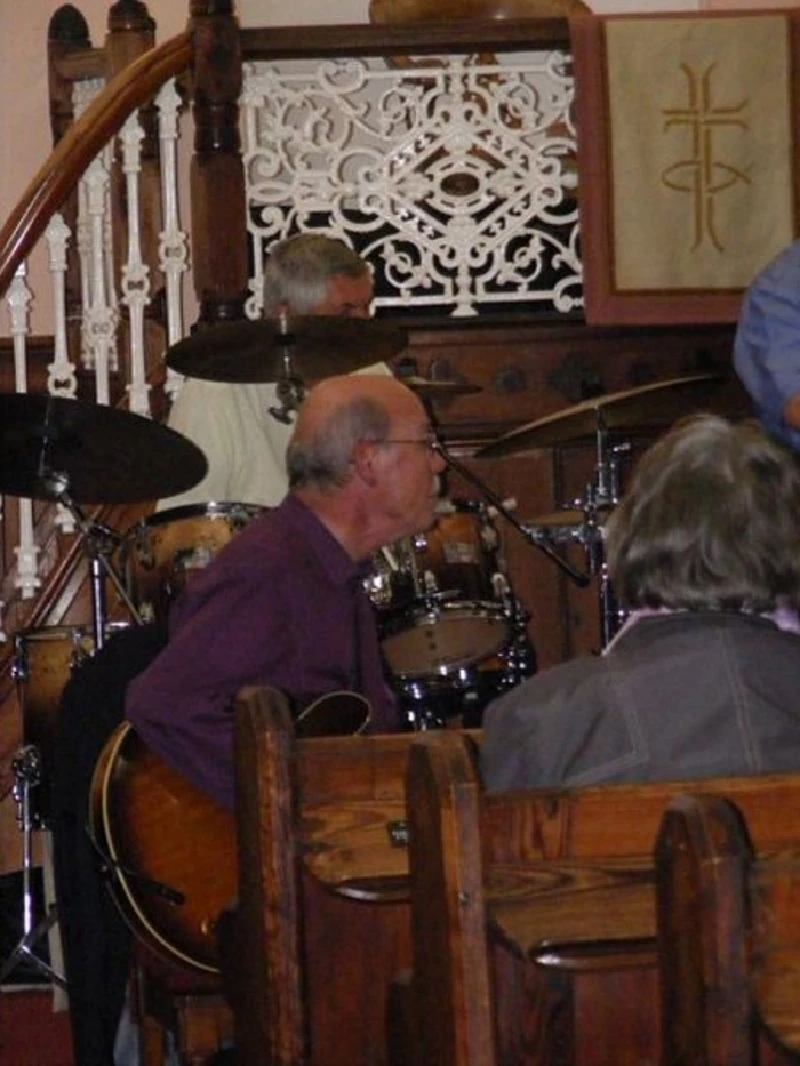 Visitor Comments:-
817

Posted By: Martin Ashford, Marlow, Bucks on 08 Feb 2017
Owen Peters obviously likes hearing music in churches, so check out www.musicinmarlow.org.uk for another venue just down the road from Cores End. Next jazz night will be on 21st March with the timeless Marlene VerPlanck and a top-notch band. Keeping music live and local!
---
Pennyblackmusic Regular Contributors
---