---
Manic Street Preachers
-

(Gig of a Lifetime) Millennium Stadium, Cardiff, December 1999
published: 8 / 12 / 2014
---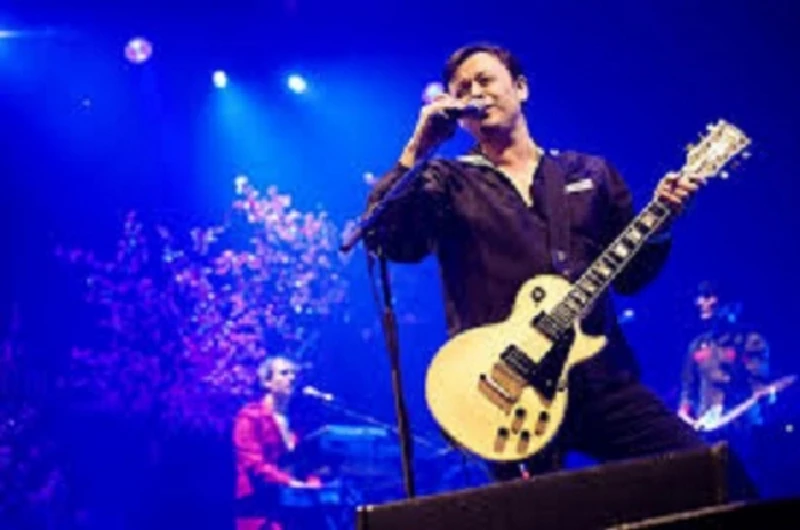 intro
In 'Gig of a Lifetime' Mary O'Meara reflects on the Manic Street Preachers' infamous New Year's Eve gig in 1999 at the then just opened Millennium Stadium in Cardiff
When I challenged myself to come up with a gig that fitted the descriptor "gig of a lifetime" it didn't take long for this one to show up in my memory bank. Strange, in a way, as the majority of gigs I consider really special tend to be the intimate ones in venues small in size but big on atmosphere. At the time of this epic gig in Cardiff I was still running the Manic Street Preachers' fanzine, 'Terrible Beauty'. The media had been hyping up the turn of the millennium for months and apocalyptic rumours were streaming through our collective consciousness, psyching the nation up to expect something monumental to happen on that night. I would argue that for me it did but it was nothing to do with the hype, it was simply a reminder of the power of music and the human spirit, companionship, love and peace and how that can be felt even in somewhere as cold and stark as a stadium. The landscape had slightly altered – London had a disintegrating dome, a non-rotating wheel and Cardiff had a new stadium. You could glimpse bits of it from many corners of the city – there was nothing especially beautiful about dome or stadium to my eyes but that night the stadium was the only place to be as it was where 58,000 people had travelled to ring in the new year with the Manic Street Preachers. We got to Cardiff around lunch time, and a strange atmosphere had descended on the streets which seemed to intensify as dusk descended and the new millennium inched closer. Far from the eruption of manic, pre-millennium tension or the familiar shape of violence or even high spirits you'd witness on a normal Friday or Saturday night, the mood on Queen's Street and all around the Castle was a peculiar calm. People seemed in a kind of subdued trance, and it felt as though the spell would only be broken when the clock struck twelve. Once inside the enormous stadium, we took our place where we could see stage and screen. The first thing to do was get the drinks in. Our attempt to queue at the bar was aborted after a twenty minute wait as Patrick Jones' set began. The night progressed quickly with Shack and Feeder keeping us entertained. Super Furry Animals took to the stage while I was at the food bar (the alcohol one being just impossible), and hearing 'God Show Me Magic' and not being able to dance/leap about because I was holding hot coffee with no lids was frustrating to say the least. As the time drew close for the Manics I was giddy with excitement. Suddenly they were on the stage and any other concerns faded from view. We hugged, sang, jumped, laughed and yes, cried – it just made so much sense. Nicky Wire alluded to Fatboy Slim's gig which was also happening in town that night: "Three people watching a guy playing records! Why would anyone want to be there - when you could be here? With us!" he beamed. He also spoke about the necessity of knocking whoever the current boy band were from the top of the charts by buying their new single 'Masses Against the Classes' when it came out the following week. This was still an era when the charts meant something and there was some kind of victory in doing such a thing. The Manic Street Preachers were, are and hopefully always will be a voice of opposition against apathy and blandness. James Dean Bradfield's eloquent showman style introductions to the band never fail to amuse; Nick was described as having "swimming pool blue eyes" and his cousin Sean Moore he modestly suggested had got the better deal with the gene pool in his family. They departed shortly before the midnight hour leaving us with what I seem to remember as the Eiffel tower in flames on the screen. A sequence of other global visitations followed as the countdown ended and fireworks exploded. The screens all flashed the message HAPPY NEW YEAR bilingually (in Welsh & English). Many of my new years have been spent in Waterford, Ireland where at midnight everybody comes out of their houses onto the streets to wish their neighbours a happy new year whilst the boats on the quay blow their foghorns, and, of course, we all tend to be at least slightly intoxicated. This was the first completely sober new year I can remember in about fifteen years, and this was a good thing. It made everything more real, more poignant. We were leaving so much behind but there's was so much to carry with us too. 'Let it Be' by the Beatles was the first track of the new millennium, and, as it kissed goodbye the old and welcomed in the new, I can't think of a better choice. I felt something really spiritual standing there in that rugby stadium which I never expected to feel and I don't care how corny it sounds. I also felt as if anything was possible. That's still my favourite feeling. James returned shouting new year's greetings and then launched into 'Can't Take My Eyes Off You' – another excellent choice as you couldn't help but get caught up in the weird mix of buoyancy and wistfulness with which he delivers it. Before 'Design for Life' we were told we were going live globally on BBC and James attempted to count down from 10 to 1, beginning much too quickly and then having to pause between the lower numbers. The atmosphere when "we" went live is a complete frenzy. For several minutes a sea of golden cheer just seemed to glide over the entire crowd. I remember leaving the stadium with 'Pretty Vacant' playing. We were in a new century, it wasn't cold and people were remarkably calm and well-behaved just as they'd been earlier. We went for a drink, then a walkaround, jeering at the ice rink where Fatboy Slim was still playing his records to possibly more than three people. Finally we drove back to a friend's place in the valleys where we watched the Eiffel Tower illuminating, the Thames failing to ignite and enthusiastic Scottish people getting off their heads, the Queen, Blair, New York and all that all over again. I closed my eyes at around 5 a.m.
Band Links:-
https://www.manicstreetpreachers.com/
https://www.facebook.com/manicstreetpreachers/
https://twitter.com/Manics
https://en.wikipedia.org/wiki/Manic_Street_Preachers
Picture Gallery:-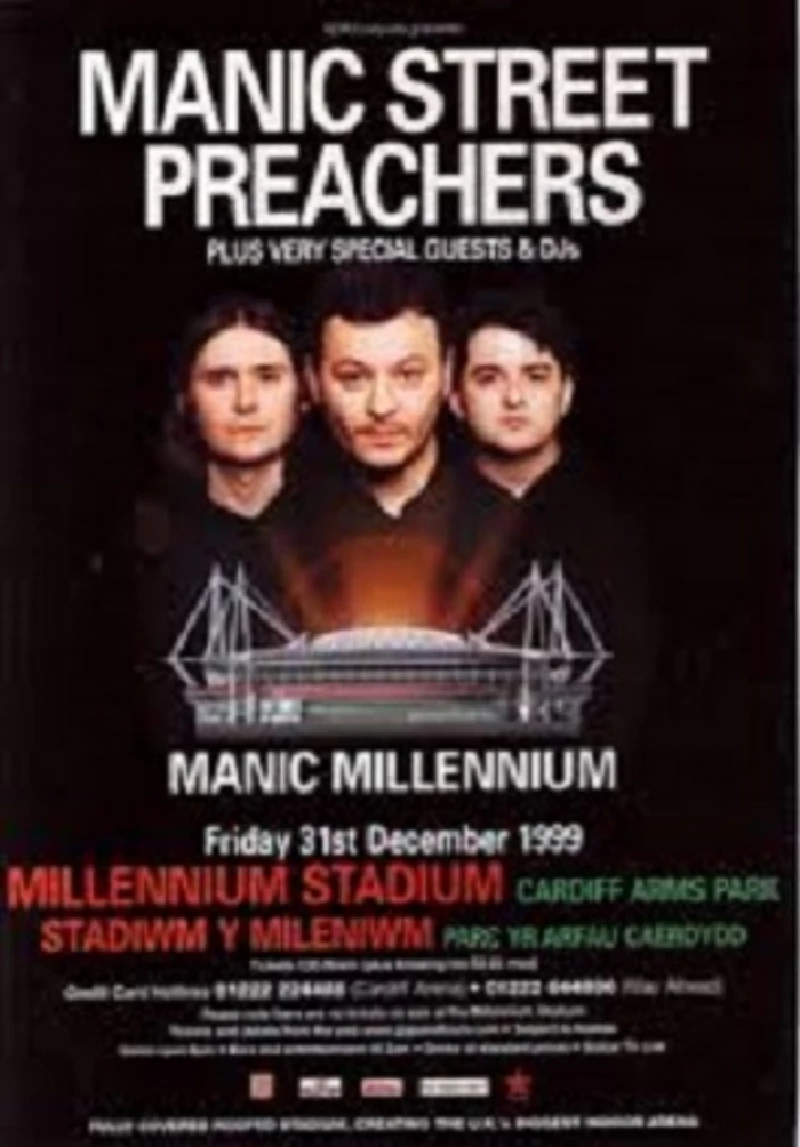 favourite album
---
Send Away the Tigers (2017)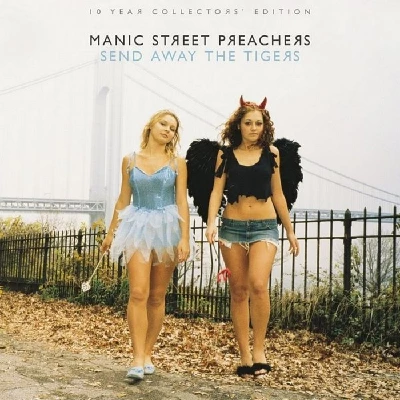 In our 'Re: View' section, in which our writers examine albums from the past, Ben Howarth reflects on the Manic Street Preachers' 2007 album 'Send Away The Tigers', which has just been re-released in an expanded tenth anniversary edition
Everything Must Go (2016)
photography
---
Photoscapes (2019)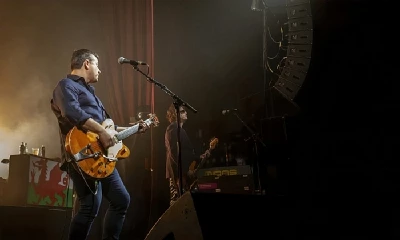 Andrew Twambley photographs the Manic Street Preachers at the first of two gigs at the Manchester Ritz as part of a UK tour to celebrate the 20th Anniversary of their 1998 sixth album , 'This Is My Truth Tell Me Yours'.
reviews
---
Lifeblood (2004)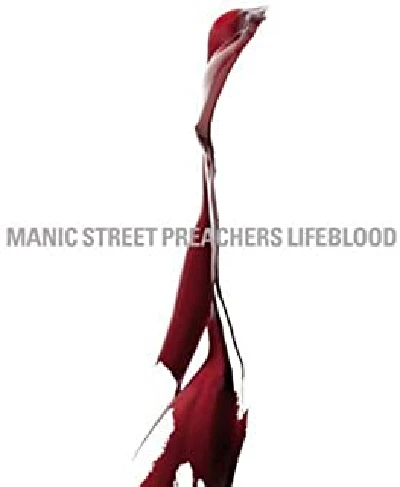 Welcome return from the Manic Street Preachers, whose seventh album proves to be their best since 1996's 'Everything Must Go'
Pennyblackmusic Regular Contributors
---