---
published: 25 / 5 / 2013
---
intro
Dave Goodwin chats to ex-Ultravox! front man John Foxx about his career, recent tour in support of Orchestral Manoeuvres in the Dark and his present band, John Foxx and the Maths
John Foxx is one of those characters that you might have not heard of for a while or may be aware of without really knowing who he is. Foxx was the original lead singer in Ultravox! , and has since has had a lengthy solo career. Like me, if you grew up around that that time, you may have bought copies of his first two solo albums, 1980's 'Metamatic' and 1981's brilliant 'The Garden'. But there is a whole world of things not widely known about Foxx who gave us, along with producer Conny Plank, Ultravox!'s highly influential third album, 'Systems of Romance'. Born in Chorley, Lancashire, John Foxx experimented with tape recorders and synthesisers while on a scholarship at the Royal College of Art in London, and created his first band Woolly Fish in the early seventies, before eventually becoming involved in the group Tiger Lily with Canadian drummer Warren Cann and violinist Billy Currie. Tiger Lily eventually mutated into Ultravox!, and went on to release three albums, which as well as 1978's 'System of Romance', also included the self-titled 'Ultravox!' and 'Ha! Ha! Ha!', both of which came out in 1977. After an amicable parting, Foxx moved from Island to Virgin Records, and hit the charts in 1980 with his first two solo singles, 'Underpass' and 'No-One Driving' which nowadays are signature tunes to the man's work. He also set up his own recording studio in Shoreditch in London where he produced and recorded artists such as Depeche Mode, British Electric Foundation, Brian Eno, Trevor Horn, Bronski Beat, the Cure, Nick Cave and the Bad Seeds, Tina Turner, Siouxsie and the Banshees and Tuxedomoon. After releasing the album 'In Mysterious Ways' in 1985, it seemed to many of us that he had disappeared from the spotlight for good. Becoming disillusioned with the music business, he sold his recording studio and returned to his earlier career as a graphic artist, working under his original name of Dennis Leigh. Coming out of the other side, he made a return to the music scene in 1997, releasing two albums that year, 'Shifting City' (with Manchester musician Louis Gordon) and 'Cathedral Oceans'. He also played his first public gig since 1982 at The Astoria in London. Since then his musical output has been phenomenal and he has been involved in all sorts of projects. In 2009 he began his current musical project John Foxx and the Maths with collaborator Benge, which is the moniker of London-based producer and musician Ben Edwards. John Foxx and the Maths have now released three albums, 'Interplay' (2011), 'the Shape of Things' (2012) and 'Evidence' (2013). John Foxx and the Maths were on the road in April and May as the support act for Orchestral Manoeuvres in the Dark on their 'English Electric' tour. Pennyblackmusic caught up with John Foxx then to ask him some questions… PB: You parted company with Ultravox at the end of what was to be the final US tour for you. Was it due to Island Records dropping the band or was there another catalyst for the split? JF: Oh, Island was irrelevant. They never understood what we were about, so it was actually a great relief to get away. It was much earlier, during the rehearsals for the 'Systems of Romance' album, that I'd finally decided to leave the band in order to get on with making electronic music. I remember being impatient and frustrated at that point. Drum machines and synths were still largely unexplored. I felt this was going to be the future and wanted to get on with it as soon as possible. You couldn't ask a band to sit around and wait until you'd done something so risky – especially since it only had a tiny chance of succeeding. I had to wait until we'd finished all the touring commitments for 'Systems', then immediately after the final gig, I let the band know. I caught the plane back to London and switched on the drum machine. I'd long realised I wasn't interested in any sort of rock' n roll lifestyle – it just got in the way of what I wanted to explore. It also drained me emotionally –personal inadequacy in the face of all that stuff. Just being on stage somehow drains me psychically. I need to go in for repairs after any sort of tour. Unbearable; I was a painter before forming the band and very used to working in any sort of studio, but hadn't bargained for the psychic wrench of stage and touring. Sheer dislocation; it almost killed me. PB: I bought a vinyl copy of 'The Garden' when it came out in 1981, and was amazed at the difference in style to your first solo album, 'Metamatic'. Why do you think there was such a change in style between those first two solo albums? Was this because you went back to using a full band or guitarist Robin Simon's influence or just something else? JF: I was simply retrieving some of the territory I'd left behind from 'Systems'. I wrote those songs and wanted to continue on from there, after I'd got 'Metamatic' out of the way. There was a lot of unfinished business – for instance, I'd begun the song 'Systems of Romance' for that album but hadn't managed to finish it in time, plus there were lots of other songs in various stages of completion. I also wanted to work with Robin again. I always felt he was a pivotal part of that sound. His guitar work was – and still is – astonishing. PB: Shortly after 'In Mysterious Ways' in 1985 you withdrew from music. What frustrated you enough to give up the music? Was it that frustration that led you to selling your recording studio? JF: The mid to late 80's was an era of crap and I didn't even like what I was doing, so I went off and did some visual art. After all, that's where I started and it's where I'll finish. I'm an art rocker by default really. It all seemed to work out very well, and left me with a little self- respect. PB: What was it about the acid house movement that reignited your passion for music again? JF: Oh, it was just wonderful – an underground scene again, after all that awful pap. Raw synths and drum machines: Wow; Ouch; Wowch … modern art for the dance floor and a whole new universe of organic machine joy; irresistible. PB: You collaborated with Bomb the Bass's Tim Simenon on the project Nation 12 in the late 1980s. How did that come about? JF: He came round to see if we could collaborate – he wanted to go electronic. It turned out Burning Car was one of the first singles he'd bought when he was a kid. Lovely guy. PB: 'Nation 12' was recorded around 89/90 and finally released under another name and as 'Electrofear' in 2005. Why did it take so long to hit the streets and why the name change? JF: Problems with the indie record company; lots of silly stories; we both had to bail out. Shame, really – at the time, that music was way ahead – electro-psychedelia before anyone else had even woken up. PB: You took a fifteen year gap from touring before returning with a show at the Astoria in 1997. Why did you decide to return when you did? JF: It felt right. No-one was even interested - and that's always a good time to sneak in under the radar. PB: I saw you live recently at OMD's show in Nottingham on their 'English Electric' tour, and I thought you were just fantastic. You seemed to be a bit nervous at the start but when the crowd responded you started to smile. Do you get nervous performing live? JF: Thanks – it was fun. Yes –it is easy to get nervous until you get the crowd reaction. You feel alone in the universe. No gravity; c rippled ship and no maps. Then that wave hits and its okay. PB: It looked like [to me anyway] that you were really enjoying this collaboration with the Maths? You seem very comfortable with this band. Is this format here to stay? Can we expect more John Foxx and the Maths? JF: Yes to all that. Best band I've ever worked with. Hannah (Peel, multi-instrumentalist and Foxx's co-vocalist-Ed) is John Cale and Nico rolled into one, and Benge is the new Conny Plank. PB: 'Evidence' is a brilliant piece of music. Some have said this is your best work to date. Would you agree and you have particular highlight or favourite track on it? JF: I like lots of what we've done – getting Hannah to play – she has a mass of possibilities and we certainly need to explore all that much more; plus all the collaborations – Tara, Soft Moon, Matthew Dear, Xeno & Oaklander. At the moment Gazelle Twin is especially intriguing. She's astounding. PB: Was it yours or Benge's idea to collaborate together? JF: It was all nicely coincidental – our records were reviewed in the same issue of a magazine, and we both thought "That sounds interesting." I think I rang him first. Then I went down to see the studio. It's all a bit inter-dimensional – he's got synths that haven't been invented yet. Plus it was just round the corner from my previous place in Shoreditch, so we decided to see what would happen if we did some recording there. That was a couple of years ago and there's still a lot to do. PB: Each piece of your photography/artwork has to me its own distinct time to it. It is as if one piece were created in one century and another in another if you can understand that. Is that what you aim for? JF: I guess the phases are distinct – but they also overlap – 'The Quiet Man' walks into 'Cathedral Oceans' at one point, for instance. Then in comes 'Karborn' with some magnificent electro-movies, and Jonathan Barnbrook with an entire new universe of shapes for the Maths – plus an enlarged world for 'Metamatic'. I tell you, collaboration is a wonderful thing. PB: 'Shifting City' is a brilliant piece of work. What was the inspiration for 'Tower Bridge Angel', the photograph which you took which appears on that album. Is that you in it looking at the bridge? JF: It's actually an artist friend of mine –Jeremy Gardiner - he's wearing the old grey suit. I guess I was 'The Quiet Man' many years ago - but now he's got a life of his own. PB: Thank you.
Band Links:-
https://www.facebook.com/johnfoxxmetamatic/
http://www.metamatic.com/news.shtml
interviews
---
Interview (2017)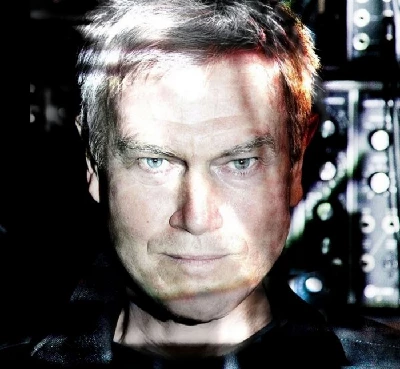 John Foxx and the Maths recently released a new album, 'The Machine', inspired by an E.M.Forster short story and accompanying stage production. Keith How speaks to him about the inspiration behind the music and also gets a glimpse into his current thinking.
favourite album
---
Metamatic (2018)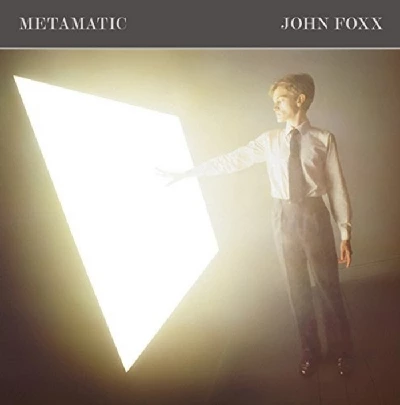 In our Re: View section, in which our writers reflect on albums from the past, keith How reflects on 'Metamatic', electronic music pioneer John Foxx's 1980 groundbreaking solo debut album after leaving Ultravox, which has just been re-released in a three CD deluxe edition.
reviews
---
The Complete Cathedral Oceans (2016)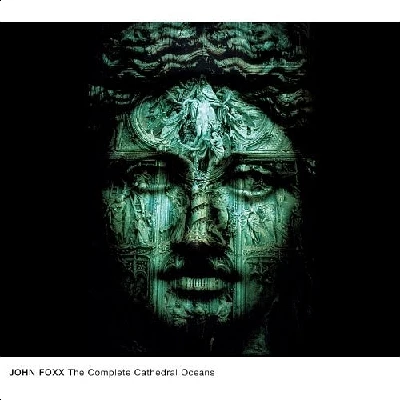 Brilliant limited edition five record vinyl box set of all three of former Ultravox! frontman and electronica pioneer John Foxx's influential 'Cathedral Oceans' albums
Pennyblackmusic Regular Contributors
---