---
Outsiders
-

Interview with Bob Lawrence
published: 7 / 4 / 2021
---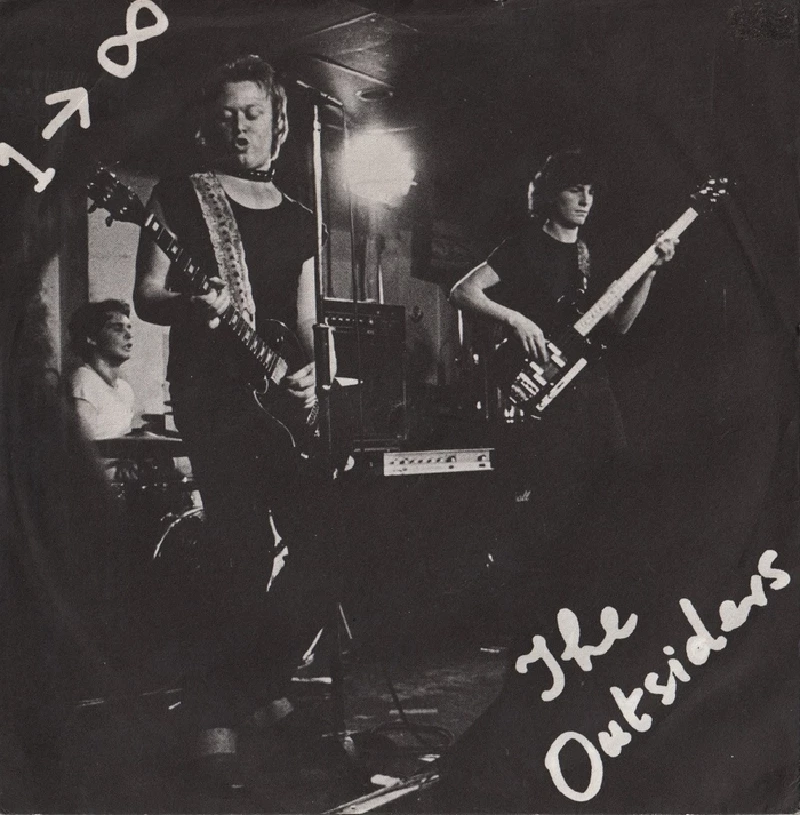 intro
Bassist Bob Lawrence, in the second of two interviews with 70's group the Outsiders, talks to John Clarkson about his memories of the group and front man Adrian Borland, and their new five CD box, set 'Count for Something'.
Bob Lawrence was the bassist in the South London-based band The Outsiders between 1974 and 1978. The Outsiders was the first group of Sound frontman and solo artist Adrian Borland (vocals, guitar) and, as well as Lawrence, also featured Adrian Janes on drums. They attracted little attention and mainly negative press in their lifetime for their two albums, 'Calling on Youth' (1977) and 'Close Up' (1978), and only EP, 'One to Infinity'(1977). Since Adrian Borland's death in 1999, they have, with the posthumous reissue of much of his catalogue, attracted increasing interest and gained a growing reputation. Cherry Red re-released to acclaim both the Outsiders' albums in 2012, and are now putting out on the 26th April a five CD box set, 'Count for Something', which, as well as the two LPs and EP, also contains 47 previously unreleased tracks, including demos and a recording of a live gig, In what is his first interview about The Outsiders, Bob Lawrence spoke to Pennyblackmusic about his memories of Adrian Borland and 'Count for Something'. PB: Were you surprised when after all this time Cherry Red showed an interest in releasing the 'Count for Something', or did it seem almost inevitable with the expanding interest in Adrian Borland's music and all the recent Sound and other reissues that something would eventually happen? BOB LAWRENCE: I was surprised – but agree with you that there is growing interest. This can only be a good thing. It is very heartening. Back then we had such unrelenting negativity directed at us. PB: Has there been anything else amongst the 47 unreleased tracks that you have been especially excited to rediscover? BL: Some of the tracks I had completely forgotten about – 43 years is a fair old slice of time. I like 'Watchdog' and like Jan feel that we could have persisted with this when we were recording 'Close Up' at Spaceward. The sexy 'Blowtorch' is just great. I was also interested in the songs after my involvement with The Outsiders ended and the introduction of my successor Graham Bailey's first basslines with the group – 'Settled Dust', 'Blind Date' and 'Sooner or Later'. And they are just great – sharply percussive and tight – sounding great with Bo's guitar. I am going to develop a few alternative bass lines of my own for these songs just for contrast – going down the more melodic and 'round sounding' approach. PB: You first got together while you were at school. How long had you known Adrian Borland and Adrian Janes before you formed the group? What are your early memories of Adrian Borland? Did he seem an outstanding musician even then? Where did you learn to play the bass? BL: Yes, we got together at school. My early memories of Adrian were of someone who was very funny, lively and creative. The school we were in divided students into fast and slow streams pre GCSE exams and after that into science and arts for A-levels. In my early years at the school, I had been ill and had begun to feel isolated – falling behind with the pressured teaching schedule. So, when we formed the band I had this immediate peer group which just felt great for me. I had done science subjects at A level, so being with such creative forces as Jan (Adrian Janes) and Bo (Adrian Borland) was extremely liberating for me. Bo was very complete when he played guitar. I think he was outstanding. He seemed to have complete mastery of the instrument even back then. He would always have it with him – it was an extension of his being in a way – even when not playing it he would use it to add to what he was saying or doing. He could sometimes express frustration better through his guitar rather than or in addition to what he was saying. It was always there with him. I taught myself to play bass. I had learnt clarinet, cello and string bass classically. so was able to read music with those instruments. But with the bass guitar I just learnt it by ear whilst playing with the band. PB: Adrian's parents were unusually supportive. Why do you think they put such support behind the Outsiders? BL: Bob and Win were just fantastically dedicated parents. They were prepared to do what they could to support their son. We practised in the Borland family home and this was no problem at all. Win would lay on food for us to cook and they would just leave us to it. Bo had a fairly tempestuous relationship with his Dad - but in relation to the band they were united. It was such a positive force to support us like he did. I can see now from my perspective as a father that Bob Borland was utilising his skills in the most productive way to help his son. Win as well was positive and supportive towards us – we were helping Bo do what he wanted to do – so we were very OK in her book. PB: The Outsiders sat on the cusp of the punk genre. There was an element of that sound in your songs, Adrian Borland in particular was a huge Stooges fan and you played gigs regularly at the 70's punk venues The Roxy and The Vortex. You, however, extended with your music into other genres and areas than simply punk. How much of that do you think brought about the negative attitude of many of the other punks towards The Outsiders, and how much of it was down to inverted class snobbery and the fact that you all three of you had been to grammar school? BL: I agree with you. Things were very hidebound back then. We never fitted – we didn't look right, didn't sound right – we lived up to our name. Class snobbery was certainly a thing – as typified by the famous Julie Burchill review of us– but we wanted to express our songs in our particular way. We were serious – but there was also a lot of humour in what we did. For instance – for our early gigs at the Roxy – I was a motorcyclist and had the gear, and was persuaded to wear the waterproof gear as a defence against the spitting. It was practical but looked ridiculous –we didn't care how we looked – in relation to fashion or trends. PB: There is a famous story about The Outsiders being joined one night on stage in September 1977 at The Roxy by Iggy Pop on 'Raw Power'. Were you as "blown away" as Adrian Borland also said he was in a latter day interview? What do you remember about the experience? BL: It was an amazing experience. Our manager then – Jock Mcdonald – pulled it out of the hat, and somehow managed to organise it without us knowing. So we were there playing the song and suddenly this small bundle of energy just leapt on stage and took over. Playing live with Adrian was always very charging and powerful – but with Iggy this went up to another level. "Blown away" is right – it was awesome. PB:'Calling On Youth' and the 'One to Infinity' EP were very successfully recorded in the Borlands' home with Adrian's dad working as an engineer. What are your memories of that experience? AJ: Converting a house into a recording studio was an incredible feat – and Bo's Dad was playing to his skills. Some of the challenges came in communication with us. For example, he would sometimes struggle with the recording levels. He would communicate this to Bo in particular by telling him that he was "smashing" into the red – not just in the red but smashing into it. This amused us. particularly in relation to the King Crimson album 'Red'. It was something we wanted and approved of – smashing into the red. I also remember that the bass proved challenging in that it caused the front door to resonate, adding an annoying rattling noise to proceedings. PB: Why did you decide, presumably at much greater expense, to shift to Spaceward, a studio in Cambridge to record 'Close Up'? You had already decided to leave the band. Was recording it a bittersweet experience for you? BL: I can't remember now the decision process around this. It was a great opportunity to record the songs properly. I had decided to leave but I wanted to do the best I could given this opportunity. So, I worked very hard on the basslines. It was bittersweet – sad – but at the end of the session I was pleased with how the songs sounded. We had done a good job. I was sad to leave the band but had decided to move on. It's great to hear on 'Count for Something' how well Graham integrated himself into the group. PB: You left the band in 1978 to go to university. Did you ever think about music as a long term career or was it always for you a sort of extended hobby? BL: I initially thought that I could pursue music as a caree, but then through learning and experience at university got into other things. During that time at uni and beyond I put music playing to one side and concentrated on the psychology. PB: What do you do now as a career? Do you have much involvement in music these days? BL: Following on from the band I studied psychology at university, and then qualified as a Clinical Psychologist. I'm now retired but worked as a Clinical Psychologist for thirty plus years in the NHS. I'm very happy and proud that my son Harvey has taken up the bass and is carrying on the tradition. I still enjoy playing the bass but have taken up the saxophone. My retirement has given me the luxury of more time. PB: Adrian Janes' present band Moon Under Water played a gig to commemorate the 20th anniversary of Adrian Borland's's death in 2019 and you joined them for six Outsiders' songs. You looked very happy to be on that stage. Was it both a surreal and an emotional experience revisiting these songs? Did you have to do a lot of rehearsal beforehand? BL: We rehearsed just once. It was great to be back on stage with Jan, and also Elliot Wheeler and Audrey Eade. It was a struggle to get my older fingers around those fast riffs but it just felt great to air those songs after so long. It was emotional – and just so good to be back with Jan after all those years. We did talk of maybe getting together again, and post lockdown let's hope that this will happen. Of course, we miss Bo – and without him none of this would have happened. So it was a fitting tribute – but sad at the same time that we have spent twenty years without him. But his legacy lives on and always will. So, yes, it is great that Cherry Red has supported this project and that these new/old songs have seen the light of day. PB: Thank you.
Band Links:-
https://en.wikipedia.org/wiki/The_Outsiders_(British_band)
Picture Gallery:-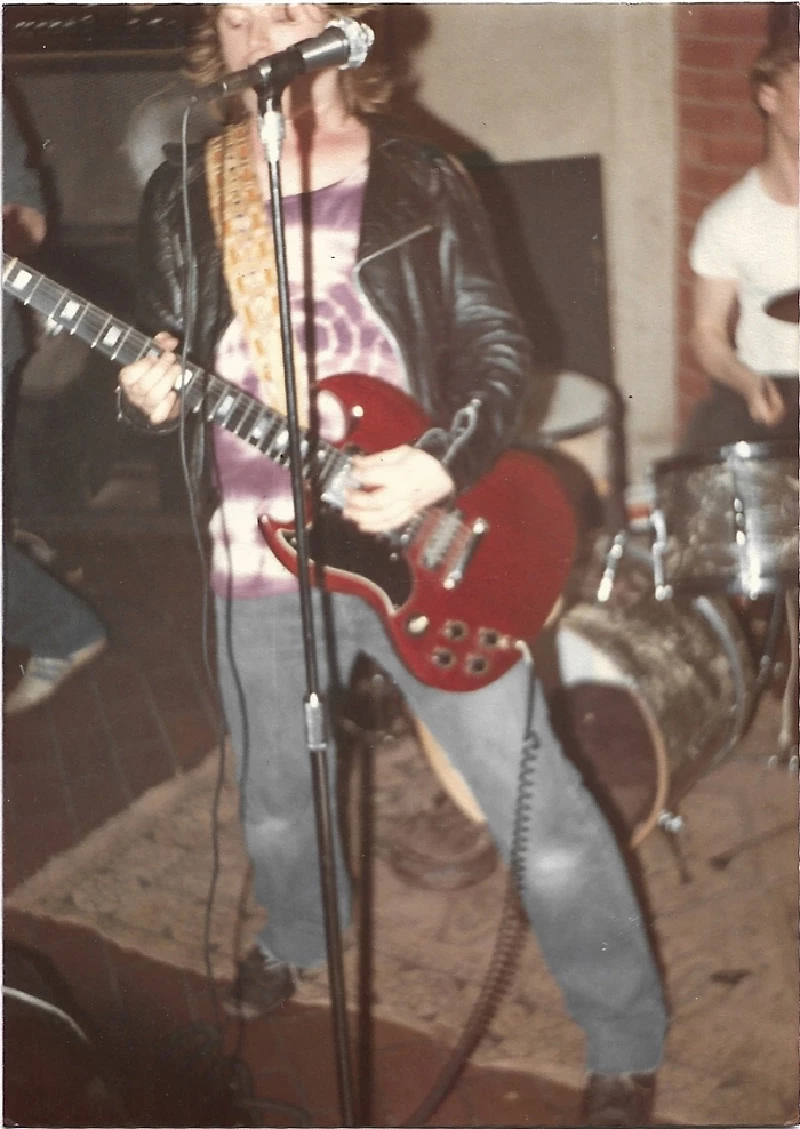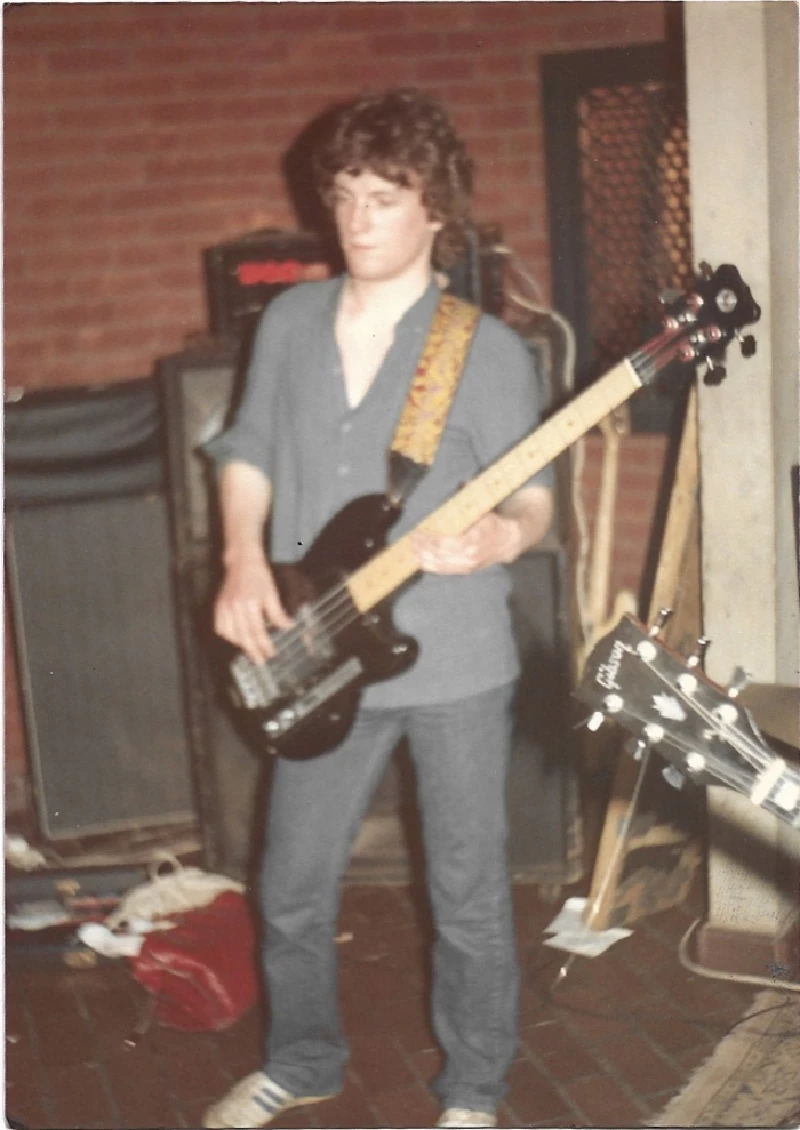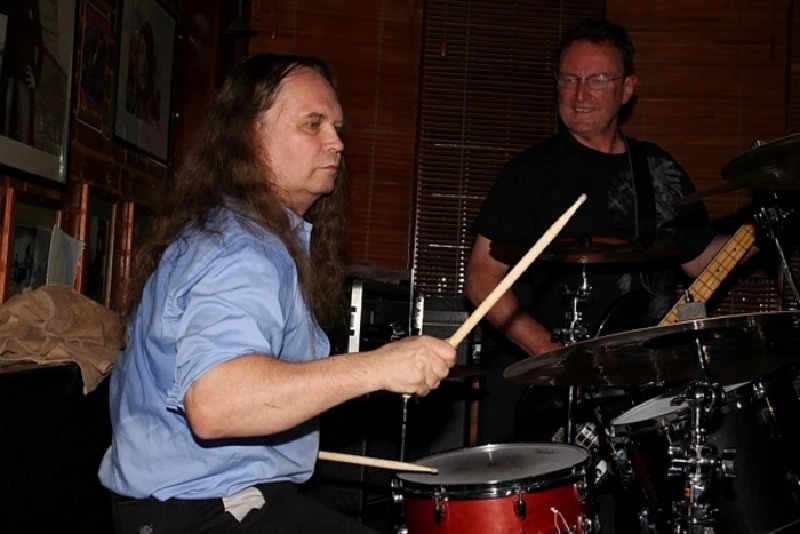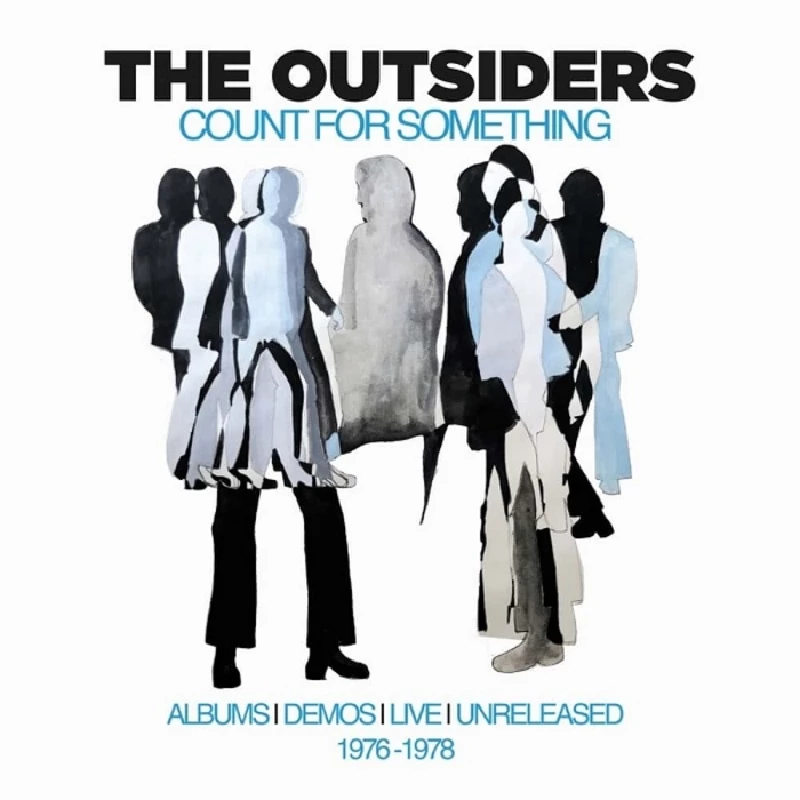 interviews
---
Interview with Adrian Janes (2021)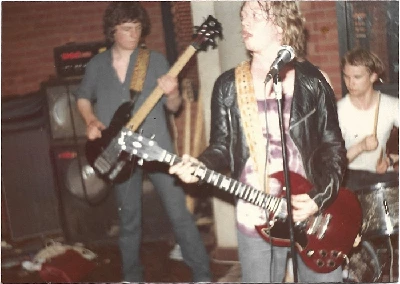 In the first of two interviews with 70's group the Outsiders, drummer Adrian Janes speaks to John Clarkson about his underrated group, which was the first band of the Sound's front man Adrian Borland, and their new five CD box set on Cherry Red, 'Count for Something'.
Interview (2012)
profiles
---
Outsiders (2012)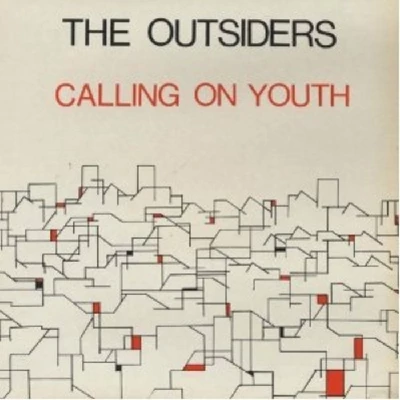 John Clarkson looks back on the career of 70's band the Outsiders, which was the first group of Adrian Borland from the Sound, and who are often seen as being the the first punk band to self-release an album
related articles
---
Moon Under Water: Interview (2019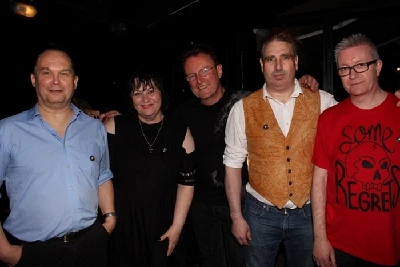 John Clarkson speaks to Moon Under Water, who are playing our next London gig at The Water Rats on the 17th January, about their unusual beginnings after forming at an Adrian Borland tribute night, their memories of him and their plans for an album of original material.
Pennyblackmusic Regular Contributors
---