---
Tori Amos
-

Chicago Humanities Festival, Chicago, 6/5/2020
published: 7 / 4 / 2021
---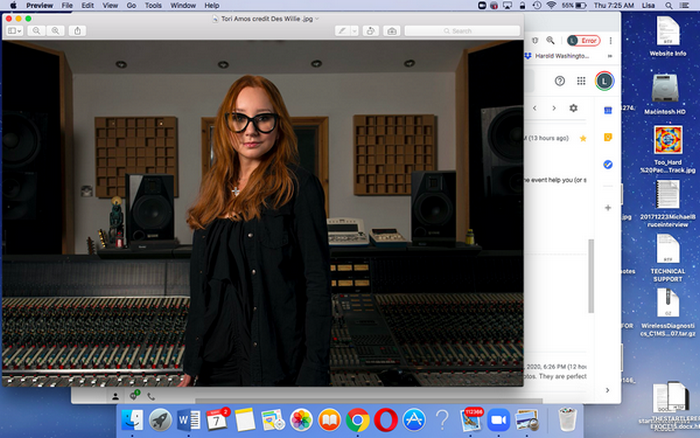 Sadly, the much-anticipated, annual Chicago Humanities Festival was cancelled due to the Covid-19 crisis, but the festival's hard-working staff raced to create a series of live-streaming events in its stead. Grammy-nominated singer-songwriter Tori Amos played an essential role in this year's line-up by engaging in an insightful discussion with AV club senior writer Katie Rife, after more than nine hundred participants were welcomed by CHF artistic director Alison Cuddy. Visitors had been encouraged to submit questions prior to the stream — those aware of Tori's influences certainly had a number of subjects from which to draw. After all, Tori's discography includes fifteen studio albums; she was the first spokesperson for RAINN (The National Sexual Support Hotline), she's been a driving force for women's rights in the music industry and beyond (decades before the #Me Too Movement) and recently published her second memoir, 'Resistance: A Songwriter's story of Hope, Change and Courage'. Minutes before the interview, fans from as far as Istanbul expressed excitement on the live-chat screen, standing by with baited breath until the impeccably well-dressed recording artist greeted everyone from her home studio, amidst her gleaming Bosendorfer which held a short stack of new books. Katie promptly began the discourse by celebrating Tori's new read. "It's a wonderful blend of lyricism and practicality," she said, before reading out loud a powerful passage, which included Tori's statement, 'Where's the blueprint for this emotion?' Katie pointed out that whilst that passage was written way before Covid-19 occurred, it still held relevance for these trying times. Tori responded: "Who could have imagined on New Year's Eve saying goodbye to 2019 and welcoming in 2020...? In my life, I've never experienced a tragedy like this." But Tori also expressed optimism when referring to the touring community she holds so dear, with whom she enjoys an enviable rapport. "You learn a lot about people's' perspectives," she insisted. "Having to adapt to this new world… I terribly miss the meet and greets, the sharing. We were planning to tour this fall -that's not going to happen." Katie then inquired about "balancing opportunity for creative growth" versus "leaving room for grieving." Smiling wide, Tori made a sly remark about her husband longing for more alone time. "Being in a full house, I need to take my despondency away. It just seems we have to be safe and protect each other. I work through things mostly by creating. But people are having different challenges. We process issues differently." She expressed concern about a good friend who felt at odds without the benefit of the usual "friend circle." Next, Katie brought up Tori's huge fan base. Tori typically chats with fans prior to concerts. She gets uplifted from their stories and makes it a point to read their letters and catch up on local concerns and interests. It sounds invigorating, sure, but does she ever get overwhelmed? "Getting all of these letters; I don't feel so all alone. You feel entrusted. I don't see it as overwhelming to hold that energy. Maybe there's a grounding that happens. God, I learn a lot from these letters." One specific fan encounter, however, left Tori reeling with regret. The woman came with a letter on which she had expressed her grief related to the passing of a loved one. Tori admitted feeling clueless at the time, perhaps due to lack of experience, but revealed that she developed more compassion after her own mother, Mary, died from a stroke. "We're taught to say things when somebody has died. Now that I've experienced it, I respond differently. Being able to write that was a turning point in my grief." Had the book-writing process been similar to the song-writing process? Tori confided that "the direction of the book changed; the point-of-view started to change gradually." On the other hand, musically, "all those songs are used as a time machine. The piano is just this amazing creature. She's an amazing being. Isn't catty, doesn't betray, doesn't make me feel bad that I haven't achieved something that day. There's always a willingness to want to collaborate. When I pass her, she's just ready to go and sometimes I'm not ready to go. I'm not ready here," she says, pointing at the temples that frame her shimmering, red hair. Staying in the moment, she also elaborates about her meticulous arranging strategy: "I document, even if it's an eight-bar phrase." Tori is selective about her compositional output. Not every song idea works. Some eventually end up in the "song graveyard." Tori co-wrote and published her first memoir, 'Piece by Piece' with rock journalist Ann Powers in 2005. But being a second-time author yielded a new set of challenges. "Staring at a blank piece of paper; it can really be scary stuff. I had to find the rhythm of writing the book." In keeping with Tori's succinct set-of-skills, Katie ventured into the art of active listening. "It takes discipline. I have to listen with all my might. It's just a skill of staying out of my own way when I see it coming." And as for contending with that miserable phenomenon called writer's block? "When writers are in a rut, I just see it as cyclical. That helps me as I collect new inspirations. I have to do my part. I can't wait for a lightning bolt to happen. But if you buy into writer's block, you can be part of it without trying to become part of it." The lively conversation circled back to the current COVID-19 crisis when a fan asked advice about how to cope creatively. "We'll find new ways of doing things," Tori responded. "The not-knowing makes us want to pull the covers up. I totally get it. But there's so many things we don't know. Sometimes writing about it..." 'Resistance' documents Tori's passionate activism. "Some of our leaders have a lot to answer for. Who are the ones that are trying to help the public? Who are not?" And to that end, another fan asked if COVID-19 has changed the meaning of resistance. "Giving up resilience, giving up the passion to hold leaders accountable. We have to remember that we have a democracy at stake. We have to remember who we are. What kind of world do we want to live in? Real questions." "This lockdown is making us sit with ourselves. There's an opportunity to learn, grow and create. We've been under global house arrest." But Tori also suggests that sheltering-in-place has allowed for more introspection. "This is emotional gold." On the other hand, Tori pointed out the current complexities we still face. "Some people can't pay their house payments with thought. We have our spirituality and physicality. We have to be resilient." Referring back to relationships forged during her international 2014 tour, she pointed out specific ways that citizens cope despite political stress: "Russians arm themselves with art, the thing that they etch in their chakra field; a pattern in a drawing, a passage in a novel…" Despite world-wide success, Tori is quick to address earlier career missteps when Katie inquires about lessons gleaned from "failure." Tori paused and reflected back on a crucial, turning point in her career. "That was the key for me, for my reckoning. What can I not abide? I couldn't abide being disingenuous with my art anymore. I betrayed my vision; I was getting rejected a lot with my demos, but that wasn't the path that empowered me. Fame, what it really is, is different than what I thought it is. The seductiveness of it; the acceptance. I need to do work that I respect. If it doesn't get acknowledged, is it of no value?" Another fan wondered, how can women more fully support each other? Tori gave props to her teenage daughter, Tash, when responding to this query. Whilst listening to the radio with her mother, Tash observed that women were not receiving the same airplay as men of the same age. "Let's cut to now, to 2020. You're being told by people in the industry that not as many women of a certain age in the alternative side are getting record contracts as men. And so I asked somebody about this in the industry within the last couple of years and he said to me, "Well, T, it's really about supply and demand." "I said, 'That's an absolute cop-out because people don't know that they want it yet. They don't realise, they don't want wisdom and experience if they're not being shown it and given the choice to have it. So, I guess what I want to say, is that we need to create opportunities for more women and I'm saying this to myself: It's very difficult when you're in a culture that sets them up against each other and then we have to break down those concepts and refuse to become a part of it.'" "A culture can develop where they get you and believe there's only room for a couple. Not as many women of a certain age are getting contracts." "No one can be you if you're really being you. There were a lot of female artists that were getting dropped. We have to be aware that we can support more artists. They probably had the opportunity taken away from them." Her loyal fan base is markedly multi-generational. Perhaps because she nurtured close ties with her grandfather, parents and teenaged daughter over the years, she responds naturally to people of all ages, whether that involves fielding interview questions from Generation Zs or boomers, or creating narratives that speak of developmental childhood stages as much as adulthood. As such, one fan asked how teens can contribute to society in light of "resistance"? Tori returned, "It's about finding your own voice. I discovered myth when I was in high school. That was the tipping point." She elaborated on the complex female roles she construed for her 2007 album, 'American Doll Posse'; "I was trying on those energies and found sides of myself I didn't even know I had. I needed to let the myths invade, push me. Who am I as an artist? Let it percolate." This unique forty-minute event flew by and brought to mind a few of my favorite Tori Amos lyrics. "Go, go, go, go, now. Out of the nest it's time." ('Mother' by Tori Amos). Even during such perplexing times, America's most sensitive songwriter somehow manages to ground us with her coming-of-age narratives, political savvy and hope for the future. Times may be tough, but as Tori emphatically implies, we can still be creative, we can still embrace our courage.
Band Links:-
http://toriamos.com
https://www.facebook.com/toriamos
https://twitter.com/toriamos
Have a Listen:-
Picture Gallery:-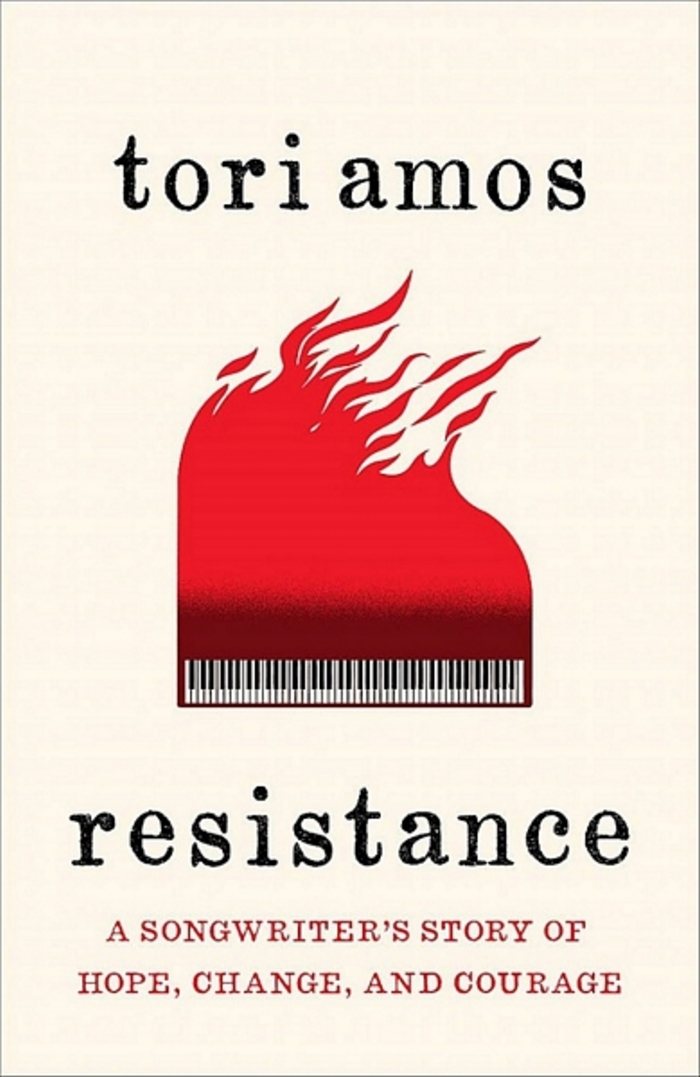 intro
Although the popular Chicago Humanities Festival was cancelled due to Covid-19, featured guest/singer-songwriter Tori Amos agreed to a live-stream interview. Lisa Torem reviews the highlights.
favourite album
---
Little Earthquakes (2009)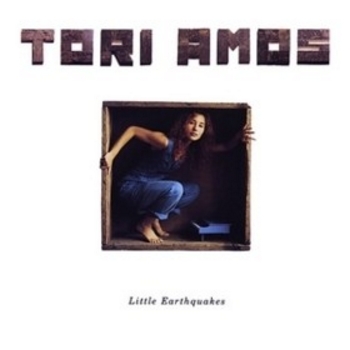 In our Re : View section, in which our writers look back at albums from the past, new Pennyblackmusic writer Lisa Torem assesses Tori Amos' first album, 'Little Earthquakes'
reviews
---
Gold Dust (2012)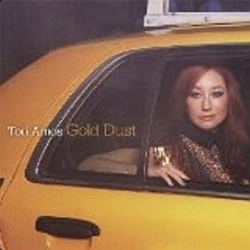 Lavish reworkings of songs recorded with the Dutch Metropole Orchestra from across her twenty year career on latest album from singer-songwriter, Tori Amos
Pennyblackmusic Regular Contributors
---