---
Morrissey
-

Low in High School
published: 23 / 12 / 2017
---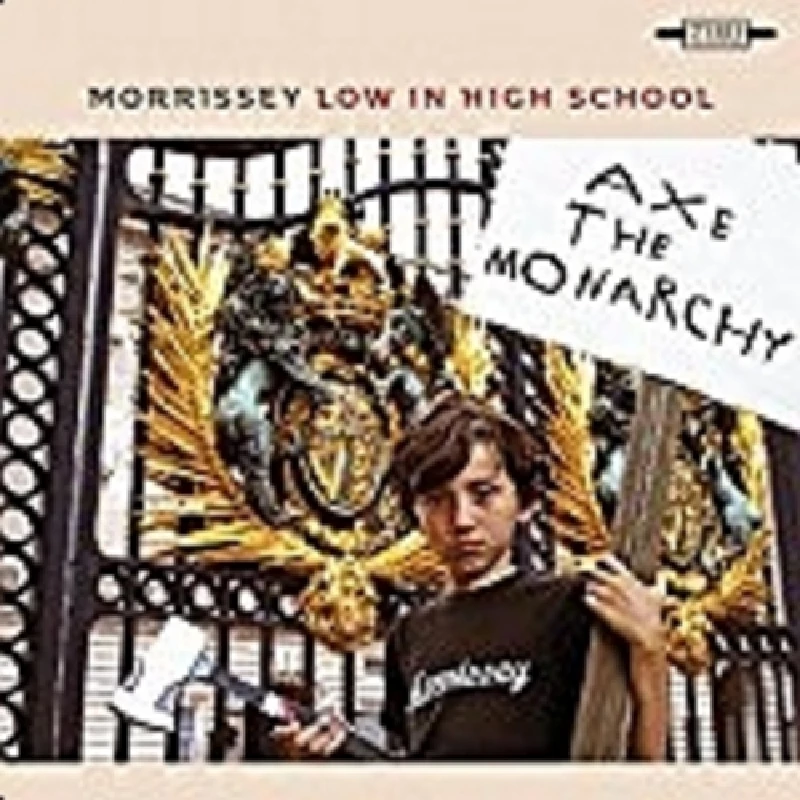 Label: BMG
Format: CD
intro
Welcome return for the Los Angeles-living Manchurian Morrissey as he releases his long awaited new album on BMG almost four years after his last record
It seems like a long time ago that I bought my 12" copy of 'Heaven Knows I'm Miserable Now' and it is. Thirty-three years to be exact. At that point in 1984 vocalist Morrissey, guitarist Johnny Marr, bassist Andy Rourke and drummer Mike Joyce had just released their eponymous debut album, and since then critics have called them the most important alternative rock band to emerge from the British independent music scene in the 1980s. In 1987, however the band had split and they had all gone their separate ways, leaving the lead singer to go it alone. Four Smiths albums and eleven under the banner of his own name on along with a string of nominations and award wins, Steven Patrick Morrissey, once of Davyhulme, Lancashire, is living in LA and very rarely visits his homeland these days, despite making the Top Ten of the UK Singles Chart on ten occasions. Morrissey's political ideas have meant derogatory offloads at Margaret Thatcher and John Major, and he described President George W. Bush and England's own Tony Blair as "insufferable, egotistical insane despots." He doesn't care much for the monarchy either. So, we turn to late 2017 and we have heard nothing from the man since his last offering in 2014, 'World Peace is None of Your Business'. So this one is well anticipated and all Morrissey fans everywhere will be clamouring for a copy of it. And will it be worth it, I ask? Well, after eagerly listening to my promo copy, I think they will be heartened by it and eventually hail it as probably one of Morrissey's greatest works. The album is packed full of Morrissey-ism's even down to the track titles, 'When You Open Your Legs' and 'I Wish You Lonely' - typical Morrissey. But there are some different roads to walk down here too. The first single to come from 'Low in High School' is the brilliant and again typically Morrissey 'I Spent the Day in Bed'. But this is not the strongest track on here in my opinion. That is the one before it - 'Home is a Question Mark', which is just sublime melody building and building and oh so Morrissey in the way it soars to the end. The longest track 'I Bury the Living' is about as morose as it gets but it is also gorgeous. "Oh no you can't blame me/I'm just an innocent soldier/There would be no war if not for me/I'm just a sweet little soldier," sings Morrissey before concluding, "Funny how the war goes on without our John, without our John...la la la la la." Musically, its full of heavy bass and heavier drums in places but also lifting with trumpets and horns and what sounds like a full orchestra in places. All in all, this is an excellent if not bordering on bloody brilliant return for the American clad Manchurian. Catching a glimpse of him on 'Later...with Jools Holland' the other night I was surprised how Morrissey the chap was if that makes sense? But then Morrissey will always be Morrissey, Thank God!
Track Listing:-
1
My Love, I'd Do Anything for You
2
I Wish You Lonely
3
Jacky's Only Happy When She's Up on the Stage
4
Home Is a Question Mark
5
Spent the Day in Bed
6
I Bury the Living
7
In Your Lap
8
The Girl from Tel-Aviv Who Wouldn't Kneel
9
All the Young People Must Fall in Love
10
When You Open Your Legs
11
Who Will Protect Us from the Police?
12
Israel
Band Links:-
http://www.true-to-you.net/
http://www.morrissey-solo.com/
http://en.wikipedia.org/wiki/Morrissey
https://www.facebook.com/Morrissey
https://twitter.com/morrisseysolo
Label Links:-
https://www.bmg.com/uk/
https://www.facebook.com/BMGRM
https://twitter.com/BMG
https://www.facebook.com/bmgchrysalisuk
https://twitter.com/bmguk
Pennyblackmusic Regular Contributors
---