---
Morrissey
-

You Are The Quarry
published: 12 / 4 / 2004
---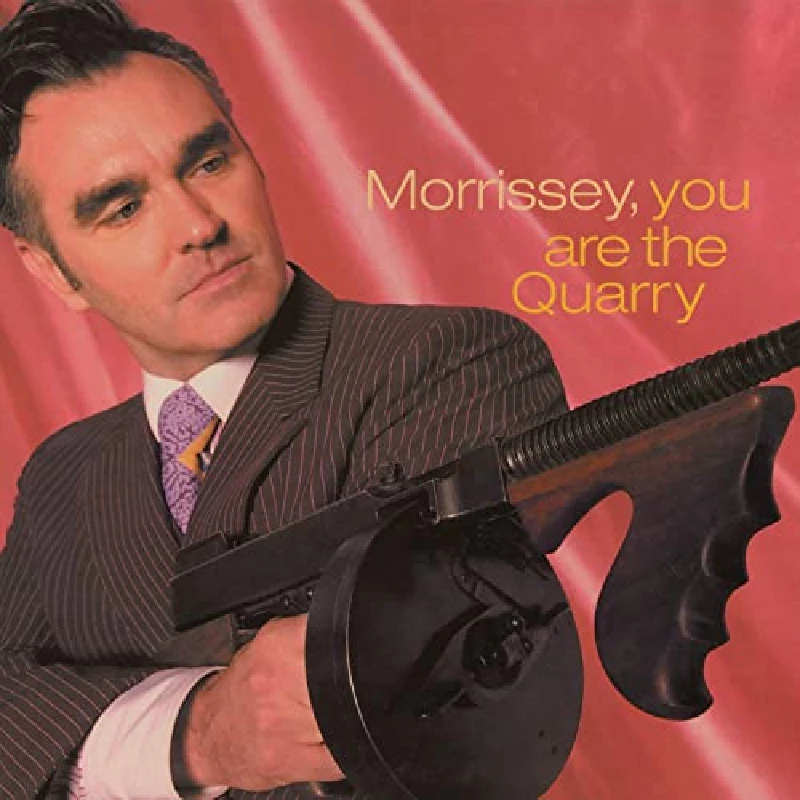 Label: Attack
Format: CD
intro
Long-awaited new album from Morrissey, which unfortunately does not match up the hype or its first single 'Irish Blood, English Heart'
Attack Records is an offshoot of Sanctuary Records which, while it has since broadened the range of its roster, was originally a reggae label based in North London near the old Mean Fiddler. Morrissey is a big enough name to resurrect labels. Since being solo , he has helped to return HMV, RCA and Island to their former glories. This, however, doesn't always mean the music is great. While my friends think the sun shines out of his behind, much as I think the whole of the Smiths back catalogue is genius I personally think that Morrissey's solo career doesn't really match up to it at all. His last solo CD 'Maladjusted', which came out on Island, like most of his solo efforts, had some good tracks and some decent singles, but also a lot of dead wood. As has so often happened in the past, he was signed and then dropped. That was seven years ago,. Two years ago, he took this current record on the road to tout for a new deal, and now we have his latest offering Does it stand up ? No. it doesn't at all. 'You are the Quarry" comes with a not free DVD to get you more interested. It has a promo live video of 'Irish Blood, English Heart', the first single off the album, which, as with all Morrissey's first singles off any new record, I have to say is absolutely brilliant. Morrissey's performance is okay, but the audience looks uninterested. The rest of the DVD has song lyrics on a disc which are also on a pull out poster of the album anyhow, and a fairly ordinary looking photo gallery. It is not very inspiring. The album itself features Morrissey looking like his heroes, the Krays, touting a machine gun and in a suit with a tie. It is not the Smith we use to know.The music I have to say is not what I expected either. Past records have largely consisted of lyrically fuelled rockabilly tracks. 'You are the Quarry', however, has few rockers. All four of the tracks previewed two years ago are possibly singles. The rest is largely filler. The vocals are in a crooner style similar to Las Vegas era Elvis Presley or Sinatra and the music is mellow except for the odd occasions when it rocks out. It is not the Morrissey we know and love. It is like he is playing it safe for a bigger audience. To be honest, us Smiths fans or ex Morrissey fans deserve far more from the voice of our generation.
Track Listing:-
1
America Is Not the World
2
Irish Blood, English Heart
3
I Have Forgiven Jesus
4
Come Back to Camden
5
I'm Not Sorry
6
The World Is Full of Crashing Bores
7
How Can Anybody Possibly Know How I Feel ?
8
First of the Gang to Die
9
Let Me Kiss You
10
All the Lazy Dykes
11
I Like You
12
You Know I Couldn't Last
Band Links:-
http://www.true-to-you.net/
http://www.morrissey-solo.com/
http://en.wikipedia.org/wiki/Morrissey
https://www.facebook.com/Morrissey
https://twitter.com/morrisseysolo
Pennyblackmusic Regular Contributors
---