---
Godfathers
-

Songs about Love and Hate : An Intro
published: 13 / 1 / 2002
---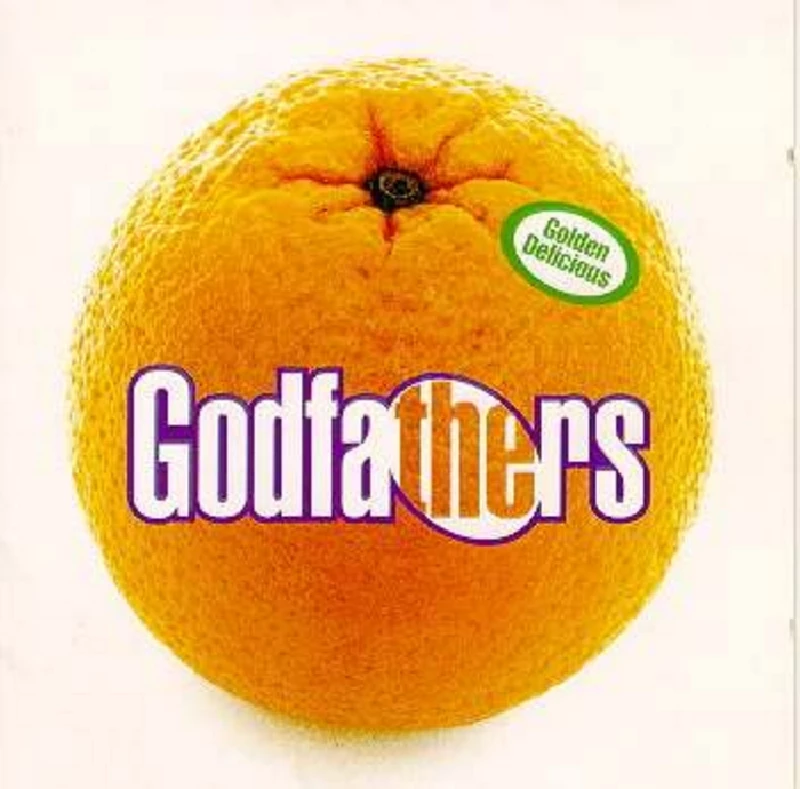 intro
1990 was spent mainly touring, and working on songs for the next album, and 1991 began optimistically with the group playing their largest ever St Valentine's Day Massacre at London's Brixton Academ
1990 was spent mainly touring, and working on songs for the next album, and 1991 began optimistically with the group playing their largest ever St Valentine's Day Massacre at London's Brixton Academy.Their fourth album, 'Unreal World', which was produced by Steve Brown, who had worked as as an engineer on 'Birth, School, Work, Death', followed in March. It is another strong and powerful album, the Godfathers' fourth in a row, and though it misses Vic Maile's guidance, the slightly florid Brown makes an excellent replacement. The album's opener, the title track and the only single off the record,uses a funky and crackling rhythm to catalogue a list of late twentieth century horrors, and savagely denounces an 'unreal world' which allows poverty and homelessness. The poppish 'Something Good about You' has Peter Coyne looking for something good in a lover and finding nothing. 'How Does It Feel to Feel' , a cover of a forgotten record by sixties mod band 'The Creation', is a fitting and poignant tribute to Vic Maile who worked as an engineer on the original, and 'I Love What's Happening to Me' is pure psychedelia. 'I'll Never Forget What's His Name', which takes its name from a popular 1967 film, is a venomous attack on everyone who had ever annoyed The Godfathers in the music business, and is thrashed and spiky near heavy metal .The final track , This is War' is a blistering and powerful anti-establishment protest song, and brings the album to a breathless and dynamic conclusion. The group played third on the bill that summer at the massive Reading Festival and were also attracting a healthy following at their other shows, but this was still not being constituted in record sales and and when 'Unreal World' also sold only moderately, Epic,wearying of the band's lack of hits, dropped them from its roster. Mazur, who seems to have been losing interest in the group, and who had less to do with the songwriting on 'Unreal World' than other previous Godfathers recordings, decided too to leave the band. His replacement was Ali Byworth. For their next album which was released in mid 1992, the group returned to their Corporate Image label. The controversially-titled 'Dope,Rock'n' Roll and Fucking in the Streets' , named after the rallying cry of sixties radicals and punk forefathers, 'MC5' ,was a live album recorded at the1992 St Valentine's Day Massacre show at the London Venue.Its fourteen tracks comprise of all the singles, except ' Lonely Man' and also other live favourites such as 'Walking Talking Johnny Cash Blues', 'If Only I Had the Time', 'When Am I Coming Down' and 'Cold Turkey'. Self- produced by the band, the album, as well as capturing the force and dynamism of the band live and providing an excellent retrospective of the their career to date, filled a gap while The Godfathers, whose fan base was starting to dwindle without the financial and promotional backing of Epic ,waited to see if another label would take them up. It was Mike Gibson's last Godfathers album. He had tired of the constant touring. "I felt like we were travelling salesmen. We were sick of the sight of each other" he would tell the 'Q' retrospective this year and left the group shortly before the album's release. The Godfathers, now reduced to a quartet, signed in 1993 to a German independent label 'Intercord'. The album which followed later that year, their sixth,is entitled simply 'The Godfathers', but also has become known as 'The Orange Album' because of its photograph of a large single piece of fruit on its sleeve. The record starts promisingly with the tongue-in-cheek 'Free Yourself', in which a rapping and urgent Peter Coyne backed by a frantic guitar riff implores his audience to liberate themelves from absolutely everything. The melancholic and pensive 'World on Fire', in contrast a chugging moody and slower number about love against the odds, is both evocative and powerful .The rest of the album, however, is an anonymous affair , and mainly a collection of in love and out of love rockers, is a bland and largely forgettable experience. The band, stripped down from two to one guitars, sound dulled and muted. The whole album seems strained and the lyrics , their targets softer and less focused than before,lack sharpness and bite. The Godfathers for the first time in their career had proved dissapointing, and sounded stale and forced. 'The Orange Album ' sold poorly, and the group's live audiences continued to decline. The Coynes,despite Burrows and Byworth dropping out also , limped on. The compilation album 'Birth, School, Work, Death' was released by Epic, partially to commerate the band's tenth anniversary, in 1995, and comprising mainly of recordings made between 1985 and 1991, was a potent, but timely reminder of how good the band had until recently been. By the time of the group's next record 'Afterlife', their second and last on Intercord , the Godfathers had expanded once more to a quintet. The band's new line-up also featured drummer Grant Nicholas, and guitarists Paul Ronney and Ricky Newson, a Ronnie Wood lookalike who was rechristened by the Coynes as Ronnie Rocker. 'Afterlife', recorded in May 1995, but not released until February 1996, while having also some dull moments, is a partial return to form. The hectic-paced attack on drugs 'I'm Not Well' is The Godfathers at their scornful best. The happy and exuberant 'That Special Feeling' is about the first rushes of being in love, while on the rumbling 'Mother Nicotine' Peter Coyne extols half-guiltily the pleasures of cigarette smoking . The album is dedicated to the memories of relatives of the Coynes and Newson, who had died shortly before its recording, and the final track, 'Afterlife', a slow mournful country blues , with Chris Coyne at one point on the accordion, brings the album to a poignant and emotional close. The group toured with 'Afterlife', but the album once more sold poorly and, indicating how far the Godfathers had declined in the perspective of the rock press, was barely reviewed. There have been further line-up changes, and with Chris Coyne now working part-time as an actor, generally getting small and bit parts as thugs and heavies, the band's shows are slightly less frequent. When the 1998 St Valentine's Day Massacre show was cancelled at a day's notice, it seemed that The Godfathers had finally folded, but by the end of the year they were back, and with another new line-up featuring Les Riggs of the Dogs d'Amour on drums, the revitalised band, after a show in London in November, toured Europe before Christmas. There have been other dates since. Peter Coyne has recently been writing songs with Kris Dollimore, their differences now settled, but these songs are yet to be aired, and recent set lists, other than 'Hup 2-3-4', the first Sid Presley Experience single, and covers such as The Sex Pistols 'Pretty Vacant', The Ramones 'Blitzkreig Bop' and The The Beastie Boys 'Fight for Your Right to Party', have been entirely retrospective. The Godfathers recording future remains uncertain and, as far as Pennyblackmuisc can maintain, they are currently without a deal, but it seems certain that as a live act they will survive on for many years to come.
Band Links:-
http://www.godfathers.uk.com/
https://www.facebook.com/TheGodfathersFamily
Have a Listen:-
Picture Gallery:-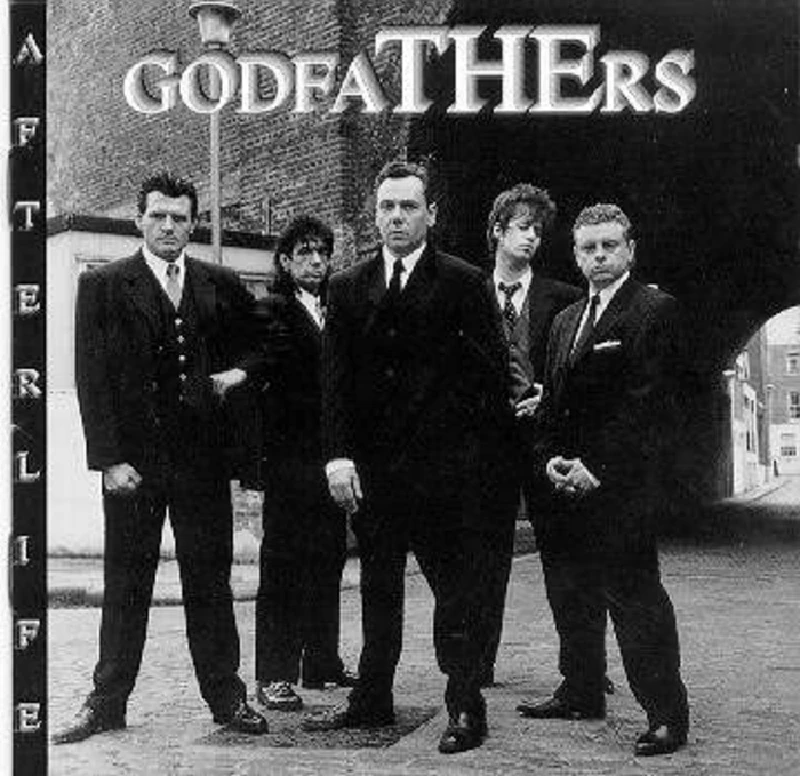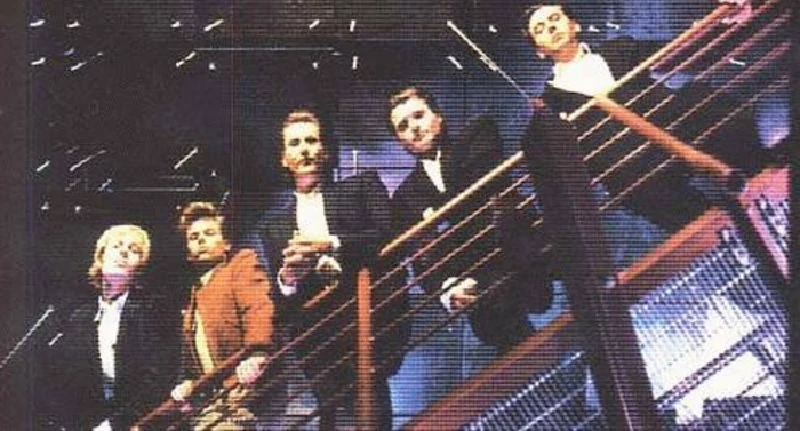 Visitor Comments:-
407

Posted By: Tony, London on 21 Feb 2011
...were essential & relevant up until Acid House in 1988 turned the UK youth onto happy pills and flares and kicker boots and long hair..overnight The Godfathers were irrelevant in their unbespoke suits and despite swimming against the tide of luuurve, unfortuantely were history same as the original Marquee in Wardour Street where I first encountered them transfixed by their twin guitar wall of sound of Kris & Mike ... the beer soaked carpet also helped! They should have taken the Ramones route to survival which means ultra-cartoonization , ultra loud PA's and a healthy hatred of each other with a determination to keeping 'the brand ' alive... but families come into the equation when you're 'human' ..of course post rave we got grunge and still not a clean suit in sight until Paul Weller's 3rd Coming... Both Coyne's [ and George Mazur ] are now would-be actors and if you search hard enough you can find the sad profile photos of two genuine hard rockers reduced to looking like desperate travelling salemen in cheap suits.. Mike Gibson saw the future a while back....
---
profiles
---
Godfathers (2011)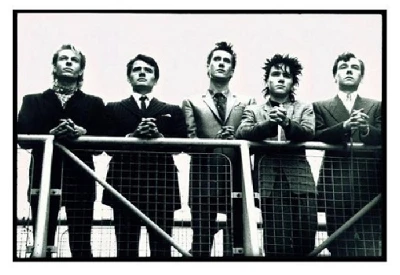 Andrew Carver reflects upon South London punk/rock 'n' roll band the Godfathers first two major label releases, 1988's 'Birth, School, Work, Death' and 1989's 'More Songs about Love and Hate', which have both recently been reissued
favourite album
---
The Godfathers (2013)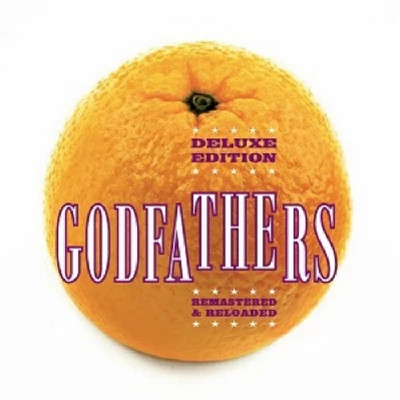 John Clarkson examines South London-formed alternative rock band the Godfathers' eponymous and rarely heard 1993 album, which is about to be re-released for its twentieth anniversary in a double CD edition
Pennyblackmusic Regular Contributors
---