---
Bathers
-

An Introduction and a Profile
published: 13 / 1 / 2002
---
intro
In the first of a series of articles, John "Girder" Clarkson profiles some of the more misunderstood bands of recent years. Scotlands 'The Bathers' have often been labeled as pretentious and as a resu
In the first of a series of articles, John "Girder" Clarkson profiles some of the more misunderstood bands of recent years. Scotlands 'The Bathers' have often been labeled as pretentious and as a result haven't been given the attention from the mainstream music press that their talent undoubtably deserves. Despite a dedicated cult following, they never made the cross over into popular contiousness. Our loss or theirs? John explains.... Followed you one night From the Glasgow School of Art We took a nighttrain to Paris France (From 'The Pursuit of an Orchid'/Opening Track on 'Sweet Deceit') Imagine something that is intensely melodic. Imagine violins and violas and piano, and also all the standard fare of rock music. Imagine guitars and bass and drums. Imagine something almost, but not quite, classical, and imagine too pop songs that aren't really pop songs. Imagine the influence of David Bowie's 'Aladdin Sane' or the 'Wild is the Wind' cover from 'Station to Station'. Imagine the film score of a fifties or sixties film, set in some foreign city, in which Cary Grant or Gregory Peck is about to get off with Audrey Hepburn in the last reel. Imagine too passionate, yearning lyrics sung in a forceful Tom Waits growl that namecheck Paris, Rome, the Rapenburg and Spain, and closer to home Glasgow's Kelvingrove Park and the Western Isles. Pretentious piffle or the best thing since sliced bread ? Opinions vary greatly (Myself ? I like it a lot). This is the unique and largely unsung sound of Scotland's 'The Bathers'. The Bathers have been around for a long time, almost fifteen years. Despite their longevity, they have never been prolific and are a virtually unknown force outside their own country. Their albums, frequently highly acclaimed when critics bother to review them at all, have, despite a committed fan base, never sold in great quantities, and their usually excellent live ppearances, though increasing slightly in recent times, have always been few and far between. In fact there was a long period from early 1988 to the middle of 1995 when outside their native Glasgow they didn't play at all. Earlier this year there was a short tour of Germany, but otherwise (as far as I know) they have never left Scotland, even to cross the border to do some gigs in England. In Scotland itself their tours are always notoriously short, never more than two or three dates, and generally they only play the three main cities of Edinburgh, Aberdeen and Glasgow. When you talk about the Bathers, you talk about Chris Thomson. The Bathers are his concept , and he is the creative driving force of the group and the band's vocalist, pianist and sporadic guitarist. Chris Thomson's musical career began in the early eighties with Glasgow band 'Friends Again', for whom he was the singer and principal songwriter. In the wake of Postcard Records, a short-lived but influential record label that tried to marry the spirit of punk with the noise of soul and rock, Friends Again were one of several bands on the Scottish scene at that time playing a style of music described as 'guitar-jangly pop'. Orange Juice, Aztec Camera, the Bluebells, the Fire Engines and Josef K were some of the band's other stablemates. Friends Again were tipped by many critics as going to be a great success. It wasn't to be. There were four singles, the last of which 'Lullaby Love 2' narrowly missed the top 50, and an album 'Trapped and Unwrapped' released by Mercury in 1984, which though largely produced by Bob Sargeant, also had five other producers (including Tom Verlaine on stand-out track 'Swallows in the Rain). As a result it suffered, seeming fragmented and, despite several great tunes, it lacked cohesion. James Grant, the lead guitarist, was also starting to develop himself as another formidable and strong songwriter, and both he and Thomson were finding it increasingly difficult to share the limelight. After a tour supporting the Bluebells,and within days of the release of 'Trapped and Unwrapped', though breakthrough still seemed imminent, the band amicably folded. Grant went off with the other band members to form 'Love and Money' who met with moderate success in the mid eighties and early nineties, and it was then that Thomson, after a brief sojourn in Italy, put together The Bathers. There have now been five Bathers albums.The first one, 'Unusual Places to Die', was released towards the tail-end of 1987 by Go ! Disks. It was again largely guitar-based. As the title suggests, it was a more sombre work than the previous album. It did however have greater form, was less bitty, and was considerably aided by Thomson doing most of the production work. The album, despite some good reviews, received little airplay and didn't sell, and by early 1988 in the start of a familiar Bathers pattern - the band had been dropped from the record label. The Bathers' second album 'Sweet Deceit' came out on Island in mid 1990. This is the album which many fans see as the pivotal point in Chris Thomson's career, and musically, lyrically and vocally it can be seen as the first album that has fully developed what may be described as the Bathers sound. Thomson's vocals, on the previous two albums slightly reedy, have now dropped several octaves and his singing is seriously enrichened as a result. For the first time there is extended use of the piano, which both complements and contrasts the guitars and percussion. The tense, often tortured lyrics also-another new feature-have the cosmopolitan feel which has since been a Bathers trademark. After 'Sweet Deceit', Thomson took a brief musical interlude from The Bathers and formed another guitar band 'Bloomsday' with Neil Clark and Stephen Irvine, formerly of Lloyd Cole' s Commotions. One album 'Fortuny' was released towards the end of the same year, again on Island. 'Fortuny' is seen by many fans to be by far the weakest of all Thomson's work and somewhat of a disappointment. It has a rawer, raunchier feel to it, and the music, as a result, lacks the more subtle style and refined delivery of Thomson's other records. There are however, many good moments, and it is nowhere near as bad as it is sometimes made out to be (I like it anyway !). Thomson himself though seems uncomfortable and unhappy with the project, singing on the final track '63 Cinammon Crescent' about a 'cloak of deceit' and referring cryptically and longingly to the themes and lyrics of former Friends Again and Bathers songs. Neither 'Sweet Deceit', despite being a featured choice in HMV stores, or 'Fortuny' sold as Island would have liked, and by early 1991 Thomson found himself unceremoniously dumped from yet another record label. The last three Bathers albums have all been released on Marina, a small German independent label which, though based in Hamburg, has on its roster mainly Scottish acts. (There will be more about Marina in a future despatch, but, if interested, it is worth noting for now that Marina has its own website and Pennyblackmusic has available nearly all of their catalogue, including the trio of Bathers records. All are well worth hearing). 'Lagoon Blues' was the first of these recordings and came out towards the end of 1993. This was followed a year and half later by 'Sunpowder' in mid 1995 and two years after that by 'Kelvingrove Baby'. All three of these albums rely heavily on string instruments , as well as the piano, and continue the style of 'Sweet Deceit', mixing the conventional with the unconventional, and create a similar rich, stirring, emotionally wrought sound. There are the same distinctive vocals, and once again the lyrics on each album have the same continental feel to them. As one critic, Gerry McWilliams, has said about Thomson in a short article on the Bathers entitled 'Testing the Waters-The Vague Rise of the Bathers' all three albums 'seem to demonstrate an artist in control of his muse and comfortable with his craft'. 'Kelvingrove Baby', though in the same vein as the other Bathers albums since 'Sweet Deceit', is perhaps the most accessible record to those who have never heard the Bathers before, and has had slightly more commercial success. All the other members of the Bathers have always been sessional, selected by Thomson depending on what is required at the time. In recent times though, there has been less fluctuation and more regularity in line-ups.Violinists Mark Wilson and Iain White have appeared on most tracks on the last three albums. The very talented Hazel Morrison, a mainstay of live appearances, also deserves special mention . She plays the drums and sings ethereal, perfectly pitched backing vocals both at the same time. James Locke, former percussionist with the Chimes, has also made intermitting appearances both on stage and in the studio with the group. There have been special guest appearances too from Cocteau Twin, Liz Fraser, who sung many of the vocals on 'Sunpowder' ; former Bloomsday bandmate, Neil Clark, who did some of the guitar work on 'Lagoon Blues'and Friends Again and Love and Money guitarist, James Grant, who has been a backing singer on most Bathers albums and played regularly with them at the Glasgow gigs. People either love or hate the Bathers. They are awkward and difficult,one of those rare bands about whom it is impossible to take a neutral stance. Reviews in music magazines and newspapers about them have always been sparse, but the majority of those that have been written have numbered among the best I have read about any group. One enthusiastic and obviously well-off reviewer wrote ecstatically for the now defunct Scottish music monthly 'Cut' , at the time the early 'Unusual Places to Die' was released, that he would give a tenner for any of the ten tracks on the album, including the two minute instrumental at the end. This was in 1987 when ten pounds was still quite a lot of money and would have paid for a couple of decent LPs or a fairly wild night out down the pub. The remaining reviews, however, have been completely cutting in their savagery and equally so amongst the worst I have seen about any band. Pretension is the general accusation made against the Bathers, but to dismiss them simply by this is to ignore their very real merits. Paul Davies probably puts his finger on this in a rare review in a national magazine, 'Q', at the time 'Lagoon Blues' was released. He suggests that they have a 'penchant for poncification' and that 'the song titles alone (Venice Shoes, Pissoir, Via D' Oro, Ave the Leopards) are worthy nominees for Pseuds Corner'. He also, however, in the same review acknowledges their'elegantly moulded song construction and perfectly realised arrangements' and says about Thomson that he 'manages to brazen it out' and has 'the born again soul intensity of a genuine Celtic troubadour'. Elsewhere in the article he describes the album as 'majestic' and finishes by saying that it is 'quietly awesome'. Many of Thomson's admirers, however, would deny that there is anything affected about his music at all. In Brian Hogg's excellent book 'The History of Scottish Rock'n'Roll', James Grant has defended his friend in an interview , saying that 'He is the closest thing to an enigma I've ever come across. He thinks and acts differently from other people, but notin a pretentious, calculated way'. As someone who Thomson has worked with regularly for many years, he is, without any doubt, in the best position to know. Many fans go along with this train of thought and those who have been fortunate enough to see the Bathers live, myself included, will testify that on stage Thomson is sincere and passionate and seems to mean every word. At the time of writing, Chris Thompson's contract with Marina has come to a close, and he is once again searching for a new deal and record label. Hopefully he will find one soon. There are also rumours of a forthcoming compilation album. Marina will however not be producing it, despite reports to the contrary, but it may eventually come out on another label. If you are looking for something unusual and completely different from anything else in your record collection, the Bathers are seriously worth considering.
Band Links:-
https://www.facebook.com/kelvingrovia/
https://twitter.com/thebathersoffi1
https://thebathers.bandcamp.com/
Have a Listen:-
interviews
---
Interview (2020)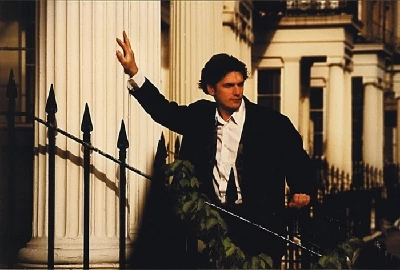 John Clarkson speaks to Chris Thomson, the frontman with the Scottish group the Bathers, about the reissue of their classic trilogy of '90's albums on the German label Marina Records, and 'Sirenesque', their forthcoming first album in twenty years.
Pennyblackmusic Regular Contributors
---