---
Bluedot Festival
-

Jodrell Bank, Cheshire, 20/7/2023...22/72023
published: 25 / 10 / 2023
---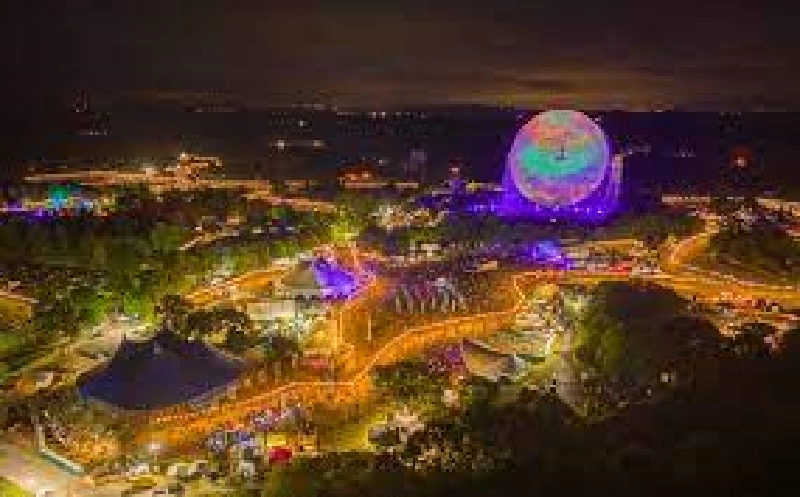 Thursday: Well, I've finally made it to Bluedot, after a bit of an epic journey – my car broke down on the way home last Thursday; it's a wheelchair accessible vehicle, and pretty crucial. I couldn't hire one, and there was a train strike today, so I couldn't come by train, and my scooter won't fit in my OH's car. I planned my journey: 3.4 miles scoot from my home in Manchester to a Metro station; metro journey to Altrincham, breakfast there and quick recharge, scoot to Mobberley where I'd have lunch and a longer recharge, then final leg to Jodrell Bank. A great plan, that didn't quite work out. My scooter does 30 miles to the charge, on flat, smooth ground (think shopping centre surface). Not up hill and down dale, so as I was approaching Mobberley, my scooter started going slower and slower until it stopped whilst going uphill. I tried phoning a taxi, no joy, looked on my map, found a pub not too far away, and tried to reach it. Out of the blue, a bloke in a jeep pulled up, and asked what he could do to help. I tried to say I was fine, but he wasn't having any of it, called someone else to pick me up, telling me he had a wedding barn (Owen House Wedding Barn to give them a plug) close by where I could charge my scooter. Wow! I was picked up by someone driving a Mercedes convertible, and the bloke, Dan, brought my scooter to the barn, then went back for his jeep. He settled me in a room, put my scooter on charge and offered me drinks. He said he needed to go out for an hour, asked me how long it would take to charge my scooter and then said he'd take me to Bluedot! The kindness of strangers. Just over an hour later, after his staff had repeatedly offered me drinks, he came back, loaded my scooter onto his trailer and drove me to the festival site. I am blessed beyond imagination. If you've never been to Bluedot, you must! It's a mixture of science, geekdom (with lots of 'Dr. Who') and music. It's possibly my favourite festival, incredibly family friendly, with lots of science stuff aimed at children (that I do, too!), really interesting talks, films and music, without some of the tatty stuff other festivals attract. It's based at Jodrell Bank, and the Lovell telescope turns towards the main arena in the evening and has images projected onto it! There's very few sequins and glitter and almost no silly hats. Sat up on the accessible platform, I'm waiting for the Opening Event to begin. "Good evening everyone, welcome! This is BBC3 launching Bluedot this year, with the BBC Concert Orchestra, and featuring a track from his debut album 'Conduit', please welcome Coby Sey". The set begins and it's a full orchestra, horns, strings, double bass playing a haunting melody, echoed by bassoon and glockenspiel, fabulous sounds! Crackles in the background, like an old, badly scratched record are heard, then a beautiful, deep voice singing over the static. Then spoken words "It's the 14th day …" with a flute playing in the background. The singing starts again in a rich, melodic voice, more strings, glockenspiel, crackles, brass, the voice reaches a crescendo, then suddenly stops. That was amazing! Contemporary classical composer Max Richter is Thursday's headliner playing "Recomposed", a reworking of Vivaldi's "Four Seasons", something that I love. Opening with very short violin sections on repeat, the motifs are woven with lower notes playing in contrast. Next, the double bass takes over with a slower movement, with a single violin playing in a deeper register. The pace picks up again with the tune being carried by the violins, cellos playing in the background. The violins play very quickly, with the cellos trying to keep up. It suddenly ends, then the next section starts. It's slower at first, then picks up speed. You can still hear parts of Vivaldi's work, on repeat even more than in the original. I love this, it's amazing! The whole arena is completely full, with crowds reaching all the way back to the food stalls. The next portion is carried by cello with double bass and violins playing in the background. This is a section from "Winter", is slow and full of melancholy. Next up is another piece from "Winter", played like I've never heard before, full of pizzicato violins, followed by incredible fast paced cello and double bass. The depth of sound is incredible, harsh, almost chaotic and incredibly powerful, whilst still retaining parts of the original work. "Spring" joyous, light and beautiful follows next. It sounds as though there's a harpsichord playing as well, but could possibly be really talented violinists mimicking one. Now, there are staccato violins and we're back to the beginning, as the music grows louder and louder to incredible effect. The First Violin player especially is fantastic, so talented. The piece ends and the whole arena are up on their feet clapping and cheering. The orchestra take a bow and leave the stage. An utterly wonderful performance, the set can be heard in full on BBC Radio 3 on September 14th. Following Max Ritcher is "Voices", which features revered actress Tilda Swinton reading extracts from the UN Declaration of Human Rights set to music. The orchestra return to the stage for "Voices"; the sun is setting and there's a new moon rising in the sky. A woman's voice with very Received Pronunciation starts to read the first article of the Declaration. As her voice fades out Tilda Swinton takes over, violins surge and voices begin to harmonize with them. Tilda pauses as they play, she stands begins to read again when they stop. A piano takes over and a solo cello joins in, Tilda starts to speak again, and slowly, the violins join in. Reaching the line "Everyone has the right to freedom" the audience cheers and claps. An incredibly powerful piece, simply stating the declaration is extremely moving and the audience response underlines it. The RP voice continues quietly in the background, whilst a singer echoes the strings by humming, the First Violin joins in and Tilda speaks over the music. As the singer and First Violin take over, the orchestra slowly increase in volume, building louder then fading away, as a man's voice takes over very quietly in the background. Tilda carries on reading, this time covering the section on marriage and family. The piano takes the lead again, whilst the rest of the orchestra is silent. Now the voices harmonise together as Tilda finishes reading the Declaration. The iconic Lovell telescope has turned to face us and is lit up in blues and smokey orange swirls. The voices rise again and the harmonies are utterly beautiful and are matched by the violins and double bass. And Bluedot has started! Friday: This is becoming a challenging festival! It's not stopped raining since last night and the ground is deteriorating rapidly. My scooter keeps getting stuck in the mud, so I'm having to stick to the paths. This means that the main arena is almost impossible to reach, so today will be a day spent in Star Field. An area filled with stalls that have experiments to do, some of them are probably aimed at children, but that's not going to stop me! The first thing I'm having a go at is making a Japanese clay ball. Someone explains to me about earth buildings, made from clay and straw mashed up together, allowed to dry and bonded with lime mortar! The earth ball I'm making is effectively a mini version of a brick! Once I've painted it in clay slip, and it's dried, I burnish the ball using the lip of a glass jar, polishing it and perfecting its spherical shape. This is a very relaxing thing to do, and after only a short while, my clay ball starts to burnish. I'm told the areas that haven't need some more slip to build them up, so I add slip (runny clay), let it dry, then carry on burnishing. After a while, it's looking shiny all over, and I'm done! I'm told I can take it away and it will absorb smells in my home! My next stop is a VR look at the Milky Way and its environs. Wow, it's spectacular! I look all around, seeing the Milky Way in several different light frequencies, whilst the scientist explains what I'm witnessing and how useful it is. Speechless! It's beautiful, incredible and awe-inspiring. I have a chat to someone about insulating homes and discover the only thing I can do to my own home is to externally insulate the walls, as I've done everything else. Extremely useful in the current climate, need to bring those bills down! Next up, I learn more about the Doppler Effect, when sound is compressed when it's coming towards you, and stretched as it moves away – think of a racing car going "neeeeouuum" with the "neee" as it approaches, and the "ouuum" as it passes you and rushes away. Next up I visit a marquee that has samples of critical minerals used in the manufacture of mobile phones, tablets, laptops and desktops. I learn more about where they come from, how they are used and hold samples, including a slightly radioactive one. I tell the scientist that it won't matter, as I grew up near BNFL Windscale in West Cumbria and already glow in the dark! (They later renamed it Sellafield to protect the innocent – Science Ed). I take part in a quiz and surprisingly, get most of the answers right! After meeting R2D2 I head into the main arena, as it starts raining heavily. The ground is a mud bath – there's one main entrance to the arena and a couple of tiny ones that head into the camping areas – but almost everyone goes through the main entrance. My scooter gets stuck repeatedly, so sadly, I head back to the tent, missing the music. Saturday: It's not stopped raining since yesterday morning and the ground is impossible in the main arena. I decide to head to Mission Control, next to Star Field instead. The ground is so waterlogged now that the accessible golf buggy cannot make it through the mud – I was hoping to use that to go to the main arena – but that's not happening, so Mission Control it is! There are more solid paths here, until you reach the main entrance, then it's a sea of mud! I head towards Mission Control, get stuck and am immediately surrounded by people offering to push me. That's the wonderful thing about festivals, people are so supportive! A member of staff asks me to stop so she can take a picture of how impassable the ground is, so that she can get more wood chips. Another helps me whilst four people lift my scooter out of the mud and onto a surface slightly firmer. The wood chips feel like walking on marshmallow, I'm getting quite concerned about coping! I just about make it through the quagmire and find somewhere to sit down. My family take my scooter to Welfare, where it can go on charge – the mud is depleting the battery dreadfully – and I decide I'm staying here all day. First up is a talk about the work British scientists are carrying out in the Antarctic. A fascinating presentation, the talk details the experiments they carry out, including cutting holes in the ice and scuba diving at temperatures below freezing! We have a video call with the people living there now and get the chance to ask them lots of questions. Next up is a talk by a government advisor on the Climate Emergency, again with a chance to ask questions. This was fascinating: I learnt that the UK is on target to meet the 1.5°C temperature increase, the only developed nation to do so other than Norway. As the advisor showed us lots of graphs, bar charts and time lines, explaining each one in detail, I glance outside and the rain is pouring down so heavily I can barely see out of the tent! If anyone needed to have any more evidence of the Climate Emergency, they only need to look outside! We leave to get some food, but don't venture far, as the ground is treacherous – it's a swamp now! After eating, we head back to Mission Control, for an afternoon/evening of comedy. Satirist Nish Kumar is headlining and I missed getting tickets to see him at the Lowry in Manchester so I'm looking forward to his set! The DotTalks, the science centre and the comedy sets add to the richness that is Bluedot – the music is only one part of the festival, there's so much more to see and do here. So far, I've made things, learnt stuff, seen / listened to some great music, and now I'm about to experience a little bit of comedy. There are five comedians, plus the compère, who is really funny as well, throwing in some observational comedy to get the audience in the right mood for the acts. The first turn is OK, the second falls flat – he's American, and seems to have misjudged the audience. The third and fourth are really funny, then on comes Nish Kumar. Understandably headlining the stage, Kumar is absolutely brilliant, I'm actually glad it's raining so much, as I might have missed him and gone to see a band instead! He has me laughing so much, I'm crying; he teaches the children in the audience many new words that they definitely can't say in school, he tells us about his attempts to interview Boris Johnson and how he failed miserably! He's at times incredibly serious, then painfully funny! The comedy over, we ventured back out to the rainstorm, deciding to miss the music again and head back to our tent for the night in the downpour. We eventually make it back, only needing a couple of people to help push my scooter when it gets stuck again! The Accessible Campsite is almost as far away from the arena as it would be possible to put it, which means it a) takes so long to get there, and b) I'm shattered by the time I get there! It's still raining!
Band Links:-
https://www.discoverthebluedot.com/
https://www.facebook.com/bluedotfestival/
https://twitter.com/bluedotfestival
Play in YouTube:-
Picture Gallery:-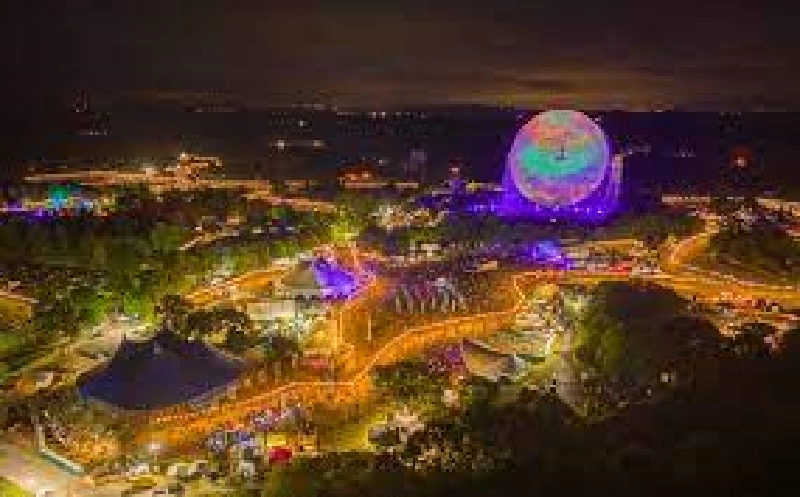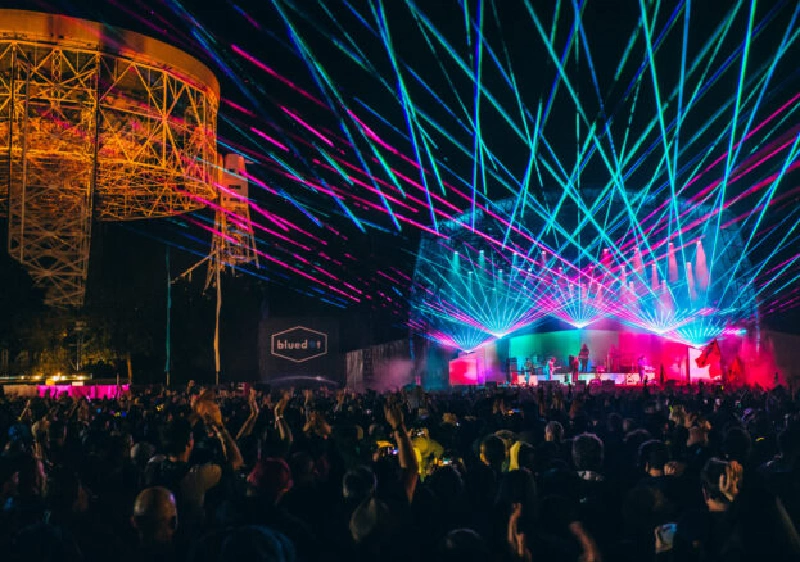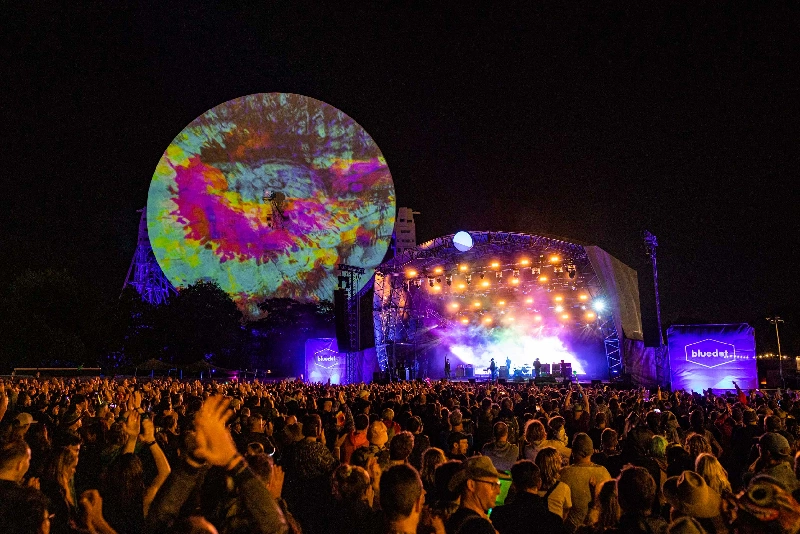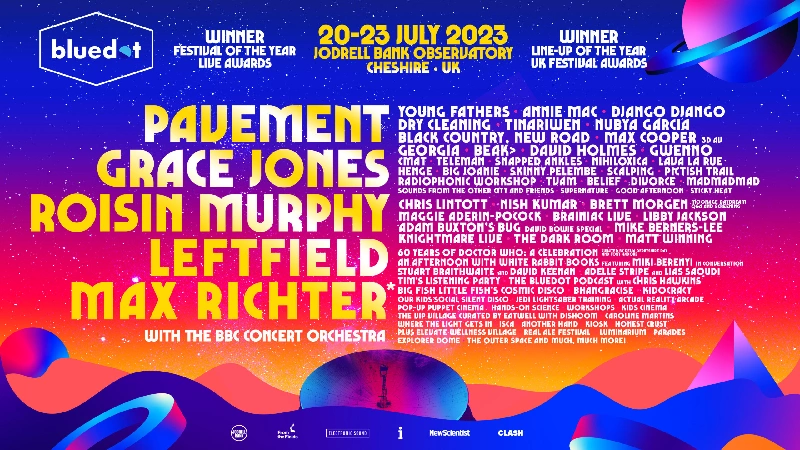 intro
Battling against constant rain, swamp-like mud and an accessible campsite that is anything but, Shirley Proctor still finds much to enjoy at Bluedot Festival in Cheshire
profiles
---
Profile (2018)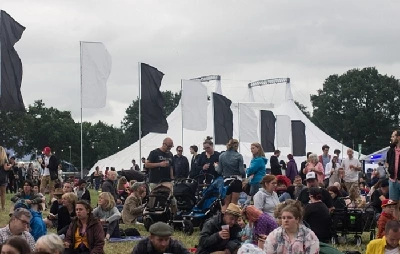 Shirley Proctor and Amanda J Window preview this year's Blue Dot Festival, which merging music, science, art and culture, takes place in Cheshire between Thursday 19th and Sunday 22nd July and includes on its line=up Chemical Brothers, the Flaming Lips and Future Islands.
live reviews
---
Jodrell Bank, Cheshire, 21/7/2022....24/7/2022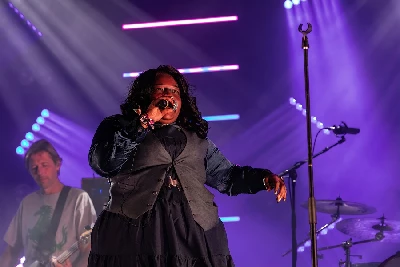 Shirley Procter profiles some of her favpurite acts at this year's four-day Bluedot Festival.
Jodrell Bank, Cheshire, 18/7/2019...19/7/2019
Jodrell Bank, Cheshire, 20/7/2019...21/7/2019
Photoscapes 1
Photoscapes 3
Photoscapes 2
Photoscapes 4
Jodrell Bank, Cheshire, 21/7/2018...22/7/2018
Jodrell Bank, Cheshire, 19/7/2018...20/7/2018
Pennyblackmusic Regular Contributors
---