---
Big Joanie
-

Moth Club, London, 23/1/2020,
published: 14 / 2 / 2021
---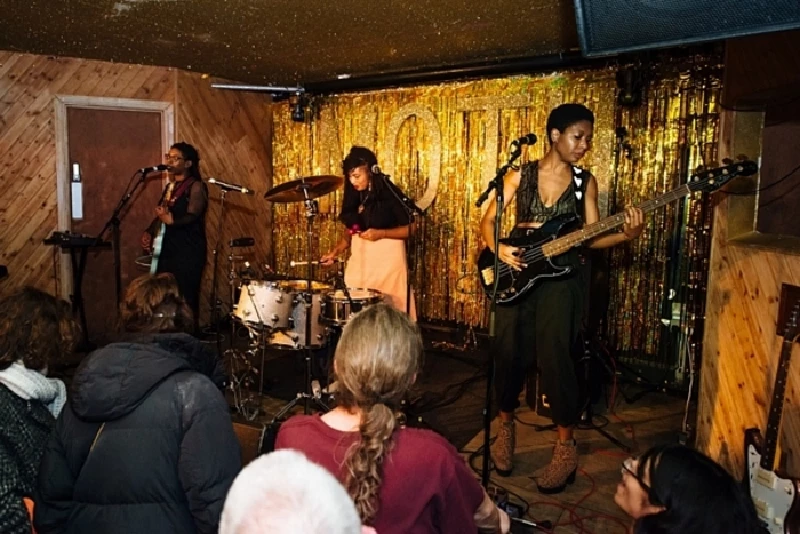 intro
Dastardly braves the January cold for some heartwarming DIY punk rock from London three-piece Big Joanie.
"They said we wouldn't find our audience," says Big Joanie singer/guitarist Stephanie Phillips to a packed Moth Club this cold Thursday night in Hackney. It's not quite clear who "they" are but there's no mistaking the genuine surprise on the band's faces as they see so many people staring back at them. And deservedly so. Their 2018 debut 'Sistahs' on Thurston Moore and Eva Prinz's Daydream Library Series is a masterclass in economical darkpop that echoes Kurt Cobain and Kristin Hersh, takes personal sentiment into the wide arena without blushing and features the kind of hypnotic grooves that could probably run for weeks if only they could make records wide enough. Did I mention the guitar sounds? On stage they line up in a row and present the perfect combination of imperfections and contradictions that make up your favourite bands. Singer/guitarist Stephanie is the quiet one, the brains of the operation with the glasses to prove it. Make no mistake, beneath her cool assured poise an array of invisible cogs are spinning frenetically to create this kind of calm at the centre of the storm. Standing up to drum in the middle is Chardine. There's something about stand-up drummers...the tribal look, the tribal sound. During one song she changes rhythm and starts pounding the cymbal and a wave of excitement spreads out round the room along with yelps and cheers. The fact that such a seemingly simple act produces something so powerful is a testament to Big Joanie's skill as songwriters and performers. Stage right is Estella, dancing with her bass held high like a lover and weaving in and out through the music like she's signing the gig to the audience. There's plenty of banter from all three of them tonight. It feels relaxed and there's a definite vibe in the room...the feeling of something arriving, of being there at the start. "This is a new one," says Stephanie. It sounds fantastic and if I hadn't lost the tiny bit of paper I'd scribbled it's name on I'd tell you what it was called.. 'Happier' maybe? But it's not just the music. Big Joanie are as much a proof of their own philiosophy. The proof that you can do it yourself, whoever you are, wherever you are and regardless of whoever says you can't (including yourself, often the biggest naysayer of all). They're a triumph of the will. Scratch the surface of any of the songs on 'Sistahs' and you'll see the steel core running through it. You can't teach this kind of strength. You have to go out there and fashion it yourself. Outside afterwards a man who knows a bit about guitars and DIY punk rock emerges from the venue smiling. He bends his tall frame and still mainly blonde mop down into a cab and is gone, safe in the knowledge that he might've helped some kindred spirits on their way.
Band Links:-
https://www.facebook.com/bigjoanie/
https://twitter.com/Big_Joanie
https://bigjoanie.bandcamp.com/
Picture Gallery:-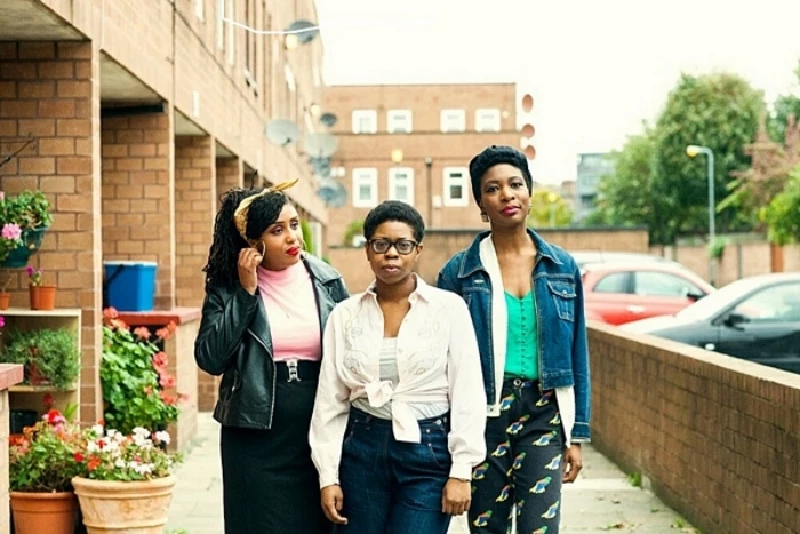 Pennyblackmusic Regular Contributors
---