---
published: 23 / 2 / 2020
---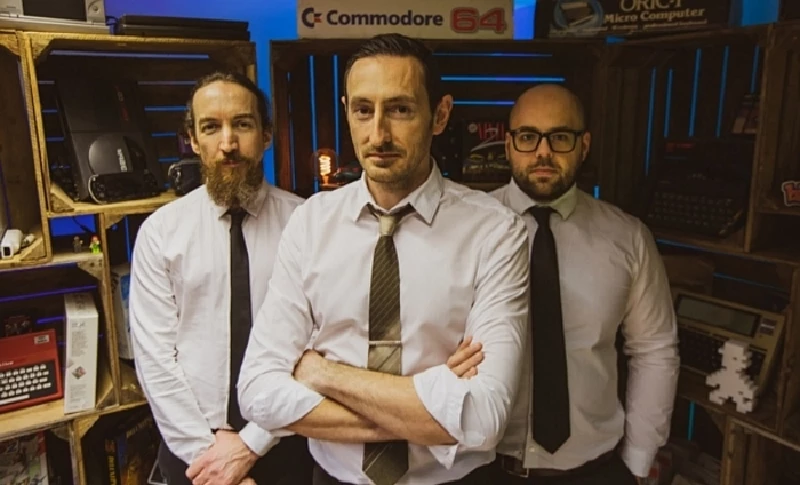 intro
Dave Goodwin speaks to Aidy Killens, the frontman with indie guitar rock trio and games enthusiasts The British IBM, about their third album, 'Play the Game'.
Way back in 2012 we ran a couple of articles about indie rock band The British IBM. The Cambridge-based trio are led by singer/songwriter, guitarist and retro enthusiast Aidy Killens, who is joined by David Martin on bass and Scott Wilson on percussion. The group released their self-titled album in 2012, which was produced by Neil "Bugs" Rogers and featured their debut single 'Animal' as well as their second single and title track 'The British IBM'. That song garnered acclaim with its use in the trailer for 2014 documentary film 'From Bedrooms to Billions', which outlines the story of the British video games industry from 1979 to today. We hadn't heard from the lads in a long, long while, so, when Aidy got in touch with news about their third full-length offering, we decided to interrogate him as to what the British IBM has been up to since that first debut. PB: It's a long time since I spoke to you guys in 2012 at a gig in Derby. What have you been up to since we last met and Pennyblack reviewed the first album? AIDY KILLENS: So, since 2012 we put out another album entitled 'Psychopaths Dream in Black and White', which had a slightly more folk-tinged sound with lots of layered strings and acoustic guitars. It got some fairly good reviews and even had one track used in a TV show called 'Life Sentence', and also a lot of the tracks were used in the documentary 'From Bedrooms to Billions (The Amiga Years)', which was a follow-up to 'From Bedrooms to Billions' which featured a lot of the debut album on it. PB: What about getting out and about gigging? AK: We've done a whole bunch of gigs, including one where I did a solo-acoustic show in Las Vegas at the Riviera as part of the last CGE Expo. I played several times a day throughout the expo with a bunch of other video-game-influenced musicians like 8Bit Weapon. PB: How did the Vegas gig come about? AK: The Vegas gig came about because over the years I've become good friends with the guys that do the Retro gaming Roundup podcast. They're an awesome bunch and play my music on their podcast now and again. So, when they took over the organisation of CGE one year they included me in the music line-up. It was awesome. I played a few times a day in the main expo hall. and between sets I'd sit around chewing the fat and drinking with the other nerdy musicians and expo-goers whilst playing random stuff off a hacked iPod with RockBox on it (courtesy of UK Mike, one of the show hosts) and making bogus announcements on the PA systems. PB: Is it still the same line up? AK: We changed drummers back in 2017. Our original drummer Paul Richards has always played in about twenty different bands and was getting a whole lot busier with his acting, comedy and plays etc., so we decided to get someone else in that could give us a bit more time (It was all very diplomatic though and we're all still friends). The new drummer Scott Wilson is a dab hand at playing to a click track, which is incredibly handy when you're in the studio. PB: I have a copy of the new and third album 'Play The Game' in my hands, but from what I have heard you have gone into video a little more. AK: We kind of took a break from the album thing and did a few singles 'Bob Noyce', 'Jet Set Willy' and 'Where is Matthew Smith?' Dave's awesome at video production and makes all our videos now and did those last two. We filmed one at the Retro Computer Museum in Leicester, and the other was all done in my garage and in a rehearsal room with a green screen. Then, as life got busier, we started gigging a bit less, but I found I was writing a whole lot more at home and doing a lot of demo-ing and decided to start work on a third album. I'd started a Patreon, which is a membership platform that provides business tools for creators to run a subscription content service, with ways for artists to build relationships and provide exclusive experiences to their subscribers or "patrons", so there was a little bit of money coming in from it and a small group of very supportive fans that really helped with the whole process. PB: Money must be tight for small bands these days. AK: Yeah, there's not a great deal of money in music but I think with everything combined it just about pays for itself. Just! It's a combination of Patreon, some PRS royalties and then you obviously sell a few bits and pieces each month and get some streaming money from the usual suspects. There's also the occasional sync that helps. I had a song used in a TV show in the US called 'Life Sentence' a little while ago. The funny thing is I think gigging actually costs more money than it brings in but it's a hard one to quantify, as it can very occasionally lead to other things and new fans. But once you factor in petrol, hotels, rehearsals and guitar strings etc. it's seldom worthwhile from a financial viewpoint, but it's not all about the money. Sometimes it's good to get out the house and have a few beers and play some songs. PB: This third offering sounds bigger than anything that has come before. AK: Yeah, I think this album sounds different/bigger for a few reasons. I wrote all the songs as guitar songs and imposed a creative restriction to only overdub with more guitars. I came up with the idea after reading an interview with R.E.M. and how they did a similar thing with 'Monster'. I think they were tired of sitting on stools after 'Automatic' and 'Out of Time'. I enjoyed the process. If I needed a specific sound I'd try and do it with a pedal or an ebow. Also, another reason is that Scott is great at studio work and playing to a click track, so anything that you can throw at him he seems to manage with minimal effort. I ended up being a lot more adventurous with the drums. In the original demos where I'd program and cut together sampled loops. So, in a nutshell, bigger sounding layered guitars, shorter, punchier songs and more complex drums combined with Dave's new bass guitars and recording in a different studio possibly. PB: Where was 'Play the Game' recorded? AK: We recorded this one at Sickroom Studios in King's Lynn with Owen Turner, who also plays in Magoo. PB: Was it an easy and enjoyable record to write and record? AK: I liked the idea of having a mainly guitar-based album. I pretty much wanted to create 'Monster', and although that didn't happen as it evolved the self-imposed creative restriction of using only guitars and no synth or string overdub made it a lot of fun. It's all written by me in the first instance. and then I rehearse it with the rest of the band before we take it to the studios. I'll send them demos as I'm working on material to see if they have any feedback or want to contribute as I go along. A lot of this album was demoed and fully realised over the course of a year. I wrote and demoed a whole bunch of songs and picked the ones that seemed to go together for 'Play the Game'. Those demos acted as a kind of backing track that we'd then play to at the studio, as we slowly replaced all of the tracks with proper studio takes. Although in some instances a few of my demo takes survived the cut. I think doing most of the work at home saved a lot of money and time in the studio but was a lot of hard work up front. Lyric-wise, sometimes things happen really quickly and just pop into my head and other times it can take me a little while, so I may have scratch-lyrics and vocal sounds for a while before coming up with the final words. I had some dodgy scratch lyrics for 'Free in My Mind' for a while and couldn't work out where to go with it, and ended up reading a bunch of Bobby Fischer quotes that inspired the final lyrics. He once said, "I don't believe in psychology. I believe in good moves". The first half of that quote is the opening line to the song. PB: Thank you.
Band Links:-
http://www.thebritishibm.com/
https://www.facebook.com/TheBritishIBM/
https://thebritishibm.bandcamp.com/
https://twitter.com/thebritishibm
Play in YouTube:-
Picture Gallery:-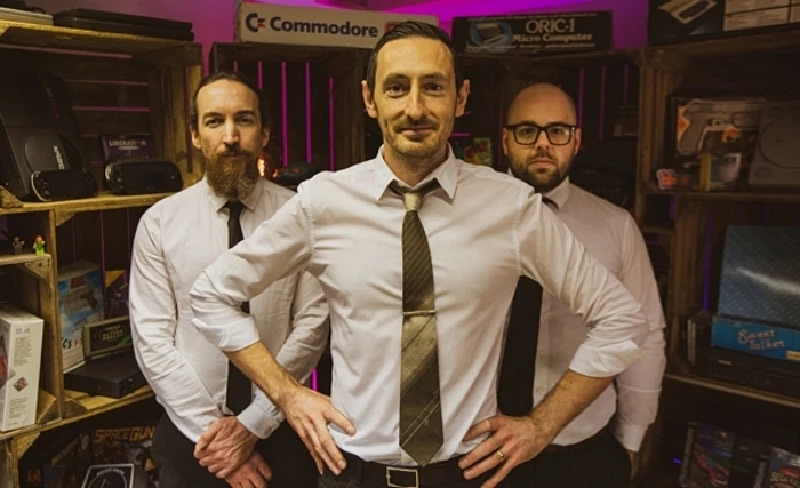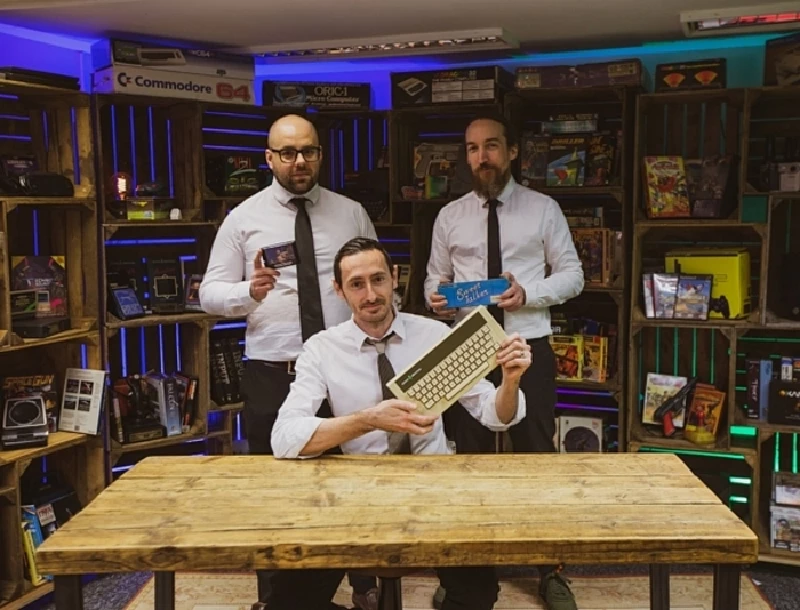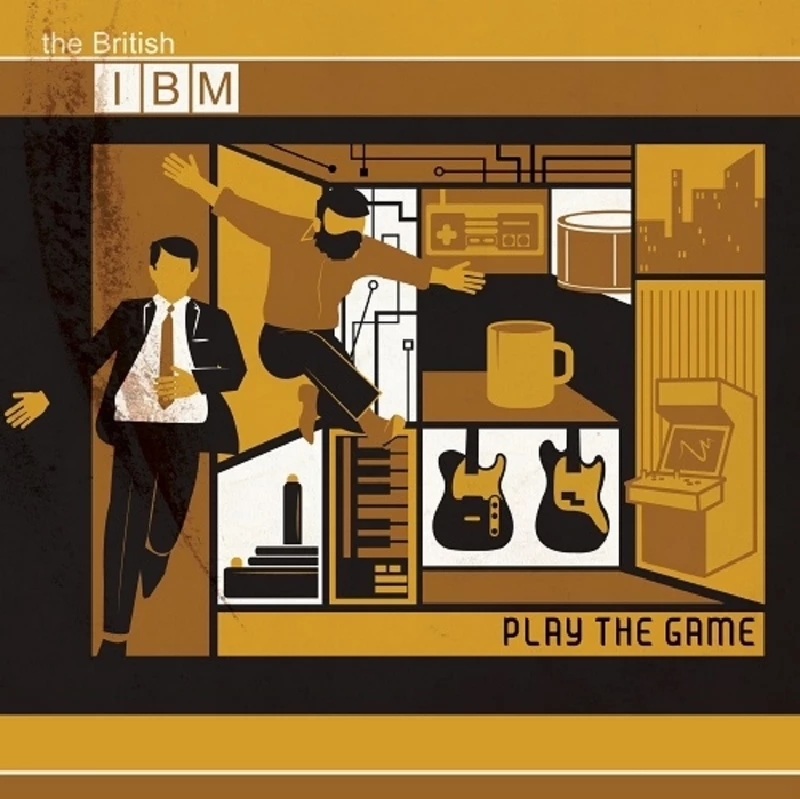 live reviews
---
Victoria Inn, Derby, 19/1/2013
Dave Goodwin finds Cambridge-based indie rock trio British IBM surprisingly funny in an excellent, but rare gig at The Victoria Inn in Derby
features
---
Vinyl Stories (2020)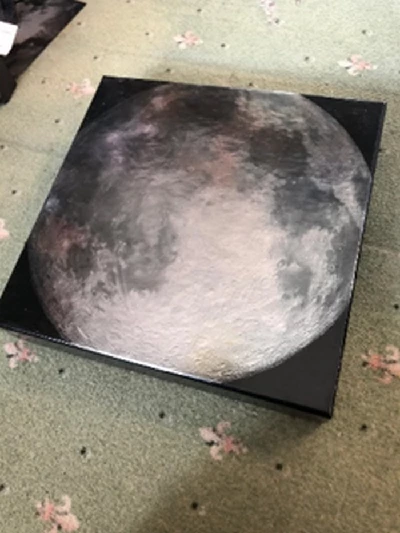 Indie-rock/vintage computing trio The British IBM tell Dave Goodwin their 'Vinyl Stories'.
Pennyblackmusic Regular Contributors
---