---
published: 14 / 6 / 2019
---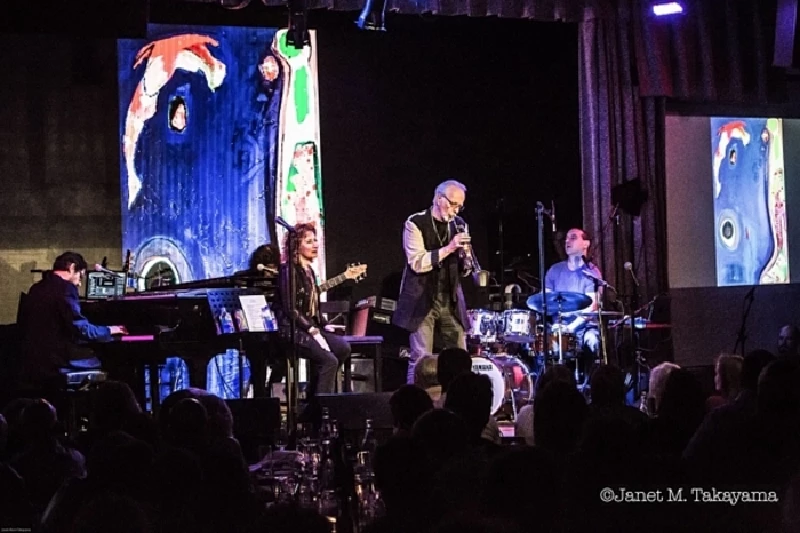 intro
Lisa Torem watches Herb Alpert, Lani Hall and their trio play a generous set of hits, sweeping their audience through several decades of magical material.
As Ms. Hall and Mr. Alpert walked onstage, accompanied by their longstanding trio: vocalist/pianist Bill Cantos, bassist Hussain Jiffry and vocalist/drummer Michael Shapiro, conversations came to a halt and excited patrons rose from their seats. They've sold out Chicago's City Winery many times before - the crowd always includes repeat guests, as Chicago is where Ms. Hall spent her formative years, and also the setting for which she based multiple stories in her book, 'Emotional Memoirs'. As such, loyal, neighborhood friends mingled at cozy tables, sharing memories with newly-acquired fans. The generous set list, which spanned decades, including Mr. Alpert's hits with the Tijuana Brass and his solo career, as well as Ms. Hall's international ballads from the Sergio Mendes Brasil '66 era, which she sang with passion and precision in both Portuguese and Spanish. But equally well-received were a cadre of American classics, such as songwriter Carole King's 'Up on the Roof' and Cole Porter's, 'I've Got You Under My Skin.' Predictably, each rendition stirred up memories. After all, having been married for more than forty years, during which time they have performed all over the world, the couple has accumulated many backstories and seem equally comfortable performing medleys as well as reimagined versions of classic repertoire. One such backstory harkens back to 'Rise'. Co-written by Andy Armer and Andy Alpert and recorded in 1979, the sampled, infectious beat of the soaring, seven-plus minute anthem helped shoot The Notorious B.I.G.'s 'Hypnotize' to the top of the Billboard Hot 100 in the spring of 1997, introducing a brand-new generation to Herb Alpert's virtuosic trumpet. That said, their collective music has not only withstood the proverbial test of time, it has consistently garnered the gratitude of up and coming generations. The show also featured a selection of related visuals: clips of charismatic Louis Armstrong, children enchanted by a marimba, and further down the line, vivid paintings etched in warm golds and reds, created by the award-winning Alpert. A triple-threat, the former co-founder of A & M Records (with Jerry Moss) in 1962, is also a painter and sculptor, who gifted Chicago's Field Museum with a series of iconic, bronze sculptures. Although the music itself was contagious and well-worth the price of admission, this event was also meaningful due to the ease in which the performers interacted with the patrons. It was a joy to witness their love of performance as they tied together the content of the images with their material. For example, after Mr. Alpert referenced fellow-trumpeter Armstrong's, 'It's a Wonderful World,' he held the stage and whispered: "What a wonderful world it would be if we'd only give it a chance." True to form, such comments brought the audience together for some especially, life-affirming moments. But even when few words were said, their partnership was palpable. As Alpert unveiled the steamy, 'What Now My Love' (also the sixth album released by Herb Alpert & the Tijuana Brass, 1966), Hall held a shaker and gazed respectfully at her spouse. Highlights of her own performance included a dreamy version of Carlos Antonio Jobim's 'Dindi,' the upbeat, beloved, bossa nova, 'One Note Samba' and the ever-romantic bolero 'Besame Mucho' (composer Consuelo Velazquez), featuring Shapiro's exciting percussive build and Jiffry's buoyant bass solo. Alpert, in his two-toned, casual jacket, sparkled, when articulating the mellifluous melody of 'The Lonely Bull' and when he segued into pumped-up, 'A Taste of Honey.' As he courted the band, a visual of the Tijuana Brass band members appeared, through a crusty opening of natural rock. "That was music we're not hearing anymore," he proclaimed, offering insider insights: "Timing plays a big part in any artist's career. Find your own voice." Undeniably, Alpert has much to offer as a mentor to emerging wannabees. But Hall wasn't shy either when it came to reminiscing and sharing her innermost thoughts. Before crooning, 'Up on the Roof': "This song reminds me of those days with Dad on the porch, looking at the stars," she exhaled, as her dark, shiny hair shimmered against a glamourous, gold, lame top. This intimate moment beneath the spot was not lost on her proud spouse, who asserted afterwards, "She gave me goosebumps." As the set progressed, American Songbook ballads competed for center stage. From Lennon--McCartney's, 'The Fool on the Hill' and Simon & Garfunkel's, 'Scarborough Fair', then circling back through time to Cole Porter's bewitching 'Night and Day'. And of course, Jorge Ben's 'Mas Que Nada' found Hall swaying to the band's fiery tempo as Chicago City Winery guests danced in their seats. After Alpert referenced one song: "We played this at Chicago's McCormick Place the time it burned down in '66" and proceeded to mention another gig at a former Chicago-land racetrack, a man yelled out, "That place burned down, too." Without missing a beat, Mr. Alpert reposted, "I sure play a hot trumpet." In another songwriter tribute, the band launched into George Harrison's 'Something' and during 'Ain't No Sunshine,' Jiffry surprised all-concerned with his jubilant voice. As expected, the audience was invited to sing along with the heartbreaking 'This Guy's in Love with You,' after Mr. Alpert explained his reluctance to record the inevitable hit. Another surprise was the band's contemporary version of the Jason Mraz ballad, 'I'm Yours' as well as a heady, improvised scat by the talented Cantos, during an elongated version of an aforementioned Cole Porter chestnut. At one point, Alpert walked downstage, seemingly captivated by the crowd. He couldn't have chosen a better time in which to demystify his legacy. "It's all about self-expression, imagination and freedom." He paused. "It's always about the truth." After this poignant revelation, the band tore into the up-tempo, 'Putting on the Ritz,' as a vibrant, tongue-in-cheek, choreographed dance routine floated across the screen. In summary, the receptive audience was gifted with a quality night, created by a team that shows a great affection for popular American and world music. Alpert's warm trumpet, sweetened by an occasional, melancholy tinge, coolly juxtaposed Hall's rich, welcoming voice. Kudos to a team that interacts with their fans in such an inclusive and genuine way. Minutes before closing, the tanned, toned, Alpert stood disarmingly still, golden trumpet at his side. His dark eyes shone as they drifted towards his lovely wife. "Thank you to Chicago for sending me Lani," exclaimed the guy behind the "hot trumpet." A warm Friday night out doesn't get much cooler than this…
Band Links:-
http://lanihallalpert.com/
https://www.facebook.com/lanihallalpert/
https://twitter.com/lanihallalper
http://www.herbalpert.com/
https://www.facebook.com/HerbAlpertPresents
https://twitter.com/HerbAlpert
Picture Gallery:-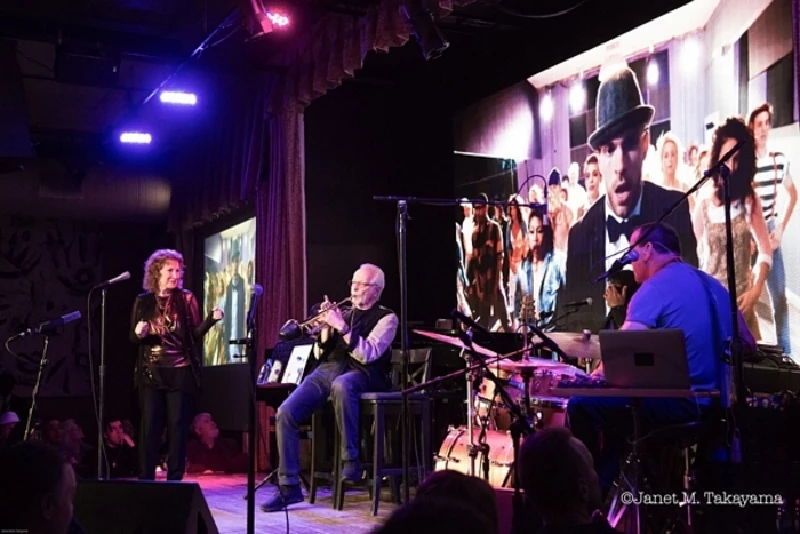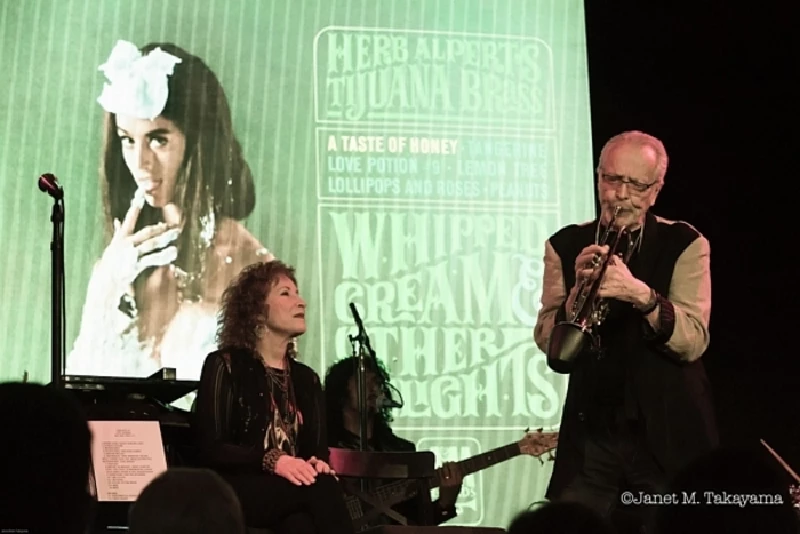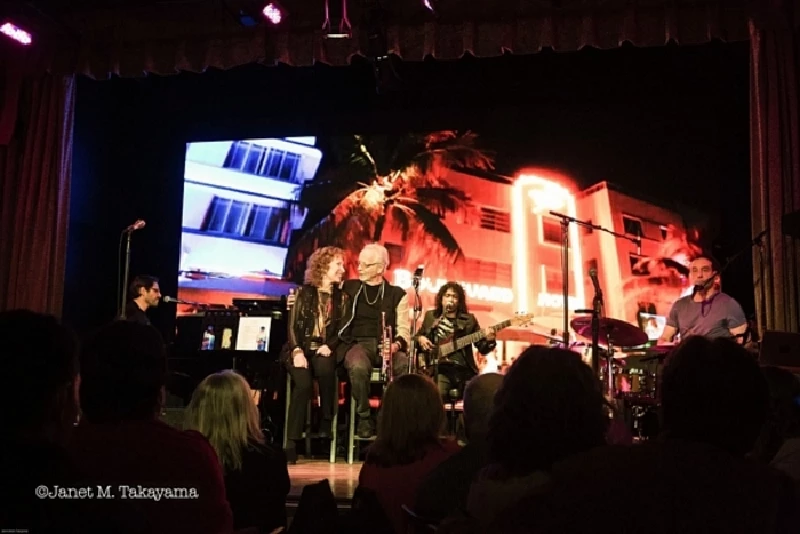 Visitor Comments:-
894

Posted By: Gloria, Los Angeles, CA on 14 Jun 2019
Thank you for an excellent and thorough review of Herb Alpert's show. My mom listened to Herb Alpert and the Tijuana Brass when I was little and it has stuck with me. I love their songs and I was glad to see Mr. Alpert includes some in his performances. Such great music. Thank you, Mr. Alpert, for all of these great sounds! Because of you, I love the sound of the trumpet!
---
Pennyblackmusic Regular Contributors
---