---
published: 4 / 2 / 2019
---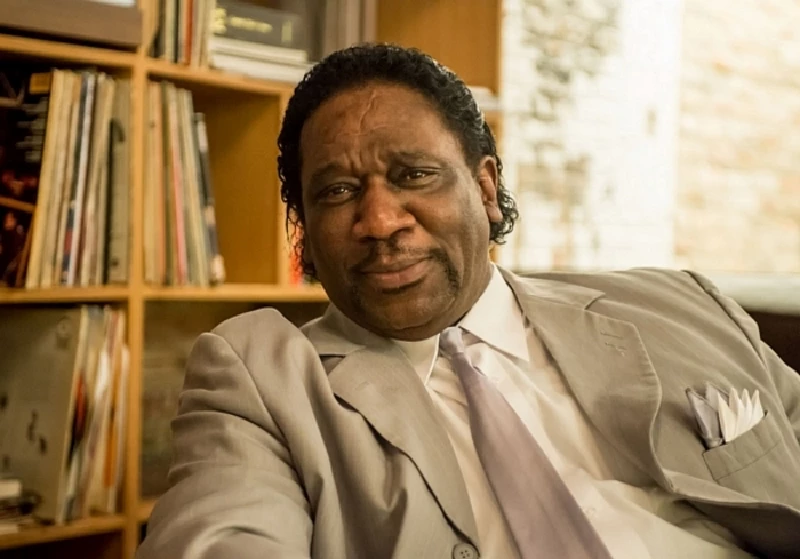 intro
Mud Morganfield, AKA Muddy Waters Jr., speaks about performing at the upcoming London Blues Week this coming January at the 100 Club and his latest album 'They Call Me Mud' with fellow Chicagoan Lisa Torem.
"The sun doesn't shine until my momma gets up," Mud Morganfield confides, sotto voce style, during our local call. To Mud, keeping family ties intact is imperative - the talented frontman of a highly virtuoso band, properly prepares his mother's breakfast before we dig more deeply into his trajectory. Of course, his broad fanbase readily acknowledges that his DNA is significant, but regardless of that fact, Mud has had to work hard and from scratch to join the ranks of blues icons that came before him. The vocalist/songwriter, eldest son of Muddy Waters and Mildred McGhee, brought the 2007 Chicago Blues Festival fans to their knees after they witnessed an especially powerful performance. (This fest features an annual three-day run and a roster of up and coming and classic acts). That appearance not only let locals in on Mud's prolific songwriting and booming, riveting voice, it led to international acclaim. It was after Muddy died in 1983 that Mud (AKA Larry Williams, or Muddy Waters Jr.) - who, like his dad, initially found work as a truck driver - dedicated himself to a life of performing not only his father's repertoire but his own heartfelt and truculent treasures. His studio work is impressive. On 2015's 'For Pops: A Tribute to Muddy Waters', Mud salutes his father's career by including a number of classic tracks. For this effort, he was awarded the coveted Blues Music Award in the category of Traditional Blues Album. Mud's collaboration with American blues harpist Kim Wilson (Fabulous Thunderbirds) led to that extraordinary achievement. On 2012's 'Son of the Seventh Son', Mud's knack for writing great hooks is especially evident in 'Blues in My Shoes'. His phrasing on 'You Can't Lost What You Ain't Never Had', one of Muddy's favourites, is sung with the kind of attitude that only a seasoned performer can muster. There are pronounced similarities between father and son, Mud Morganfield's baritone, ease on stage, ability to select outstanding musicians, plus a dramatic flair for phrasing, certainly remind many fans of his legendary parent. But Mud is quick to point out that they grew up in different times and were privy to vastly different musical influences. The more one hears Mud, the more one engages with him as a singular talent, albeit an artist who stands in great admiration of what his father's generation left behind. Mud is looking forward to London Blues Week at the 100 Club on Oxford St. during the week of January 14th-19th in 2019. It is here that he and other renowned international acts will entertain fans with their unique gifts and share what some American audiences all-too-often take for granted. He is no stranger to the U.K. cultural scene. In our talk, he suggests that London is as comfortable to him as his forever home in Chicago. In his first Pennyblackmusic interview he talks about his father, his expansive appreciation of all kinds of music, and even some of his own current family members' musicality. First, we talk about the biggest news, his upcoming concert appearance in the UK in 2019, where he will headline London Blues Week on closing night. Mud admits, "I practically live in London. I've been on the Jools Holland Show, performed at the Royal Albert Hall and played at Ronnie Scott's so many times." Mud also created a stir at the North Sea Jazz Festival. Chicago, his birthplace, is traditionally termed "The home of the blues," yet due to cultural shifts the many venues that once combed the North and South Sides have gone by the wayside. What's it like there now? Does Mud feel that audiences in the UK are as responsive as in his hometown? He is quick to laugh. "You all make me put my foot in my mouth. You know, I played the Blues Kitchen in London and I've never played back home for a similar group, a packed house of college students. That's all I'm going to say…" We move on to the subject of 2008's 'Fall Waters Fall', a raw studio album on which Mud exhibits deep emotion. The title song is almost ten-minutes long and features heart-wrenching guitar solos that weave in and out of his chilling vocals. "I had Dad on my mind when I wrote that song. You could hear me crying. I was so disappointed. I wanted to get rid of that song but my manager at the time said, 'No, that's blues' and they talked me into keeping that one." Why did Mud have such mixed feelings about including this track? "There were so many things that I didn't get to say to Dad and I was just noodling with it. I'm sure that there were things that he didn't get to tell me. Dad was on the road all the time. The public had more of him than we did. He had the life of a bluesman." "He would be overwhelmed but happy that I took the blues by the horn and that I continued with this kind of career, especially with this kind of music. He would be very, very proud." It meant a lot to Mud that, although his father was on the road so much during his childhood, he made sure to give his son a drum kit every Christmas. It would be years later, however, that Mud would consider the bass as a primary means of musical expression. His fascination for both instruments may have been an early indicator of his future career choice: "I was born and dressed in the blues. I can't tell you how many sores I have from beating on my parent's and grandparent's furniture. I'm thrilled with myself about this playing but I try to play it for me. I love the bass but I don't really play it for the public a lot." "I can hear them say, 'Oh, he's a great singer, but as a bass player, he stinks.'" As Mud imagines this type of scenario unfolding, he does so with a great dose of humility and humour. "I do try to write on the bass, like on my new album 'They Call Me Mud' (Severn Records, 2018), where I played bass on several of those songs." He is quick to point out his appreciation of basslines on this current album and, more specifically, on the title song of 2012's 'Son of the Seventh Son'. "Now that is a fantastic song. My great friend, Studebaker John, wrote that one. The bass line was played by E.G. McDaniel, Floyd McDaniel's son. And we had fun with it. I'll pick the bass up sometimes and play a couple of songs, but normally I leave that to other people to take care of." Mud's selective choice of musicians has been well-documented amongst those in blues circles. The players on this album also include: drummer Kenny Smith (son of Willie Lee "Big Eyes" Smith, Muddy Water's acclaimed and long-term drummer), guitarists Rick Kreher and Billy Flynn, the late Barrelhouse Chuck on keys, and Harmonica Hines and Bob Corritore on blues harp. Mud's quick-witted, rhythmic songwriting is gathering more and more steam as his career flourishes. His approach is largely organic. "When I write, I think, 'There's a good bassline, I think I'll go with that. That's pretty much it." That discriminatory gift is evident in the instrumental, 'Mud's Groove', one of the three songs on which his basslines star. Mud refuses to be categorised or pigeonholed within a particular era. "You know, there's rhythm and blues and soul and funk but it's about how it feels. I can't pretend to be anyone else. I have to be me. I'm not Dad. I'm his eldest son, but I didn't come up in the era of the cotton fields and tobacco fields of the Mississippi like my dad. I came up in Chicago and listened to Motown and Stax Records, The Temptations, Barry White and people like that. So that's what I related to as a kid in the late Sixties and early Seventies. So that's what I do. I keep an open mind. I don't want to be associated only with what Dad did. I have to be me." He is generous with praise about the players that he works alongside and doesn't hold back when promoting the talent on his new album. "On 'They Call Me Mud', you'll hear a lot of that versatility. I have Billy Branch on there. I have my youngest daughter (Lashunda Williams). I have Anne Harris, a great violinist, and guitarists Billy Flynn and Rick Kreher and drummer "Pookie Stix" Carlisle. There's a lot of stuff on there that represents 2018 blues as well as other styles and that's why I put it out. Now no-one does Dad like Dad, but if people ask, "What else does he do?", this album is a prime example of who I am. I am so versatile. I am so into music, period." Mud wrote ten out of the twelve tracks and included covers of his father's illustrious career: 'Howlin' Wolf' and 'Can't Get No Grinding'. Embellished by the talents of guitarist Mike Wheeler, blues harpists Billy Branch and Studebaker John, songs such as 'Oh, Yeah' reveal a gritty, honest and true-to-form landscape. But like most ambitious musicians, Mud is always thinking ahead. "I might record just a whole acoustic album next time. I'll keep my fingers crossed," he laughs. As mentioned earlier, keeping up strong ties with family members is a priority. He's never pushed his kids to pursue music, but then again, when he spots talent, he's quick to embrace it. Although he has a fair number of children, they're not all keen to follow in his musical footsteps. "Not one of my boys sing, but she was like me," he says about his daughter, Lashunda. "And she's a girl. But she sang around the house all of the time and couldn't keep her mouth closed," he kids. "And that's why I knew that she was 'the one.'" "Unfortunately my boys don't sing but my girls sing in church. They sing gospel. And that's where Lashunda has sung, in church." Mud's beautiful ballad, 'Who Loves You,' which appears on 'They Call Me Mud' underscores Lashunda's evocative vocals. Although he takes the blues tradition seriously, when he writes Mud enjoys expanding on a myriad of themes and emotions that reflect what he feels modern audiences crave. That said, on his set-list and on his latest studio effort, there are plenty of upbeat songs and a definitive mix of styles. "Who wants to cry all of the time? People come out to have a good time and think about their relationship or whatever. And you can dance the night away, too." One new song on 'They Call Me Mud' is an instrumental which allows his virtuoso ensemble to soar. He is especially proud of how smoothly the arrangement 'Mud's Groove' came together, although there were no smoke and mirrors involved. "It worked out because that's how I wanted it. I wanted something laid-back, something that you could be riding down the highway on or sitting back on your chair at home and just enjoying. That's Billy Branch on harp. He kind of led that thing out and that's me on bass and Ariyo (Sumito Ariyoshi), who is Billy Branch's keyboard player. And, of course, they're fantastic, and guitarist Rick Kreher…" Kreher is also co-producer of 'They Call Me Mud' and an important link to Mud's past. "Rick Kreher and John Primer, they were my dad's last bandmates before he passed," Mud recalls. (Bassist Ernest Johnson, pianist Lovie Lee and drummer Ray Allison were also in that legendary lineup). Speaking of Rick Kreher, I wondered what it's been like for Mud to play with one of his dad's dear friends and musical colleagues: "I don't care what it's like for him (Laughs), but I can tell you that it's amazing for me to have my dad's guitar player side by side with me. Like when I played with my godfather James Cotton, who was my dad's harmonica player. It was fantastic, I would look over and I just knew that Dad was proud of me, wherever we go, and it did my heart good." (The late James Cotton, who died last year, was an American blues artist who joined up with Muddy's band in 1955 and enjoyed being a band member and band leader until his departure ten years later, after which time he established his own band, Jimmy Cotton's Blues Band). Mud's early memories of seeing his father perform in Chicago venues are still remarkably clear. "I saw my dad's band play at clubs like the Quiet Knight in Chicago and a club owned by Eddie Shaw; my parents used to sneak me in there. We had a club in Harvey, Illinois called The White Elephant where they played, too. To me, back then, it was old folk's music. But then when I got older, I wanted to support my dad and my family." The blues is often defined geographically as Chicago or Delta Blues, etc. But to Mud, are these distinctions as important now? "I'm not interested in this personally, I do what I do. But when you start renaming blues as "rock blues" and "chestnut blues" or "run-around-the corner blues," you have to remember, guys like Son House, they didn't preach this." Although the city of Chicago may seem huge to a visitor, there are neighbourhoods that Mud knows extremely well and in which he feels a deep sense of comfort, despite having endured a tough beginning when he was a child. Although he obviously has his pick of studios in a city this full of musicians, he loves staying close to home. When asked about how he ended up working with his current roster of musical cohorts, he says, "Fortunately they lived here. They're all just a short drive away. We come over to my house and then we hit the studio when we're ready." The studio he currently records at, Joyride Studios, enjoys a solid reputation amongst his peers. "I know so many great artists from Chicago and around the world that have recorded there and there was money-saving involved for me, too, because to go to Nashville and all of that, it wasn't necessary. Joyride is right here and I took advantage of it." How does Mud fare in the fast-driving world of touring and recording? "I go with guts. I go with what God gives me. I'm like my dad. I don't smoke. I don't drink. I don't do drugs. So I'm always at one-hundred percent. What I am is what I am." Mud's excited about his upcoming UK tour in his beloved second home of London, not only because he gets to headline, but because he has a deep admiration for the other acts. "With Kim Wilson, we won a BMA Award. Sugaray Rayford is great. The Dirty Aces are a force to be reckoned with. I love them as brothers." "With Kim, we recorded that BMA-award album in two days. My great friend, the late Barrelhouse Chuck, was on there. Guitarist Billy Flynn was there. There's nothing like working with a bunch of professionals. There are people there who have the same mentality as I have about working and about making something as high-spirited as it can be." Yet despite all the excitement of traveling again across the pond and touching the souls of a new and repeat audience at the 100 Club for London Blues Week, Mud Morganfield never forgets where he came from. He's well aware that his father fuelled a revolution when he toured England in his early career and that he is doing his part to continue that legacy. But he's never lost perspective about what it means to pack up and go home after the stage lights dim, and what it means to begin the whole process again… Mud Morganfield has a larger-than-life voice, a quick wit and makes it a point to surround himself with the best players, but he also holds dear the day-to-day essentials: "The sun doesn't shine until my mom gets up."
Band Links:-
http://www.mudmorganfieldblues.com/
https://en.wikipedia.org/wiki/Mud_Morganfield
Picture Gallery:-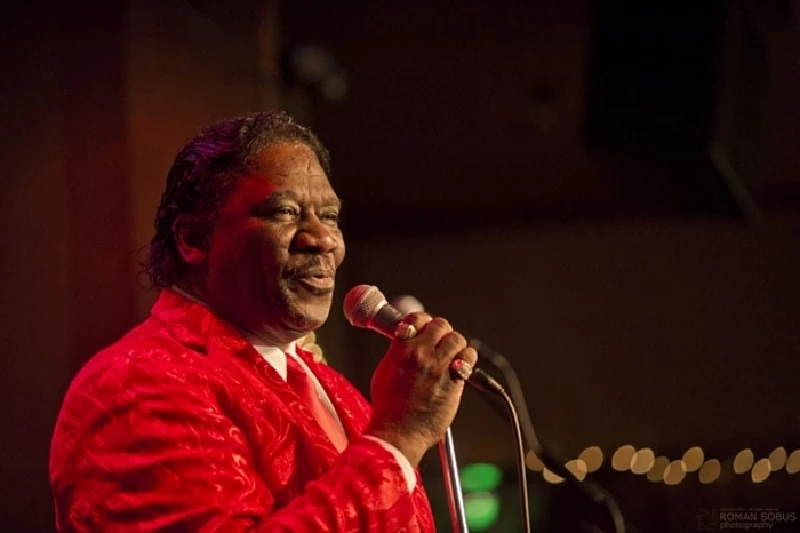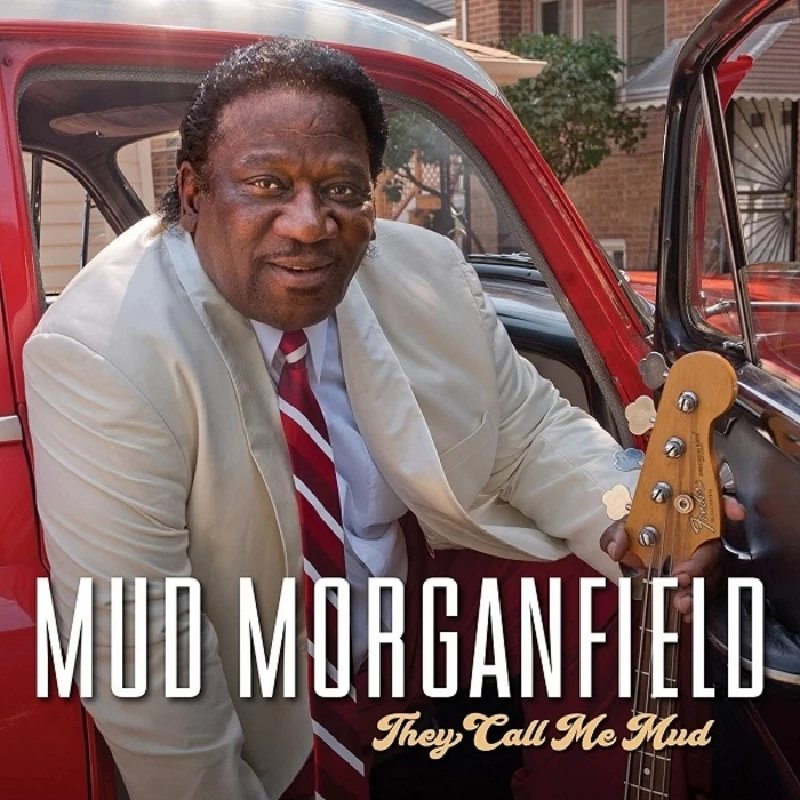 live reviews
---
Space, Evanston, 4/1/2019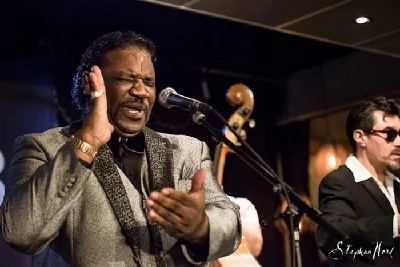 Lisa Torem finds bringing in the aftermath of the new year to be a delight when Mud Morganfield aka Muddy Waters Jr. and his band unleashed fresh cuts from his latest album 'They Call Me Mud' as well as classics.
Pennyblackmusic Regular Contributors
---