---
published: 13 / 10 / 2018
---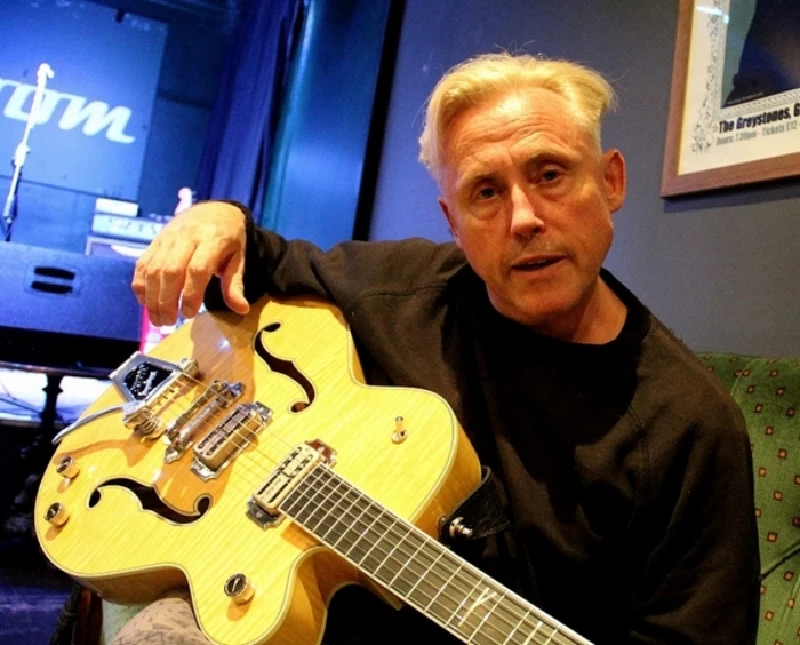 intro
Kirk Brandon speaks to Denzil Watson about how he balances his two bands Theatre of Hate and Spear of Destiny as well as acoustic project with cellist Sam Sansbury and 'Tontine', Spear of Destiny's recent album.
Enjoying something of a renaissance and in not one but two of post-punk's most respected groups Spear of Destiny and Theatre of Hate, front-man Kirk Brandon has never been one to rest of his laurels. Having just released and toured 'Tontine', Spear of Destiny's fourteenth studio album, the second half of 2018 has seen him turn his attentions to Theatre of Hate. Pennyblackmusic caught up with Kirk prior to a gig at the start of the band's summer UK tour in Sheffield. PB: You're just back from Germany and Poland, both scenes of legendary Theatre of Hate and Spear of Destiny gigs. How did they go? KB: Excellent. Two excellent gigs in Germany and an amazing gig in Poland in a 12th century castle called Bolkow. PB: I saw some footage and you were literally playing below the battlements. You've got a bit of a following out in Poland, haven't you? KB: Yeah, we went out there early doors, probably 1983, as guests of Solidarity. PB: It looked a great gig to play. KB: It was. Amazing. When we came on the sun was just going down and it was just one of those moments. PB: And you've got a bit of history with Berlin and Hamburg? KB: They're both places we used to play and hang about and spend a lot of time there. PB: So, you're back and it's the first night of your twelve-date UK 'Summer Assault' tour which culminates at Rebellion in Blackpool. It's quite fitting you are starting it here in the Greystones in Sheffield as this place has become something of a second home when you are up in this neck of the woods, hasn't it? KB: Yeah, I love it. I think it's a great independent venue. We like independent venues. PB: You've been touring for years now. Do you still enjoy the whole live thing still? KB: Absolutely. I love getting out there, especially in Europe and America. And Scotland. PB: You have been alternating between Spear and Theatre recently. Just looking at your schedule, it looks like the second half of 2018 is time for Theatre of Hate. KB: Yes, but the Spear tour earlier this year went really well. A lot of the time, especially with Theatre of Hate, it's availability to do things. Stanley Stammers (bass) lives in America and has done for twenty-five years. John-Boy Lennard (saxophone) lives in Canada. People have lives but we try and pull it together and everyone's willing to do it. So, it works when it works, and you take the opportunity. People say you're doing all this stuff and I say, "Well, I get the opportunity and I say yes." PB: Live Theatre of Hate are sounding as good as they even have sounded for me. And on record too. KB: Thank you. PB: The last few Theatre gigs I've seen have been storming. KB: It's a great band. We've got Chris Bell back on drums. He was in Spear back in 1983 PB: Have you started work on the follow-up to the last Theatre of Hate album, 'Kinshi'? KB: We've got six or seven different pieces of music which we've gone through together. The hardest thing in the world is to write lyrics. Think of all of the hundreds of songs I've written, and I think, "What is it you're writing about there? Why are you writing that?". You become very self-conscious, in a way, over the years, of what you appear to be sounding like. It's a bi-product of writing lyrics. PB: That's surprising to hear as your lyrics really appear to flow naturally. KB: It takes more effort than it ever did. Put it that way. PB: There's quite a lot to write about right now isn't there? KB: Yes, there is. No one's really addressing it, I feel. PB: It does seem like there are less political bands in very political times certainly. KB: Times of social unrest and social angst or whatever you want to call it. Contradictory times where everything is being pushed to the extremes. Lunatics like Trump and May. It's quite extreme right now. PB: Have you got a timeline for the next Theatre album? KB: The album will be out in time for Westworld (Annual Theatre of Hate convention) next year [May 2019]. PB: Have you got an idea in your head where it's going to go musically? KB: I've got no sets of lyrics for it at all. I've got a couple of themes that I was beginning to start thinking about. I want to move it sideways a bit in the lyrics. I don't want it to be a repetition of the last one. It'll take some thought. PB: Let's come back to Spear of Destiny. I'm guessing you were pleased with the way 'Tontine' turned out and was received by the critics? KB: Yeah, they loved it. PB: The overall feeling I got from it was a quite melancholic album tinged with hope. KB: That's what other people have said, yes. PB: For me it was dealing with real things if that makes sense. Quite adult themes. KB: I didn't set out to write an 'adult' album, but, yes, the themes are adult. As you say, it's not "Sha la la la." PB: I'll have to be honest and I had to look up the meaning of the album's title and it's from a 17th century insurance investment plan, isn't it? KB: Yes. It was a joke. Steve Allan-Jones, the keyboard player, brought it up. He said "The last man alive takes it all." I remember thinking after "Tontime, that's a good name for an album. Who's going to be the last man standing in this band?" PB: I really like the heavy and brooding feel of opener 'Brighton'. It's named after your current place of residence, isn't it? KB: Yes, I've been living in Brighton about seven years. I've lived there off and on since 1999. It's a bit under-belly. It's not just candy and fish and chips and the pier. There's a gigantic drugs and gangster thug-glug culture. But there always was. Hello, 'Brighton Rock'. PBM: It starts off as a really guitar heavy album, doesn't it? Well, the first five or six tracks anyway. KB: Do you think so? PB: I do. I really liked 'Enigma'. What was that about? KB: It was about my dad. Meaning he was the enigma. He had a very colourful World War 2. He was in some really weird marine commando unit. He never spoke about it until six months before he died. so no one really knew anything about it. PB: 'Medievalists' makes the transition to full-on Spear mode really well, doesn't it? KB: It was originally written for Spear but at the time that I did 'Uno and Duo', the acoustic album with the cellist Sam Sansbury, I thought let's do a cello version of it. The video with us going through Manchester on a train really sums it up really. PB: I really like 'No Other' too with the brass. It sounds like you are really singing this one from your heart. It reminds me a bit of Billy Bragg circa 'Talking with The Taxman About Poetry'. KB: Steve Allan-Jones did all the brass for that. It gave it that kind of Northern brass band sort of feel to it. I thought it made it quite different. It was actually recorded as a band track and then Steve went back and put all his stuff on it and we literally stripped it back. PB: I think my favourite track on the album is "Second Life". The chord progressions, the subtle changes in the vocal melody. I like the concept of leaving the past where it is and starting again. KB: That's probably mine and the band's favourite track too. It sounds very much like early, early Spear. Like the Theatre of Hate/Spear of Destiny cross-over period. There were things from that period that I'd never do now and I'd never of thought of doing it. If I had, I wouldn't have done it. It's experimental really. PB: Is it about you? KB: It isn't about me really. It's about people who have lived a life, had a relationship, a marriage, and then they find to courage to walk outside of it and find a new life. A second life. That's basically it. It's got two really great voice notes on it at the change of the chord progression. It's some of the best notes we've ever done. It's quite dark really. PB: I think your voice is sounding as good as it's ever sounded to be honest. That's always been your secret weapon, hasn't it? KB: I'm very lucky to have it. PB: With Theatre of Hate, Spear and in your acoustic duo with Sam Sansbury it's like a three three-pronged attack. I bet the Kirk Brandon diary gets a bit complicated at times. KB: Until the end of this year it is. Definitely. Next year I think it's going to be different. We're not going to tour England or the UK quite as much. We will play but it won't be full-on like it's been this year. PB: Do you still really enjoy playing live? KB: Yeah, absolutely. As a singer, and a musician, you learn your craft up there. It isn't about shouting. That's not it. It's about many forms of communication. PB: You've always enjoyed a close relationship with your fans, haven't you? KB: Not too close (Laughs). PB: It's changed though, hasn't it? In the 80s popstars were popstars and now with social media it's closed that distance. For example, you're quite hands-on with Facebook, aren't you? KB: You know, I could see Tom Waits at the enormodrome on the televisions screen or this tiny bloke playing a keyboard you can't even see. But I don't. I'd rather see him right here where you can see the guy's shoes. You want to see what's going on. You don't just want to see a pigmy at ten thousand paces. Once you become unassailable up there on the stage, X thousand paces away, you probably end up watching the screen anyway. I saw the Stones at Hyde Park and I just watched the screen because I couldn't see. PB: Do you miss the really big gigs that you used to do in the 80s and 90s? KB: We're in this little place in Sheffield. And hopefully it will be a good show. If we were playing Brixton Academy or Shepherd's Bush Empire I'd think exactly the same thing. I wouldn't change what I think or what I feel about it. Every gig's an event in your life where you come to prove something and do something for an audience. You don't want to lose face and let yourself down, but you don't want to let the audience down. PB: And that always comes across. Whenever I've seen you, you are kind of playing it like it could be your last ever gig. KB: It's their show. It isn't our show. No matter how many people you play in front of, it's their show. That's why they are there. It's their show. PB: And many of your fans have been on this journey with you since the early 80s. KB: It's a nice accolade .Is that the right word? That these people stay with you. In these days of quick turnover. And it's great that people show some form of loyalty. It's brilliant. And I hope that what we do give them something in their lives, givethem something emotionally maybe. If it gives them a lift, then I'm very happy. PB: Thank you very much for your time.
Band Links:-
https://www.kirkbrandon.com/
https://en-gb.facebook.com/kirkbrandonofficial//
https://twitter.com/kirkbrandon
https://www.facebook.com/TheatreOfHateOfficial/
https://en.wikipedia.org/wiki/Kirk_Brandon
Picture Gallery:-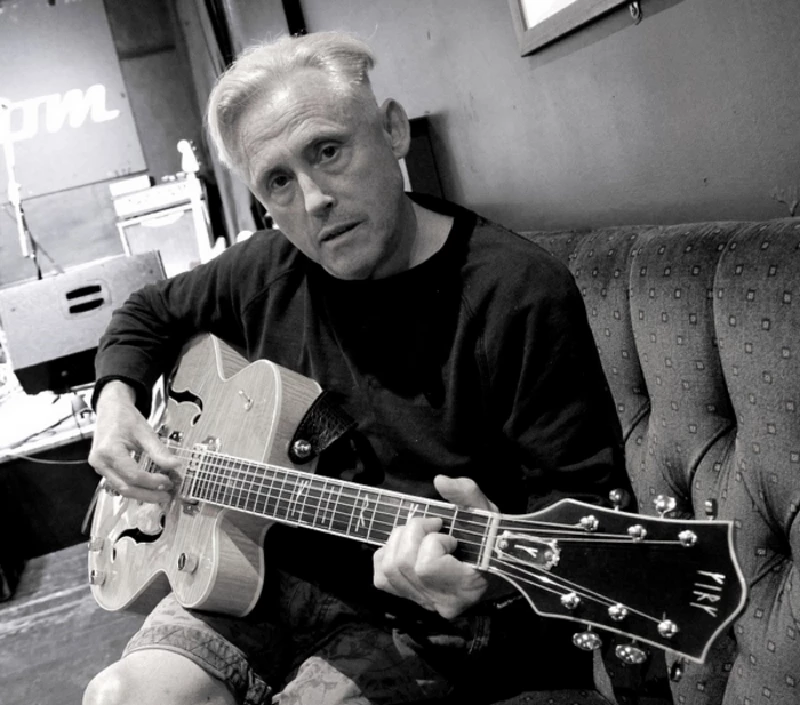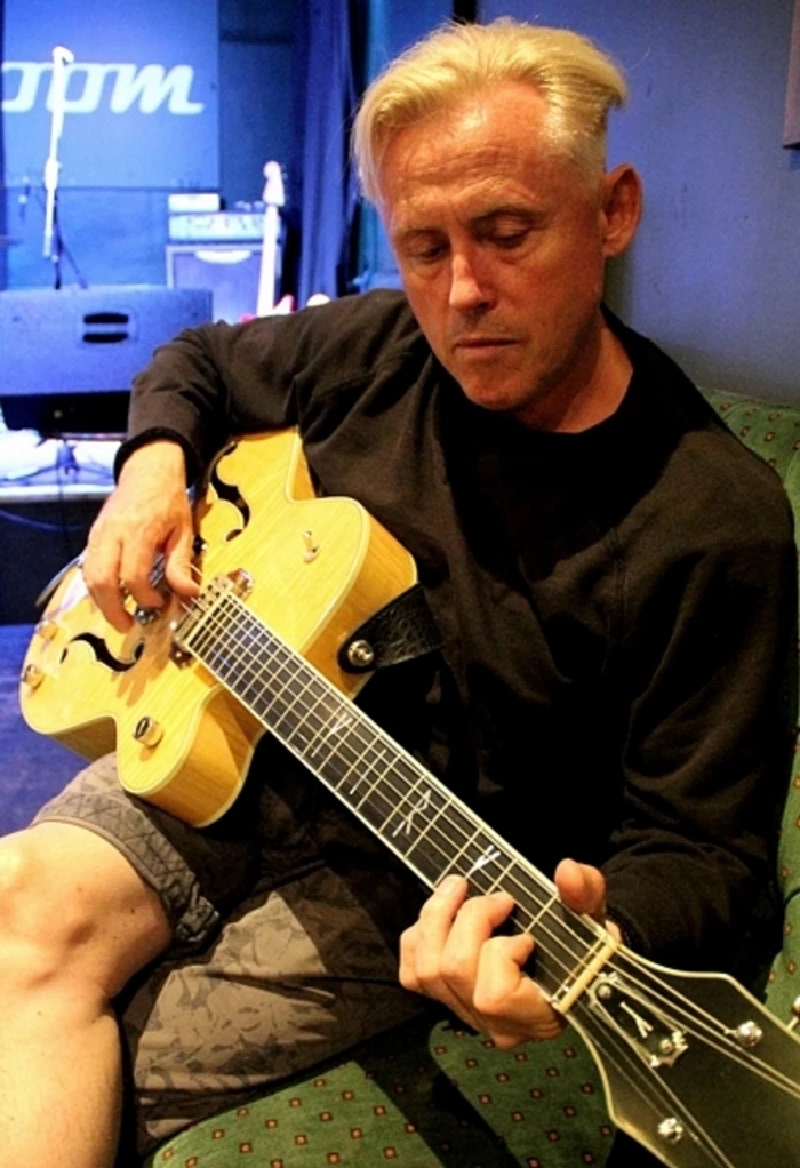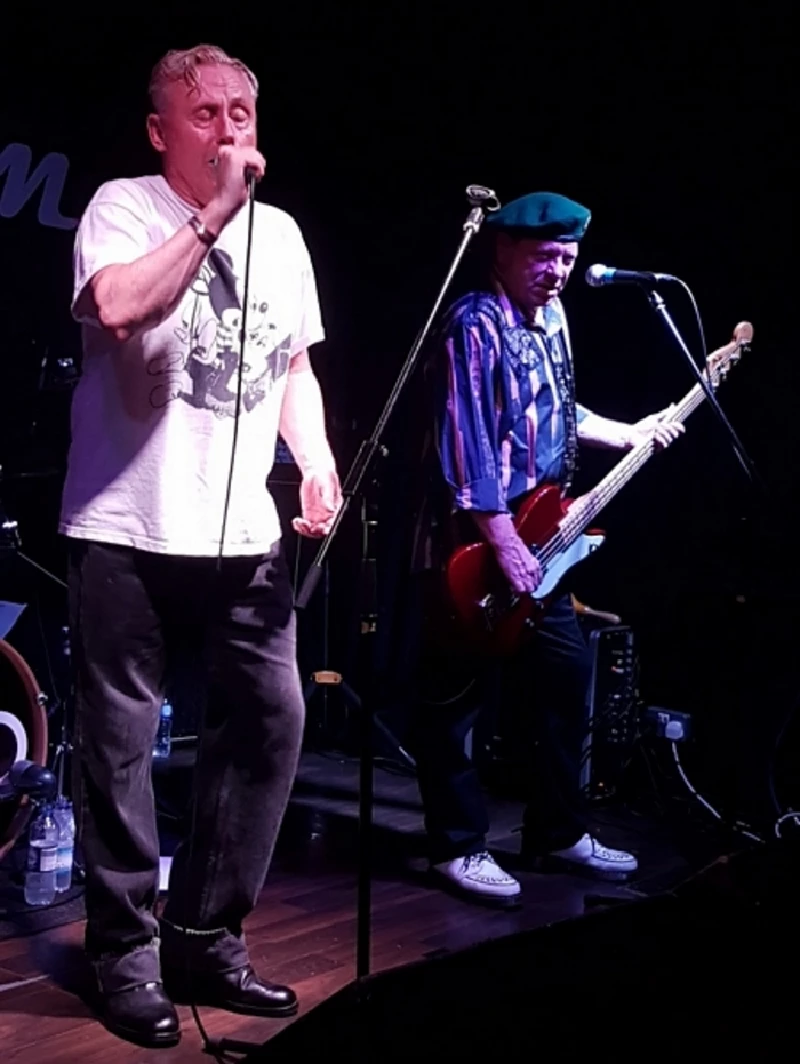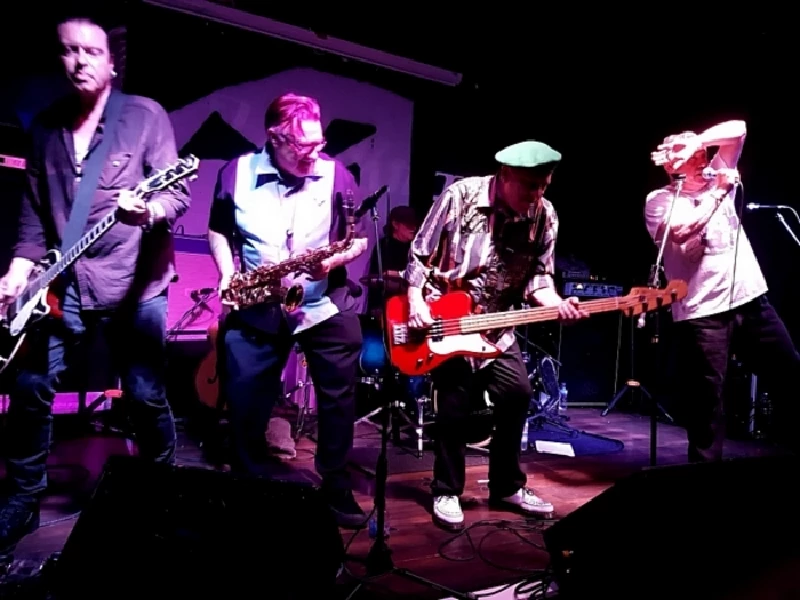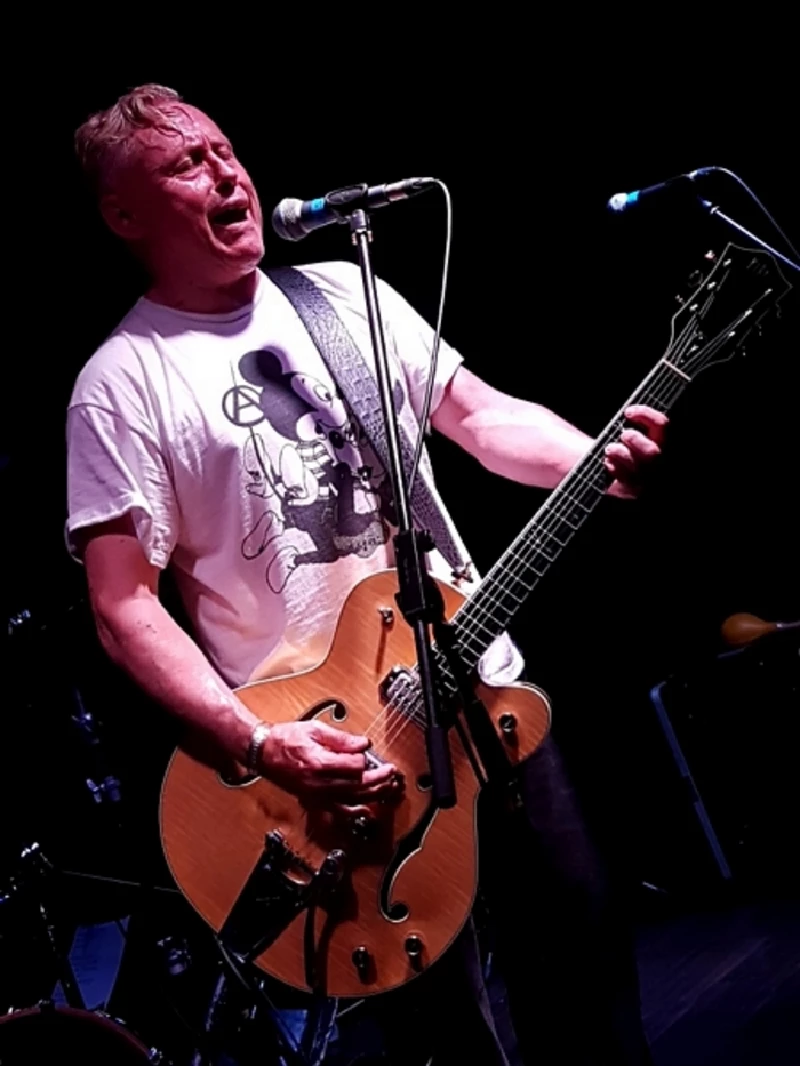 interviews
---
Interview (2017)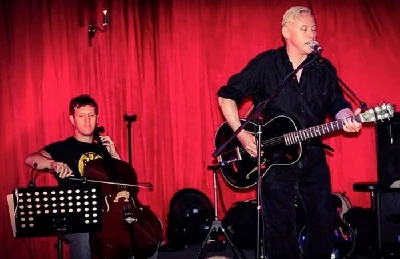 Denzil Watson talks to Kirk Brandon about his forthcoming acoustic tour and second album with cello player Sam Sansbury and his career with both Spear of Destiny and Theatre of Hate
live reviews
---
Greystones, Sheffield, 23/8/2017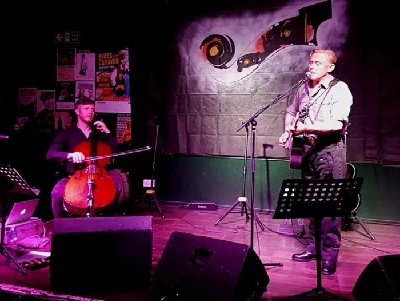 Denzil Watson catches the opening night of Kirk Brandon taking his extensive back-catalogue of songs with Spear of Destiny and Theatre of Hate on the road in stripped-down form with vocals, guitar and cello from Sam Sansbury.
Pennyblackmusic Regular Contributors
---