---
Miscellaneous

-

Ten Songs That Made Me Love...
published: 8 / 2 / 2017
---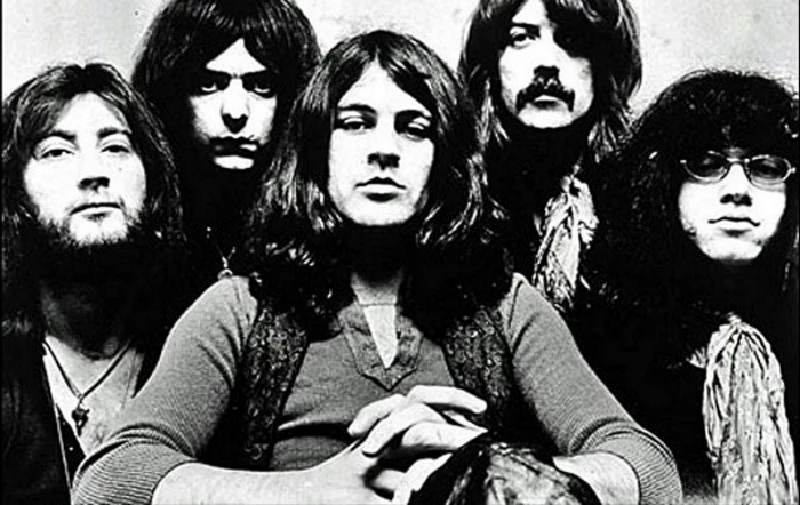 intro
In 'Ten Songs That Made Me Love...' Liverpool-based writer Steve Kinrade writes of ten songs that sum up his love of music
1. Deep Purple - 'Highway Star' The one that started it all off. For an eleven year old, hearing what I would class as "serious" music for the very first time, this was completely a jaw dropping experience. This is a snapshot of a band at the very height of its powers, and everything about it is perfect. Massively muscular, but free–forming. Deep Purple liked to boast their musical chops at every gig, and so no one performance would be exactly the same. So this to me is the best version of 'Highway Star' available. Ritchie Blackmore duelling with Jon Lord, the terrific rhythm section of Ian Paice and Roger Glover. Then Ian Gillan, surely the voice of Deep Purple. And it sounds just as good as it did when I first heard it in 1977. 2. The Wild Swans - 'The Revolutionary Spirit' Such a Liverpool band with such cool credentials, being that when this group split the members went on to form the Lotus Eaters and Care respectively. The Wild Swans' music wasn't just sublime, but they had a superb band logo as well – a swan in streamlined flight. It was a design classic, with a purity of form, but so simple. So simple in fact that one could easily replicate it on the side of a Gola bag. It was hardly off the 6th form common room record player; it was that epic. Musically magnificent and shimmering, it was a call to arms through its romantic lyricism of Paul Simpson. Proof that stupendous music could be made by a few lads a bit older than you who drank down the road. "All is quiet where the angels fear/Oh my blood relations the revolutionary spirit is here." If you ever come across this – buy it. It's a classic. 3. David Sylvian - 'Nostalgia' I love the feel to this track, how it builds, the production by David Sylvian and Steve Nye is just perfect. The theme of memory and regret that runs through the simple lyric, has, when coupled with the atmosphere of the music, an intellectual feel. Steve Jansen's drumming and percussion is superb, and Jon Hassall's trumpet motif is haunting…like a thought you just can't dismiss. Add to this the vocal of David Sylvian you have a compositional piece that remains with you a lifetime. 4. REM - 'Radio Free Europe ' I first saw REM on the Reckoning Tour in 1984 in Manchester, and this song is one of the many stars in what was a galaxy of musical brilliance. At the time Michael Stipe had long hair and weaved in and out of Peter Buck and Mike Mills with wide abandonment, sometimes with his back to the crowd. It's a great track off their debut album 'Murmur', but they played it that night with such intensity the crowd just fed off their energy and went literally berserk. Great drumming from Bill Berry, arpeggios a plenty from Buck, and a rock steady but imaginative bass from Mike Mills. When you actually read the lyrics, they aren't very comprehensible: just a jumbled up mixture of metaphors and rallying statements. But that matters not one jot. Coupled with the music, Stipe's idiosyncratic vocal delivery makes it anthemic. 5. New Order - 'Everything's Gone Green' One of the greatest ever New Order tracks, amongst many. A great fusion of band with technology, and with another great Hooky riff that literary drives the song. When you hear those opening bars you know the adrenaline is not far behind and it going to kick in. A song about paranoia, and social detachment, it again is a great example of music that sounds so fresh, so vital, and important now as it did then. I saw New Order play the Hacienda a couple of times, but they never included this in their set. Such truculence may have pissed some people right off. I loved them even more for it. 6. Jane Weaver - 'Shoulder Seasons' Jane is maybe deservedly getting the accolades now for 'The Silver Globe', but 'Cherkolate', the previous album from 2008, is just as stunning. This song has an endearing melancholic quality to it, full of lovely plaintive Weaver vocal lines, which just pull at the heartstrings. It is other-worldly, which is the highest praise I can give it. 7. Vashti Bunyan - 'Here Before' This is a song about Vashti's three children, but could be how every parent feels when they look at theirs. Its genesis was in an encounter she had with an old Romany lady, who told her that the spirit of her young child had been here, on earth, before. Her song examines her children's personalities, and explores the idea that this life is just another "go"; "Smiling like sunshine, she could see it all, like she'd been here before". It's a very simple song, but hauntingly atmospheric. 8. Simple Minds - 'New Gold Dream' Taken from the album of the same name, this is a song that lifts the spirits. After a run of albums such as 'Empires and Dance', 'Sons and Fascination' and its junior album 'Sister Feelings Call', the masterpiece 'New Gold Dream' followed. It is a collection of songs that succeeds in defining itself by the very musical world it creates. It is a world of a burning light, a showering of spirituality bound to a sense of optimism. To me and my Penny Lane friends (yes, that Penny Lane), 'New Gold Dream 81-82-83-84' was a song that defined how we lived and thought; we were young and everything was possible. Owning this album showed that you had an insight into the existential dilemmas of your age, that you had the insight to locate all of life's glittering prizes. But like all good things, it couldn't last. Simple Minds, like Icarus, flew too close to the blazing light of 'New Gold Dream'. Sadly the start of their musical death-spiral occured mid-way through the second side of 'Sparkle in the Rain', and they never recovered. 9. Bob Mould - 'Circles' An incredible song about relationship break-up, which is extremely cathartic to this listener at least. It is driven by powerful guitars and drums, of which Mr Mould is an obvious master. But for me his voice and lyrics are equally masterful. No one should be left alone because time doesn't wait, it will probably accelerate, as the days, and the months, and the years go by. How very true. Play loud. Oasis - 'Talk Tonight' Another song about the start of a relationship. It is very successful about how it feels as you try to get to know a new partner, and what the future may hold. Uncle Noel has written some great songs, but for me this is a great example of the heady heights that he could reach when the muse was with him.
Pennyblackmusic Regular Contributors
---