---
published: 4 / 7 / 2012
---
intro
Pianist and multi-instrumentalist Robby Robinson, who has been Frankie Valli's musical director/arranger since the 1970s, has also worked as a record producer. He speaks to Lisa Torem about his extensive musical career
"I feel like I'm home when I walk onstage because I've been doing this for so long," confides Robby Robinson, who had already formed three bands and established himself as a musical conductor and multi-instrumentalist before moving to Los Angeles from the Midwest. He then went on to work, not only with crooners like Connie Francis and pianist/vocalist Buddy Greco and Liza Minnelli, but with classic American acts like the Young Rascals, the Beach Boys and the Ventures, as well as blues artist, Albert King. Talking with Robby means time travel. Band leader Stan Kenton's "walls of brass" (1935-1945) arrangements were compared to the atom bomb by a 1948 music critic, but deemed delightfully progressive by his aficionados. Buddy Greco's 'The Lady is a Tramp' featured striking piano and friendly patter. Though Robby has many skills, he is quick to mention the influence of others. The musical, 'Jersey Boys', now in its third year, explores the defining moments of Frankie Valli and the Four Seasons whose tunes by Bob Gaudio and Bob Crewe scurried up the charts in the 1960s: 1962's 'Sherry' introduced America to Frankie's superb range. 'Dawn' (Go Away) and 'Rag Doll' were bittersweet romances dressed in pop splendour. Their hits informed other artists: Billy Joel's 'Uptown Girl' and many of Brian Wilson's precise vocal arrangements were inspired by the Four Seasons. Their work even triggered covers by contemporary artists like Lauryn Hill. Robinson has played a big role in the music industry and with Frankie. He has co-produced multiple pop/rock and children's recordings with composer/former Four Season Bob Gaudio. In essence, Robinson's contributions to the world of production, arranging and conducting are too extensive to list. I first witnessed his boundless energies at the Chicago Theater this summer, where as pianist/musical conductor/arranger for Frankie Valli and the Four Seasons show, he conducted the maestro's many cues with true Olympian spirit while executing screaming solos on the keys. Valli's solo act has seen a few changes since 1978, but what remains constant is that both men revere the American big band era, and appreciate passionate lyrics and melodies. And though our call interrupted "the game" – Robby's a dedicated Dodgers fan – he ducked the home stretch to detail his delight working with Valli. RR: I'm a huge baseball fan and at eight-years-old I became a Dodgers fan, so it was inevitable that I'd be in L.A. PB: You've worked with Albert King and your playing recalls the jazz musician Jimmy Smith. RR: What a blessing it was growing up in the St. Louis area. I got to play with him in the St. Louis area when I was still pretty much a kid. It was such a cool thing. Jimmy Smith is probably my all time musical hero. I'm impressed that you knew both those names. PB: I saw Jimmy at one of his last performances. He was an incredible player. RR: It's funny because on every other instrument, you could argue about who was the greatest on that instrument, but on the Hammond organ, there is no argument. PB: Yet how many people subscribe to that sound in their arrangements? RR: I think any real organ player has learned from Jimmy Smith. It's hard not to have, but I grew up in St. Louis playing in those jazz and blues clubs. The drummer that I played with had played with Jimmy Smith, so that was a great learning experience, for me. I'd play from 9-1 in St. Louis and then in East St. Louis I'd play from 2-4. PB: You have also performed with Buddy Greco. RR: I first came out to California in 1976 and got immersed immediately in the jazz-fusion scene, which was just rocking and rolling, so I got a chance to do a lot of that stuff. Don Ellis (Glen Miller Band, The Hindustani Jazz Sextet-Ed) heard me play and recommended me to Buddy, who was looking for a conductor. I was looking for a way to feed a family. I had had experience as a music director and bandleader all of my life. At Buddy's house, we connected and, to this day, he's a very good friend of mine. We toured all over the world. I really learned how to conduct. We would have not full legitimate orchestras, but big bands that would bring in crowds in those days. That was the first time I walked on one of those big stages in Vegas. PB: And Count Basie. RR: We worked with Count Basie on some gigs, with Buddy Greco on the same gig and then the Count Basie band would be our band. That's how I got to conduct Count Basie's band (Laughs). Obviously Count Basie was the conductor. That was really a fun thing. PB: How did you make the transition to jazz from classical conducting? RR: The classical stuff that I've done, for the most part, has been with Frankie because we do a lot of symphony dates. As a matter of fact, we've done the Chicago Symphony - just a couple of years ago, which was a real kick. I have conducted some orchestras on legitimate things, but no major orchestras. I've been able to wear a lot of different hats, so I'm very fortunate to have been exposed to that. I started music as just a wee tyke and I love to learn. I love to grow. I went to Southern Illinois University near St. Louis, in Edwardsville, Illinois, but I know I've learned so much more – PB: On the road? RR: I've been a road guy since, gosh, the early 1970s. PB: You've arranged for the Ventures and the Beach Boys. That's quite a range. RR: You have your palette to work with. It might be just charcoals or a full array of colours. I can take whatever the instrumentation is, whether it's a vocal quartet or surf guitar. Music is music – there are certain things that are common with cross-stylistic lines. There's tension and release, peaks and valleys and dynamics, and then, of course, at the end of the day it's your gut that really guides you. There is an element of craft, of course, but I just like to look at it as the palette of colours that I have to work with and that's kind of the way I approach it – a strive for balance. PB: You have to not only deliver every vocal and instrumental cue; you have to play piano, keyboards and solo. How did you coordinate these skills? RR: Part of it is that I've done this a long time and I've continued to grow as a musician my whole life. I'm very thankful that I've had a chance to do that. I love music. I live it and breathe it pretty much every day, all day. Of course, I've been working with Frankie now for thirty-four years, so I know that music, inside and out. I know every nuance. You just grow. One year you're getting your jazz chops together, another year some conducting chops, and after fifty years of playing music, you start to figure it out. PB: How did you flesh out the original set list? RR: The four songs that we do from the 'Romancing the 60s' album – which we did about two or three years ago, has Frankie basically covering songs from the 1960s and the model was, obviously, to go after the romantic songs that would fit Frankie. Frankie and I talk about this all the time. We work together four or five days a week when we're in town, and when we're on the road, of course, we're rubbing shoulders as well. We're always talking about the set list and Frankie is amazingly involved. His touch is on everything: every note, every thing that happens on that stage. Nothing happens in a Frankie Valli show without his approval. He doesn't just say, "Okay, you guys, just do what you want to do." Bob Gaudio was the producer, I was assistant producer, and Charlie Callelo and Buddy Shrek from the old days arranged the stuff from the 1960s and some from the 1970s. We got in a room and looked through repertoire lists of songs from the 1960s. PB: Regarding YouTube covers of 'Can't Take My Eyes Off of You' by Andy Williams, Bobby Darin and then Frankie: These versions are entertaining, but Frankie nails it. His voice is not only perfect, but you can see all of the expression on his face. RR: Bob Gaudio, Frankie's partner to this day, and Bob Crewe, Frankie's producer at the time, wrote that song for Frankie, who had the first record of it and the big hit. Subsequently it has been covered by zillions of people. The last time I looked, it's got the second most plays on BMI's play list. It's been an amazingly successful song. PB: I get the impression that Frankie really values those around him, that he has a strong sense of loyalty. RR: I think that's a Jersey thing on some level, but it's Frankie too. He's a very special human being, and he's the most tenacious human being I've ever met in my life. Even at his age, where he does not need to be out there pushing himself like he does – he struggles with every note, figures out what he wants to do with every note and what the guitar player should be doing. He's consumed with this, in a good way. PB: For a time his hearing was impacted. How did he endure that? RR: He had Otosclerosis. I don't know all of the details. He had an operation back in the mid1970s, and then his hearing got amazingly better. It's been deteriorating since he ages, but he's got the most current and top of the line hearing aids to help him through. PB: And his act still sells out houses internationally. RR: Who would have thought in his career, because nobody does that. All careers have an arc that tend towards the end of the career: generally speaking, the fan base gets smaller and smaller. PB: And people move on. RR: Yeah. PB: People are so riveted to Frankie's songs and the reliability factor. They know they're going to get their hits, but at many concerts the artist doesn't acknowledge this. People leave feeling very dissatisfied. Shows are scheduled until 2015. That's a remarkable reflection of your success. RR: A sound guy that was with us for a long time always said, "Frankie Valli is the best-kept secret in this industry." For years and years and decades the industry never really embraced Frankie Valli and the Four Seasons, for whatever reason that was. It wasn't hip, maybe, was one factor. But the biggest factor was that Frankie was never with a major label. He was always with smaller, more independent labels that didn't have the political clout that you have with a Sony or one of those kinds of labels. For example, Frankie's never won a Grammy. And you never saw Frankie on a lot of the talk shows and stuff – some, but not one, which would accord his status in the industry. Then, with the advent of 'Jersey Boys', all of a sudden this cover was lifted and a lot of people are saying,"Wow. He did that song!" For decades I would get: "Oh, Frankie Avalon or Rudy Vallee?" Or, "He did that song?" And now because of 'Jersey Boys', the exposure factor is just off the charts. It's really cool and it's unusual if it's not a sell out. PB: One young woman waited all night for an autograph when I saw the show in Chicago. I asked if she knew about Frankie because of 'Jersey Boys'. She said that she discovered him on her own. What part of the audience comes from the 'Jersey Boys' contingent as opposed to the kids that have rummaged through their parents' vinyl? RR: I don't know how to answer that. They've definitely gotten younger since 'Jersey Boys'. How that all plays out I'm not sure. Definitely, we have a much broader audience than we used to, which is aging with us. PB: I took my eleven-year-old to see 'Jersey Boys', and then asked her if she wanted to see Frankie Valli. She said, "I already know all about him. I saw 'Jersey Boys'." I said, "But this is the real Frankie Valli." She just didn't get the difference. Does that matter? RR: No, not really. In a perfect world you could model just how you want it to happen, but they're in the seats, so that makes it a perfect world. PB: I saw a photo of Frankie at the mic with you at the piano. Do you two perform more intimate shows? RR: That's a good question. The only variation that we do from the show, as it is now, is when we do a symphony show; so then we change it up a little bit. We rarely do more intimate things, but over the years we will change the instrumentation of the band. We didn't always have background singers that just sang. For years we had musicians that sang. Sometimes it's a bigger band, and sometimes it's a smaller band depending on where Frankie wants to go for that year or two years or five years. PB: Have you always had brass? RR: Not always. They've come in and out, but pretty much for the last twenty-five years we've used brass. His songs just lend themselves so well to a horn section. But this goes back a few years when we would tour without them. That entity is another dimension of the music. PB; It's not a sound that's common on the airwaves now. RR: Well, there's a group Chicago and they're still pretty successful out there and use a horn section. Earth Wind and Fire does. The Eagles tour with a brass section now and Bruce Springsteen has a horn section, and Blood Sweat and Tears are still out there too. PB; Songs are so studio-produced these days. But that's another bizarre subject. RR: That is a bizarre subject. Technology is here and I embrace it. I'm sitting in my studio now and it's basically all computers, synthesizers and things like that. I have a Hammond organ though sitting over here. PB: I saw a photo of you playing a keytar. RR: That was back in the day. PB: It's really making a comeback. RR: Basically, for me, that's kind of a showmanship kind of thing. You get out there and you're able to show off a little bit, as opposed to standing behind the keyboard. I used to use that a lot. I've gotten away from it and keep thinking I should bring it back. PB: I heard a song the other day that had nothing memorable about it: not the vocals, no hook, no meaning, and I thought about the material that Frankie does in contrast. RR: He's a pretty rare breed, but part of it is, back in those days just to make a record you had to be able to sing and you had to be able to play, and now you don't have to because the technology can take care of that. It's much more image driven than it ever has been, so with the computer and all of the software you can create anything. It's a very producer-driven medium now and, unfortunately, in that, you lose real singers and real musicians and the chemistry of four, five or more musicians bouncing off of each other physically. It's such a different world. It's sad. The pop music world is such a horrible place. But music, as a whole, you can go on YouTube and hear some incredibly talented people and young people too. The schools are better than they ever have been in terms of developing raw talent. Now these people have to figure out a way to monetize their music in some way too. That's a challenge that's always evolving in our business. PB: You have to be an octopus. RR: Well, you do. But it's always been that way. If you go back to Bach, Mozart and Beethoven, if you go through the life of these musicians' historically, how they functioned it's always changed in different historical periods, in different geographical regions and cultures, and we just happen to be in 21st century United States. This is the way it is for musicians right now. You'd have to figure out how to put food on the table and how to pursue your craft and your art. When I was coming up, if you could play and you had your head on straight, you could work on a regular basis, maybe not get rich but you could make a living making music and I'm not sure if it's the case, right now. PB: Did you ever guess you'd be working together this long? RR: I had an opportunity to go on tour, at the same time with Frankie, with Morris Albert, a Brazilian singer/songwriter, who did 'Feelings', which at the time was the biggest song in the world, but it was his first one. It was huge, so he was going to tour. Frankie, at the time was an oldies act, even though 'Grease' was huge. I thought about it, but the decision was pretty clear. Who would have thought? 34 years? - especially in our business. PB: Was Frankie your musical hero when you were growing up? RR: Yeah. I graduated high school in 1967. I was playing those songs, even though a lot of groups couldn't cover them. PB: Because of the complicated changes? RR: Not only that, but you didn't have the singers who could sing those changes. PB: What are your favourite of Frankie's songs? RR: 'Swearin' to God' is one because it's got a jazzy element that is fun, musically speaking. But I like them all in their own way. I'm one of those purveyors that believe that there are two kinds of music: good and bad. And I can see the good in so many of Frankie's songs. 'Can't Take My Eyes Off Of You'… I had a fun conversation with Frank Lipsius, the original arranger of Blood, Sweat and Tears, who arranged 'Spinning Wheel.' He told me that in that song, there is a complicated chord. It's a "seven sharp 9 chord." He said he always got the credit for being the first person to use that chord in a popular music setting with a horn section. But he brought it up. He said, "That's not true. Frankie Valli, in 'Can't Take My Eyes Off Of You' uses that same chord. That's kind of an interesting little aside. Frankie's music has a sophisticated aspect inherent in it that actually doesn't always make itself obvious on the surface. Some of the melodies are very sophisticated. They use diminished chords and flat 9 chords and things. You don't hear that and that's because they had a team back in those days with Charlie Calello (also Four Lovers/Four Seasons bass/accordion player between 1958-1965), Bob Gaudio and Bob Crewe. Frankie's influence is the big band. Stan Kenton is his all-time favourite and in the middle of that song there's a Stan Kenton riff right out of 'Artistry and Rhythm'. There's another Stan Kenton riff in 'Swearin' to God' too. Frankie grew up with jazz and big band. He loves that music. There's a sophisticated element in Frankie's music but at the end of the day it isn't really all of that technical stuff that gets you. What gets you is somehow it connects with people and most songs have that. You never know that magical thing that makes music connect to people. Sometimes it doesn't happen for some of these composers for a century. Charles Ives is a good example of that. So you just do what you do and, hopefully, you can find an audience, but it's the music that drives you initially. PB: Many of those lyrics have deepened our understanding of men and the lyrics, in general, even the lighter pop ones, convey more meaning after a series of listens. I know Frank Sinatra was Frankie's idol, but I never felt that connection. I always felt that Frankie Valli was singing directly to me, though, whether on YouTube or in person. RR: They broke the mould on Frankie Valli. There's no doubt about it. I'm sure on one level it was a generational thing because, obviously, Frank Sinatra was the chairman of the board to a whole generation. He connected to people like nobody else did and he is Frankie's hero. There's no doubt about it. One of the classic YouTube videos is of Frankie Valli singing a duet with Aretha Franklin. She's playing and he's singing and they just kill it. 'That's Life' is what I think it is. So you definitely have to check that out. PB: After the Chicago show, Frankie patiently signed autographs, though it was nearly 11 p.m. He must have been tired, but he radiated a warmth. RR: And he comes to every sound check. At his age, he does not need to come, but he comes because he wants to get it right. So many of his peers wouldn't show up at a sound check, they'll show up for the show. You know there are guys, like me, who make sure that everything is right, if there's a problem. But he's there at every sound check. It is incredible really. PB: Thank you.
Picture Gallery:-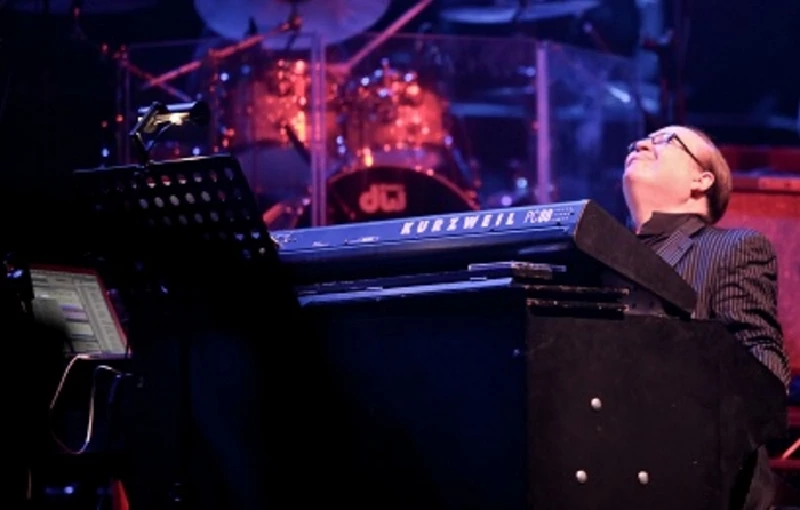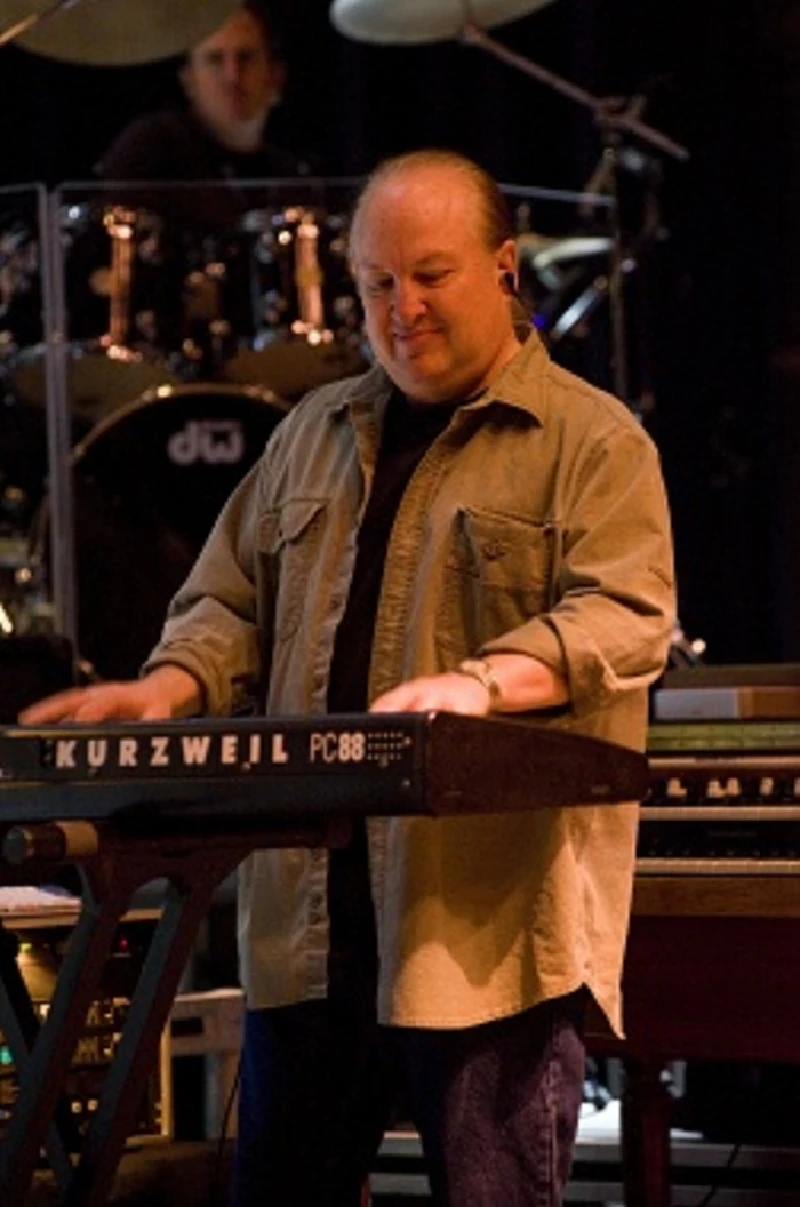 Visitor Comments:-
811

Posted By: Vicki, Litchfield Il on 06 Sep 2016
Who would have ever thought the Robbie that came to my house when his girlfriend(now wife) was babysitting would be playing with some of the biggest names in music. Remembering sitting in the garages listening to the guys in the neighborhood practicing for an up coming gig. Thanks for the good times Robbie.
---
810

Posted By: Barbe Hayes, Taylorville, IL on 03 Sep 2016
Wow! Great interview. Robbie is my cousin and have always known him as an intelligent and talented individual. He is super. The great part is I can look back to many a family reunion with all the Schmidt descendants .. and now he is star. Congrats Cuz :)
---
760

Posted By: Al Furey, Philadelphia Pa on 12 May 2015
I always enjoy watching you on stage you really love what your doing. I have seen Frankie Valli and the Seasons over 75 times in concert and looking forward the next time he is in the Philadelphia area. Robbie you're great and would be honor to meet you some day. Frankie Valli and The Four Seasons and Robbie Robinson keep on playing.
---
730

Posted By: lisa, chicago on 15 Dec 2014
Hi Ray, It really does take a genius team to make such great music. Thank you for those astute comments. Robby is a wonderful conversationalist and, of course, a huge Frankie fan! Cheers, Lisa
---
729

Posted By: Ray, USA on 15 Dec 2014
I believe it was Robby who did the arrangements for the Four Tops and Valli Broadway shows years ago. What I found remarkable was that he was able fuse their hits instrumentally where the groups would trade off vocals over each others hits and you would think it was the same song. Ex. "Standing In The Shadows Of Love" blended with "Beggin'" Very, very clever.
---
633

Posted By: Al Furey, Philadelphia Pa USA on 18 Jul 2013
Robby is great beside Frankie Robby is the Four Seasons. I have been to 60 to 65 Four Seasons concerts and always look to see Robby on stage. Robby ruins the stage for Frankie and does a great job and has a lot of fun. Can't wait until Frankie plays in the Philadelphia area. My life long dream is to meet Frankie some day
---
Pennyblackmusic Regular Contributors
---