---
Miscellaneous

-

Rioting
published: 20 / 7 / 2011
---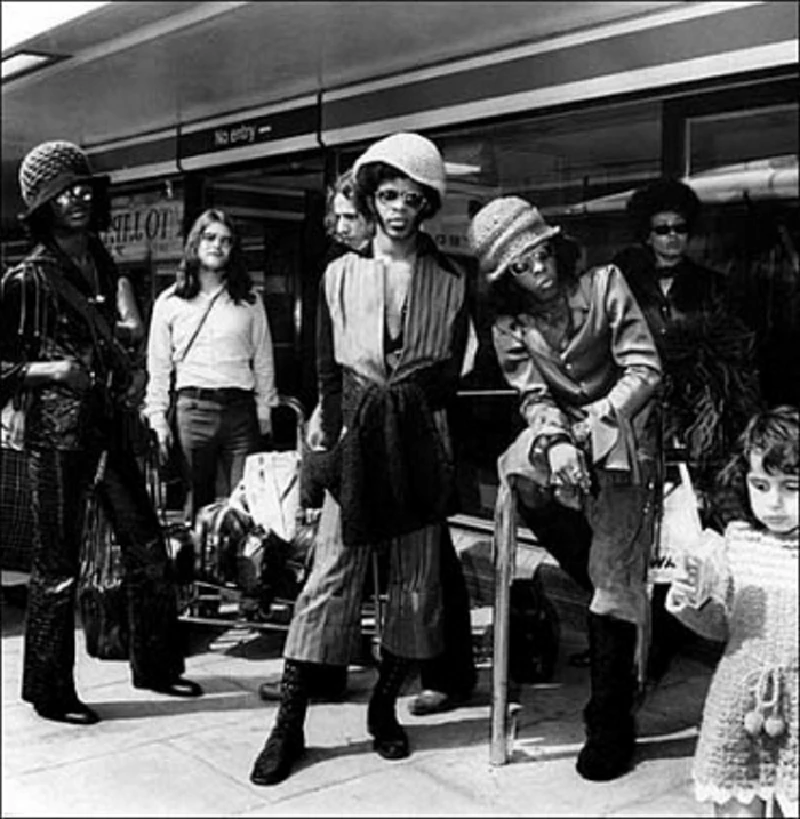 intro
In 'Hitting the Right Note' Tottenham-based local Jon Rogers, after the recent outbreak of rioting and looting in the UK, takes a personal look at riot songs
No one in the UK can have missed the one story that has been dominating headlines across the country - the recent outbreak of rioting and looting that has been going on in my local area of Tottenham, sparked undoubtedly by the police shooting in Ferry Lane of Mark Duggan. Now after a night of rioting in north London, which then later spread out to Wood Green and Brixton other areas of London seem to have been getting in on the act. As I write disturbances have been reported in Hackney, Dalston, Croydon, Peckham and Clapham. And even places like Birmingham have been following Tottenham's lead with its citizens taking to the streets to protest (and perhaps getting a pair of trainers for free into the bargain too). A whole chapter in the history of popular music could be devoted to the genre's association with protest and insurrection but not that many have been concerned with taking to armed battles with police lines and throwing Molotov cocktails. Obviously Pennyblackmusic prefers an alcoholic cocktail to lobbing a Molotov but seeing as London's Burning it seems appropriate to assess what songs are best as a soundtrack to a night of taking on the police in a street battle. Perhaps perversely, some of the best songs don't really deal directly with rioting at all. All too often the mob taking part don't necessarily have a target in their sights when unleashing their fury. More a case of general alienation and frustration and dissatisfaction with the status quo. As such, some great songs like the Specials' classic 'Ghost Town' fits the bill perfectly. It's haunting melody captured perfectly the wasteland that was the UK under Prime Minister Margaret Thatcher and the hopelessness faced by millions cast into long-term unemployment. Not only that but the song was cut through by a disturbing menace just under the surface that hinted at things to come. The same could be said of the entire 'What's Goin' On' by Marvin Gaye. While not really dealing with fighting on the streets directly, it took a critical eye to events at the time and summed up the underlying socio-economic and political problems that gave rise to the prospect of social unrest. More aggressively the likes of Black Flag and Rage Against the Machine have built a whole career out of being angry young men, fighting against the establishment, even if they can't quite fully articulate just exactly what it is they are fighting against. Still, RATM's 'Killing in the Name' manages a fiery punch with its rebellious: "Fuck you, I won't do what you tell me' refrain. Much more articulate and knowing exactly who to point the finger at are the rap collective Public Enemy. Really, just pick any of their albums in their entirety and your soundtrack to an alienated, disaffected, urban (invariably black) underclass is right there. More specifically, try 'Fight the Power', 'Rebel Without a Pause' and 'Burn Hollywood Burn'. The anger seeps to their very core. 1971's 'There's a Riot Goin' On' by Sly and Family Stone also had anger running through its core too, but also managed to groove along with the funk too. The irony of the American flag on the cover was put into strong context with songs like 'Luv 'N' Haight', the title track and 'Brave & Strong'. This wasn't really living the American dream. You don't need to make a lot of noise though to make yourself heard. More obscurely, and arguably more subtle is Bright Eyes' 'No One Would Riot for Less' from 'Cassadaga'. Leader Conor Oberst sings the rather opaque lyrics but he still manages to land a few good punches along the way. And the English know a good riot tune when we hear one. Mainly thanks to the punks. You can't fail to mention the Sex Pistols' 'Anarchy in the UK' and who can forget The Clash's wishful 'White Riot' and their observant 'London's Burning'. Even the post-punk the Teardrop Explodes managed to have their say with '...And the Fighting Takes Over'. Perhaps one of the more poignant riot songs is the Dead Kennedys 'Riot', six-minute blast of intelligent punk fury. Aimed not the establishment who are all too often the object of a riot, but aimed at the perpetrators themselves: "Riot—the unbeatable high Riot—shoots your nerves to the sky Riot—playing into their hands Tomorrow you're homeless Tonight it's a blast." The riot, according to the San Francisco band, just leaves your own neighbourhood trashed and gives the police an excuse for some bashing of heads. Perhaps it didn't go amiss by either the Dead Kennedys or the Clash, both of whom recorded versions of Sonny Curtis' 1959 song 'I Fought the Law'. Admittedly not really a song concerned with rioting at all and, which even admits that despite the fight, the law won. But still the song is worth a mention at the very least. Popular music doesn't have the monopoly on songs about rioting. Back in 1971 when jazz trumpeter Miles Davis was still making socially conscious music, he released the album 'Nefertiti' with Wayne Shorter, which contained the track 'Riot'. One worrying trend though is the amount of songs concerning rioting that have been made by people who would in real life piss their pants and run screaming home to mummy if they ever came within about five miles of a proper riot. Deep breath now... Stand up in shame: Kaiser Chiefs 'I Predict a Riot', Three Days Grace - 'Riot', tThe Prodigy with 'Firestarter' (Okay, more about arson than rioting but you can't have a 'proper' riot without burning a few buildings, can you?), Muse's 'Uprising' and not forgetting the Rolling Stones' 'Street Fighting Man'. Yeah, that's right Mick Jagger, you're just so itching for taking to the streets in violent protest whilst you lounge around on luxury yachts, champagne in hand, hobnobbing with the rich and powerful. Maybe the Prodigy might consider the idea of starting a fire or two in their leafy, comfy Hampstead suburb instead of jogging round the heath. See how your upper middle-class neighbours like that. Needless to say you're welcome round mine for a cuppa anytime. Well, if you're not too scared of Tottenham that is. Three Days Grace's 'Riot' is just too hideous for me to really contemplate. The sound of some record label corporate exec thinking that rebellion is the next big thing. As for the Kaiser Chiefs, you might be able to predict a riot but I suspect you'd run a mile from one if you happened to come across one. And for one final footnote. Yes, I am aware of Sonic Youth's 'Teenage Riot' but please listen to the lyrics, where does it concern itself with rioting? Exactly. Kids, remember, rioting isn't big or clever and it's illegal. Don't do it. Tottenham, while not a bad place to live at all, has its problems caused by decades of neglect by successive governments and a lack of investment in the area. It may have been struggling before the weekend but thanks to a minority of thugs intent on violence and disruption the place is worse off now.
Visitor Comments:-
463

Posted By: Jon Rogers, London on 19 Aug 2011
You're too kind, Lisa, but thank you. Yes, Chopin, a groovy fellow indeed. Should add that one to the list. You're welcome round Tottenham way any time.
---
459

Posted By: Lisa Torem, Chicago on 12 Aug 2011
Yes, Jon. You are a true artist. When Chopin watched his neighborhood turn to flames, he sat down and wrote 'Revolutionary Etude' instead of running amok. A great piece - especially considering what was going on around you! Lisa
---
Pennyblackmusic Regular Contributors
---