---
published: 30 / 6 / 2011
---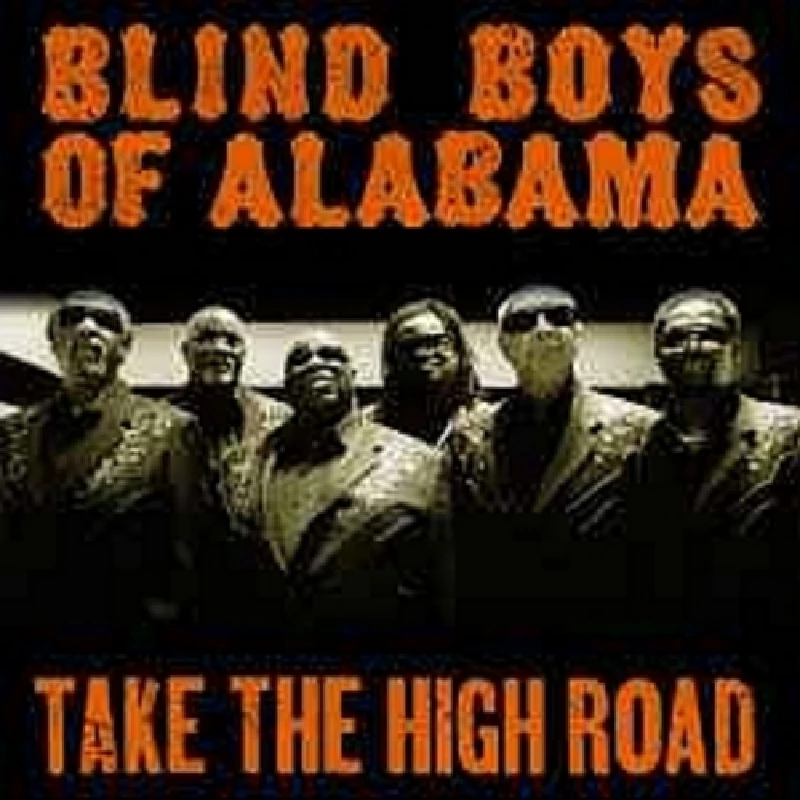 intro
Surprisingly contemporary-sounding latest album from gospel/country group the Blind Boys of Alabama, who have been playing together for over seventy years
Forget all the fuss about the Rolling Stones still touring and recording after five decades. The Blind Boys of Alabama are still going strong and they were originally formed in 1939. With founder member Jimmy Carter still recording and touring and Clarence Fountain, another former member, making an appearance on this album after giving up touring in 2006, the band have a good few years on the Stones. Unlike the Stones though, the Blind Boys of Alabama are still making great albums and are not just a brilliant live act. While most people would agree that the best way to appreciate the Blind Boys is to see them on tour, this latest album shows that they can still cut it in the studio too. Mixing gospel and country music is nothing new, and really shouldn't work as well as it does on 'Take the High Road', but this band who have multiple Grammy Awards have made one of the most contemporary sounding albums of their career which will introduce their timeless brand of music to a new generation. Meeting up with co-producer Jamey Johnson (a Grammy-nominated Country artist) fueled the longstanding desire Jimmy Carter had of recording a country-flavoured gospel album. 'Take the High Road' is the result; thirteen songs that will appeal to a broad range of music-lovers, and not just another Blind Boys of Alabama album for their fans. The band have collaborated with a wide range of artists in the past, of course, from Lou Reed to Solomon Burke, and their 'Duets' album from 2009 was another well-received collection of songs. This time they have the assistance of major country names like the Oak Ridge Boys, Lee Ann Womack, Vince Gill and Willie Nelson to add an authentic country flavour to these songs. In fact, 'Family Bible', the collaboration with Willie Nelson, turns out to be the most affecting song we've heard bearing Willie's name for some time. Both the Blind Boys and Nelson turn in exceptional vocal performances, and the musicians and producers play their parts to perfection on this particular song. It's enough to make a grown man weep. Hank Williams Jr. features on a version of his father's 'I Saw the Light' which is another track where the band, musicians and producers all work as one to make a well-known song sound refreshingly new and contemporary. Perhaps the most amazing thing about the Blind Boys Of Alabama on record at least is their ability to break down barriers. While, by employing the talents of some of country music's greatest; Reggie Young on guitar, Chad Cromwell on drums and choosing Johnson to co-produce and roping in names like Nelson, Williams Jr and Gill, there is no denying which direction the band were going with this album, but they still manage to appeal to more than the country or gospel fans. It's an album that will have you smiling, crying and everything in between but one thing it will do is make you want to hear more of this amazing vocal group. If you can ever catch them live then do so. It will be an experience you are unlikely to forget but for those who can't catch them on stage this album is an excellent taster for just what this band is capable of. I, like many others who have heard the song, would never have dreamed that a version of the traditional 'Have Thine Own Way, Lord' would have been one of the songs I've reached for most this year so far. But it is. It's impossible, after so many albums over the years, to say if 'Take the High Road' will rank up there with the best the Blind Boys Of Alabama have put to tape in years to come but just now it feels like the greatest collection of songs they have recorded in recent years.
Track Listing:-
1
Take The High Road
2
Jesus, Hold My Hand
3
Have Thine Own Way, Lord
4
I Was A Burden
5
Can You Give Me A Drink?
6
Family Bible
7
Jesus Built A Bridge To Heaven
8
I Know A Place
9
Why Don't You Live So God Can Use You
10
Lead Me Home
11
Stand By Me
12
I Saw The Light
13
The Last Mile Of The Way
Label Links:-
http://www.proper-records.co.uk/
https://www.facebook.com/ProperRecords
https://twitter.com/ProperRecords
https://www.youtube.com/user/propertv
http://www.properdistribution.com/
http://instagram.com/properblog
Pennyblackmusic Regular Contributors
---