---
Icicle Works
-

Interview with Chris Layhe
published: 26 / 6 / 2011
---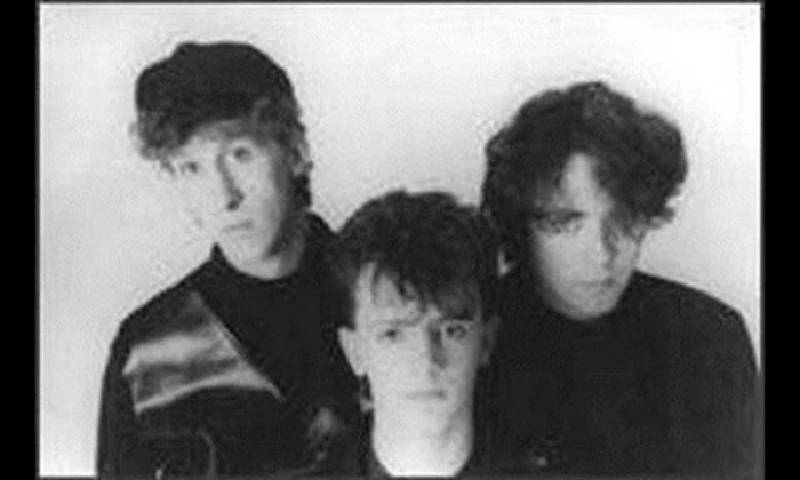 intro
Anthony Strutt chats to Chris Layhe, the bassist with 1980's Liverpool new wave band the Icicle Works about his years with the groupo, and what he has been doing since their 1988 break-up
The Icicle Works were formed by singer and guitarist Ian McNabb and bassist Chris Layhe in Liverpool in 1980. They were joined in 1981 by drummer Chris Sharrock. After self-releasing a six-song cassette entitled 'Ascending', they signed to Beggars' Banquet, with whom they released four albums, 'The Icicle Works' (1984), 'The Small Price of a Bicycle' (1985), 'If You Want to Defeat Your Enemy, Sing His Song' (1987) and 'Blind' (1988). They also had a Top 20 hit single in the UK in 1984 with 'Love is a Wonderful Colour', and a Top 40 hit in the same year in the United States with 'Birds Fly (Whisper to a Scream)', where they played both their own headline tours as well as support dates to David Gilmour and the Pretenders. While they initially had a new wave sound, their music latterly became influenced by acts such as the Doors, Green On Red and Neil Young. This original line-up of the Icicle Works broke up in 1988. Ian McNabb recorded a final Icicle Works album, 'Permanent Damage', in 1990 with a completely different line-up. He now has a solo career and since 2006 has occasionally resurrected the Icicle Works moniker for gigs, including playing a series of 30th anniversary shows last year. Chris Sharrock is now a much in demand session drummer. He has worked with both Robbie Williams and Oasis, and recently joined Liam Gallagher's new band Beady Eye. Pennyblackmusic caught up with Chris Layhe to talk about his years in the Icicle Works and what he has been doing since their break-up. PB: Were you born and raised in Liverpool? CL: I was born at Liverpool Maternity Hospital, and grew up first of all in Halewood and then Hunts Cross, which is most famous for producing Rita Tushingham, in the south end of the city. PB: Where you aware when you were growing up of Liverpool's rich musical heritage, and the Beatles and Merseybeat scenes? CL: Not really, although I think my older brother Geoff visited the Cavern once. I was too young for the Merseybeat/Beatles era, although I do remember hearing 'Fool on the Hill' on the radio travelling to my Nan's in the Dingle area of the city and it making a huge impression on me. PB: Did you choose bass or did it choose you? CL: It was a classic case of my first band having three guitarists, so I opted for bass and I love it. You can be far more creative on an instrument that only has four strings. PB: Were you influenced by punk if at all? CL: Punk? Not at all, although I love the spirit of punk in music and that it encourages you to go your own way. At an early gig around about 1975 or 1976 an audience member spat at our guitarist. He promptly took of his Les Paul and dived in to reprimand the offender. PB: How did you meet Ian McNabb and Chris Sharrock? CL: I met Ian through an advert. I can't remember whether it was in a music shop or through The Liverpool Echo. He sent me a tape with two of his songs, 'Behold Another Baby' and 'Grasp Of Terra Firma'. I've still got it somewhere. We then spent sometime in his bedroom playing and recording with an old reel to reel tape from which came the 'Ascending' tape. Ian knew Chris from a previous band, and rightly wanted to poach him for ours. PB: Were there other names for the band before the Icicle Works? CL: Other early names included the Bureau until Ian came up with the Icicle Works, which he reading a short story, 'The Day the Iciccle Works Closed' by the Science fiction writer Frederick Pohl. It was a good name. PB: What were your early experiences of fame like? CL: There was no X Factor culture then. We got there by gigging our socks off the length and breadth of the country. Notable venues for us included The Masonic Pub in Liverpool and Rock Garden in London. I remember recording the first album at Rockfield in South Wales just after hearing 'Love is a Wonderful Colour' on Radio 1. We were living the dream, and everything was innocent and fun. It was just the band, Tony Barwood our manager and Chris Turrill, our driver and occasional keyboardist. PB: You appeared on 'Top of the Pops' in 1984 playing 'Love is a Wonderful Colour'. How did you enjoy that'? CL: We made our first live appearance on 'The Tube' on Channel 4 and then played 'Top of the Pops', which was the pinnacle of our career. We had a fantastic day at Shepherds Bush, and recorded on a Wednesday for transmission the following day. I was surprised at how small the studio was. They just kept moving the audience round to give the impression of a bigger space, and we played over a quiet backing track with Chris knocking the shit out of plastic cymbals that sounded like someone falling downstairs. Oh yes, and I played barefoot. Well, in socks actually. I don't know why. PB: You also made various radio recordings, including playing several John Peel sessions. Were those similarly rewarding? CL: One of our early sessions for John Peel was in August 1984 which is now available on the CD reissue of 'Small Price of a Bicycle' through Cherry Red Records. Featured songs included 'Hollow Horse' and 'Conscience of Kings'. It's interesting to listen to some of the radio session recordings, and then compare them to the final production releases. I was still using a lot of flange effect on the bass, and also played violin for first time in the recording of 'Deep in the Woods'. You felt that you could experiment and try things out with less pressure. We also did a live concert recording for Radio 1 from London, which is great and really captures the band at a peak. I also think that the music still sounds relevant today, and I've enjoyed hearing tracks that I'd completely forgot we ever recorded. The John Peel sessions were recorded at BBC Maida Vale in London, also home of the Doctor Who sound effects room and staffed by lots of technicians in white coats! I remember Dale Griffin, former drummer with Mott The Hoople being in charge of one session and getting a real cob on when we nearly over ran our time slot….which wasn't long for four tracks. The radio recordings provided a great learning experience for new bands and were vital to help boost their careers…it seems like that's all gone now which makes it even harder for new bands to get exposure. It's one of the roles the BBC should definitely not neglect. We also played a couple of live road shows with John Peel, including one memorable night at the then Liverpool Polytechnic. Billy Bragg was also on the bill, and we became good friends with Bill at a time when he was still going round the record shops doing live PAs with an amplifier and speakers strapped to his back and shoulders. PB: You also toured America with Dave Gilmour? How did playing in America compare to playing in Britain, and were you concerned about losing some of your fan base in the UK by going over there? CL: Touring America and North America with Dave Gilmour definitely had a huge influence on the sound. It was a chance meeting with Chrissie Hynde and the Pretenders on 'The Tube' that gave us our first support dates there. You had to learn how to win over audiences in much bigger venues than we had been used to. Some we did and some…maybe not! 'Birds Fly' was, however, getting heavy rotation on the radio and MTV was a great supporter. I guess it's a dilemma that many new bands/artists face, stay at home and keep building the fan base or try to break the USA. Looking back it was a great experience and I'm glad we went there. We definitely came back a more confident rock band, especially live. The look had changed as well. PB: The Icicle Works broke up in 1988. Why did you split when you did? CL: I remember this night very clearly. It all took place at a pub called The Pilgrim in Liverpool city centre. There was to be a band meeting. Chris Sharrock suddenly dropped the bombshell that he was joining the La's, who was currently working on their debut and, as it turned out, only album. Always the quiet one, Chris was unusually vocal that night and obviously unhappy. Truth be told I wasn't happy either and very apprehensive about some new characters that had become involved with the band. I was sick of touring and living on top of one another in the back of a van. We probably just needed a break. The Icicle Works split up that night. The following months/years were bloody horrible. It's the loss of identity and trying to find a new role for yourself. I also missed the music. Now music is very much a part of my life again. PB: Will the Icicle Works ever reform? CL: It seems highly unlikely, I doubt if Chris Sharrock has got the time, and sometimes things are best remembered as they were. It's not easy to admit that though. PB: What are you doing now? CL: I still play whenever I get the chance and I've also just taken delivery of a new Ampegportaflex bass system( one for the techno heads there!) and a new Yamaha bass which sounds awesome both live and in the studio. I live in Manchester now, and also run guitar and singing classes for adults throughout the North West as part of Manchester's Lifelong learning and Continuing Education Programme. I've just recently finished a project as musical director for a large scale human rights event at the People's History Museum in Manchester. PB: Thank you.
Picture Gallery:-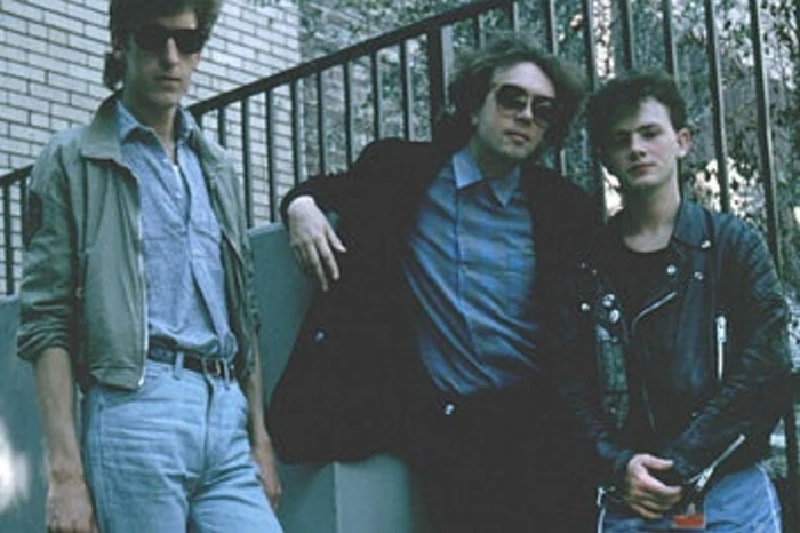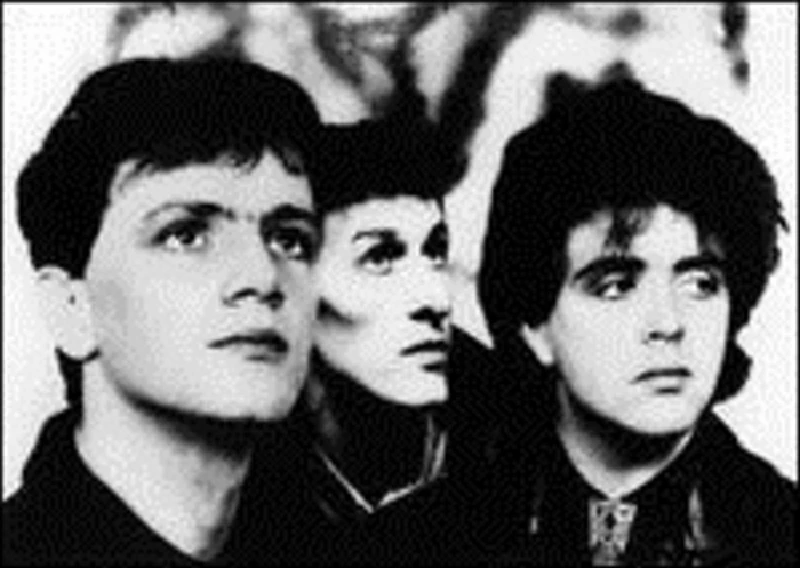 Visitor Comments:-
769

Posted By: Vivienne Soan , London on 26 May 2015
Enjoyed this . Was trying to find Chris Moore who used to be managed by Tony Barwood in early 80's
---
618

Posted By: Margaret Layhe, St. Helens on 15 May 2013
Did you know that Chris Layhe is still writing and performing great music in a variety of places. He's a lovely fella, also, by the way. I should know he's my lovely brother in law!
---
live reviews
---
Shepherd's Bush Empire, London,27/10/2006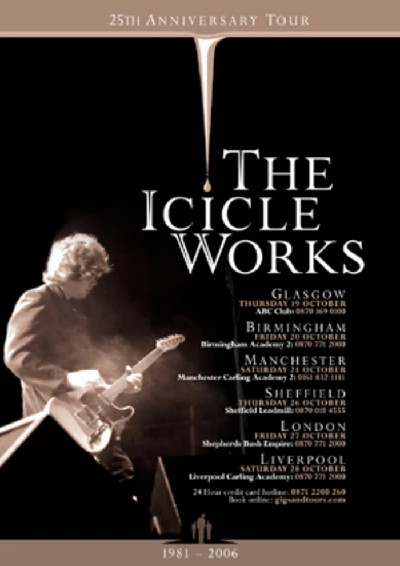 Anthony Strutt enjoys a perfect night of a reflection of how he spent his youth on the London date of the 25th anniversary tour of his favourite band of all time, the Icicle Works
features
---
Happy Times with the Icicle Works (2006)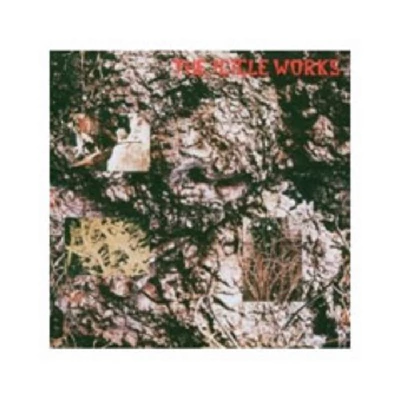 In the latest in our series, in which our writers write about the importance of music at memorable times in their lives, Anthony Strutt tells of meeting the Icicle Works and happy times with their 1984 self-titled debut album as a backdrop
related articles
---
Ian Mcnabb: Live Review (2015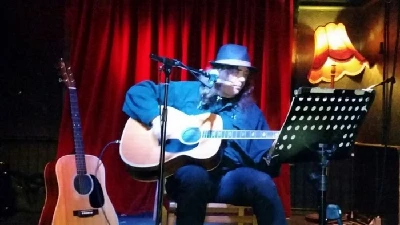 Anthony Strutt watches Icicle Works front man Ian McNabb return to Leicester for his first show in almost two years and play a storming two hour plus solo set
Pennyblackmusic Regular Contributors
---