---
published: 16 / 2 / 2008
---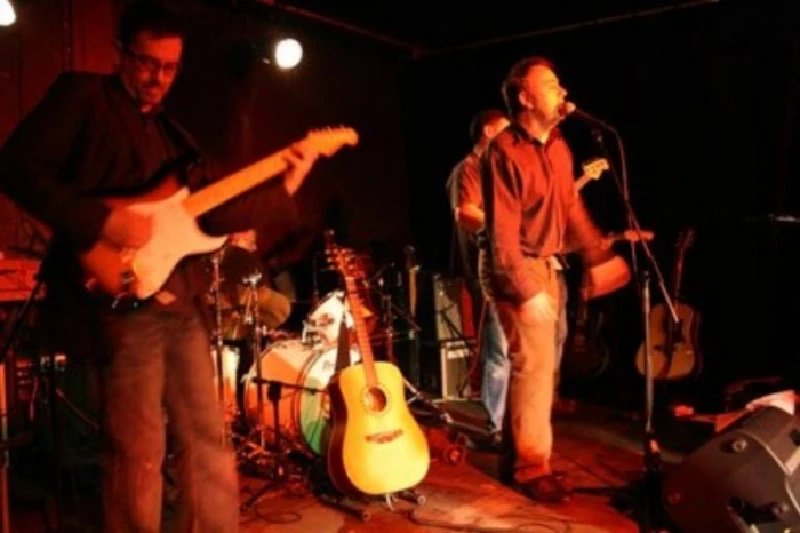 intro
Irish band St Vitus Dance have released after an absence of over twenty years their second album, 'Glypotheque'. Singer and guitarist Noel Burke speaks to Anthony Strutt about it and his time in the intervening years fronting Echo and the Bunnymen
St Vitus Dance formed in Belfast in the summer of 1981. After going through various line-up changes, the six-piece signed to Liverpudlian label Probe Plus, who released their 60's pop-influenced debut album, 'Love Me, Love My Dogma', in 1987. The album was critically received, and the group moved to Liverpool later on that year, but poverty-stricken and having difficulty finding gigs broke up the following year. Singer and guitarist Noel Burke went on to briefly front Echo and the Bunnymen, replacing Ian McCulloch who was on his ten year sabbatical from the band, and joining founding members, guitarist Will Sergeant and bassist Les Pattinson, in recording and touring their 1990 album, 'Reverbervation'. St Vitus Dance reformed in 2005. As well as Burke, the current line-up of the band still features four of the personnel who recorded 'Love Me, Love My Dogma' -keyboardist Haydn Boyle, bassist Phil Freckleton, drummer Peter Hesketh and guitarist/mandolin player Damein Magee -and also lead guitarist Kevin O' Neill, who played an early line-up of the band before it moved from Belfast. 21 years on from its debut, St Vitus Dance is about to release again on Probe Plus its second album, 'Glypotheque'. Pennyblackmusic spoke to Noel Burke about the new album. PB : St Vitus Dance formed in Belfast. Are you all still based there these days, or are you now all in Liverpool ? NB : We all moved to Liverpool in 1987, but after the band drifted apart at the end of 1988, Damien and Pete returned to Belfast, leaving Phil, Haydn and myself on Merseyside. That's still the situation now. Kevin, who had been in an early incarnation of the band and plays guitar in the band now, also lives in Belfast. PB : Is it true that 'Love Me, Love My Dogma 'took 6 years to write and and record, but in the end was recorded very quickly ? Why did it take so long to make ? NB : I suppose it is, although the thing about St. Vitus Dance before 1986 was that the line up was as stable as a drunk at chucking out time – actually the same could be said of the individuals involved at the time. For a long time we didn't take it very seriously – we only ended up on Probe because Maurice, the bass player at the time went to Liverpool to visit his sister and dropped a tape off with Geoff Davies. I don't think we'd approached any labels, indie or major, prior to that. 'Dogma' cost £360 to record, although mixing it in Liverpool might have cost another hundred or so. Of the songs on the album, only one or two dated from the earliest band line up. Most of them were written in 1986 and 1987. PB : It seems to me to be a very different listening experience to the new album, 'Glypotheque'. How does the band compare the two albums ? NB : Well, we've certainly slowed down a bit…I suppose it's to be expected at our age. The keyboards aren't as prominent as they used to be and Kev's guitar playing is a real feature – there's probably more of a folk-pop element to it now as well – we decided at the outset that we'd go for an acoustic feel, for this album anyway. There's also a bit more space on this album – on 'Dogma' we just bunged every instrument on we had to hand – Geoff managed to pare it down a tad on the mix, but it was still a bit of a kitchen sink job. PB : Has the band's outlook on life changed in the intervening period between the two albums ? NB : The we were hedonistic, brash, confident, hopeful and ultimately stupid. Now we are still stupid enough to want to keep making records, but at least we're realistic in our expectations this time. PB : Where or how did you come up with both album titles and what do they mean to the band ? NB : 'Love Me Love My Dogma' was a steal from that terrible song, 'Love Me Love My Dog' by Peter Shelley (not the Buzzcocks One) which was in the charts some time in the 70's. Being from Northern Ireland, a part of the world which specialised in small differences of opinion on the subject of religion, it seemed like an appropriate title. As for 'Glypotheque'…in Belfast terminology "glype" (or glipe) is a well known term for an idiot. Many years ago I went inter-railing around Europe with a few mates from Belfast. We were in Munich, I think it was, and came across a poster or street sign for "Glyptothek" (I think it means sculpture museum). One of our company read it as Glypotheque and went on to speculate as to what kind of dance club it might be, what clientele it attracted and so on. (It was funny at the time). Around the time the idea for getting together to record a second album was mooted I came across the word again in a book and when someone in the band asked me what I intended calling the album the word Glypotheque just kind of popped out – it's not even a real word – perhaps it's a club where all the celebrity obsessed, surgically enhanced fame seekers I've mentioned in some of the the lyrics hang out. PB : Why have you brought out a second album and why now after all these years ? NB : We've kept in close touch since the band split up at the end of 1988 – I saw Phil and Haydn pretty regularly in Liverpool and would always meet up with the Belfast contingent any time I was over there, which was fairly frequently. For most of the 90's Pete, the drummer had been on my case to do something, to start writing again, but for one reason or another I wasn't keen. In 2005 Pete and Kevin were due to play with Bid from Scarlet's Well and the Monochrome Set as part of his backing band at the Cathedral Quarter Arts Festival in Belfast. The organizers then asked if St. Vitus Dance would be interested in playing on the same bill. Well, we did it and the rehearsals and the gig went really well – the audience response was very positive and, more to the point at this stage of our lives, we enjoyed it for its own sake. Next thing you know I've started writing new material and Geoff seemed amenable as regards putting it out so we decided to keep going. PB : Are you planning any gigs to promote the album ? NB : Yes, we've already done a sneak preview gig in Belfast in December just gone but we'll be playing another one in Belfast in late April or early May, with a Liverpool gig happening around the same time – nothing definite yet, but it will happen. PB : How quick was it to write and record the new album in comparison to the last album ? NB : It took us ages to write the first couple of songs, but after that the floodgates opened and songs came fairly quickly. This time around they took a long time to get down on tape, purely down to the difficulty of getting everybody together to rehearse and record. I think it took around a year to get everything recorded and mixed. We got there in the end, though. PB : You fronted Echo and the Bunnymen for a while. Did you enjoy the experience? Was it hard to fit into Ian McCulloch's shoes ? I thought at the time that you made them a better band for your presence. NB : I did enjoy it, despite the fact that it was a doomed enterprise from the very outset. In fact I think the reason I did enjoy it was because I accepted that it was doomed right from the start and I just concentrated on trying to put together as decent a record as possible. Considering Ian McCullough's profile within the band it was insane keeping the name of the band but having said that I could understand the strength of the others' feelings at the time. Unfortunately what was intended as a symbol of defiance was interpreted by practically everyone as a cynical attempt to make a quick buck. A change of name would have made my job especially a lot easier but at that time there was no way that was going to happen. Once I'd accepted that I just did the best I could while always expecting the worst reaction – it certainly softened the blows when they came – I didn't take it nearly so hard as the rest – mind you they'd been used to a bit of success. PB : There was just the one album. Is there any unreleased Echo and the Bunnymen material from that period ? NB : Not much, one or two out-takes from the album and a few songs we were playing live in the States towards the end which may exist on a few live tapes – I remember thinking they were quite good songs at the time but I haven't listened to any of that stuff in years. PB : How much say did you have within the group and do you still keep in touch with Will Sergeant and Les Pattinson ? NB : From the very start it was pretty democratic – it became clear pretty quickly that they wanted someone who could provide some kind of input musically and lyrically. The album was a real collaborative effort, with everybody, including Jake Brockman and Damon Reece who played keyboards and drums contributing loads to the overall feel of the record. There was a real meeting of minds in that we all wanted to make this trippy psychedelic pop album – and I think we did a pretty good job (Adam Peters from the Triffids played a blinder on the cello). In the end though the music was always going to be a secondary concern, but I'm over it, you know. I still see Will occasionally – he's the same gentleman he ever was – but I don't think I've seen Les since I got married, which was a dozen years ago – a pity because we all got along famously despite the fact that our careers were going to hell in a handcart. PB : Do St Vitus Dance have any plans to tour when 'Glypotheque' is released ? NB : I think it's highly unlikely that we'll be able to do much more than selective gigs every now and again – of course if some promoter wants to offer us silly money to tour we're open to offers… PB : Do you have any plans to record any more records ? NB : Well, there's a whole new bunch of songs in the pipeline and we all love the process of rehearsing and recording, even though it takes a long time – so we'd love to but we'll have to wait and see how many copies we can shift of this one. PB : Thanks for your time. 'Glypotheque' will be released on April 7th.
Band Links:-
https://www.facebook.com/St-Vitus-Dance-171969426217817/
Picture Gallery:-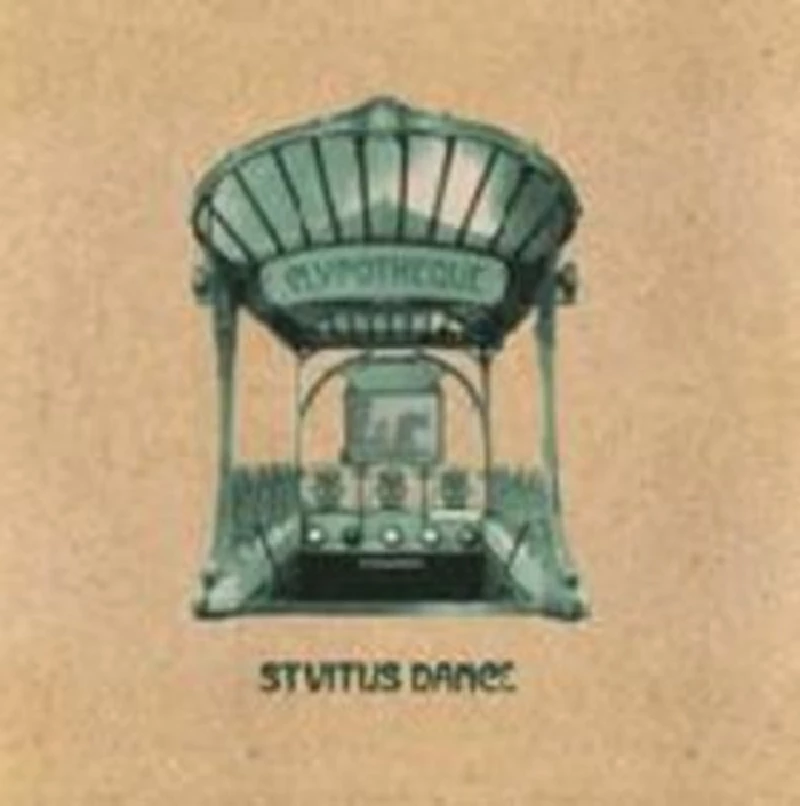 Visitor Comments:-
557

Posted By: TK, Istanbul on 03 May 2012
Winners All They gathered in the centre of the town More Belisha Beacon orange Than mahogany brown They came to see a glorious rebirth For some wisdom, but heard not a sound For what it's worth Living lesson for us all Ripe for a fall Winners all Living loose and standing tall Too close to call Heaven help us all They queued up by a taxi rank at dawn Exchanging silent accusations Or a stifled yawn They wished upon a light polluted sky Dreamed a dream of someone else's life They knew not why The weight of expectation dragged them down Narrow shoulders buckle under This is what they found And thoughts of failure proved too much to take A soul could be worn down upon these streets A heart could break The Stakeholder's Lament The sceptic at the back The spectre at the feast Why can't I make the effort Appear enthused at least Wing it if all else fails Until good sense prevails You are what cynicism was made for I'm just a naysayer I'm not a team player My quality's assured I never turn the word Doubtless I'm doubly blessed Righteous and risk assessed You are what cynicism was made for I'm lately shaved and showered I'm feeling so empowered You've got me singing hymns You love your acronyms You love your jargon too Wish I could be like you I am what cynicism was made for Gamblin' Man If I were a gamblin' man (I bet you think you know what's comin') I'd hook up with a shamblin' band Pick up my guitar and get strummin' But I'm not a gamblin' man And woe to you who say I am Just look me long and wide and side to side Once I was a travellin' man You couldn't tell me where I came from The back of some sweet transit van Is not the place to see the world from But I'm not a travellin' man And woe to you who say I am Just look me long and wide and side to side Sit by yourself And fret your fragile state of health No matter of stealth I see it coming And now I'm just a ramblin' man I never reach a sentence ending A limited attention span So what's the point in me pretending That I'm not a ramblin' man And woe to you who say I am Just look me long and wide and side to side Fevered Ego Please come in number 52 Your time is sadly up Your contribution has been noted All that remains for you to do Is tell us how you feel And thank those who so kindly voted Hands up if You need it Make Your mind up Hands up if you want it Is this a wind up Hands up as you stop to wave goodbye Oh when you were a little boy You drove your mother mad She could not hold a conversation With your demands she acquiesced And now it seems you're here A permanent guest of the nation And as you pack your things to leave Does it once cross your mind To wonder what you had to offer? This empty vessel's maiden voyage Is surely not the last The rest of us in silence suffer Human Interest Story We closed up the house We stopped the papers and milk We cut off all ties with you and those of your ilk And now I can't breathe What did I achieve? What am I supposed to say? They rang at the door We hid behind the settee We lay on the floor I ask you, why should that be? A smile wouldn't kill But I love you still What am I supposed to say? Tell me, tell me the worst Tell me how bad can it be? Tell me tell me I'm cursed Hoist by my own misery We sat on a train Newspapers wrapped round our heads Sit down if you must But mind the Saville Row threads And don't think to speak Why spoil the mystique? What am I supposed to say? Glypotheque I've been waiting, hoping I'd see you To tell you I'm keeping. I'm coping Shaved especiallly, Freshly laundered shirt Well ironed I fixed my own tie on And now that you're here God help me You're finally here God help me I can't think just what I came here to say I've been pacing, facing down my days And wondering just where had the time gone It was something and nothing High ideals and nonsense Forgive my persistence And now that you're here God help me You're finally here God help me I can't think just what I came here to say Stupor Mundi Are you gorgeous? Is that what you are? I'm in awe, let me follow your star You're an idea whose time has come What a work of art you've become Did the implants implode perchance? Has the sunbed gone to your head? Was the trout pout Not much to write home about? And they all say how you've worn well And they all say that you can't tell And your eyebrows arch in surprise From the sunset to the sunrise Are you gorgeous? Is that what you are? As you wave from the back of the car Are you nervous inside your skin Saints preserve us through thick and thin Not a Good Time Something on your mind At any given time Is in itself miraculous Who knows what might take If you give yourself a break From worshipping the vacuous It's not a good time It's not a good time Nor never will be Bit my tongue to hell And ground my teeth as well Just like a model citizen Words stuck in my throat I made a mental note To smile and take my medicine It's not a good time It's not a good time It's not a good time for me How can I sustain A fully working brain Conditions are unbearable So I pledge my time To falling into line And cutting down on syllables It's not a good time Seriously Listing That song again From way back when Beyond my ken God, even then The rise and fall Of my recall The wherewithal I lost it all And it's never gonna make my top ten No it's never gonna make my top ten All threats and risks All weighed and sized So much to do Before you die But if you're wise Don't be surprised Just feast your eyes On ten best buys And it's never gonna make my top ten No it's never gonna make my top ten Ten ways to a brand new you Ten telltale signs that say she's untrue Ten thousand better things to do A handhold is not a hand to hold Spendlove Behold the bitter end Thought I was on the mend What message does it send? Don't call it love To put me at my ease To get me off my knees I'm asking of you please Don't call it love And as the day begins You beg to differ I'll plead ignorance As it begins, it ends Less than friendly. More than friends And where was I today? I wouldn't like to say These things you hide away Don't call it love And what you see in him That brown eyed loathsome man I cannot understand Don't call it love And as each day begins You beg to differ I'll plead ignorance As it begins it ends Less than friendly More than friends No promises On these premises No promises based largely on false premises Behold the bitter end Thought I was on the mend What message does it send? Don't call it love Whither Litherland Right now, the water's high The sun still clings to the sky I walk, but as to where I might be going Don't ask The time is well past nigh And hip replacements don't lie Forget the paths of knowing and unknowing Direct me to true crime and painful lives So who do you, why do you, what do you mean? To trouble me now with your low self esteem Denting my composure And venting your spleen D'you know what I mean? Right now the water's fine I guess the pleasure's all mine In doubt contact your local anaesthetic In debt consult your inner V.I.P. You're entitled to your own point of view It's the brick through the window I mind Retake A highlights package of your life Did not seem such a bad idea Approaching first half injury time You try to edit out the parts That don't cast you in such great light What you'd expect – hardly a crime Phone in your failings Text me your strife Resit your nightmares Retake your life The ones left stranded on the side The ones you damned with such faint praise Line up to kick you when you're down But give security a shout They'll turn up in no time at all And run those memories out of town Look at you now You're the belle of the ball Bewitched, bewildered Not bothered at all Longfinger Come feel my pain Lying here for a week or so and nothing's changed Came home to roost Took a look around then took to my bed like Proust And all along the voice went on, "How long can this go on?" So disinclined Never minded because I had nothing in mind The night birds sing Lullabies for a busy day's woolgathering And all along the voice went on, "How long can this go on?" Can't it wait until tomorrow? Until tomorrow can't it wait?
---
474

Posted By: Bokebeard Redux, Anywhere but Belfast, unfortunately on 28 Sep 2011
Good interview. Glypotheque is another utterly brilliant album. I'd hoped that I might get a chance to see the band live again on the back of it. I'd have paid good money to travel back to NI, or even Liverpool, or anywhere else to see them. But the moment seems to have passed. SVD live in the Satellite Club and other places around Belfast in the late 80's were totally wonderful. £360 to record LMLMD? Jesus, what a bargain. I've had nearly 25 years of pleasure out of that album. Even now, my wife and I stil regularly sing snatches of the songs, prompted by relevant events...having fish on friday...being up in the dock...catching a black hack...you get the picture.
---
192

Posted By: tally, USA on 16 Jun 2009
It's that good.
---
155

Posted By: Agnes, Belfast on 03 Jan 2009
Hi wanted to say that i bought this album in HMV a few days ago. It was £15 at the time i thought i was stupid buying this cd off a band i had never heard off . Though it was quite a rip off ...I got home played the CD and it was absolutley Brill!! it was well worth that £15 :D Great album !!
---
Pennyblackmusic Regular Contributors
---