---
Big Sleep
-

Son of the Tiger
published: 6 / 9 / 2007
---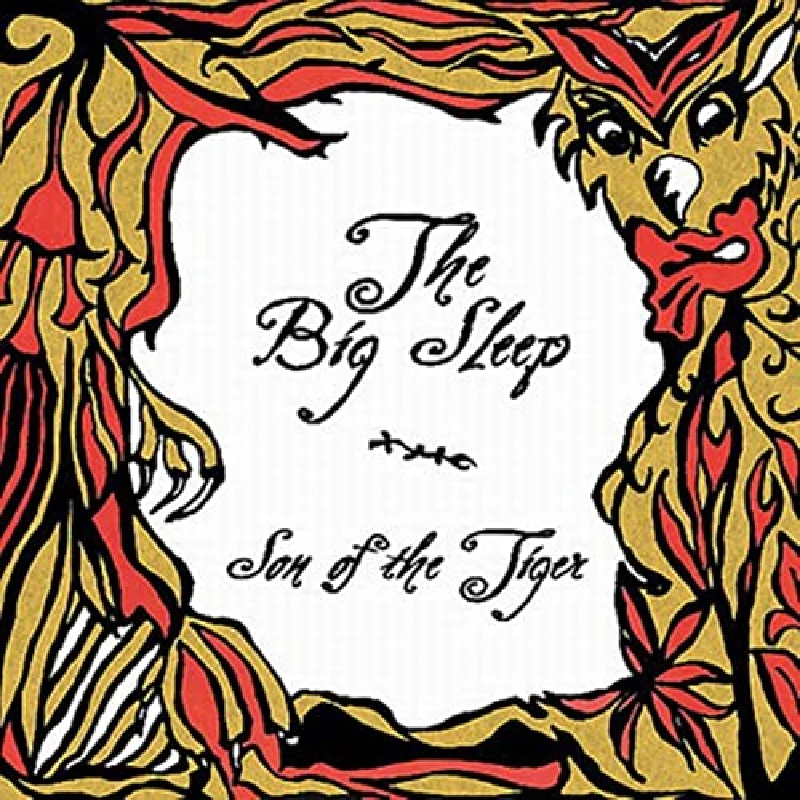 intro
Indefinable and completely unique indie rock from Brooklyn-based three piece with a devil-may-care attitude
I've looked everywhere. But despite a fruitless few days scouting around the backroads of the local industrial estates, I've been unable to find a box big enough to hold the Big Sleep. It's not my fault, really – every time I think I've got their measure, they go and shift shape when my back is turned. The opening few songs of 'Son Of the Tiger' had me convinced that they were some sort of high velocity version of a shoegazer outfit ... but then, as it progressed, elements of metronomic krautrock started creeping in, along with some riffs stolen wholesale from stoner rock. So I adjusted my assessments to compensate – only to get tripped up by some haunting post-rock landscape work, and some comedown-lazy female vocals laid over bright guitars shimmering with reverb. As frustrating as it is to my critical instincts – there's nothing harder than trying to hit a moving target – I'm impressed. This is a band with their own ideas, and the willingness to turn their back on consensus tastes in their pursuit of them. So, no convenient genre definition for the lazy reviewer to lob toward his readers. So be it. Let's try it the other way – instead of trying to put the Big Sleep in a box, let's see if we can work out how to unwrap the parcel. For a start, I'd recommend avoiding the use of anything too sharp in the process. Despite the frantic pace of the first few tracks - which seem to act almost as a decoy, an opening salvo to allow the following material a clear path across your bows – The Big Sleep make music as delicate as their name might suggest, full of haunting post-rock plucked arpeggios and blurred legato tones drenched in echo and effects, evoking a beach-side reverie on the sort of hot and lazy day we've been so short of this year. But, as mentioned above, they just keep metamorphosing, flipping back and forth between mellow and mental, sometimes within the space of a single song. The energetic flipside of the material has the same blissful sense of exploration and devil-may-care run-to-the-sun aesthetics, but it's full of the fuzzed-out youthful energy that the early 90's alternative rock scene brought to the world. So, now we've peeled the packing away from 'Son Of The Tiger', but we still have no idea where exactly we should shelve it. Personally, I'm of a mind that this is a good state of affairs – even the alternative scenes are currently jammed full of copyists and genre slaves, bands who've leapt on a wagon in the hope of a quick ride to the big city. By comparison, The Big Sleep are wandering cross-country, camping wherever takes their fancy, occasionally treading the hard shoulder of the established roadways, but resolutely ignoring offers of a lift. I'm not sure they're headed for the big city, either – or if they even know where they're aiming to get to. It doesn't matter. Like the old proverb says, sometimes it's better to travel than to arrive. If your musical life seems short of adventure, you could do far worse than walk alongside the Big Sleep for a while.
Track Listing:-
1
Brown Beauty
2
Murder
3
You Can't Touch The Untouchable
4
S.K.B.
5
Menemy
6
Locomotion
7
Are You Ready (For Love)?
8
Shima
9
Son Of The Tiger
10
New Strings
Label Links:-
http://www.indian.co.uk/
https://www.facebook.com/olirecords
https://twitter.com/olirecords
http://www.songkick.com/users/onelittleindian
https://www.youtube.com/user/onelittleindian
https://plus.google.com/+OneLittleIndianRecords
Pennyblackmusic Regular Contributors
---