---
published: 15 / 2 / 2003
---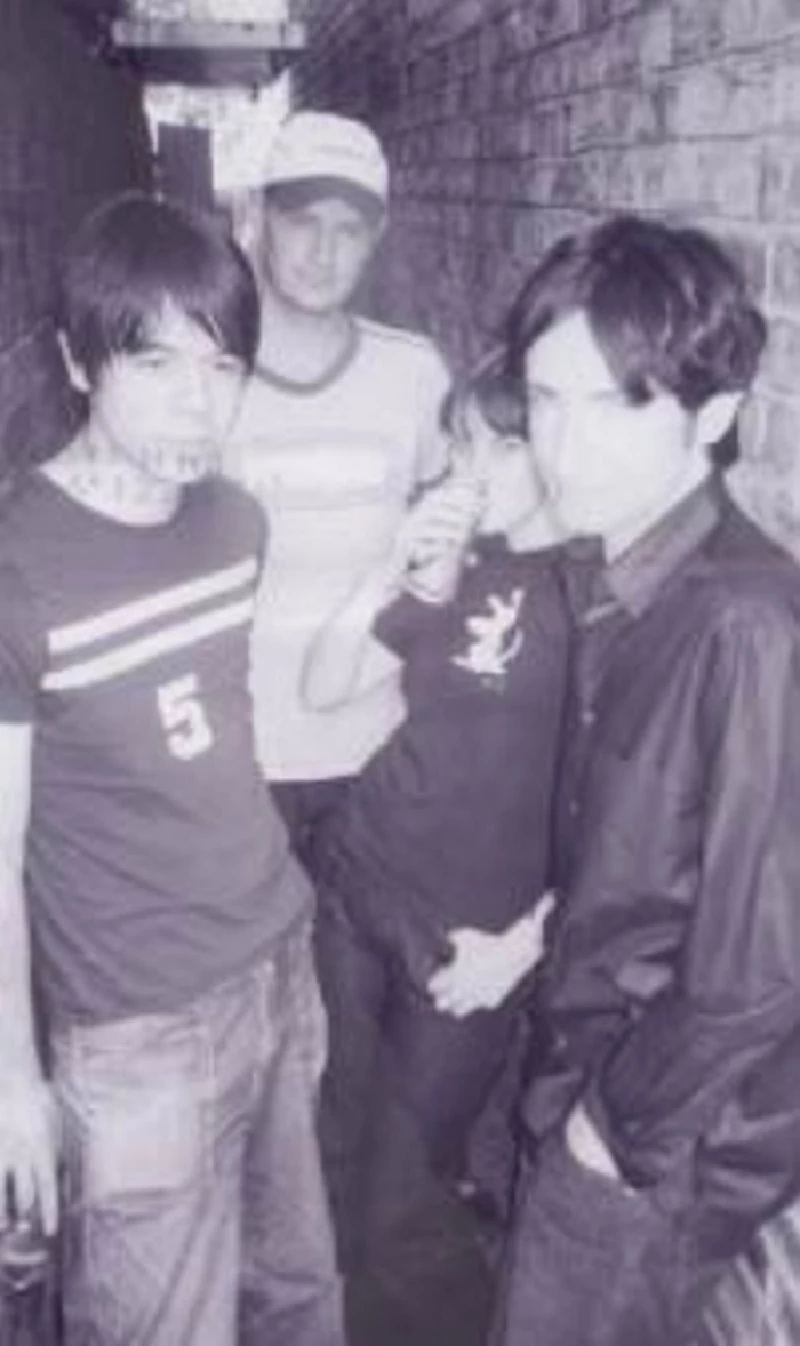 intro
London based indie pop group Girlinky have just released their debut album 'I Want the Tsunami'. Members Scott, Rob and Chris talk about the band's first three years, and their unusual way of playing gigs with the extended absence of other member, Sarah
Girlinky are a London-based half Antipodean, half British four piece group whose music blends together wry, self-deprecating humour with a striking power pop sound. Previously described by Pennyblackmusic as "combining together the melodiousness of the Go Betweens with the ramshackle slacker pop of Pavement and Dinosaur Jr", the band, which consists of Scott Brodie (Bass, Vocals), Rob Talsma (Drums, Vocals), Sarah Ferguson (Guitar, Keyboards and Vocals) and Chris Ayles (Guitar, Vocals), first formed in early 2000. It released its debut EP, 'My Huge Head', on its own Dedear Records in mid 2001, and followed this at the end of last year with 'Hai Wakaramishita', a second EP, which came out on 7" blue vinyl. The group's debut album, 'I Want the Tsunami', came out in mid February and has been released again on Dedear. Both Scott, whose family comes originally from Glasgow, and Canadian-born Rob were brought up and raised in Hamilton, a university town 70 miles South of Auckland on New Zealand's North Island. The two played seperately and together in various Hamilton-based groups, including for seven years Inchworm, a Wedding Present-influenced trio, who met with some national success. "We had music videos on TV in New Zealand" recollects Rob, talking with Scott and Chris to Pennyblackmusic in the busy upstairs room of an East London club. "We also put out two albums, 'Shiny' and 'You are Only Here', in the late 90's which did quite well. We could have perhaps become more popular still in New Zealand, but we felt that we had gone as nearly as far as we could over there. It was something that we wanted to carry on doing, but we felt that we needed to go somewhere else so that we could do so." Justin, the group's guitarist, elected to stay in New Zealand, while Rob and Scott emigrated to England in January of 2000. They auditioned for six months various other guitarists, changing their name to Girlinky in the process. When these other musicians, however, failed to work out, they persuaded their friend Sarah, who had played with Rob in Inspector Moog, another Hamilton band, to come over to London in mid 2000 to join them. 'My Huge Head', which came out the following summer, was recorded as a three piece. It serves as a perfect early blueprint for Girlinky, its ramshackle almost throwaway sound showing off a band which has always been far sharper and more tightly focused than its chaotic image initially implies. The rumbustious title track combines siren-style guitars and razor sharp boy-girl harmonies with a surreal, wacky lyric from Scott about relationship grief. 'My Umbrella', the equally vivacious and offbeat second song, finds Rob wanting to escape from the world and especially his girlfriend, while the brooding final number 'Midden', which features Sarah on wistful vocals, meanwhile bounces bubbling echoes of synthesiser against sudden injections of noisy guitar. Chris, who plays with Scott in another London group, became a member of the band a few months later. "I joined the band at the end of 2001" he says. "I ended up being in the band purely by association. I really liked the group before then and we had already all started to hang out a lot together. We decided to see how it went and so I began coming to practices with them." "One of the good things about the band is that we've got a lot of shared influences" he adds. "But everyone likes slightly different stuff. That stops us from going down one alley way or playing music in just one particular style." The band decided to release 'Hai Wakarimashita', which came out in November, on 7", because many British distributors are currently reluctant, as a result of increasing CDR piracy, to distribute CD singles and EPs except for those from major or larger independent labels. The market for vinyl, therefore, is at the moment ironically often wider. 'Hai Wakarimashita' proved to be similarly eclectic, and found the band displaying the same madcap humour that they had first revealed on 'My Huge Head'. The title song combines a chunky, cranked up guitar riff with warbling keyboards, while 'I Dare You to Make Me Happy', the first of the B sides, has Rob frantically trying to cajole a girl into going out with him , and begins as a tinny melodic ballad. before erupting into another exuberant pop number. The second of the two B sides, the frenetic 'Swimmingly' is keyboard based, and has Scott desperately trying to squirm out of a relationship by looking for faults and cracks in it where there are none. " 'Hai Wakarimashita' means 'I understand' in Japanese" Scott says about the first track. "It's what you say to your mentor if you are an underling. 'Hai Wakarimashita ! Hai Wakarimashita !'. I work for a Japanese IT company, and that song is about my experiences there. " 'I Want the Tsunami', which came out on February 17th, was recorded over the course of several recording sessions during a year and a half long period,and was self-produced by the band. Its title was inspired by a spectaculary quiffed fellow drinker whom Rob, who wears his hair in a crew cut, enviously spotted across the bar of a London pub on a band night out. As Chris slightly more seriously is also quick to point out, the band, however, also chose this name because it ties in well with the group's often noisy sound and a "cartoonish element" in some of its imagery . The album, which features the title songs from the two EPs ; the B sides of 'Hai Wakaramishita' and a further eight new songs, runs through a wide gamut of moods and sounds. The opening track 'Newspaper Round' is a slick, bubbly 80's style electro-pop number, that finds Sarah trading verses with Rob's choruses, and which tells of an an encounter with aliens on an otherwise dull paper round. The sophisticated Gallic Euro pop of 'Mister Convoluted' meanwhile makes clever use of a voice distorter and pokes lighthearted fun at the media's obsession with celebrity, while on the gusty, synth-laden 'Don't Talk to Me, Talk to Ricky' an increasingly angst-ridden Scott tries to woo a girl with music, but is not able to remember the lyrics of the song he has written for her.The last track, the intriguingly-titled 'Kim Deal Called Me a Pussy', mashes up strident guitarwork from Scott and Chris together with Sarah's jangling keyboards, and brings the album to a powerful close in a wall-of-sound explosion of instrumentation. " The title for that came from a friend" laughs Scott, talking about the latter song. "Kim Deal called him a pussy and for no good reason. He was just sitting at the bar at the All Tomorrows Parties festival. The Breeders had played that night and she was being escorted from the bar for behaving badly when she saw him and called a pussy. The song though is more about somebody who breaks up with their girlfriend and then starts to confuse the relationship that he had with his girlfriend with the relationship that he has with Kim Deal. It's a sort of obsessive close relationship trauma kind of thing." "There's an immediacy to the songs" adds Rob a few moments later, discussing, not only 'Kim Deal...', but the album as a whole. "They seem quite throwaway, but they also stand up to repeated listens." "Most of them work at more than one level" continues Chris. "They seem on the surface quite poppy, but, lyrically and musically, there is always a lot going on underneath as well. They can often get quite complicated." Girlinky has recently acquired the services of Jon White, an established bands manager, who runs his own company, and who is currently trying to negotiate the group a major label deal, In the meantime the band will be promoting 'I Want the Tsunami' by playing shows in and around the London area. For the next few months, however, Rob, Scott and Chris will be playing without Sarah, who has had to return to New Zealand on a work assignment. They have her filled her place on vocals and keyboards with a sound sampler. "It's not so much that she's been replaced. She's been condensed" quips Chris. "The sounds that we made on the album we wanted to do live, but we can't do them organically" explains Scott. "In Sarah's absence we had to have something" concludes Chris. "We wanted more than just a basic line-up of guitar, bass and drums. It's just been a stop gap, but when Sarah comes back, I think we'll still use the sampler. It makes things far more interesting, especially live. There are endless possibilities really." The four piece group will reunite in April, when Rob, Scott and Chris travel to New Zealand on an extended holiday, and also to play some dates. 'I Want the Tsunami' will also become available over there at the same time for the first time. From New Zealand to Britain and back again, it seems that 2003 could well be Girlinky's year.
Picture Gallery:-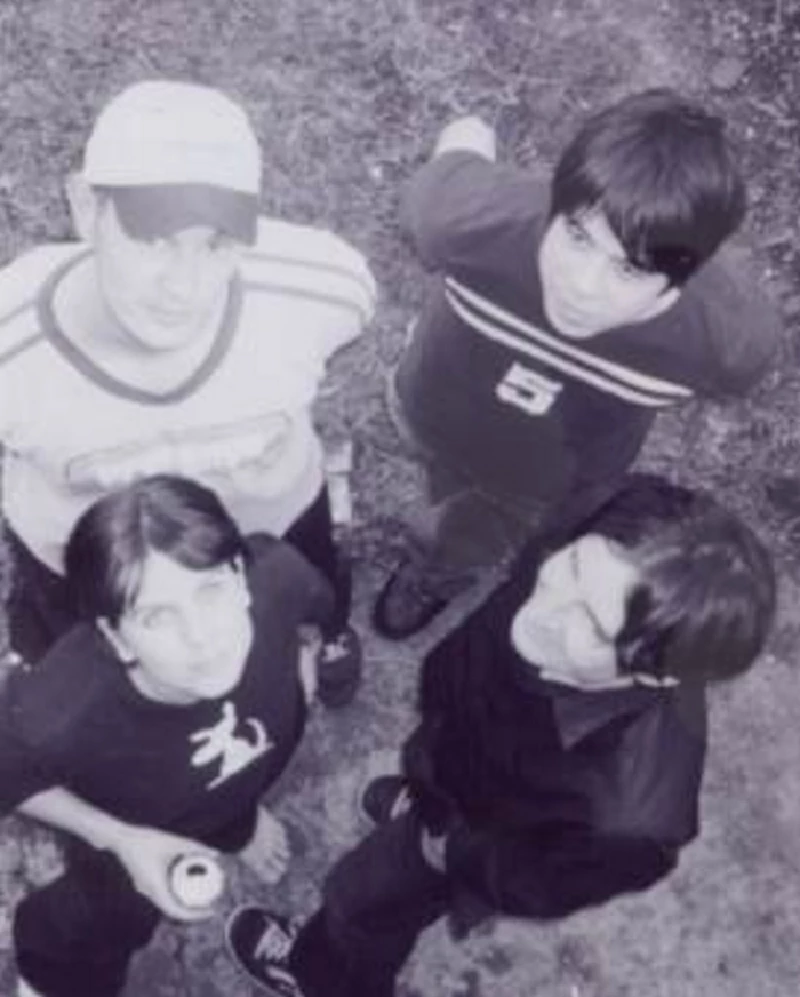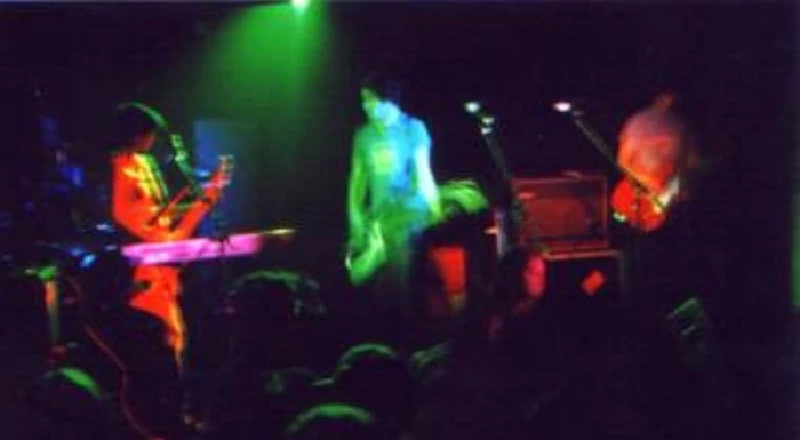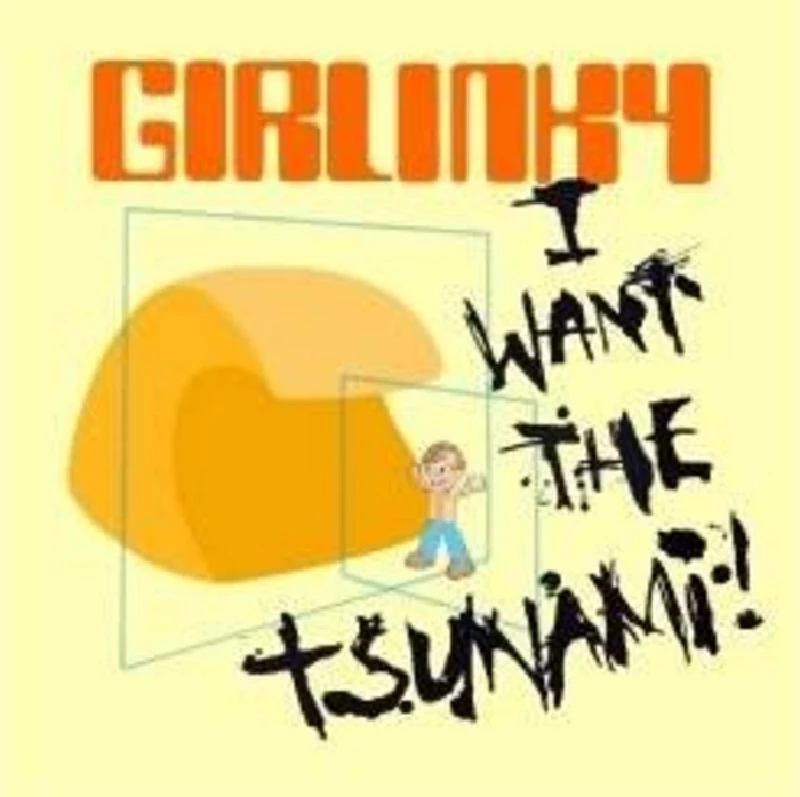 live reviews
---
London Verge, 17/1/2003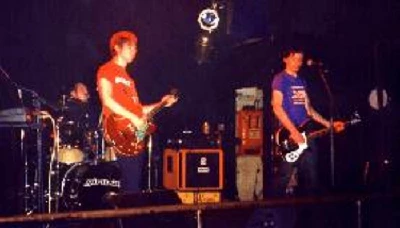 Energetic and vigorous, Girlinky are one of the rising indiepop bands on the current London indepedent scene. With vocalist and keyboardist Sarah away in New Zealand, Olga Sladeckova finds them finding a unique way of dealing with the problem...
Pennyblackmusic Regular Contributors
---