---
Beulah
-

Coast Is Never Clear
published: 17 / 12 / 2001
---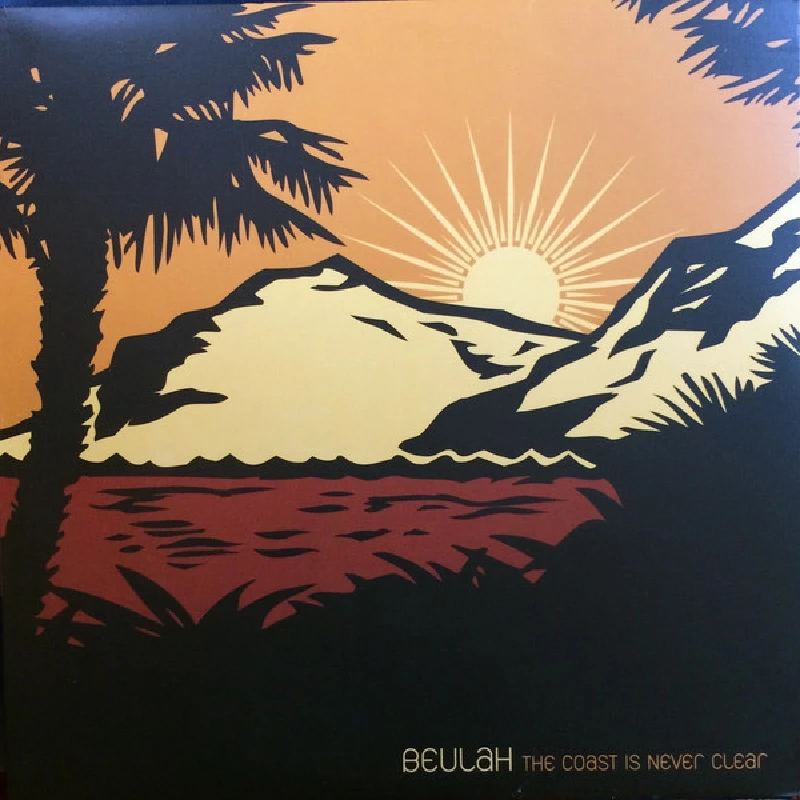 intro
It's a shame this album didn't come earlier in the year really. On the first listen it strikes you as a perfect summer pop record - warm dreamy vocals,lush arrangements, ingenious melodies and catchy
It's a shame this album didn't come earlier in the year really. On the first listen it strikes you as a perfect summer pop record - warm dreamy vocals,lush arrangements, ingenious melodies and catchy rhythms. But as the season draws to a close it becomes very apparent that this isn't pop in the throw-away sense. It's a record made to last, something life-affirming which has the musical and lyrical depth to stay with you through the winter. Right through the album, gorgeous pop songs are made into something special by the arrangements - vocal harmonies, strings, brass, flute, keyboards, piano and even a harp are heard at various intervals. None of this orchestration ever seems superfluous though - it's used to build up quiet dreamy harmonies and guitar into a lush expanse of catchy, danceable yet touching indiepop genius. Comparisons seem out of order, but if I was to make any they would be with oldies like the Beach Boys. Beulah seem really determined to make an art of their songwriting, a "romantic quest for perfection in pop" as they put it. Using a real musical ensemble to it's full effect, they avoid the staid and rather twee power-pop of some of their indiepop contemporaries with full-on beautifully arranged songs. The album is scattered with dreamy wistful moments, most notably the beautiful introduction of the first track 'Hello Resolven'. Strings, piano and simple vocals greet the Welsh town whose bands have supported Beulah in the past. The lyrics are sometimes surprisingly dark for such a summery record - 'A good man is easy to kill' is about a near-fatal drunken driving accident, but maintains a catchy summer feel with flute, fuzzy guitar riffs and violins punctuating it's emotionally complex story. Other topics include a laid-back acoustic pop treatment of depression ("What will you do when your suntan fades"), and in 'Popular Mechanics for Lovers', the difficult truths of relationships. 'Gene Autry' twists their Beach Boys influences to prescribe an apocalyptic future for California - imagine "everybody drowns sad and lonely" sung to one of the catchiest summer choruses yet - it works beautifully, but you're left wondering why, and how. Other tracks could be described as lo-fi guitar pop, if it weren't for the fact that production values are actually very high. In some quieter moments acoustic and slide guitars give them a breezy alt-country feel, while other songs seem designed for dancing. Bill Swan's multi-instrumental skills add an extra dimension throughout, and Miles Kurowsky's songwriting is consistently good enough to give the album a more timeless warm feel than lo-fi pop contemporaries like Grandaddy and the now-deceased Pavement. After some beautiful laid-back harmonies and sleepy guitars in 'Burned by the Sun', the album finishes with a sad tale of the impact of constant touring on relationships, the usual summery melodies closing out with a wistful intensity. Would it sound like hyperbole if I said that not a note sounds out of place on this record? It seems true. Buy it now before the nights get any longer -it's one of my favourite summer records yet.
Track Listing:-
1
Hello Resolven
2
A Good Man Is Easy To Kill
3
What Will You Do When Your Suntan Fades?
4
Gene Autry
5
Silver Lining
6
Popular Mechanics For Lovers
7
Gravity's Bringing Us Down
8
Hey Brother
9
I'll Be Your Lampshade
10
Cruel Minor Change
11
Burned By The Sun
12
Night Is The Day Turned Inside Out
Pennyblackmusic Regular Contributors
---