---
published: 21 / 6 / 2022
---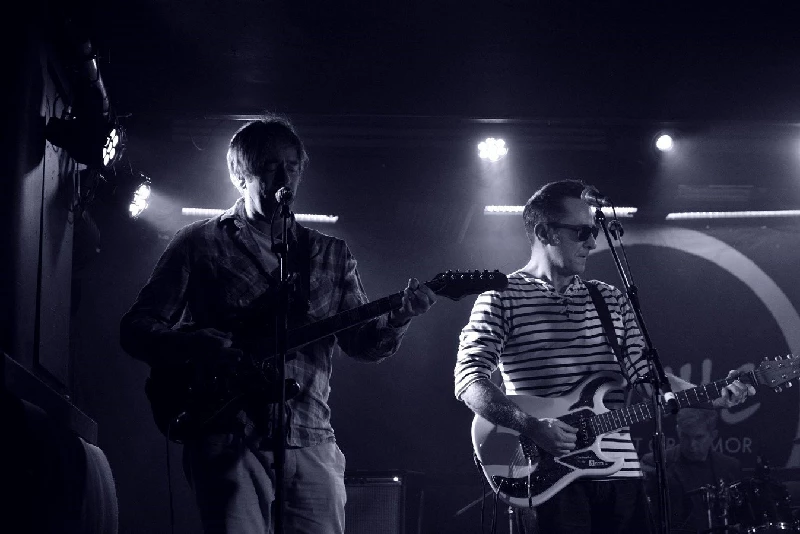 Photograph of James Kirk and Douglas MacIntyre by Gavin Fraser. Over the course of the last forty years, guitarist, record label owner and promoter Douglas MacIntyre has been one of the most prolific and active forces in Scottish independent music. With his record label The Creeping Bent Organisation, which he founded in 1994, he has released albums by several of his own bands including The Nectarine No. 9, The Sexual Objects, The Secret Goldfish and The Jazzateers, as well as many other artists beyond those such as Alan Vega & Revolutionary Corps of Teenage Jesus, Adventures in Stereo and Monica Queen. MacIntyre has worked too as a session player for acts as diverse as Love and Money, The Bathers, Damo Suzuki and Vic Godard, He has been involved in band management also, written sleeve notes and has worked as as a producer and a writer on albums by Cowboy Mouth, Sugartown, The Skinner Group and Monica Queen. 2022 finds MacIntyre, who turned 60 earlier this year, as busy as ever. His current main band Port Sulphur will put out its extraordinary second album, 'Speed of Life', as a joint release between Creeping Bent and another Scottish label, the rising Last Night From Glasgow, in August. Recorded in a day, entirely instrumental and built up and improvised in the studio out of the concept that MacIntyre's first idea for each of its ten tracks had to count, it strikes a sublime balance between Kraftwerk, Can and Hansa Studios period, mid-1970s period David Bowie. MacIntyre will also be publishing in September his first book , 'Hungry Beat', which co-written with filmmaker Grant McPhee, provides an oral history of the Scottish independent and post-punk movement between 1977 and 1984 and its two most important labels, Fast Product (The Fire Engines, The Scars, The Human League) and Postcard Records (Orange Juice, Josef K). MacIntyre was a part of that movement. His first group Article 58 toured with Josef K, and their 1981 only single, 'Event to Come', which was released on Allan Campbell's Rational Records and co-produced by Postcard boss Alan Horne and Josef K guitarist Malcolm Ross, has recently been re-released on vinyl on Optic Nerve Recordings. FRETS, the series of monthly concerts that MacIntyre has put on in the intimate environment of the Strathaven Hotel in South Lanarkshire since 2019 continues to go from strength to strength. Lloyd Cole, King Creosote, Altered Images, James Grant, The Bluebells, The Bathers and Tim Burgess have all passed through its doors, and there is more to come later this year with Arab Strap, an acoustic Gun and Michael Head. Douglas MacIntyre is generous with his time with Pennyblackmusic, taking forty-five minutes out of a family holiday in Fife to chat to us. His musical career has been so vast and varied that it is difficult to know where to start. He could be the subject of several more interviews or a book of his own. We began, however, by asking him about Port Sulphur and 'Speed of Life'. PB: On the first Port Sulphur album 'Compendium'. you worked with a variety of vocalists and lyricists including Davy Henderson, Vic Godard, Jock Scot and Alan Vega. Your new album. 'Speed of Life', in complete contrast does something totally different and doesn't use vocalists at all. Was that a reaction to the last album? DM: The first album was initially meant to be instrumental as well. What changed, however, was that James Kirk (Orange Juice guitarist-Ed) heard a track and wanted to write lyrics to it, and so we wrote the track together, and it changed from sounding like something off Bowie's album 'Low' to when James had finished with it, of course, more like Orange Juice. It was a song called 'Orient Express', and it worked out really well. When I collaborated with James, it was much more fun than making records largely on my own. What happened after that was that Davy Henderson (Fire Engines, Nectarine No. 9, Sexual Objects - Ed) found out that I was doing stuff with James, and then I ended up collaborating with him and then Vic Godard, Alan Vega and so on, and the dynamic of the first album changed completely. But with 'Speed of Life' I wanted to stick to the idea of it being almost written on the spot, recorded on the spot, entirely instrumental and for it to involve working with a really small team. PB: You recorded 'Speed of Life' with the manifesto of using and developing the first idea you had for each track. That must have been terrifying. DM: It was (Laughs), but that again hearkens back to the first album. With the first album, that was the idea initially. It was influenced by the Luke Rhinehart book, 'The Dice Man'. You have to roll the dice and see where you end up. It was a wee bit as well like Eno's 'Oblique Strategies'. There were a couple of rules that you had to follow. A lot of artists talk about being authentic. I think that first album and probably the second album as well are inauthentic because the albums were made by working to a process, which to a lot of people will seem very soulless because it didn't involve any divine intervention (Laughs). It was almost like working to a project remit, but for me it took on its own life after that and was a much more soulful experience. There were a set of rules that I followed, but then it strayed off. The rules ended up getting thrown in the bin, and it mutated and grew. One of the initial rules that I had was to tune the guitar to just one note, which was infamously what Lou Reed did with some of the very early Velvet Underground songs. He called it 'The Ostrich Tuning' because he had used that technique on an instrumental pre-Velvets track he did that was called 'The Ostrich'. Using that tuning where all the strings were tuned to the one note was a brand new thing for me. It was a wee bit scary in that it was a shot in the dark and I wanted to commit to the first idea, but that aspect of it became more collaborative. There were three of us that made the record, me, Sam Joseph Smith and Paul Turnbull. Sam had his own studio. Once we had the bare bones of the ideas that I had put together, Sam at that point deconstructed them in the studio. Although it was a different process. it reminds me of the way Can used to make their records. They jammed for hours and then they spliced the tapes. It wasn't quite like that, but Sam rearranged elements of them and that was his big input. Even the initial ideas which I had thought were pretty ropy but I had to commit to them we could work on to make them more interesting. PB: The record has become an imaginary alternative soundtrack to the Russian director Andrei Tarkovsky's film, 'Nostalghia'. You have described it in the sleeve notes on the record as being "a big influence." In what way has it been an influence? DM: When I was in my late teens, I moved into Glasgow from Strathaven. I was on the dole, and you could get into the Glasgow Film Theatre free. and I would just go and see any film. I watched quite a few of Tarkovsky's films, and they feel like pure cinema in a way. They are very long. Nothing much happens, but what is amazing about them is the way that they look. I was trying to find tools which I could use to make Port Sulphur more interesting for me, and visually in my head I could see that film when I was working in the studio. It wasn't the exact same as creating an alternative soundtrack to that film. It was just that that film was a real visual inspiration, and most of the music was inspired by visual stimulus. PB: 'Speed of Life' is being released by Creeping Bent in conjunction with Last Night From Glasgow. Why have you decided to work with them on this record and also the forthcoming Monica Queen record, 'Stop That Girl'? DM: It was getting really difficult to do all the various things that I was doing. I have got a job, a family and it can be all consuming. I needed some help to run Creeping Bent effectively, and I liked Last Night From Glasgow's model, and they are fairly artist-orientated, and we had a chat and they were able to help in doing all the things that you have to deal with when putting out a record, such as manufacturing the vinyl, dealing with all the paperwork, the bureaucracy. These are the first two records that we are going to be putting out together, and it has been a really, really enjoyable experience. It has in fact allowed me to make the records, because it was just becoming more and more difficult for me to find the time to put records together. PB: Will you do more with them? DM: Yeah, that is the plan. We did these two to see if it was working for them and working for me and so far it is, so we have got some records in the pipeline which we are working on right now . PB: You are also publishing a book 'Hungry Beat' in September which you have written with the filmmaker Grant McPhee, who has worked with you on Port Sulphur videos and was filming in the studio when you made 'Speed Of Life', about the Fast Product and Postcard labels. How much of the book takes its genesis from his film 'Big Gold Dream' which also covered that ground? DM: That was 100% the genesis for the book. Grant is younger than me and has only been able to experience that period from a historical angle, whereas I was pretty young at the time, but I remember most of it. I was playing in Article 58 during that period, and I went to lots of the gigs with the bands who were on those labels, and bought all the records. It has been a massive inspiration for me. From when Fast Product kicked off it felt like things were becoming exciting in Scotland. I didn't know Grant before he interviewed me for 'Big Gold Dream', and we felt that doing a more in-depth history of those two labels would act as a nice, complimentary piece to the film. Effectively I put the book together but based on all the interviews that were done by Grant and Grant's team for 'Big Gold Dream'. A lot of those interviews had to be edited down to a really small section for the film, and there was lots of extra content there. Grant just gave me access to everything, and I put a narrative together that allows all the protagonists to tell the story in their own words and in an oral history. PB: How much of your own experiences have you put into the book and from being in Article 58 and touring with Josef K? DM: I tried to remove myself from it as one of the people contributing to the oral collections, but, however, I did interview a couple of the guys in Article 58. They live in different parts of the world, so I don't really see them now, but it was nice interviewing them about that period. I tried to get as many different perspectives and voices in there. For example, Davy Henderson is for me the Scottish genius. I think Davy is just an incredible artist, but Davy wouldn't mind me saying this. The Fire Engines was very much the sum of the four people in the band, and to have the other three people and to hear their voice and their recollections of that period is really good because normally it is just Davy. Davy is fantastic at doing interviews. He has a great take on how things worked, but I really wanted to get the voices of those who haven't been heard as much.. PB: Article 58 broke up due to public indifference, yet 'Event to Come' has attracted renewed interest and has recently been re-released by Optic Nerve. Have you been surprised at all the interest Article 58 have attracted all this time on? DM: Yeah, absolutely. It is absolute science fiction to me that the Article 58 reissue was played on daytime radio at 6 Music. Grant McPhee picked up on the track and included it in the 'Big Gold Dream' film, so even that notion that a track which we worked on when we were teenagers is featured in that film and has received interest is amazing. We recorded some other Article 58 tracks at a studio at the top of Broughton Street in Edinburgh, which was called Wilf's Planet and was run by Wilf Smarties. One of them, 'Echoes', appeared on the B side, but the rest of them were lost. I had actually forgotten about them, until I moved house about two years ago and I found an old master tape. Most of the tracks are instrumental but they are really good and the long and the short of it is that there will be an Article 58 LP at some point which again will be a nice document. It is really good music. When you are young and in the midst of something, you have got no real analytical antenna. You don't really know what you are doing. You just need to do it, but listening to it objectively now all these years on it sounds really exciting. It is the sound of teenagers being excited about things. PB: The FRETS concerts have been really successful. To put on these gigs with established names in this small venue that you have chosen which is 25 miles South of Glasgow is an achievement in itself. Why did you decide to put on gigs in Strathaven? DM: I grew up in Strathaven, and I lived there until I was twenty and then I moved into Glasgow and then to London for a while, but eventually about twenty years ago I moved back into the area. It is a nice rural small town/big village, and the Strathaven Hotel where the events take place is an old rural hotel, and they have a really nice function room, and it just felt to me that this could be a really interesting space to put on more acoustic-based music, because you couldn't really put in a PA or a big drum kit there. One of the things that I find quite fascinating is that Strathaven has a strong musical history. Harry Lauder, who wrote all those old Scottish music hall songs, lived in Strathaven, and the first Orange Juice song 'Falling and Laughing' was recorded in Strathaven, and the first release by Aztec Camera, which was 'We Could Send Letters', which came out on the Rough Trade 'C81' cassette, was also recorded in a studio there . There had never been any "well-known artists", to use a rubbish phrase that had played there though (Laughs), and the first one that I put on there was Lloyd Cole, and that was by far the biggest artist that had played in Strathaven. It sold out, and what I realised really quickly was that my vision for how the FRETS night could work had an audience. People really responded to it, and we have built up a community with people travelling from all over the UK coming to the shows, and because there is one a month there is quite a special environment. Tim Burgess played a show, and he was on stage with David Scott from The Pearlffishers, and Duglas t. Stewart from BMX! Bandits was also involved, and that was just magical. It is trying to put different, interesting combinations in a space in a wee hotel in South Lanarkshire. It shouldn't work, but it does. PB: So what kind of numbers can you attract? How big is the capacity? DM: It is really small. It is 230 seats. It is all seated. There are two big inspirations for me wanting to do it. First of all, I have always been a big, big fan of Neil Young. Even at the same time as punk, I was totally into Neil Young, and I really like the 1971 Neil Young in Concert at the BBC. It is just him sitting in the BBC studio but with a live audience going through his songs. It really took me back to that era in which people used to go and sit and listen to music. They still do, but there has obviously been a culture in recent years in which you feel that music has no value, no worth. It is free, and the big conceptual idea with FRETS was that when Neil Young was doing these shows people would come and they would listen. To update it slightly. another massive influence was Bill Callahan, and to see Bill Callahan or Neil Young performing in a tiny wee room is my perfect vision. The big concept is that you can not download an experience like that. You can not download live music. You have to be there to experience it. It was out of that thinking that FRETS came to be. PB: Thank you.
Band Links:-
https://www.facebook.com/ddmacintyre6
Play in YouTube:-
Picture Gallery:-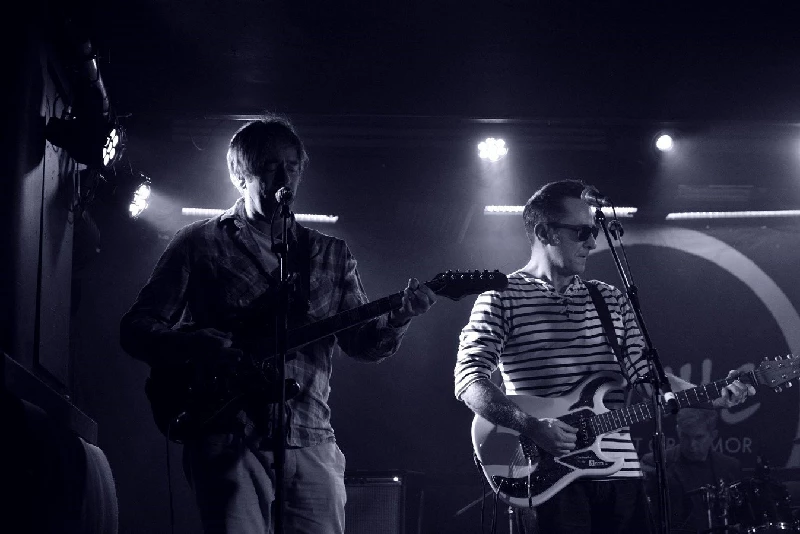 Photograph of James Kirk and Douglas MacIntyre by Gavin Fraser.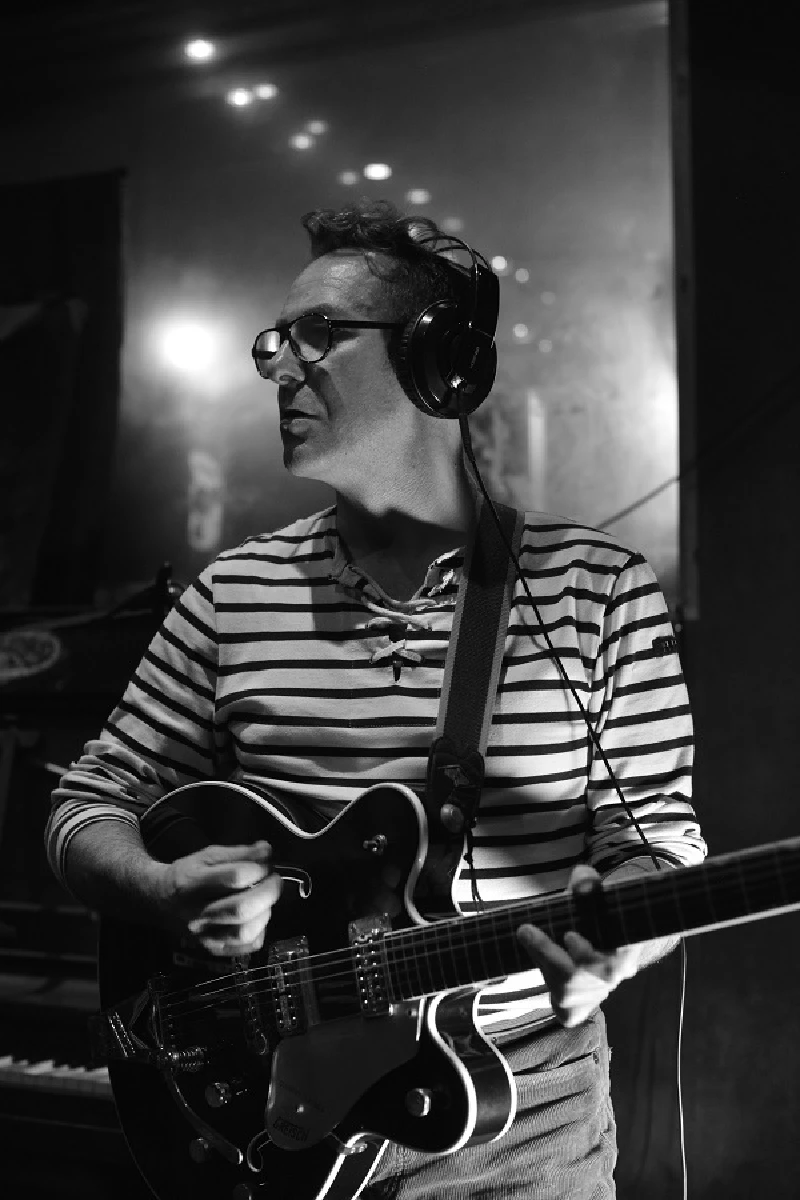 Photograph of Douglas MacIntyre by Gavin Fraser.

Photographs of Port Sulphur (Douglas MacIntyre, Paul TurnbulL, Samuel Joseph Smith) by Gavin Fraser.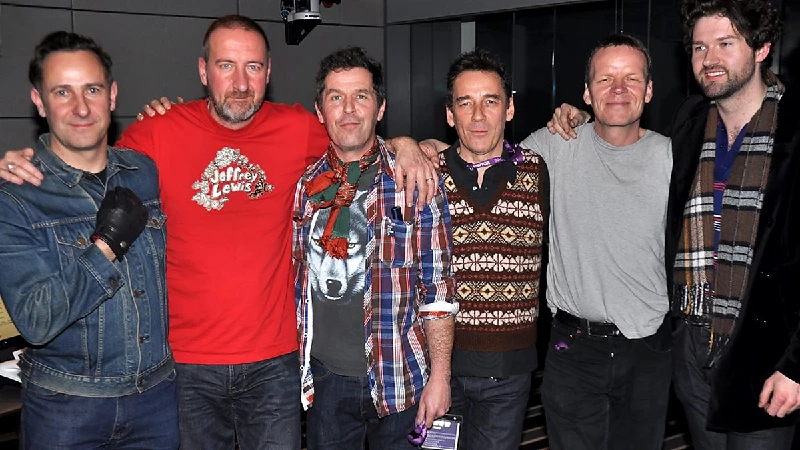 Photograph of The Sexual Objects with Marc Riley.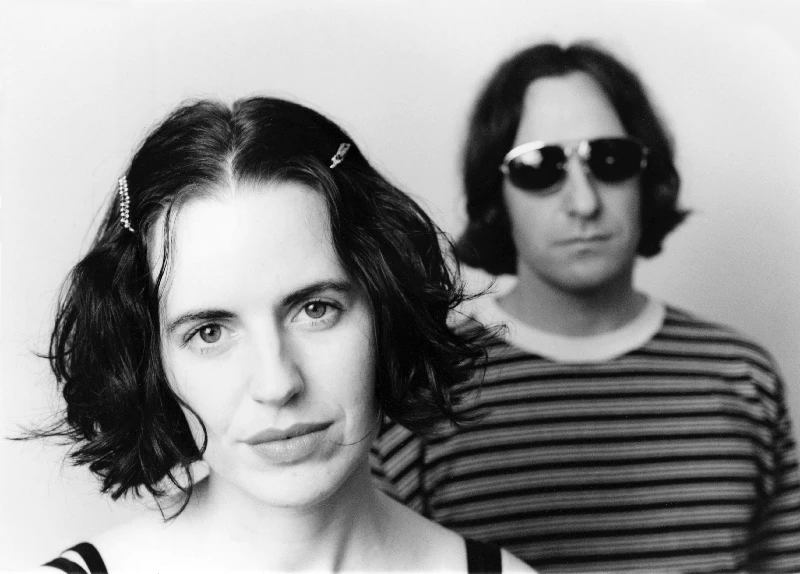 Photogragh of The Secret Goldfish.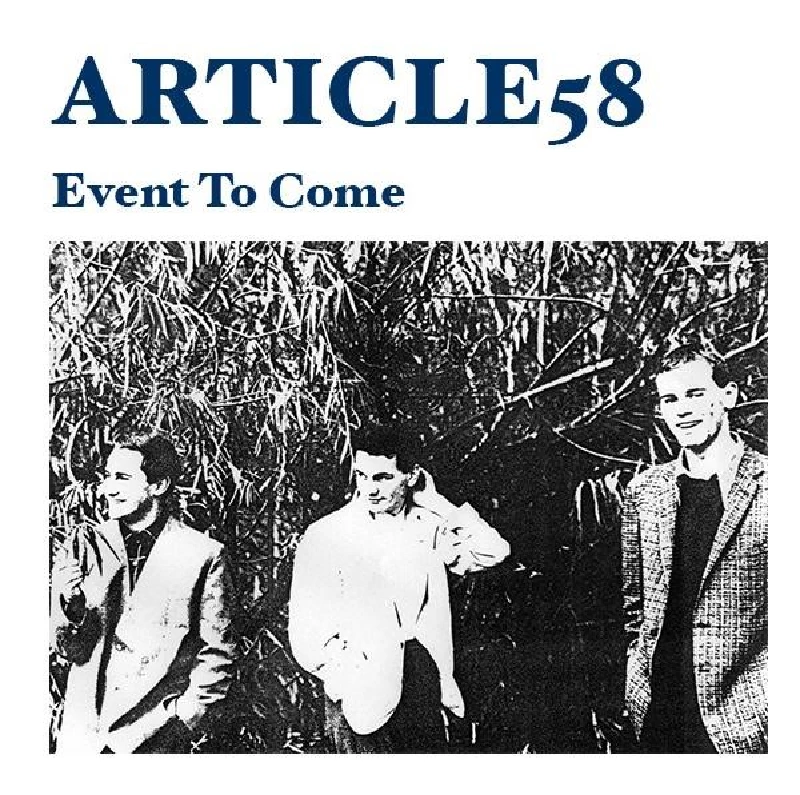 intro
John Clarkson speaks to Scottish guitarist and record label owner Douglas MacIntyre about his band Port Sulphur's second album 'Speed of Life', and 'Hungry Beat', his forthcoming oral history of the late 1970s and early 1980s Scottish post-punk movement.
Pennyblackmusic Regular Contributors
---