---
Kasai Allstars
-

Black Ants Always Fly Together, One Bangle Makes No Sound
published: 9 / 6 / 2021
---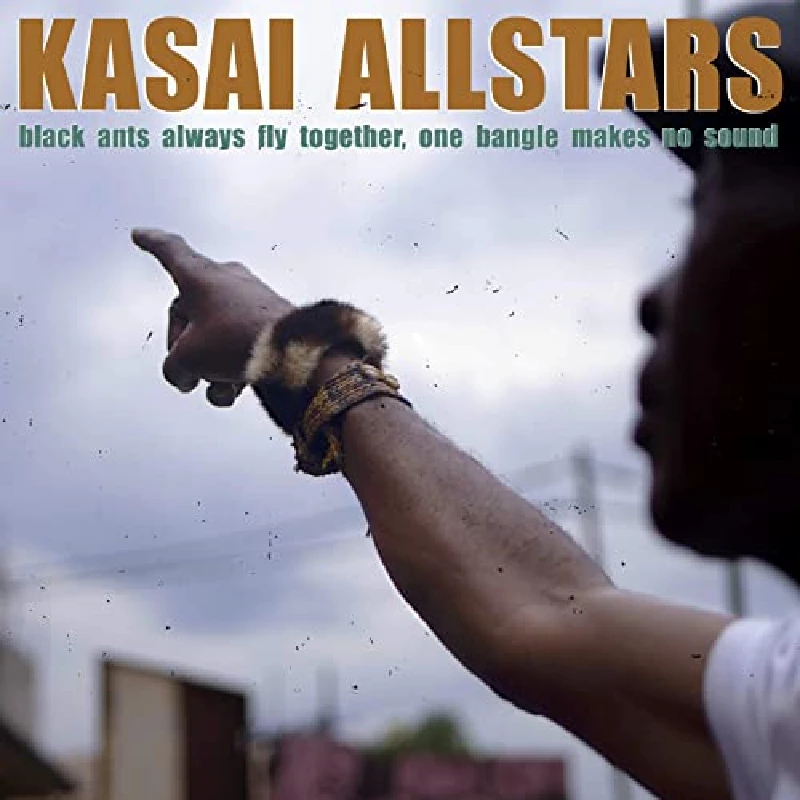 intro
Appealing fourth album from Congo collective Kasai Allstars which finds them returning to basics
The innovative Congo combo Kasai Allstars turns mellow yet stays sturdy and return to a tradition in style on their 4th LP with fewer electronics and more acoustics in their music.. Their Congolese pop nods northwards to the Cameroun on this record, and is far more melodic than their other recent records with plenty of vocal harmonies. Congotronics diehards might frown, as 'Black Ants Always Fly Together, One Bangle Makes No Sound' brings back happy memories of Les Têtes Brulées from almost forty years ago. The unpredictable course of Congo music continues here. Famed for their stupendous percussion variations, albums released in the mighty Congotronics Series were innovative to say the least. Congotronics did away with soukous, the other style that Congo, or rather its Capital Kinshasa - Congo is a country the size of the EU - was known and most famous for, Soukous' exhilarating dance style was championed by the likes of Papa Wemba, Diblo Dibala and Mav Cacharel in the 1980/1990s. Produced by Kasaï Allstars' guitarist Mopero Mupemba, the emphasis has shifted from percussion to guitar and synthesizer, not to mention to poppy female choruses. The Soukous influence does, however, work very well on a song like 'Unity Is Strength'. 'Black Ants Always Fly Together, One Bangle Makes No Sound' leans on both, the thriving and throbbing percussion innovated on the Congotronics series, as well as the joyful and melodic soukous style. There is genuine afropop for example, on 'Like a Dry Leaf On a Tree' , a song which only makes sense after repeated listens It's a mixed bag that will be met with mixed feelings. Not enough Congotronics and not enough High Life soukous I hear you cry, yet I find the album to be a fine balance of both.
Track Listing:-
1
Kasai Munene
2
Olooh, a War Dance for Peace
3
Musungu Elongo Paints His Face White to Scare Small Children
4
Like a Dry Leaf on a Tree
5
The Large Bird, the Woman and the Baby
6
Baba Bende
7
The Ecstasy of Singing
8
Hunters and Farmers Need the Blacksmith
9
Betrayal by Gossip
10
Unity Is Strength
11
Allstars All Around
12
The Goat's Voice (Lullaby)
Band Links:-
https://kasaiallstars.bandcamp.com/
https://www.facebook.com/pages/Kasai-Allstars/108241402546919
https://en.wikipedia.org/wiki/Kasai_Allstars
Label Links:-
http://www.crammed.be/
https://www.facebook.com/pages/Crammed-Discs/70419524682
https://twitter.com/CrammedDiscs
https://www.youtube.com/user/CrammedDiscs
https://plus.google.com/+CrammedDiscs
https://crammed.greedbag.com/
Play in YouTube:-
Have a Listen:-
profiles
---
Félicité (2018)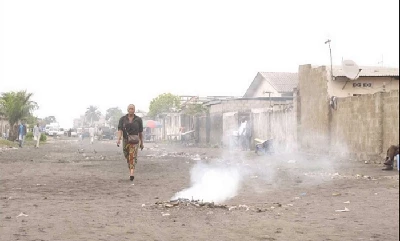 Maarten Schiethart reflects on new film 'Félicité' and its accompanying soundtrack, which, curremtly touring European cinemas, is set in the Congo,and features the Kasaï Allstars in several bar scenes.
Pennyblackmusic Regular Contributors
---