---
Kasai Allstars
-

In The 7th Moon, The Chief Turned Into A Swimming Fish And Ate the...
published: 1 / 8 / 2008
---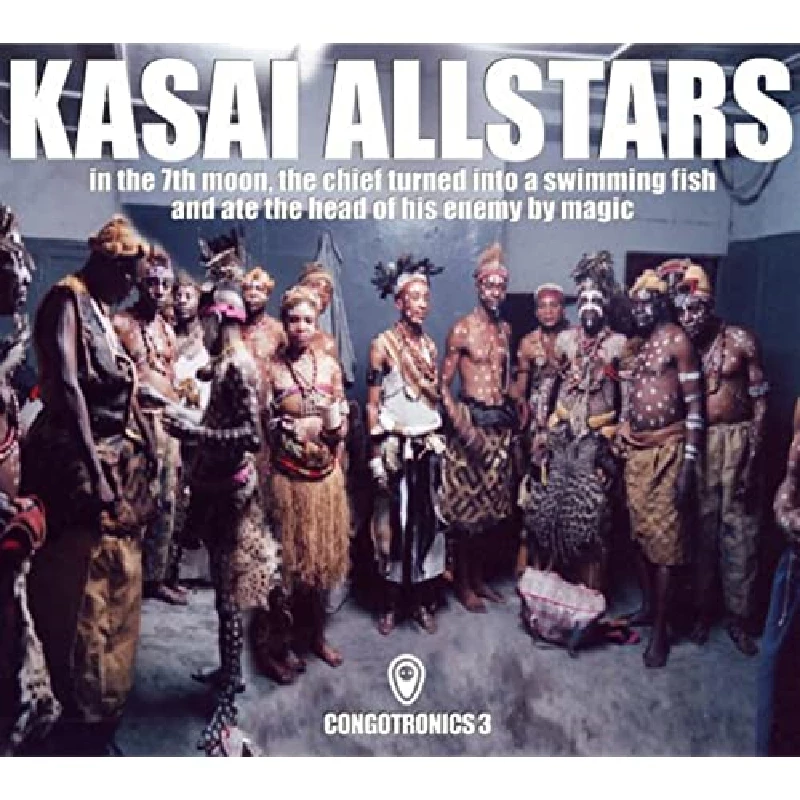 intro
Empowering debut album of overwhelming quality from Congo-based collective which currently runs to over 25 members
After two truly excellent releases in their Congotronics series, Brussels's Crammed Discs unleash another unbelievably powerful album. 'In The 7th Moon, The Chief Turned tnto a Swimming Fish and Ate The Head of His Enemy by Magic' is Kasai Allstars's debut album. In a similar vein to the Konono N° 1 albums, it features rough percussion but the Kasai Allstars grab back at their nation's grand soukous history, from when it was still known as Zaïre. Kasai Allstars play the gymnastic, wonderful and hypnotizing guitar licks, that once were championed by the mighty Diblo Dibalo, over the 21st Century slum city Africa polyrhythms. The great progress from those licks into the slide guitar licks of 'Kafuulu Balu' ought to shut up any aspiring grunge guitarist. Kasai Allstars blend the old and the new from "Le Congo" indeed, and, as is suggested on the sleeve of this album, should be played LOUD. So many sounds, so many musicians; it can only be fully appreciated at near-deafening volume. The 10-minute eargasm of 'M'bua-A-Matumba' showcases inventive Congolese percussion and is coupled with various solo-instrumentalists going eight miles high. Even when relying on vocal strength only Kasai Allstars, as on 'Tshitua Fuila M'buloba', their vibes maintain overwhelming quality. From this point on, the album reaches absolute magic; the empowering chants, the blasting percussion with the guitars on drill patrol lead to a ritual explosion of music. Majestic and sweaty, rough and melodic; 'In The 7th Moon' is an experience on record that you'll hardly have again this year.
Track Listing:-
1
Quick As White
2
Mukuba
3
Kafuulu Balu
4
Beyond The 7th Moon
5
Mbua-A-Matumba
6
Mpombo Yetu
7
Tshitua Fuila Mbuloba
8
Analengo
9
Drowning Goat (Mbuji-Mayi)
Band Links:-
https://kasaiallstars.bandcamp.com/
https://www.facebook.com/pages/Kasai-Allstars/108241402546919
https://en.wikipedia.org/wiki/Kasai_Allstars
Label Links:-
http://www.crammed.be/
https://www.facebook.com/pages/Crammed-Discs/70419524682
https://twitter.com/CrammedDiscs
https://www.youtube.com/user/CrammedDiscs
https://plus.google.com/+CrammedDiscs
https://crammed.greedbag.com/
Have a Listen:-
profiles
---
Félicité (2018)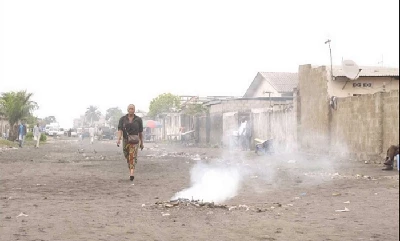 Maarten Schiethart reflects on new film 'Félicité' and its accompanying soundtrack, which, curremtly touring European cinemas, is set in the Congo,and features the Kasaï Allstars in several bar scenes.
Pennyblackmusic Regular Contributors
---