---
published: 23 / 2 / 2020
---
intro
Nick Dent-Robinson reflects on the career of Neil Innes, who died in December, and, as well as forming creative alliances with top 1960's performers, became legendary for creating catchy melodies and contributing greatly to 'Monty Python'.
Neil Innes, who died at the age of 75 on 30 December, was a brilliantly original musician. He worked with The Beatles, The Rolling Stones, The Scaffold and many more of the UK's top 1960s performers; he embellished Monty Python with his musical compositions and performances; he enjoyed Top Ten success with The Bonzo Dog Doo-Dah band and 'The Urban Spaceman' - which he wrote and which was produced by Paul McCartney under the pseudonym 'Apollo C Vermouth'. Quite unintentionally, Neil Innes was also an inspiration for Oasis. Yet, for most of his life, Innes avoided the stardom and adulation accorded to many of those he worked with or influenced. Innes had been touring during 2019 and died suddenly from natural causes in France, where he had lived for many years. He leaves his wife Yvonne - they married 53 years ago – and three sons and three grandchildren. The son of a soldier, during the 1950s Neil Innes lived in Bad Harzburg, Germany where his father was posted for several years. Neil was a talented pianist as a child, playing Liszt, Beethoven and Chopin at concerts - though, as he commented many years later to me, "I suddenly wondered who I was playing for - and I knew it definitely wasn't for me! I decided back then that I preferred to be doing something more light-hearted! Connecting more directly with an audience". A lifetime of musical whimsy was to follow. Subsequently, Innes studied Art at Goldsmith's College London where he met his future wife, Yvonne, at the Central School of Art. It was during his student days that he met Rodney Slater and Vivian Stanshall in a pub in 1963. Stanshall was wearing a Victorian frock coat, huge plastic ears and had a giant Euphonium under his arm. The Bonzo jazz parody act followed with a mix of outlandish costumes, tap-dancing extravaganzas led by 'Legs' Larry Smith and quite skillful musicianship. Innes became the key songsmith and musical arranger. Pub concerts, sold-out club nights and then TV appearances ensued plus several hit records and a cult following. The band were a huge draw at the 1969 Isle of Wight festival and performed in The Beatles' 'Magical Mystery Tour' film. After appearances on the children's TV show, 'Do Not Adjust Your Set', Innes met Eric Idle, Terry Jones, Michael Palin and Terry Gilliam plus, shortly after, John Cleese. When this group, plus Graham Chapman, created Monty Python, Innes became known as the 'Seventh Python' because of his contributions. He wrote songs and sketches for their various TV series and played 'Brave' Sir Robin's minstrel in the 1975 film 'Monty Python And The Holy Grail'. He appeared in 'Life of Brian', too. He was one of only two non-Pythons ever credited as a writer for the Python TV series and films. With Eric Idle, Innes later created the 'Rutland Weekend Television' show which spawned The Rutles, an affectionate Beatles pastiche actively encouraged by George Harrison in which Innes played Ron Nasty, a parody of John Lennon. There followed 'All You Need Is Cash', a 1978 'mockumentary' about the 'Prefab Four' and a BBC show, 'The Innes Book of Records' as well as work on 'The Raggy Dolls', a children's TV show in the 1980s which Innes voiced and created music for. 'The Riddlers' and 'Tumbledown Farm' shows came soon after. Then, in 1994, Oasis were sued by Innes who claimed their hit 'Whatever' was based on his Bonzo Dog Doo-Dah track, 'How Sweet To Be An Idiot'. Noel Gallagher claimed he'd never even heard the Innes song and probably believed he hadn't. But, as many in the music world acknowledge, Innes was such a skilful writer of timeless, catchy melodies, each with an unforgettable 'hook', that his work frequently entered the subconscious of listeners who could never quite forget his songs. Anyway, Innes won his case and received royalties for the Oasis song. Neil Innes never ceased work at his craft. He was a hugely talented musician who could play piano, church organ, guitar, banjo and ukulele and who was admired by a huge array of top names from the music world. And, as any of us who were fortunate enough to meet Neil Innes will affirm, he was also a kind, gentle, unassuming man who was one of the most brilliantly innovative and capable - yet least ambitious - musicians of his generation. As John Cleese said recently, "Neil was a lovely writer and performer, a very sweet man who was much too nice for his own good!". He will be greatly missed.
Band Links:-
https://en.wikipedia.org/wiki/Neil_Innes
Have a Listen:-
interviews
---
Interview (2012)
Nick Dent-Robinson chats to Bonzo Dog Doo Dah Band and Rutles member Neil Innes about his current solo tour and his five decades of making musical comedy
favourite album
---
How Sweet To Be An Idiot (2020)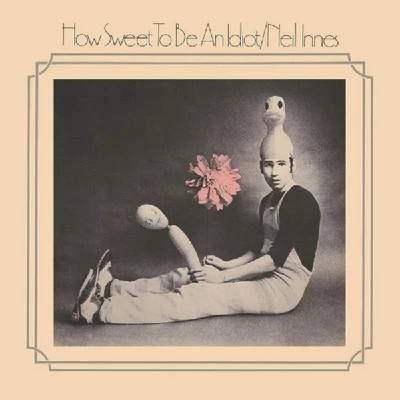 In our 'Re: View' section, in which our writers look back at albums from the past, Tommy Gunnarsson finds something for almost everyone in Neil Innes' 1972 debut solo album 'How Sweet To Be An Idiot', which is being reissued in an expanded version.
Pennyblackmusic Regular Contributors
---