---
published: 9 / 2 / 2018
---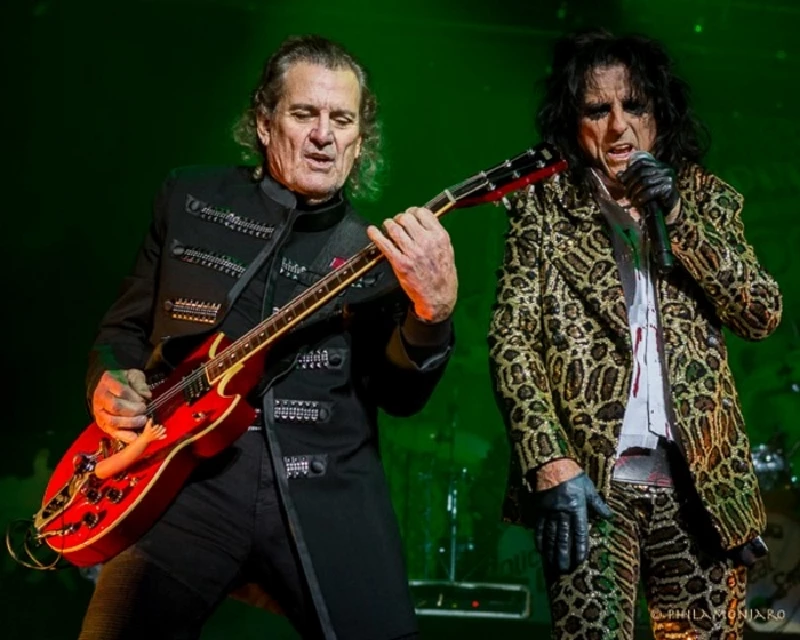 intro
Michael Bruce, multi-instrumentalist and co-songwriter of the original Alice Cooper Group, talks to Lisa Torem about his early 1970s work with the band, songwriting, solo ventures and playing on Cooper's 2017 album 'Paranormal'
Multi-instrumentalist/songwriter Michael Bruce co-wrote many of the hit songs that brought the American shock rock Alice Cooper Group to fame—from 1968 to 1975, he tantalized teens and terrorized parents, alongside legendary rockers: guitarist Glen Buxton, bassist Dennis Dunaway, lead vocalist Vince Furnier and percussionist Neal Smith. His lead vocals appeared on their debut 'Pretties for You' (produced by Frank Zappa, Ian Underwood) and on follow-up 'Easy Action' (produced by David Briggs). The band's breakthrough album was 'Love it to Death' but they recorded five more albums ('Killer', 'School's Out', 'Billion Dollar Babies', 'Muscle of Love' and 'Alice Cooper's Greatest Hits' before their disbandment.) The Billion Dollar Babies was formed in 1976 with Bob Dolin, Dennis Dunaway, Michael Bruce, Mike Marconi and Neal Smith. They released 'Battle Axe' the following year, an album that would slip through the industry cracks, but like many of their works, is now respected for being highly creative, but severely underrated. After the Alice Cooper Group split, Michael worked on many solo projects, including the recording, 'In My Own Way', produced in 1975 by Gene Cornish and Dino Danelli (The Rascals), with guitarist Mick Mashbir, keyboardist Bob Dolin, bassist Frank Crandall and percussionist Don Lindley. (Mashbir and Dolin had also performed in the touring band during the Billion Dollar Babies Tour). A stream of other luminaries, the likes of Keith Moon and David Foster, dropped by the Record Plant to participate in sessions. In the late 1990s, Michael formed the Michael Bruce Group with keyboardist John Glenn, bassist Wilton Hudgens, guitarist David 'Vito' Mastrovito and drummer Troy Powell. After Mastrovito and Glenn departed, the three-piece ensemble continued to perform, including at the first Glen Buxton Memorial Service in Clarion, Iowa. Bruce, Hudgens and Neal Smith performed together at the First Chillers Theater Expo, held in Washington, D.C. in 2000. The Michael Bruce Group then added drummer Joe Garbo and sax/pianist Jeff Harris. This line-up, with Icelandic artist Ingo Geirdal, performed at the 3rd Glen Buxton Memorial at LA's Whiskey A Go- Go. Over the next few years, Michael continued performing, with several line-up changes. In 2010, Michael co-wrote 'When Hell Comes Home' on 'Welcome 2 my Nightmare' (sequel to 'Welcome to My Nightmare') by Alice Cooper. The following year, Michael with other original band members were inducted into the Rock and Roll Hall of Fame in the 'Performer' category. Much more recently, Michael also co-wrote 'Rats', 'Genuine American Girl' and 'You and All Of Your Friends' for inclusion into 'Paranormal' (Alice Cooper, 2017). And, of course, fans are still reeling from this year's news about Michael Bruce, Dennis Dunaway and Neal Smith joining the Alice Cooper 2017 tour in the UK for a five-song mini-set in five major cities. (Pop culture freaks and Baby Boomers may recall that 'Under my Wheels' from 1971's 'Killer' was the first UK hit for the Alice Cooper Group.) What prompted this grand reunion to resonate across the pond? Michael recalled an event that may have signalled a flurry of futuristic flares… When Neal and Michael joined Dennis Dunaway for his book signing of 'Snakes! Guillotines! Electric Chairs!' at Good Records in Dallas, TX on October 6, 2015, and performed a thrilling set, Michael observed: "This is where rumours of us reuniting began!" And like so many events that have occurred during the threading together of these rock star lives, there have been angels in the midst… "That event," said Michael, "was hosted by Christopher Todd Penn, another person I owe much gratitude to, for helping to ignite this fire." To celebrate a particularly momentous year, Michael Bruce agreed to answer questions related to his rich career and future dream projects in his first interview with Pennyblackmusic. First, we touched on the remarkable third studio album of the Alice Cooper Group, 'Love it to Death', recorded at the now demolished RCA Mid-American Recording Center, Chicago in 1970. Did Michael have a hunch during these recording sessions that this album would take off like a bolt of lightning? "Yes, I did have a feeling that 'Love it to Death' would be our hit album and that it would catapult us into stardom. Many thanks to Bob Ezrin for producing us." Michael appeared at the first Chiller Theater Expo, held in Washington, D.C. in 1998 with Neal Smith and Wilton Hudges and appears to have become a big fan of this bi-annual event. In fact, he performed there recently with Dennis Dunaway, Neal Smith, Rick Tedesco and Nick Didkovsky on Halloween Eve in New Jersey. As this event is often billed as a sci-fi/horror expo, what's the big attraction for a rocker? "As far as bands performing a Chiller Theater Expo, yes, it is a Sci-fi event, however, fans have come to expect some entertainment at night. It's kind of like the dessert or the icing on the cake." "I think bands like to play there because it rounds out the day and it's fun. I can speak for myself that after I have been sitting all day signing memorabilia and getting better acquainted with fans, it becomes very fulfilling to perform for them in a more intimate setting. I think that is really what Chiller is all about, a more intimate setting where people can get up close and personal with some of their favorite musicians and/or TV personalities." 'No More Mr. Nice Guy: The inside Story of the "Alice Cooper" Group by Michael Bruce and Billy James was originally published on October 1, 1996 and then updated in 2000. It included rare photos from Michael's exclusive archives. It was great news to find that Michael will be reworking his memoir. I was wondering, what should fans expect from this new version? "With regards to my book, yes, I am still in the process of working on its reissue, and I am hoping to have it done by January 2018. I cannot really comment on it except to say it won't let you down and it will be a good read and perhaps a bit more informative." In the fall of 2005, 'The Second Coming of Michael Bruce' - Alive & Re-Cooperated' was released. The 17-song album, which included new studio tracks plus previously unheard concert material was recorded in Iceland during the years of 2002-2003. The album was mixed by Icelandic brothers, Ingo and Silli Geirdal and included liner notes by bassist Dennis Dunaway. Only 200 copies were in circulation. Why did the group decide to record in Iceland? How many lucky fans ran off with the goods? "With regards to Iceland, I have no idea how many copies are still out there. Ingo and Silli are a couple of musicians that I became friends with, and decided it would be fun to record with them. (Ingo and Silli perform in the band, DIMMA). I still enjoy listening to our recordings. It was a good group and a great time and Iceland is beautiful. It is the plan that this recording will be included in the box set of the release of my book in 2018. I'm not sure yet how many will be issued. It will most likely be a limited edition." In looking over Michael's discography, it becomes apparent that he has worked alongside a variety of producers and technicians, including Frank Zappa, Ian Underwood ('Pretties for You') Bob Ezrin ('Love it to Death') and Jack Douglas. Does he have any advice for rising stars? "As far as choosing a production team for new up and coming artists, many times you do not have a choice, as they are brought in by the label. It just depends on the circumstances and it is so different today." Across the Internet, fans speak candidly about their rock heroes. Many times, a fan will vehemently express the opinion that a particular band does not receive proper recognition. In perusing such comments, I discovered a fan that felt (1971 'Killer' track) 'Halo of Flies' was in that category, referring to it as "criminally underrated." Was 'Halo of Flies' a milestone? It featured very sophisticated arranging ideas… "With regards to 'Halo of Flies,' generally speaking, I felt that not only 'Halo of Flies' was overlooked and underrated, but many of the Alice Cooper Group tunes were overlooked and underrated, as was myself, Dennis, Neal and Glen." Why does Michael believe that songs that he has written have stood up all these years? "I believe that my songs, our songs have stood the test of time for a few different reasons: we were good writers, we were on the same page, and we were determined to keep going until we were heard. Our songs reflect that energy and therefore we have stood the test of time." What if Michael were to start over again? Well, not literally… But, if you were a blank canvass, what would you want an artist to paint on your pristine surface? "If I were a blank canvas, I would be open to the creative ideas of the new artist and ready for a fresh beginning." We savored the moments left to query Michael about the UK fans at the recent tour, whose reactions, he exclaimed, were "really the most important thing to me…" "I was incredibly humbled by the outpouring and support from all of the fans in the UK. I never thought that the AC group reunion would happen so I am thankful that we did it, and hopefully we will do some more shows in the near future. It's a wonderful feeling to be heard and appreciated for who you are. Our songs have not only stood the test of time but have woven together many different cultures from all over the world, and this is truly a beautiful thing." Michael holds special memories of this tour, and of the resulting photos. "I like the picture of Alice because it shows the lifelong friendship that never was lost," he mused. He also appreciated a special shot taken by David Townsend, down in the photo pit, where Michael had an excellent view of his father-in-law, David, and his wife, Lynette Bruce. "I was so overwhelmed and so thankful and also very grateful that I could look down while performing and see Lynn and her dad there…" Michael's career has been rife with recording projects, concert appearances and collaborations. He has also spent considerable time mentoring youth. What is he most looking forward to in the coming year? "In 2018, I am looking to release some new music that I have been working on for some time with a new group of local musicians from Phoenix. My wife is my current bass player, confidant and best friend." Pennyblackmusic wishes Michael Bruce great success in the coming year with his new projects. The top two photographs were taken by Philamonjaro at www.philamonjaro.com. The bottom two photgraphs were taken by Lynette Bruce and David Townsend respectively.
Band Links:-
https://www.facebook.com/MichaelOwenBruce/
https://en.wikipedia.org/wiki/Michael_Owen_Bruce
Picture Gallery:-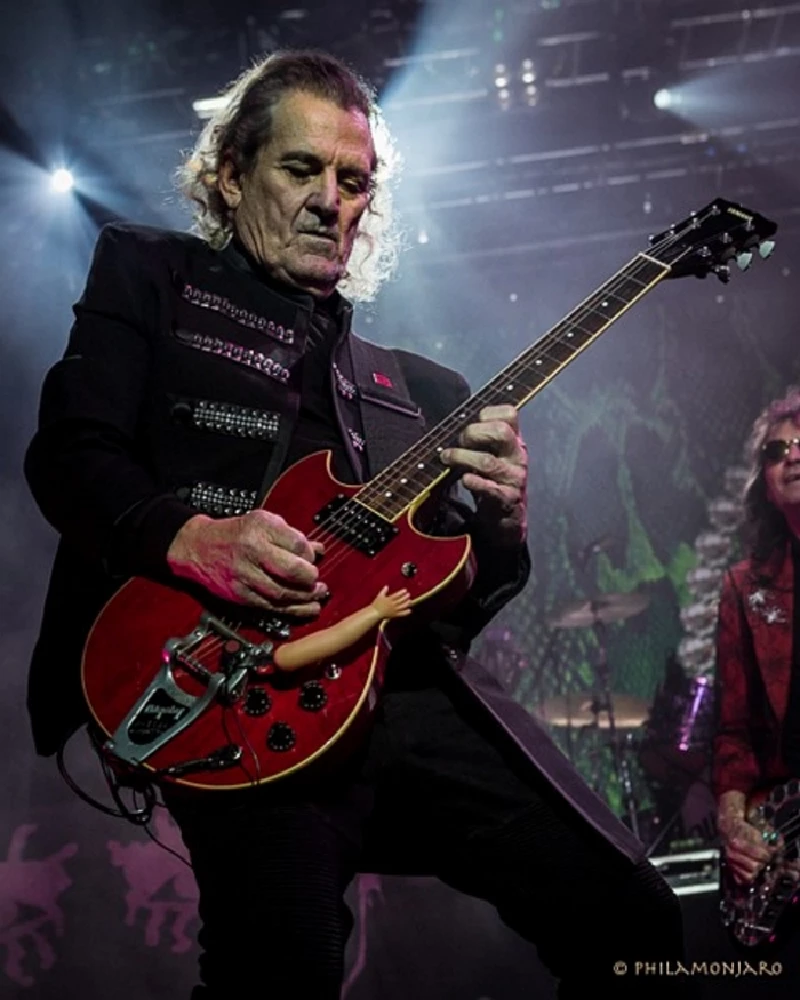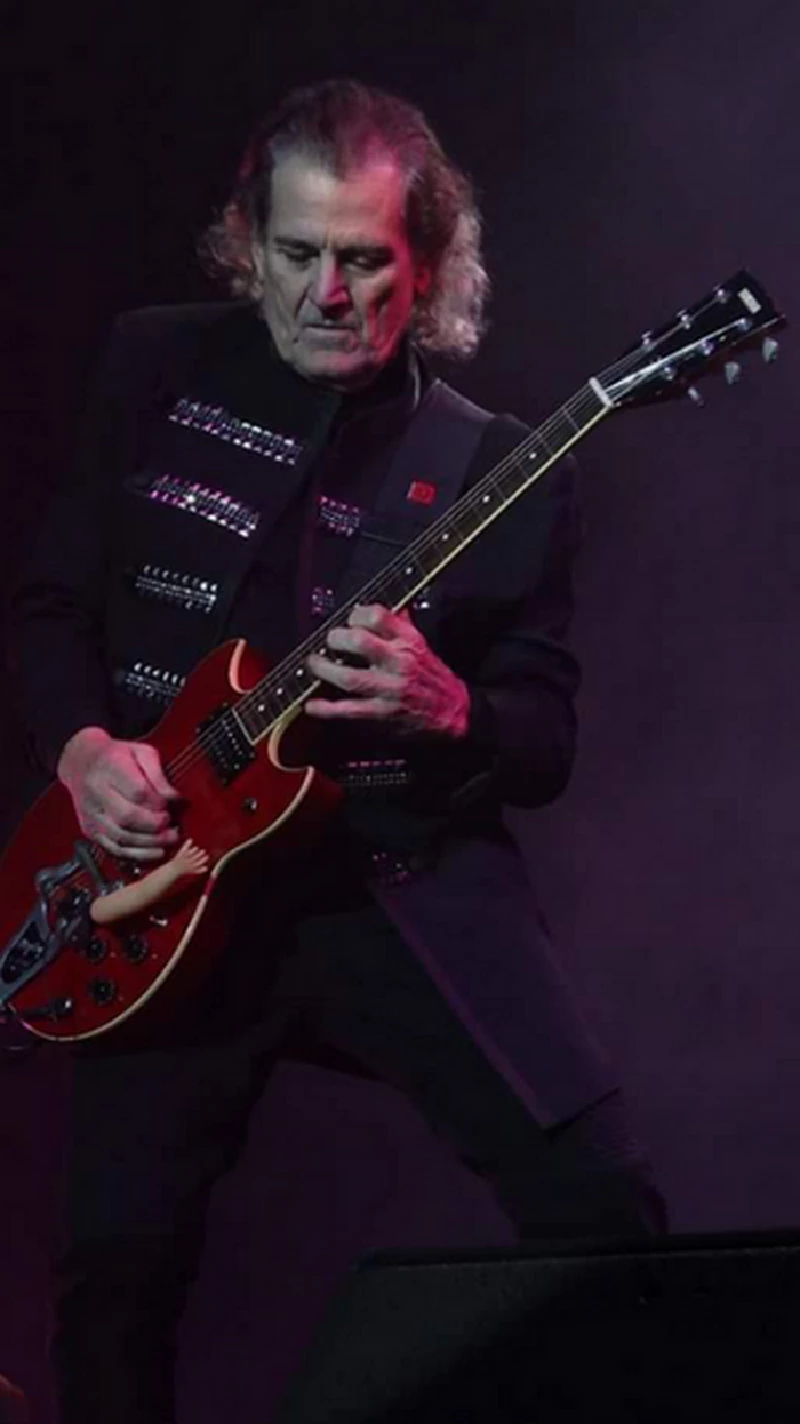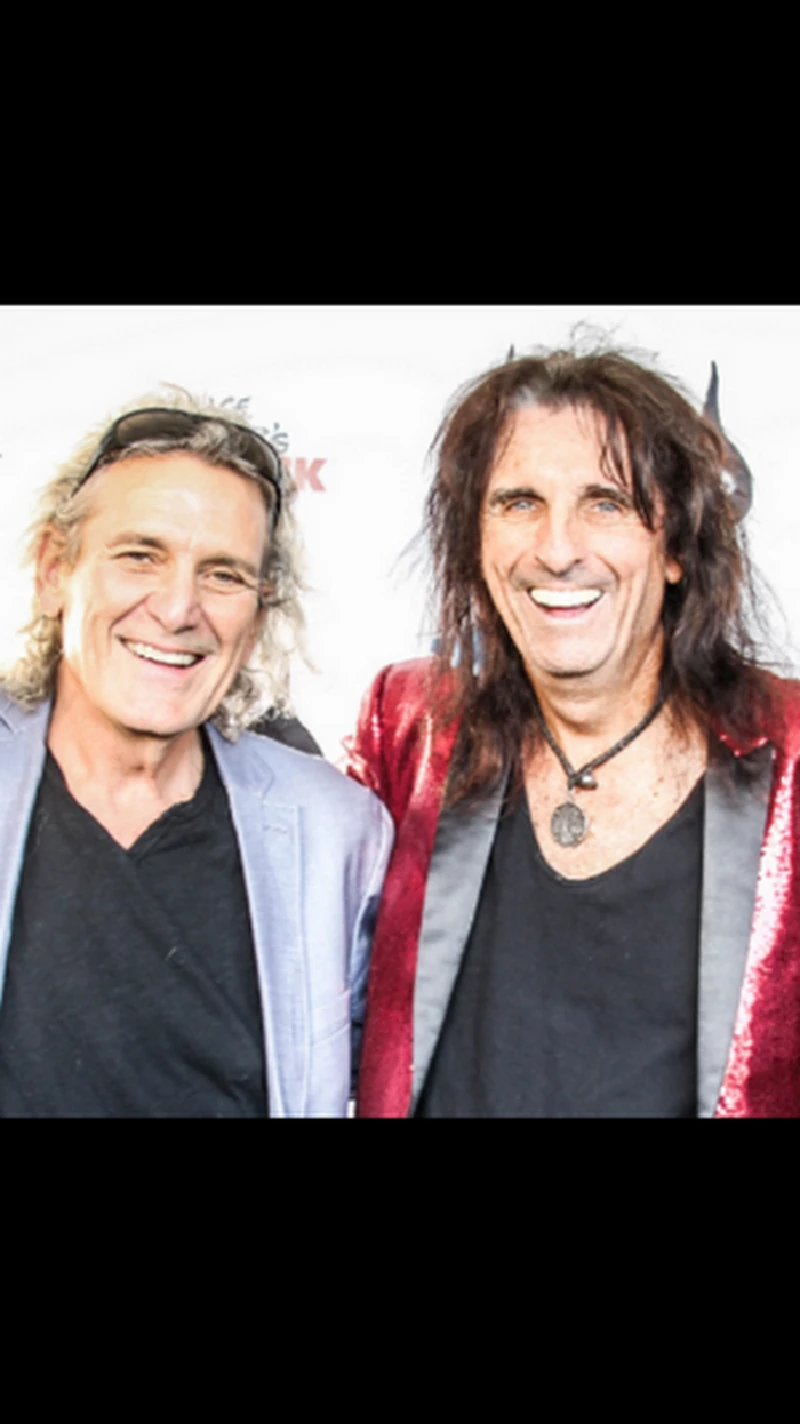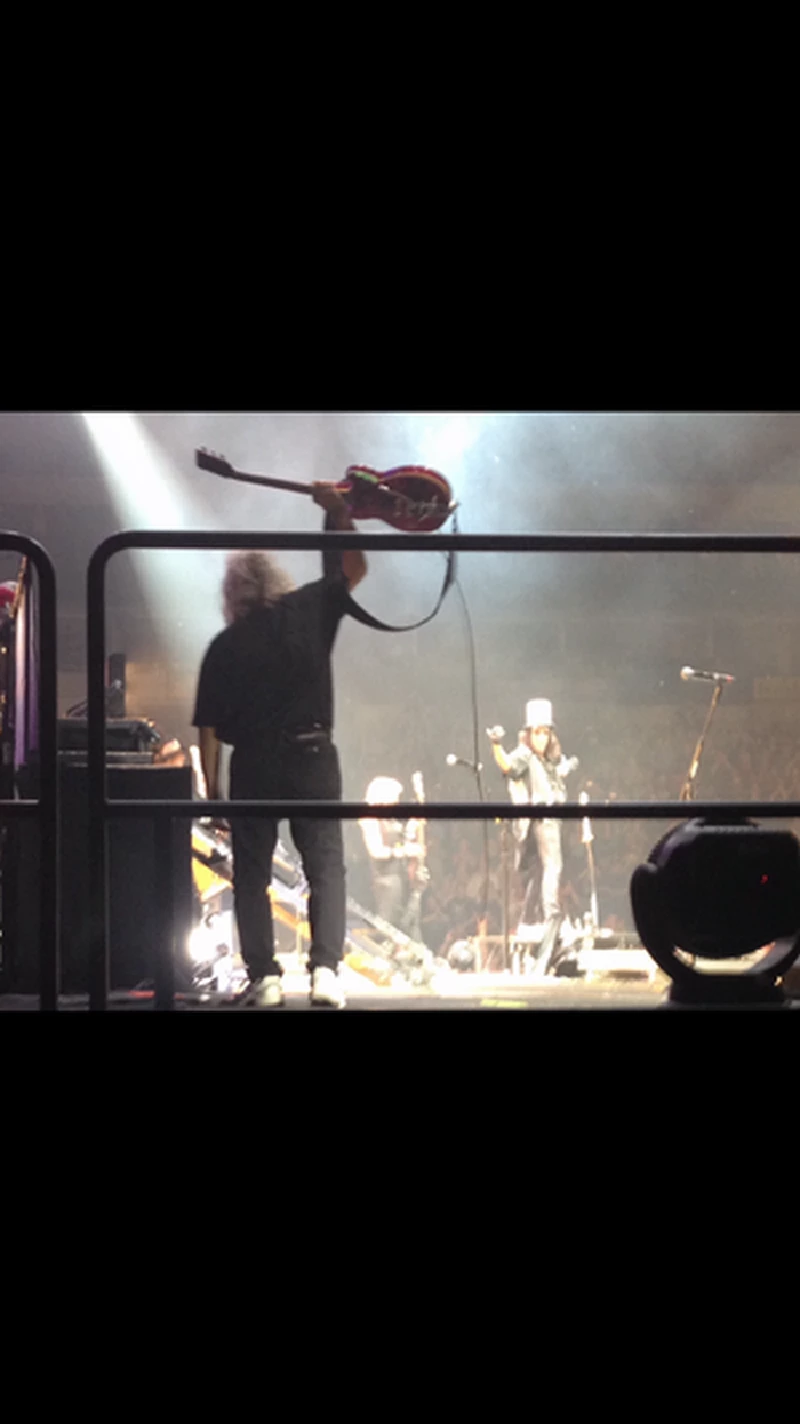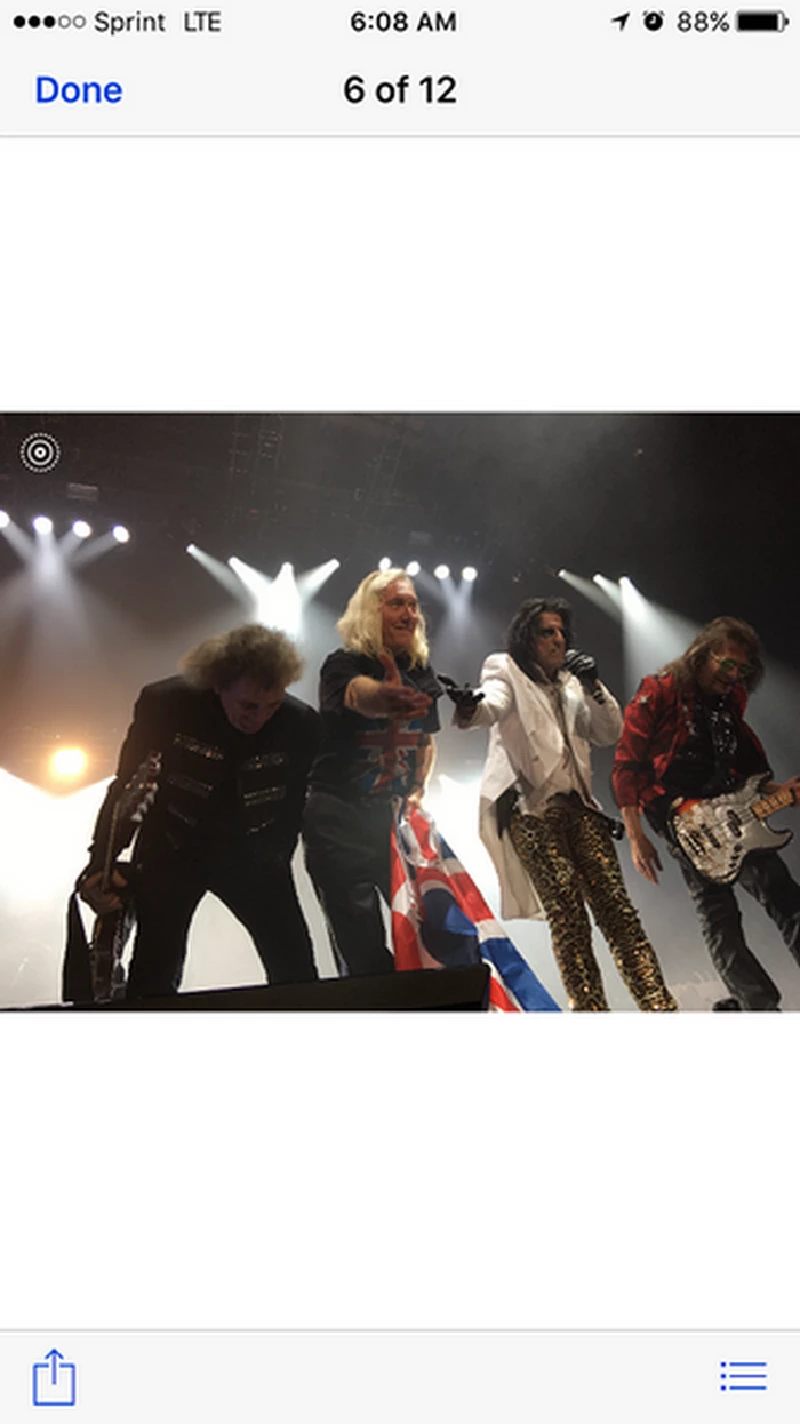 interviews
---
Interview (2018)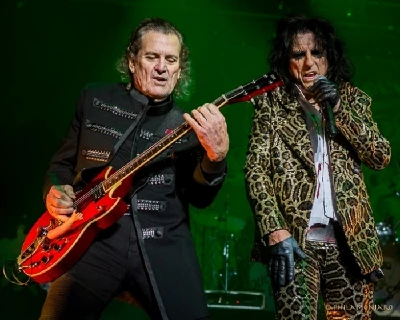 Founding member of the original Alice Cooper Group and guitarist/keyboardist Michael Bruce currently performs with his self-named band. He speaks to Lisa Torem about his recently reissued memoir, 'No More Mr. Nice Guy'.
features
---
Raging Pages (2018)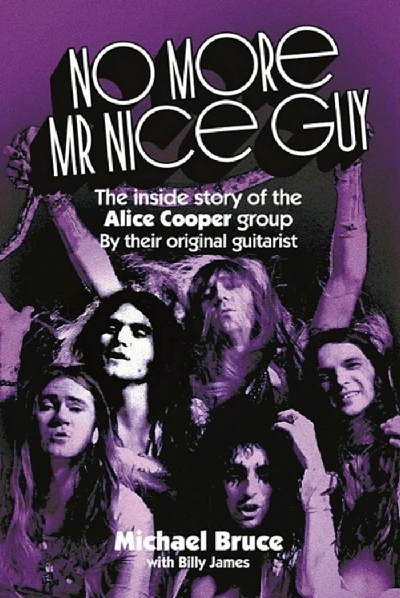 In her 'Raging Pages' book column Lisa Torem reflects on former Alice Cooper Group songwriter/pianist/guitarist Michael Bruce's updated memoir 'No More Mr. Nice Guy', which chronicles the group's rise and eventual disbandment and has just been published in an updated edition.
Pennyblackmusic Regular Contributors
---