---
published: 23 / 2 / 2013
---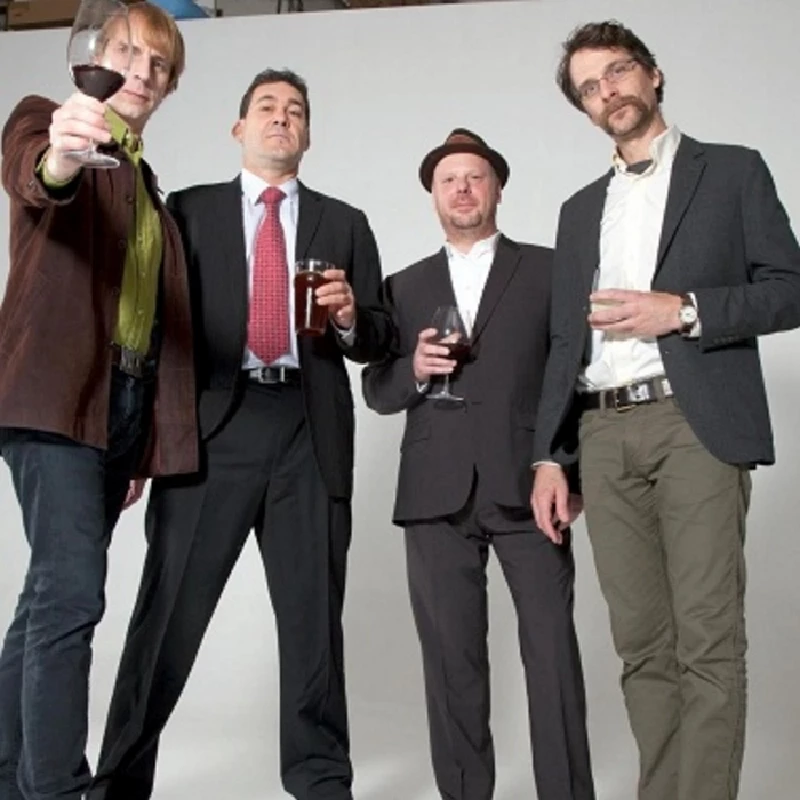 intro
Paul Waller talks to Mark Arm, the vocalist with seminal grunge outfit Mudhoney, about his group's forthcoming new album, 'Vanishing Point'
If you were to order a package of albums from Sub Pop, the chance is that the manager at the relatively small warehouse at S.P.H.Q. would pack your records and send them on their way. Imagine if you will that that manager was none other than Mark Arm himself. The very Mark Arm who sings on that Green River LP you just ordered and plays his raw guitar on that latest Mudhoney CD that you just purchased. That's like going to watch England play football and have Wayne Rooney polish the seat for you before you sit down. Well, it is a close enough analogy. It seems like madness and yet it actually does happen. If ever there was a humble man, content with his lot, then that man is Mark Arm right now. He has every reason to be of course. His obsession with music which began during high school has blossomed into many projects over the years. From seminal Seattle rockers Monkeywrench to his raggedy punk folk solo career which tragically lasted for only one single, Mark Arm has played and sung on some of the greatest guitar music from the last thirty years in our eyes. He is most well-known, of course, for his work with Mudhoney who, along with Nirvana and the Melvins ushered in the grunge era in the late 80s and early 90s. What's more the band is still active and vital today. Not only has he achieved all this but he also has that aformentioned pretty cool job to boot damn him, with the label that he has spent most of his adult life on, which is where Pennyblackmusic takes their chance to call him whilst he is on a well-earned break. PB: Having now spent half your life in Mudhoney now, does it seem like twenty-five years to you? MA: Hmmm, I suppose if I think about it (Laughs). There are times when I look back on Green River, and that seems like a real long time ago, and I was only in them for three years (Laughs). Hmmm, I guess it has been half my life. Yeah, weird. PB: You started your first band, Mr. Epp And The Calculations when you were at school. Did the young Mark Arm ever envision he would still be making music at fifty? MA: No, absolutely not. There is kind of a funny story with that band, Mr. Epp. It started off as this imaginary thing with my friends at high school but then we actually started buying guitars and talking about maybe starting to write songs, which should be "songs" in quotes and we knew some people that had a band so we thought maybe we could play a show with them. One of the guys dropped out and he said, "I don't want to make music my life," which I thought was the most ridiculous thing to say at that point. I thought how could this ever end up being more than this stupid little thing that we are doing right now? And here I am thirty years later still playing music. So I guess Peter Wick (the splitter in question) was right. I remember how exciting it was when Mr Epp had their very first single put out. The first thing that I had been a part of was in my hands. I was dancing around my bedroom with the thing in my hand, you know, like "Look at this!" And it's really not that great when I listen to it know but at the time I was just amazed. It makes things seem more real. I often wonder if kids today that only post things on the internet and don't get to produce anything tangible get that same feeling as I did then. PB: You've been quoted in the past as saying that you are not one for nostalgia and you live in the now, yet already this year there are plans for a live DVD of Mudhoney's first European show and a documentary movie which charts the whole history of the band? MA: Well Ryan Short, the film maker, came up to us. He did the Tad documentary, and I was interviewed in that, and later on he approached us you know, like "I've got an idea for another movie, it's you!" You know with that Tad documentary there was conflict with the band getting totally fucked over by record labels and circumstance, and I was like "But what's the story with us? We are still together and all friends, and there is no big conflict or anything like that, so what's the story going to be (Laughs)?" That didn't stop him. PB: With all the musical history that you have been part of, whether a willing participant or not, I would have thought you have an excellent autobiography in you. Although saying that, you are incredibly busy on the promo treadmill too. Have you ever thought about writing it all down? MA: Ha. No, this is plenty right now. You know of Keith Cameron? PB: Yeah, of course, he did Nirvana and Smashing Pumpkins interviews for 'NME' back in the day. MA: He is working on a book on us and that will more in-depth than the movie, obviously. There are all sorts of weird things going on. You know we played with Motorhead a couple of years ago, and Lemmy said to me that if you keep hanging around long enough people will call you a legend (Laughs). PB: You are about to release a new album and you have a tour to back it up. Is it somewhat of a relief to get off the nostalgia train and look forward again. MA: Yeah, well it all comes together at the same time. It's not like I'll say, "Hey, we can't talk about the past because we have this new record." I'm always happy to talk about both; the past is part of us you know? PB: Well, there has been a five year gap between 'The Lucky Ones' which was your last album and the new one. I understand that you all have family and other work commitments, but was that whole period spend crafting the new record? MA: No, we started compiling riffs in 2011. The trouble is that we can't always get together all that often. So if we have a tour that comes up we have to rehearse current material and older material, and get that ready for the tour instead of working on newer songs. It's an either/or situation because Steve (Turner, guitars-PW) lives in Portland in Oregon, so he can only come up once every week or every two weeks so it didn't seem like we had got momentum going with the new record until last year. PB: So it came together in actual fact pretty quickly? MA: Well, yeah, we stockpiled thirty plus song ideas ,and then it was just a matter of me coming up with lyrics that might fit them. PB: And why call it 'Vanishing Point'? MA: Well… It's a reference to the cover art, how with that picture things just go off into the distance, and it also refers to a movie that we all like (hopefully the 1971 turbo charged Dodge Challenger flick and not Viggo Mortensen's turgid remake – PW). 'Two Lane Blacktop' (An even better car movie from 1971 - PW) doesn't really work in context to the cover art (Laughs). PB: That's a relief that the album title doesn't refer in any way to the band splitting up. MA: No, no, no. I hope people don't read that into it. PB: The teaser for the new album that you have pre-released is the fantastic track 'The Only Son of the Widow from Nain'. That's referencing I presume the part of the Bible where Jesus demonstrates his power by raising the dead back to life. I see a correlation with your band. Every few years some divine power jolts the band back into being. MA: (Laughs) That's a funny one. It's appropriate and it works but it wasn't in my mind. More than anything, it's a very, very belated response to 'Dig Lazarus Dig' (Nick Cave and the Bad Seeds' 2008 master work). I was just trying to work out who else was supposedly reanimated by the Lord Jesus, and I found out there was this poor unknown person who only goes by the title of the only son of the widow from Nain, and I wanted to do a song from his perspective. PB: Another song from the new album that I instantly loved was 'I Like It Small'. What's that idea behind that one? MA: It's a kind of odd thing. We just had the music down and recorded in my digital recorder at home, the riff and the way that the thing was played. PB: It's very raw pop. MA: Yeah. PB: I have to say that when you brought the horns in for the 'Under a Billion Suns' LP (2006 album – PW) I was worried that you might lose that raw and distinctive sound that you have. As it turns out it simply added another dynamic to an already rocking record. MA: Yeah, I guess it all depends on how you use something like a horn section. When the Rolling Stones used the horn section on 'Exile On Main Street', it didn't make them sound any slicker or even the Saints using horns on 'Eternally Yours', that is still a raw record. PB: I love Swans recorded output dearly and I spoke to their main guy Michael Gira recently, and he said that what inspires him is death itself and the fear of living a pointless life. Now that is a heavy answer from an equally heavy guy but if I may ask you, outside of other bands what is it that keeps you inspired when working with Mudhoney? MA: Oh yeah, I think their last two records have been amazing also. For me though, it's just the enjoyment of it (Laughs). I think Michael is a heavier and far more ponderous person than I. For me it's the kicks. I don't expect that there will be a mark that will be made and carry on into the future beyond my demise. I couldn't really give a shit about what happens after I'm dead, you know? I won't be there to enjoy it. PB: Why that may be true you must be aware that a song such as 'Touch Me I'm Sick' which you wrote of course will live on past my or your death. It has become part of the rock music landscape now, like 'I Wanna Be Your Dog' or 'Smells Like Teen Spirit 'or 'Anarchy in the UK' or even 'Please, Please Me'? It means that much to many, many people. MA: Wow,er… I have never heard anyone say it quite like that. PB: C'mon… MA: Well I know that people like the song a lot and I think it's a great song but… I see it as more of a Sex Pistols 'Bodies' type thing. PB: After the demise of Green River did you ever consider at that point just jacking in the whole music thing? MA: No, I was always in other bands. When I was in Green River after Steve quit, he joined the Thrown-Ups and a few months later I joined the Thrown-Ups as a drummer. It was never like I should start a band and try to make it. We were playing in bands to entertain ourselves and be friends. We might say "You know it would be awesome to visit Europe sometime or even just tour a place that isn't in the Pacific North-West." With Green River, we did try to do a couple of tours in the States, but they weren't very successful at all ,and with them ending with at least my mind-set I never thought, "Well, that's it with that I might as well go and be an accountant now". It wasn't a career path for me. It was just a weird fluke that I was able to quit my job when Mudhoney went on their first tour. Of course when I came back off tour I had to live with my girlfriend and her mum and that was pretty horrible as you can imagine. "What's this guy doing here? You get him out of our house." PB: I bet you were loved. MA: Oh, yeah. PB: At the beginning of Mudhoney's rise in 1990 you did a solo single called 'The Freewheelin' Mark Arm'. Have you ever thought about putting out any more solo material at all? MA: I really enjoy collaborating with people and I don't feel the need to do it. It's not like there has been anything that I really want to do that I haven't already been able to do with Mudhoney, or any of the other bands that I have been in like Monkeywrench or Bloodloss or whatever. I am more inclined to play with other people and be able to bounce ideas around, rather than saying, "I am the captain of this ship and I want it this particular way." I think that the whole is generally greater than the sum of its parts. PB: What was your mind set when you went to record the 7" then? MA: Well, that was just before Gulf War 1, the first Iraq war, and you could feel that building up, and I was terrified at the notion and seeing people getting all gung-ho for the war. It was horrible. I think I asked Chris Eckman from the Walkabouts to show me the chords of (Bob Dylan's) 'Masters of War', and then I went into the studio. Also I was driving down a street in Seattle called East Lake, which takes maybe 15 to 20 minutes to traverse, and on the course of that drive to downtown I had written all the words to the B- side 'My Life with Rickets'. It was just a lark. PB: You are not afraid to tackle a subject which may end up biting you on the arse, songs like 'Overblown' about the grunge scene, or 'Into Yer Shtik' making comment on Courtney Love, or even more recently with 'Hard On for War' tackling the likes of the war in Afghanistan. With those songs do you think you could have said more or do you sometimes censor yourself to avoid too much backlash? MA: I don't think so, I can't recall any time I've done that. I wouldn't say it's censoring; it's more like trying to hone something and get it right. PB: With the more recent shows as the initial audience ages with you have you noticed any change to the Mudhoney crowd at shows? MA: Oh, fuck I don't know. Sure, people are individuals. Like a snowflake, no two are alike so no two audiences are alike. We are not the sort of band where you are meant to stand back and analyse what's been going on. PB: So no chin strokers then? MA: Hopefully not. We hope to give people more a visceral experience than an intellectual thought-provoking one. PB: Finally for any potential new Mudhoney fans out there do you think there is anything in the band's back catalogue that they should avoid? MA: Hmmm, far be it for me to tell people what they should like, I don't think that's my place. People will have to figure that out for themselves. They might not find anything they like (Laughs). PB: Thank you.
Band Links:-
http://mudhoneyonline.com/
https://twitter.com/_mudhoney
https://www.facebook.com/pages/Mudhoney/120610017957082
Picture Gallery:-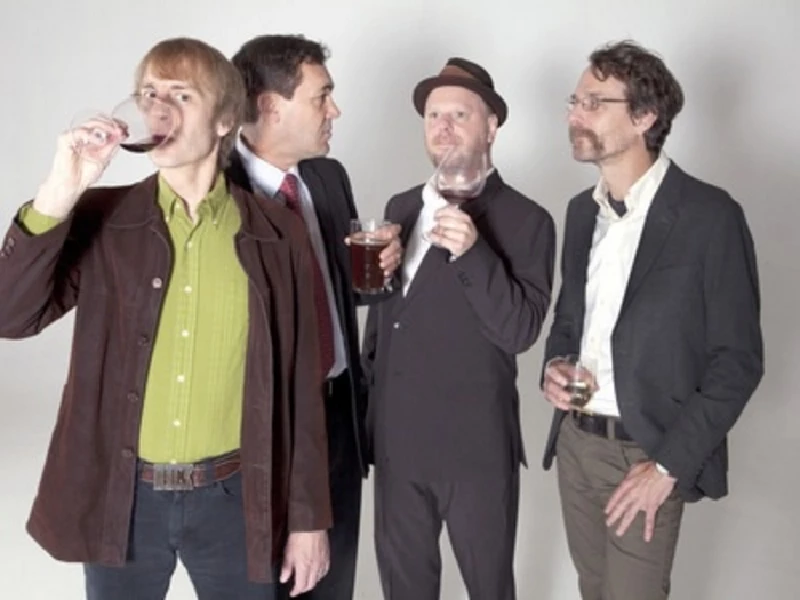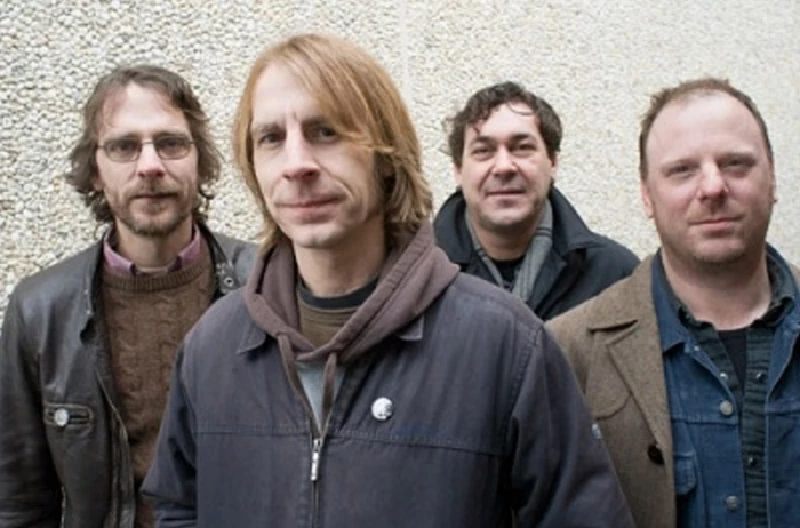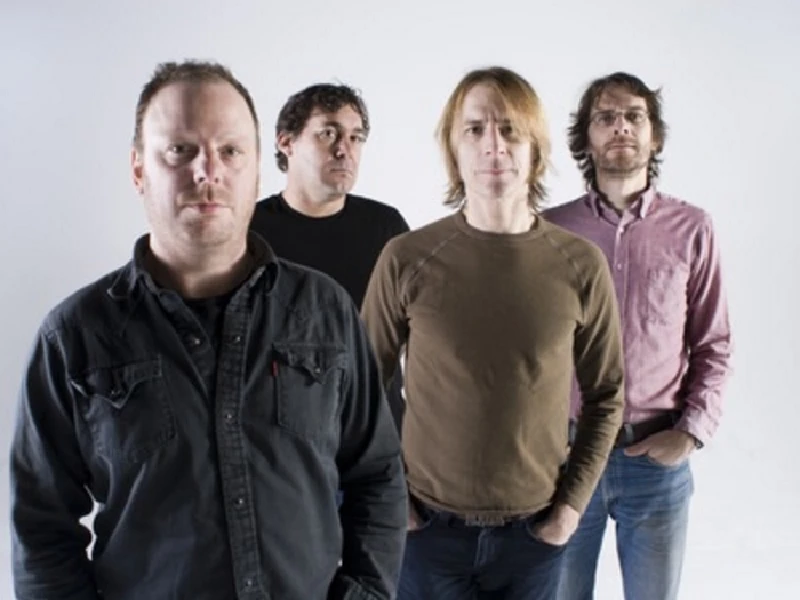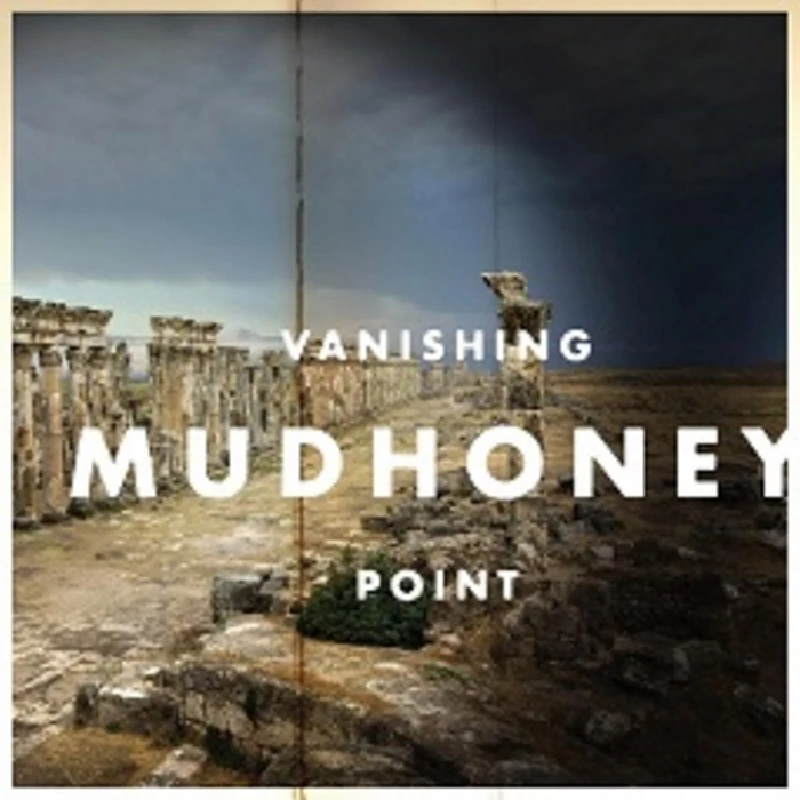 interviews
---
Interview (2018)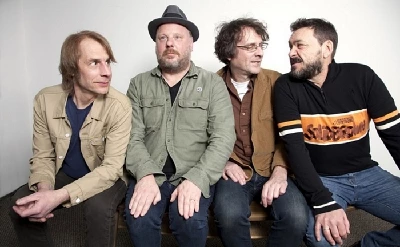 Mudhoney leader Mark Arm chats about the Seattle grunge pioneers thirty years as a band and forthcoming album 'Digital Garbage'.
Interview (2002)
favourite album
---
Superfuzz Bigmuff (2009)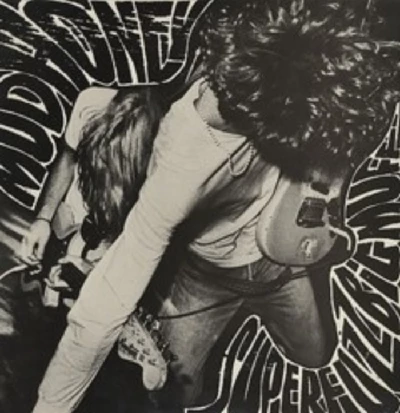 Jeff Thiessen examines Seattle-based grunge group Mudhoney's seminal debut EP, 'Superfuzz Bigmuff'
related articles
---
Green River: Profile (2019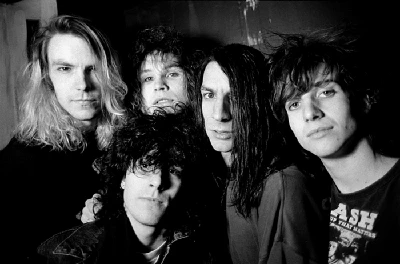 Mark Rowland examines the career of grunge pioneers Green River, whose 1987 EP 'Dry as a Bone' and 1988 posthumous album 'Rehab Doll' have recently both been re-released.
Pennyblackmusic Regular Contributors
---