---
James McCartney
-

Bottom Lounge, Chicago, 22/5/2012
published: 23 / 6 / 2012
---
intro
Lisa Torem witnesses Paul McCartney's son James follow in his father's footsteps and she's suitably impressed at a show at the Bottom Lounge in Chicago
James McCartney walks onstage to a crowd that is prepared to like him for he is part of their cultural history. But imagine how different his experience is from that of his dad. When Paul McCartney played in those early years, his efforts were met with screams from fans half his age. Now his only son, if he dares to look around, will find that many of his fans tonight are twice his age. But that really doesn't matter. James McCartney is seriously forging his own identity. At nine-years-old, he strummed a guitar that formerly belonged to Carl Perkins, and the muse never stopped. Original songs from his complete, physical 'EP Collection' have been garnering positive press reactions. The new product was gleaned from the EPs: 'Available Light' (2010) and "Close At Hand' (2011). His set list will contain most of these tonight. True, the album was produced by David Kahne and Paul McCartney, but it shouldn't be necessary for the younger McCartney to constantly have to prove that his work doesn't reflect his rocker dad's vast catalogue. There may be an elephant in the room, but it has its own dimensions. James may resemble closely both of his parents, but his style is entirely his. They are from different generations, have had different influences and possess vastly different personalities. Let's shut the door on that debate so we can support James's soaring career because he is an artist whose contemporary style is not just engaging, but exploratory. James is the last to walk on, and his entrance is so casual and void of ego that you almost forget you're at the central room of The Bottom Lounge, a cozy, dimly lit venue on Chicago's near west side, and that these lads live across the pond. It's a Tuesday night, but a crowd of nearly 100 will soon fill it up to capacity. The quintet launch into the feverishly post punk 'Erratic Pulses'. This is a good starting point; a modern, lively, animated production. The touring bassist, known as Oliver, is as active as a worm in a Tequila bottle. The keyboardist intently concentrates on programming his equipment. That leaves the drummer and the lead guitarist. McCartney lets loose some raspy screams during their second song 'Ravens', "looking into the eye of a storm" quite literally, but he really lets go, showing off his palpable tenor on 'New York Times,' which is gathering a lot of steam as we speak. During 'I Only Want To Be Alone' the room goes pin-drop silent. An infectious, electric guitar drone triggers riff after dark, gratifying riff as a baroque major to minor sequence contrasts. As the doe-eyed, shy, blonde singer huddles closely to the mic, his body language indicates that this song matters immensely. It's obvious that when he sings he inhabits a private world, and it is impossible not to feel a tangible connection or to feel a little like a voyeur. McCartney's acoustic introduction to 'The Sound of My Voice' is seductive. In fact, the whole song is soulful and dreamy. He faces his lead guitarist, who is wearing a crisp white shirt and a black, cloth vest. McCartney's dark boots and grey jacket are offset by the shadows in his feather-soft hair. The electric piano is only inches away from me. Earlier I had chatted with a small, friendly group of young men who had claimed the first rows by getting there more than an hour early. It was a good idea, I think now, as the wall in the back room dissolves. Without fanfare, James sits down to play the heartbreakingly elegant intro. to 'Fallen Angel'. It will safely pass the "morning after" test. I will wake up tomorrow and it will be streaming through my conscious mind, pleasantly sustaining me through rush hour traffic. To me that means it has staying power – lots. But now, eyes closed as his fingers tease the keys, James pauses, not to look around, but to perhaps brace himself for getting in touch with very deep thoughts, and then purging in front of the expectant faces of strangers. These instrumental passages are classically melodic, yet ethereal and could have been written by an old world composer during the Romantic Era. His voice is weightless, like a call to prayer. The melismatic phrasing recalls a shaman's monosyllabic chant. But the words, too, are gripping and inspirational: "Now you're in my life, my darkest side has gone away…" is the aching payoff, after he declares: " I was lost, had nowhere to go." His is certainly not a trained voice nor a Broadway voice or even a quintessential classic rock voice, but it is unarguably natural, evocative and genuinely James. I am transfixed by the unpolished pathos. During 'Denial', another one that channels primal feelings, his voice steadies. As he sings, a clandestine longing emerges. It is as if dark secrets seethe beneath the lyric. That spell retires underground when the band shifts gears and starts off the infectious rockabilly bassline of 'Moonstar'. Truly versatility is one of James McCartney's strongest assets as a songwriter. 'Glisten' could have been cut by the Cure. It's a good choice as they also dare writing songs that strip away every day layers of superficiality. Progressively James exudes more confidence. After a vibrant intro. he sings: "The water keeps dripping onto my hair/Th river's so cold, steel surrounds me…" The hooks are not hooks in the classic sense; they are not the kind that make you want to gregariously sing along. Instead they pull you inward. James is not a natural showman, and if he forced a less-than-sincere expression, we would all lose out. He rarely looks directly into the crowd and doesn't partake in casual banter, but that's perfectly all right. It is refreshing to see a performer who is this real, one who appreciates his audience, but doesn't force himself on them. When he sings Neil Young's classic, 'Old Man', something clicks. James is, indeed, an old soul. He's born of two worlds. His voice is crystal clear and perfectly suited for this simple ballad. The prog rock 'Else And Else But Dead' is surreal; an E.E. Cummings poem set to music or even a nod to minimalist Glass. More contemporary than the last, it smacks of razor sharp turns. James engages in a call and response with the piano player. And, then, James McCartney smiles right at me. It was a wonderful smile, completely unrehearsed, and it makes me feel giddy. James transitions smoothly from a contemporary 90's vibe to a confessional ballad in a heartbeat. 'Angel' has been performed on national US TV. It has a dynamic beat and could easily become a classic. 'Cherry Blossom' is a slow, dark, simmering stream of consciousness, and, though some of us are unprepared when he spits out profanities during 'Mix', we're not exactly surprised. Tonight's been all about self-expression. It's been a total bonding experience for many of us. I mentioned the women old enough to be his mother, but there were many people in their twenties and thirties too. They dug this new sound. One woman danced to the sad and the jubilant numbers. Like I said, many came early to welcome James, and they were probably proud that he chose their city on what would only be a six-week North American tour. They'd just returned from Canada – it had been only two weeks since they left home – and being first timers at this club they seemed a bit apologetic about taking up our time. Those of us in the front row felt grateful, really grateful, and, when he announced that 'Mix' would be their last song, we felt desperate for more because this level of intimacy doesn't happen all of the time. Thankfully our whoops and screams brought them back, and, like clockwork, a woman handed James a single flower. He mumbled something about the next song and then sat back at the piano to play 'Spirit Guides'. Though he has amazing guitar skills, there's something breathtaking about his piano playing. Wisps of wayfaring blonde strands stuck to his wet face as he played the gentle ballad 'My Friend'. This song has a universality that makes you reevaluate your life. But this time he really meant it when he announced that this was the last song, 'Wings of a Lightest Weight.' On the song, he examines his relationship with his late, lovely mother, Linda, and his father. "Looking at you now, realizing who you are…" It seems that James McCartney is realizing who he is. And that's genuinely gratifying. He stayed around to patiently take pictures with fans and sign autographs after the show. His mood was mellow, and you got the feeling he had had a good time and that he'd be back soon. I hope so.
Band Links:-
https://www.facebook.com/JamesMcCartneyMusic
https://twitter.com/JamesMcCartney_
https://www.youtube.com/user/Jameslmccartney
https://plus.google.com/101304844151655547231
https://www.instagram.com/jamesmccartneyofficial/
Visitor Comments:-
562

Posted By: Rod, New York on 30 Jun 2012
See above.
---
560

Posted By: Myshkin, London on 26 Jun 2012
Surely this is just the equivalent of the old school tie network? Famous daddy gives offspring a helping hand up the career ladder? At least daughter Stella had the good sense to go into fashion.
---
interviews
---
Interview (2016)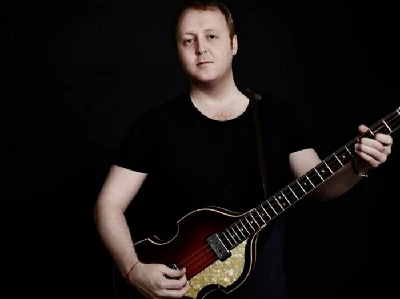 Lisa Torem catches up with British singer/songwriter James McCartney during his second US tour in which he is promoting his second studio album 'The Blackberry Train'
live reviews
---
Schuba's Tavern, Chicago, 21/6/2016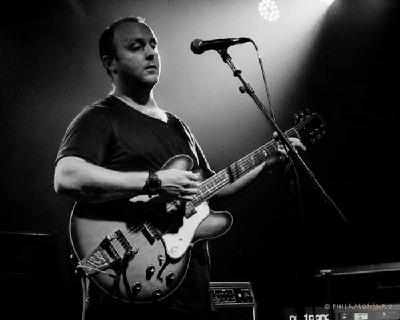 At Chicago's Schuba's Tavern, Lisa Torem watches singer-songwriter James McCartney' treat fans to new material from 'The Blackberry Train'
Pennyblackmusic Regular Contributors
---