---
Richmond Fontaine
-

We Used To Think The Freeway Sounded Like A River
published: 13 / 8 / 2009
---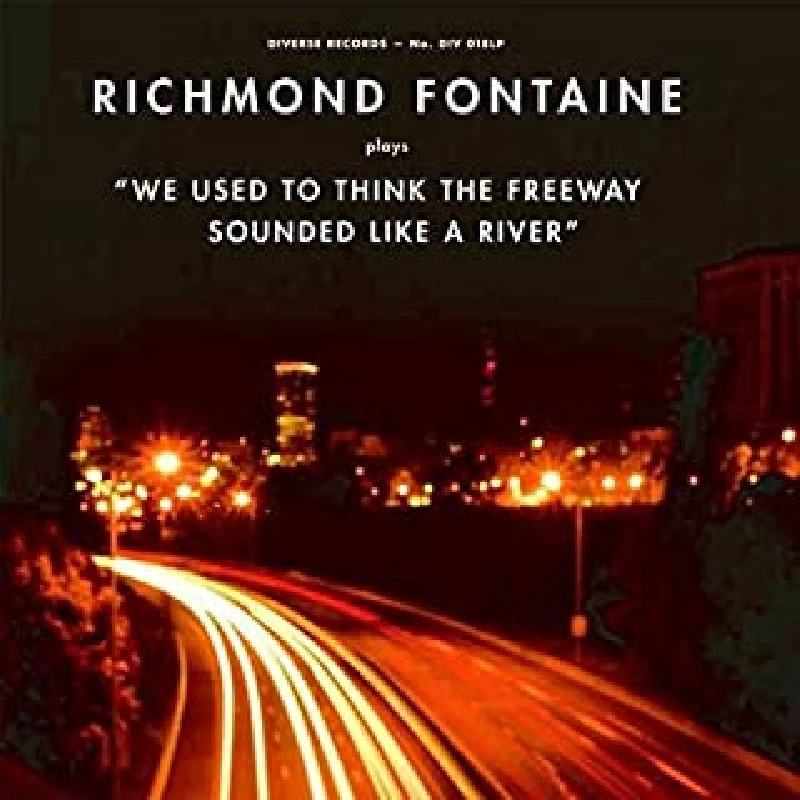 intro
Cinematic and atmospheric eighth studio album from Portland, Oregon-based group Richmond Fontaine, which, while often sadly bleak in its subject matter, is also emphatically life affirming
When Pennyblackmusic editor John Clarkson reviewed Richmond Fontaine's last album, 'Thirteen Cities', in 2007, he identified the danger that bands lead by strong singer-songwriters might see the rest of the band eclipsed. Certainly that was a risk for Richmond Fontaine. In 2005, they released their songwriter Willy Vlautin's strongest set of songs to far greater acclaim than they had ever enjoyed before (notably, a 5 star review in 'Uncut' magazine), but with sparse acoustic arrangements, the rest of the band appeared to play little more than a minimal role. At the same time, Vlautin was establishing himself as an acclaimed novelist, publishing 'This Motel Life' to similarly positive reviews. 'Thirteen Cities', which followed in 2007, appeared to be an attempt to atone for that, with the rest of the band taking a more central role. It was a success, certainly. In the aforementioned review, Pennyblackmusic labelled it an "absolutely enthralling experience"', and rightly so. But, perhaps, in seeking to step slightly out of the spotlight, Vlautin let the standard of his songs dip ever so slightly. Over time, I found myself returning to 'Thirteen Cities' less than 'The Fitzgerald'. The challenge, then, for Richmond Fontaine was to match Willy Vlautin's strongest songwriting with the band's best work. On, 'We Used To Think The Freeway Sounded Like A River', they have cracked it. Vlautin wrote this songs during 2008, when as a result of the death of his mother and then a horse-riding accident, he was forced to take a year off from the band. The tone for this set of songs, however, appears to have been set earlier, when Vlautin and longterm Richmond Fontaine collaborator Paul Brainard worked with other members of the group produced a film-score style soundtrack for Vlautin's second novel, 'Northline'. The spirit of the simple yet atmospheric style of those recordings seems to have been reproduced here. The album begins with its title track, which sets its tone. It is the story of a young couple moving into a rough neighbourhood, living next door to an abandoned house, with a broken swimming pool filled with shopping carts, and moving from sitting watching the dusk and the cars go past with "endless smiles" to gradually losing hope and faith after experiencing a robbery. On this track, a slow, sad song is enriched by pianos and a guitar line, with Vlautin's acoustic guitar pushed back in the mix. Instead of the acoustic singer-songwriter approach used on 'The Fitzgerald' or the rock band approach used on 'Thirteen Cities', this sounds like a storyteller being given a ready-made soundtrack. After this, a brief instrumental, 'Northwest', raises the tempo a little, before leading into the album's lead single, 'You Can Move Back Here'. This is the best example of the things Vlautin can do as a songwriter that wouldn't translate into a novel. Here, we see a simple sentiment - an old friend suggesting to someone finding city life a struggle that he come back home - translate into a straightforward but moving melody. 'The Boyfriends' follows. This is the album's most ambitious and accomplished lyric, and easily could be upscaled into the subject matter for a superb novel. Here a man accompanies a girl he met in a bar back to her place, only to be spotted by a kid he didn't know about that. From there, he recalls the series of boyfriends his own mother had when he grew up. As a trumpet line by Paul Brainard captures the sense of his fear and regret, he pleads "I ain't like that, oh I ain't gonna be like that". Having tackled broken homes, Vlautin looks at alcoholism with 'The Pull', as a man desperately seeks activity, staying at the boxing gym till it closes and then going for epic drives in his sister's car, in order to stay sober. Then follows the album's most naturally tuneful moment, 'Maybe We Were Both Born Blue', which is driven by strident drumming and pedal steel. Here, the band move away from their folk-soundscapes back towards the country-rock style of their 2002 album 'Winnemucca'. In fact, it is a song I could easily imagine Ben Kweller, another former punk now largely concentrating on country, getting to grips with. Bookending this track are two more instrumentals, both of which are skilfully performed while also providing something of a light relief from the challenging subject matter. '43' is described by Vlautin as a song about being "buried in debt, working in a paint store and having a basement full of weed." More importantly, it shows a band reconnecting with their punk rock roots, and will certainly be one to look forward to when the band perform live in September. Two songs follow, both named after specific characters, 'Lonnie' and then 'Ruby and Lou', both showing the human qualities in Vlautin's writing, as he finds affection and hope in the bleakest circumstances. Lonnie's aunt may despair at the terrible things he has done, but as the band strike an almost-anthemic tone, he emerges as something of a hero figure. Ruby and Lou face hard times and no money, but are determined that their love will see them through. There follows the best of the album's four instrumentals, 'Walking Back To Our Place at 3AM', which is a simple acoustic guitar piece, but sounds lovely. After the charming 'Ruby and Lou', Two Alone paints a less appealing picture, as a boyfriend despairs of his pregnant partner spending money he could never earn in his job as a forklift driver. His failure to find happiness in his work or relationship leads him to remember his unhappy childhood, when he couldn't fit into the life his family wanted of him, and wouldn't play sport. The refrain, "You're gonna run, oh no I won't, oh no I won't", is simple yet effective. Finally comes the spoken word song, 'A Letter To The Patron Saint Of Nurses', as a nurse tells her husband about the tragic cases she has encountered while listening to Mariachi music and drinking wine coolers. Although the couple no longer sleep next to each other, they cherish the fond memories they have of each other. It is an appropriate place for the album to end, another bleak composition through which the barest hints of joy seem to make it all worthwhile. 'We Used To Think The Freeway Sounded Like A River' marks the finest work of Richmond Fontaine as a band, and of Willy Vlautin as a songwriter. It is bleakly sad, and takes several listens to appreciate. But at its core is the work of a man with rare insight into the human condition. Many rock bands claim to speak up for the poor and dispossessed, but while many capture perfectly the experience of being an outcast, very few are able to add anything to our own experiences of ordinary life. Willy Vlautin is an exception, I suspect because his roots are in the places and with the people he writes about. Its worth noting that, where Ryan Adams broke his arm after drunkenly falling from the stage, Willy Vlautin broke his being bucked from his horse. In his novels and in his songs, Willy Vlautin's characters are never stereotypical. He writes about working people in a way that is never patronising or polemical, but shows the qualities and the failings of an individual. What's more, he never seems to run out of things to write about. All this makes for a truly marvellous, life affirming album.
Track Listing:-
1
We Used To Think The Freeway Sounded Like A River
2
Northwest
3
You Can Move Back Here
4
The Boyfriends
5
The Pull
6
Sitting Outside My Dad's Old House
7
Maybe We Were Both Born Blue
8
Watch Out
9
43
10
Lonnie
11
Ruby And Lou
12
Walking Back To Our Place At 3 A.M.
13
Two Alone
14
A Letter To The Patron Saint Of Nurses
Band Links:-
http://richmondfontaine.com/
https://www.facebook.com/Richmond-Fontaine-100281195567/
https://twitter.com/rffontaine
Label Links:-
http://decorrecords.com/
https://www.facebook.com/Decor-records-135039223266792/
https://twitter.com/decorrecords
Have a Listen:-
related articles
---
Delines: Interview (2014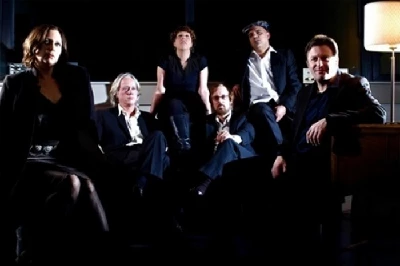 Richmond Fontaine frontman and singer-songwriter Willy Vlautin talks to John Clarkson about his new band the Delines, their debut album 'Colfax', and 'The Free', his recently published fourth novel
Pennyblackmusic Regular Contributors
---