---
Vinny Peculiar
-

Whatever Happened To Vinny Peculiar ?
published: 23 / 12 / 2005
---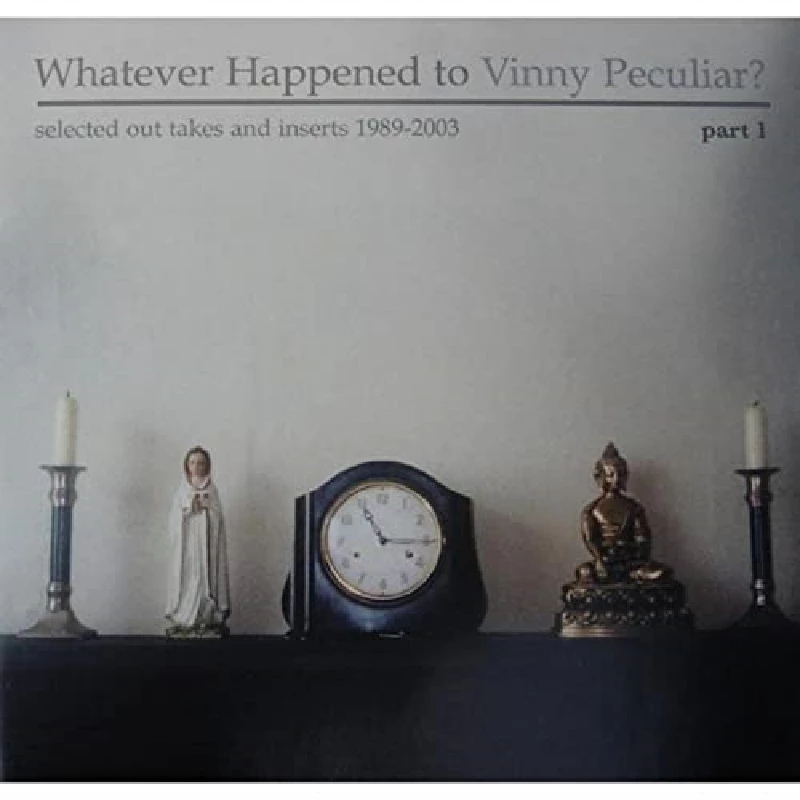 intro
Intriguing collection of out takes from Vinny Peculiar, the nom de plume for Birmingham-based musician Alan Wilkes, some of which feature ex-Smiths members Mike Joyce, Andy Rourke and Craig Gannon
This is a collection of unused songs recorded by Vinny Peculiar mainly in Liverpool, He has in the past produced Tompaulin, and in his live band and on some of these recordings are three ex-members of the Smiths, Mike Joyce, Andy Rourke and Craig Gannon. 'Working Class Escape' starts the CD. It is slow and very dark in feel and, sounding somewhere between Robyn Hitchcock and Nick Cave, is very cinematic in manner. 'Uno Disco' is an 80's sounding number that sounds like Scott Walker fronting Soft Cell. 'Ironing the Soul' is the title track of an album, but never made the final product. It is wordy and is almost confessional in tone. 'Showcase Time' is the sort of record that Hefner might have made if they had just been that bit tighter, while 'Big Star' has a big 60's sound. It gets jazzier as it progresses and Vinny's vocals on it sound like a young David Bowie. 'Slow Television' is about TV channel hopping and again Vinny sounds on it like Scott Walker. 'Jesus Stole My Girlfriend' is piano based and, upbeat for once, is a happy country number, while 'Capital City' is perky and has a fast indie punk bite to it. Imagine a non 70's loving Pulp. 'How Come the Revolution' recalls a slow Dream Academy. Elegant guitar playing flows against a drum machine beat, while Vinny's vocal is drawn out on it like a vampire's breath. 'Favourite Boy-Girl Song' has an 80's flavour and is very anthemic, while 'Haunting', which recalls Robyn Hitchcock in its wit, has big life praising beats behind it, which ironically is the opposite of what the song is actually about.. 'Big Grey Hospital' is an acoustic ballad sung by Vinny for his now dead brother, and is dedicated to lives destroyed by institutions. It is well performed and very sad. Vinny has a great sound, and I liked this more than I thought I would.
Track Listing:-
1
Working Class Escape
2
Uno Disco
3
Ironing the Soul
4
Showcase Time
5
Big Star
6
Slow Televison
7
Jesus Stole My Girlfriend (Single Remix)
8
Capital City
9
How Come the Revolution
10
Favourite Boy-Girl Song
11
Operation
12
Big Grey Hospital
Band Links:-
http://vinnypeculiar.com
https://www.facebook.com/vinnypeculiarmusic
https://twitter.com/vinnypeculiar
https://soundcloud.com/vinnypeculiar
https://www.youtube.com/user/arthurcrabtree
Pennyblackmusic Regular Contributors
---