---
published: 29 / 1 / 2004
---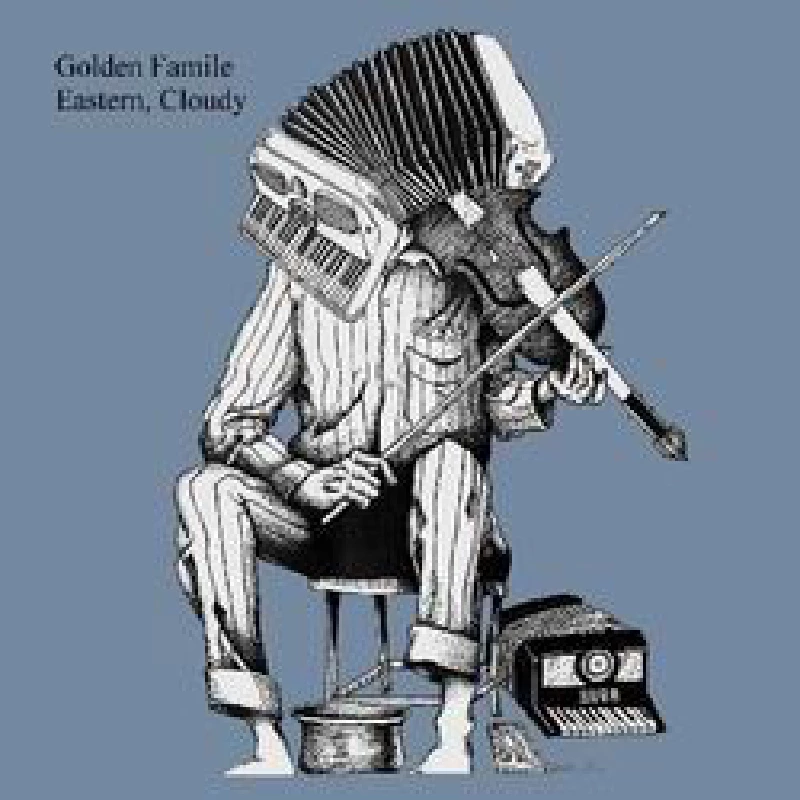 intro
Experimental second album from Ottawa-based collective the Golden Famile, which finds them slotting "into a middle gap between the back catalogue of Paul Westerberg and the more ramshackle moments of Neil Young"
In the time between releasing their self-titled debut album in 2001, and recording their second CD, 'Eastern, Cloudy' in 2002, the Ottawa-based group, the Golden Famile, expanded from a three piece to a five piece. The original trio of Darrell Angus (vocals, guitars. harmonica, organ) ; Richard Jeffrey (guitars, vocals, piano, organ) and Michael Sheridan (drums and percussion) was augmented by bassist Nathaniel Hurlow and backing vocalist Jennifer Comeau. The brooding, slow-core 'Golden Famile' recalled with its often hushed, stark atmospherics Low, and the band's fellow Canadians Daniel Lanois and Kepler. 'Eastern, Cloudy', which came out in America in 2003 and is now available through Pennyblackmusic in Europe, is, however a much noisier, more rumbustious affair. Without the band ever losing grip of their folk roots, 'Eastern, Cloudy' slots into a middle gap between the back catalogue of Paul Westerberg and the more ramshackle moments of Neil Young. 'Golden Famile' was essentially pastoral in tone. telling of small towns from which only one train leaves a night, and of snow, the mountains and the plains, but 'Eastern, Cloudy' is largely set in the city. The chirpy, Cajun-style waltz, 'Look at Me', and the tender, soporific 'Anson Plaza', which reprises itself after a false finish with a sudden fiery instrumental, both tell of love found in the bar room and long nights spent drinking. The jangling, thrash punk number 'For California' has a brusque, assertive Comeau taking over lead vocals from the husky-voiced Angus, and telling her lover that she is escaping the claustrophobia of the city, and heading for California where he may or may not join her if he wishes. 'Eastern Cloudy' allows a similar room for experimentation elsewhere also, often with bizarre and macabre results. Country hoedown 'The Goo' has Angus using decidely off-kilter circumstances to try to woo a girl. ('There's a hole in my head/and it wants you to come over/It's calling your name/to lie in the dew') . The distortion-friendly 'Follow Your H' is similarly black in its humour. ('Follow your heart/Let it lead you around/it's something to trust/when you're underground'). The six minute 'Olympia Athlete' meanwhile comes complete with stadium applause and the sound of starting bells, and, reminiscent of the early Velvet Underground, finishes in a haze of psychedelia and feedback. Since releasing 'Eastern, Cloudy' , the Golden Famile have gone on to recruit an additional two members, saxophonist Jay Baird and violinist Ryan Hough. They are soon to go into a studio in Montreal to begin work on their yet-untitled third album. As the engaging, thoroughly entertaining 'Eastern, Cloudy' proves, where this unpredictable, but increasingly diverse collective go next is anyone's guess.
Track Listing:-
1
An Introduction To...
2
Into The Night
3
Look At Me
4
The Goo
5
Dark As A Dungeon
6
Pampa
7
Olympic Athlete
8
Follow Yr H
9
Anson Plaza
10
For California
11
The Great Escape
12
Eastern Cloudy
interviews
---
Interview (2004)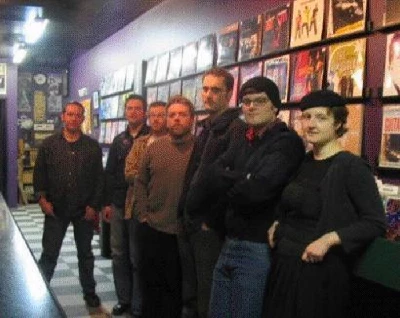 Canadian group the Golden Famile have been described as having made "made a better Neil Young than Young has himself in recent years" with their new album 'Eastern Cloudy'. Frontman Darrell Angus talks to John Clarkson
Interview (2002)
reviews
---
Golden Famile (2001)
Golden Famile's eponymous debut album is the third release of Music for Cats Records, a new small independent label from Ottawa in Canada, the aim of which is to support and to promote local and home
Pennyblackmusic Regular Contributors
---