---
Candies
-

Dense Waves Make Your Eyes Wider
published: 13 / 2 / 2003
---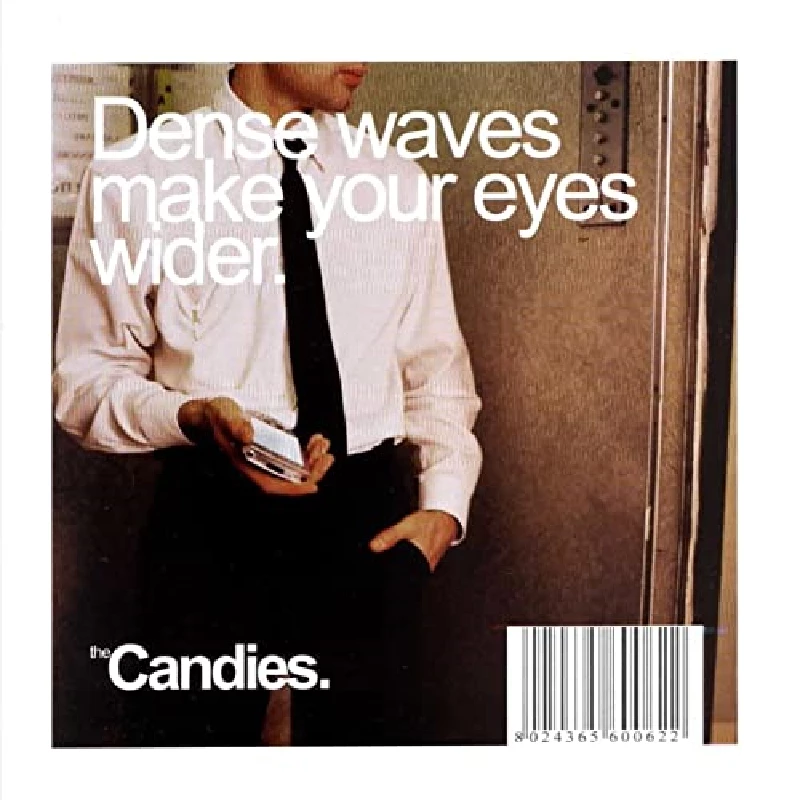 intro
Excellent second album from Italy's Candies, which finds them moving away from their post rock past, and towards a new punk sound
About a year and a bit ago, Italy's Candies released their debut album, the post-rock flavoured 'Leaving our Homes'. This was very good, mixing electronics and mental discordant garage/art punk with the standard post-rock issue quiet/loud dynamics and lack of vocals/singing. After releasing this and providing me with my first interview for Pennyblackmusic, they went off on a European tour, and nothing was heard of them for a while. Now, with 'Dense Waves.', the band have reinvented themselves (almost) completely. The album takes the punkier bits of their debut, marries them with better tunes, and seasons them with the odd bit of electronic noise. This kind of post-punk sound fits in with the current musical climate perfectly, without actually ripping off any of the current 'cool' rock bands. Undoubtedly, the band will be labelled 'sell outs' by the odd post-rock purist, but this change in sound is hardly for financial gain. If they wanted to do that, they would've ripped off Green Day. This is however, a more accessible sound compared to their last album, and is sure to win them a more varied audience. Opener 'Like Tennis Shoes' sums up the Candies new sound: spiky, frantic guitars, driving bass lines, indecipherable, semi-shouted vocals, and great hooks. Of course, the influence of Gollum-a-like Mark E. Smith (of the Fall) can be heard here, but as this is a post-punk album, it's not surprising. 'Basslines for Your Fucking Grave' is one of the best tunes here, treading similar waters to the Yeah Yeah Yeahs in terms of melody. Songs like 'Being Together' and 'You Fly While Driving' take a more minimalistic approach to lyrics, with singer/guitarist Guilio Calvio singing only one or two lines. This works, however, well with the tension and build-up of both tracks, with 'Being together' building into a huge chorus, and '.Driving' starting quiet and getting louder as it goes on with the vocals kicking in a lot later on in the track. The driving electronics and effects-ridden bass line of 'Device Power' and the fat synth bass of 'Hiding behind open space Barriers' shows the Candies desire to try different things, and is reminiscent of the New York dance/punk scene (though more on the punk side of things). The one major downside to 'Dense Waves.' is that with eight tracks and at only just over 25 minutes in length, you end up wishing that there was a few more tracks on it. 'No Edge', however, compensates for this a bit by being very good, sounding uncannily like a post-punk version of 'OK Computer' era Radiohead. Even Guilio's voice sounds a bit Thom Yorke. So, in summary: Buy this album, it rocks, and you can dance and sing along to it too. Well, bits of it you can, anyway.
Track Listing:-
1
Like Tennis Shoes
2
Basslines for your Fucking Grave
3
Hiding Behind Open Space Barriers
4
Being Together
5
Device Power
6
No Edge
7
You Fly While Driving
8
Statue
interviews
---
Interview with Giulio Calvino (2003)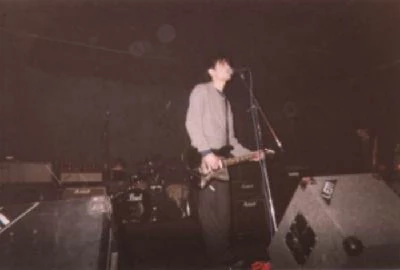 Italian trio the Candies started out a post rock group, but have now become a punk act. With their second album, 'Dense Waves Make Your Eyes Wider', just out, Mark Rowland, talks to group leader Giulio Calvino about their change in direction.
Interview (2002)
live reviews
---
Garage, London, 30/5/2003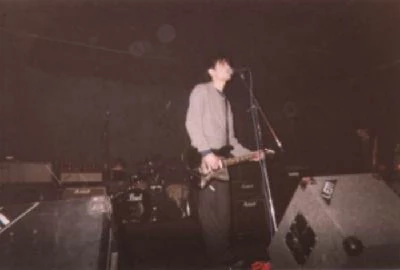 Since interviewing frontman Giulio Calvino for the first time, Mark Rowland has waited almost two years to see Italian post-punk trio the Candies, but finds the experience well worth the wait at the London Garage
reviews
---
Leaving Our Homes (2001)
Candies are a rare thing - an Italian post-rock band. Italy does not really have a great reputation when it comes to innovative music. Thankfully, Candies are an exception. The first noticable thing a
Pennyblackmusic Regular Contributors
---