---
Sonic Youth
-

Live at Shepherds Bush Empire, London,
published: 13 / 1 / 2002
---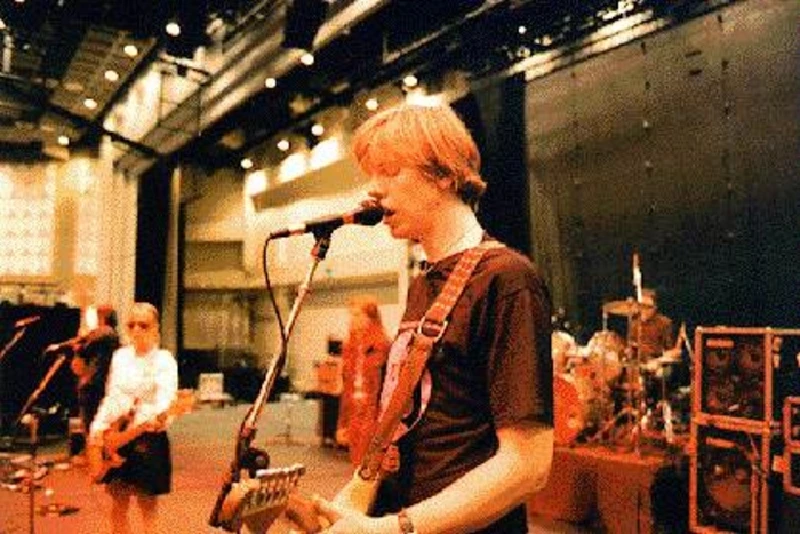 intro
A large turnout and high expectations were all in order for Sonic Youth's first UK appearance this year since their controversial set at All Tomorrow's Parties. Before they began their set however, ou
A large turnout and high expectations were all in order for Sonic Youth's first UK appearance this year since their controversial set at All Tomorrow's Parties. Before they began their set however, our attention was drawn to the unusual stage set-up - glasses, bowls, tins, sprawling wires...which turned out to be instrument tables for the musical operating theatre of experimental noise-makers V/VM. Perhaps the ageing gods (and goddess) of New York art-punk were having a laugh backstage at our expense, as we were treated to some increasingly ridiculous "performance art" for both support acts, unannounced until shortly before the show. A group of pantomime costumed jokers danced around the stage with glasses of beer while a pig-masked dj unleashed what appeared to be a mix of heavily distorted disco hits and industrial techno. Free CDs and cabbage were thrown into the audience, ketchup squirted... all of which became rather tiresome after the first 10 minutes or so. The second support were definitely interesting to watch, although their frankly pretentious set of structureless experimental noise composition became rather tiring on the ears by the end of their half-hour set. Five slightly sinister-looking men sat down at tables covered in obscure sound-making equpiment. At the end table, which drew most of our attention, glasses, tins, pots and even a light bulb were bowed, scratched and hit. What looked like a heavily customised mandolin was abused with combs, sticks and wires. Other performers hit the insides of a piano, jangled chains over grids of electrodes, miked up a bowl with bubbles blowing through it, and twiddled with electonic equipment. Unlike more listenable experimentalists such as Pole, they shunned any clear rhythmic patterns or samples, and stuck firmly to making their own noises in a random and structureless manner, lacking any real climax or sufficient variation. They clearly enjoyed what they were doing, but if their performance suceeded at all it was purely through the novelty value of their noise-making techniques. It seemed the sheer ridiculousness of the support just increased the enthusiasm with which the crowd eventually welcomed Kim, Thurston, Lee, Steve, and regular collaborator Jim O'Rourke. We weren't disappointed as they kicked off with a great version of Schizophrenia, adding weight to our hopes for old favourites. While they didn't succumb to frequent calls for Teenage Riot and Sunday, we were treated to a varied and well-balanced set mixing some of the best songs from their back catalogue with many from their new album 'NYC Ghosts and Flowers', and still leaving room for a few tracks of sheer experimental guitar abuse. Just observing their technique is a revelation for those who've only heard them before on record. Every song requires a switch to differently tuned guitars, often crackling and screeching and rhythmic dissonance are coaxed and beaten out of them with drumsticks jammed between the strings. Incidentally The 'Youth appeared to cope very well without their original collection of thrift-store customised guitars, stolen a while back, which formed the basis of many of their older songs. Songs like 'Bull in the Heather' and 'White Kross' later on in their set were played very well and really got the crowd going. But it was clearly their new material that made the highlight of the show, combining the punky edge of their original sound with the more poetic soundscapes from 'A Thousand Leaves' . 'Free City Rhymes', the first of their new tracks played, built up from a dissonant yet calming soundscape, with laid-back vocals. This was followed with one of the most intense songs from the new album, 'Renegade Princess', which Thurston dedicated on the night to Princess Diana. From a sinister start with short tense vocal lines, ("jet black hair/tangled stare/blood inside/silent stare") it quickly builds into an intense rhythmic grungy climax, with shouted vocals from Kim and Thurston. Although the guitars were allowed to drown the vocals a little, this was a strong reminder that Sonic Youth haven't lost their raw power in years of obscure avant-garde SYR releases. After a "Happy Birthday" to daughter Coco, Kim and Thurston launched into something a little more free-form. 'Side2Side' features Kim doing vocals over her own cut-up backing, with some quieter more experimental guitar work. Perhaps my favourite of the night was the album's title track,' Nyc Ghosts and Flowers'. It reached a brilliantly powerful and droney climax from a long atmospheric start with spaced out and poetic vocals from Lee. Lyrical influences from Allen Ginsberg and others are quite strong in their new songs, also the sinister-looking figure on the cover art and posters is by William Burroughs. It seems Sonic Youth have a permanent place in the history of alternative culture, and to see them playing this well, seemingly still at their best and most innovative, was a great pleasure. Set list... Schizophrenia Burning Spear Free City Rhymes Renegade Princess Kool Thing Hoarfrost Nevermind (what was it anyway) Side2Side White Kross Bull in the Heather NYC Ghosts and Flowers Lightnin' This article was originally published in internet magazine Drowned in Sound (www.drownedinsound.com). Thank you to Sean Adams, Drowned in Sound editor, for allowing Pennyblackmusic, to feature this article.
Band Links:-
http://sonicyouth.com/
https://www.facebook.com/sonicyouth/
https://twitter.com/thesonicyouth
Picture Gallery:-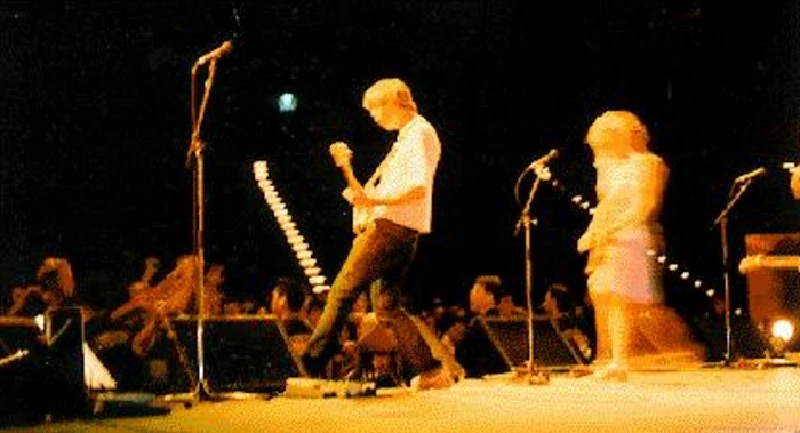 interviews
---
Interview with Steve Shelley (2004)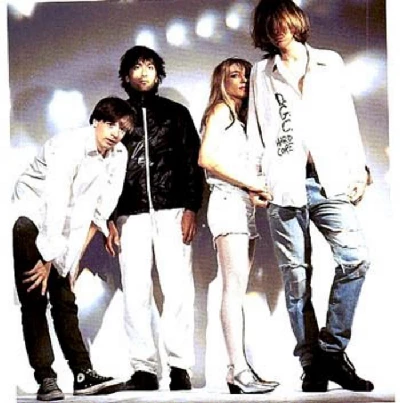 Remaining constantly inventive, Sonic Youth are soon to release their nineteenth album, 'Sonic Nurse'. Mark Rowland talks to drummer Steve Shelley about its creation,and their recent turn as curators at the All Tomorrow's Parties alternative rock festiva
favourite album
---
Daydream Nation (2007)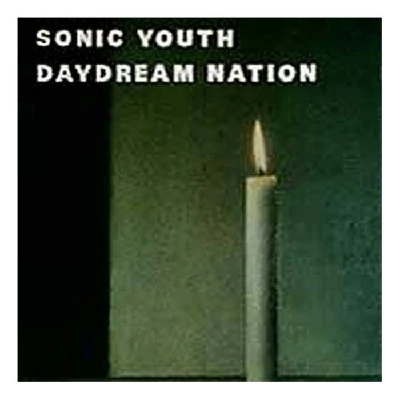 Jon Rogers looks at Sonic Youth's 1988 opus 'Daydream Nation'which has just been re-released with both additional songs and a whole extra disc of live versions of the album
Daydream Nation (2002)
related articles
---
Thurston Moore: Live Review (2014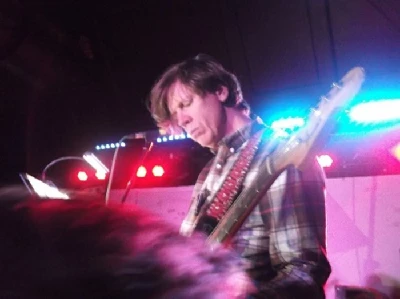 At the intimate Bodega in Nottingham, Anthony Strutt watches ex-Sonic Youth front man Thurston Moore, with Ride's Mark Gardener as support, play an intense but versatile set
Pennyblackmusic Regular Contributors
---