---
Hurrah!
-

David Jensen 08.12.82
published: 31 / 7 / 2022
---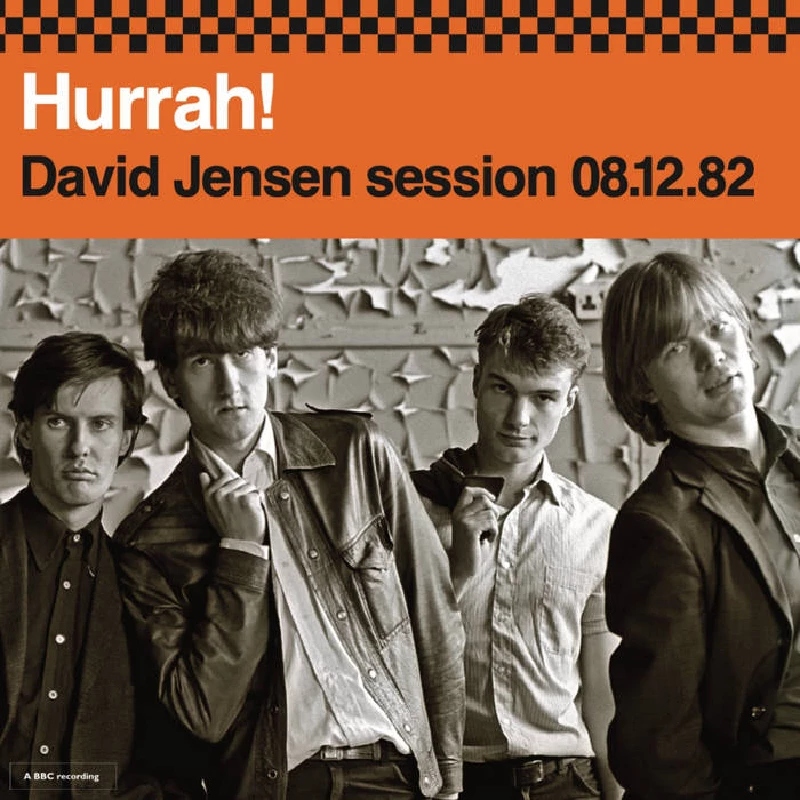 intro
Stunningly packaged double 7" from Precious Recordings of London of 80's indie band Hurrah!'s only BBC session with David Jensen
So, this is how music should be distributed. I know not everyone has the funds to house their music in elaborate sleeving, which this isn't by the way, but the nice people at Precious Recordings have done Hurrah! and everyone concerned proud here. Although this is brand new, it feels like you are handling something from back in the day, especially with the great 80's shot of the band in question plastered on the front cover. Having been one of the first acts to be signed to Kitchenware Records, who have bands such as Prefab Sprout and Editors on their roster, Hurrah! released their debut single, 'The Sun Shines Here', in 1982. Hailing from the North East and originally known as the Green-Eyed Children, the band initially consisted of Paul Handyside, a Newcastle boy who played guitar and vocals, David 'Taffy' Hughes who came from Southmoor further up in Northumberland and also played guitar and vocals, David Porthouse from Gateshead on bass and finally Mark Sim on drums who was quickly replaced by Damien Mahoney. To cut a long story short, drummer Mahoney left in 1986 to join the police and the band eventually recruited Steve Price. He became their permanent drummer for a while, before there was yet another percussion change when Adrian Evans from County Durham became the band's fourth drummer - Price emigrating to America. They went on to support The Stranglers at the Hammersmith Odeon, U2 at Wembley on the first few dates of 'The Joshua Tree' tour and David Bowie on the 'Glass Spider' tour. Hurrah! released six albums and a string of singles during the 1980s of which 'Boxed' from 1985 was the first followed by 'Tell God I'm Here' in 1987 reached 71 in the UK Albums Chart. Their highest chart success came in the form of their third offering 'Way Ahead' in 1987 gaining a number 29 also on the UK Indie Album Chart. The music does. of course, come from, for me, the most diverse of decades ever and is spangling and indicative of that time, but this came when the excitement was growing before the birth of Brit Pop, and this was fresh then and I might add still is. This little gem of a package is the only BBC session ever recorded by the band and features their second single 'Hip Hip; couples with three more early tunes recorded as part of a session for David Jensen in 1982. 'Hip Hip', of course, is the hit hit but for me the track that sums this up is 'This Boy', a typical sound of that time with a chorus of "This boy's angry, this boy's sad" depicting what folk of that time were feeling and, dare I say, sounds very reminiscent of The Stone Roses' 'She Bangs'. The release here comes via Precious Recordings of London and appears in a wonderful gatefold double seven-inch vinyl format with both seven-inch discs housed in plain white sleeves inside the well decorated covers. As far as vinyl packages go, this is a special item and comes complete with download codes on slips of paper inserted inside with the vinyl, and, as an added bonus and one that fans and newcomers and collectors alike will adore, postcards with rare photos are included in the package as well as extensive sleeve notes from the artists themselves. The photos on the sleeve itself are by Bleddyn Butcher, who has some cracking shots of early Nick Cave and Birthday Party under his belt to be checked out in the National Portrait Gallery, along with shots from Simon McKay who gave birth to 'Eccentric Sleeve Notes', a fanzine published in Newcastle Upon Tyne from 1981 to 1984.
Track Listing:-
1
Hip Hip (Jensen session)
2
Saturday's Train (Jensen session)
3
This Boy (Jensen session)
4
Lonely Room (Jensen session)
Band Links:-
https://www.facebook.com/HurrahBand
https://en.wikipedia.org/wiki/Hurrah!
Label Links:-
https://www.facebook.com/PrecRecs/
https://twitter.com/PrecRecs?ref_src=twsrc%5Egoogle%7Ctwcamp%5Eserp%7C
https://preciousrecordingsoflondon.bandcamp.com/
Play in YouTube:-
Have a Listen:-
Pennyblackmusic Regular Contributors
---