---
Kaleidoscope
-

Sky Children : The Best Of Kaleidoscope and Fairfield Parlour
published: 7 / 4 / 2021
---
The title of this collection should be indication enough but to make sure, this review is for the British band Kaleidoscope and not the American band of the same name also active during this period. Early January 1967 and the band previously known as The Sidekicks before morphing into The Key signed a deal with Fontana Records. Like many other bands of that era, the group left their R&B roots behind to join the psychedelic movement. Four photogenic lads, dressed for the occasion including a charismatic front man who had a fragile, distinctive voice perfect for the transition into the world of psychedelia. But surprisingly they never troubled the then all-important music charts. Rechristened Kaleidoscope, the line-up comprised Eddy Pumer on guitar, Peter Daltrey vocals, Steve Clark on bass and occasional flute and Dan Bridgman playing drums. Their original songs written by Daltrey and Palmer although leaning slightly towards the toytown psych that many British bands peddled in those days always had a little more depth and bite. Due to this Kaleidoscope never appeared to be one of the bands jumping on the psych bandwagon. Their first single, 'Flight From Ashiya' told of an impending plane crash rather than the local grocer, although the band were also capable of covering that ground as well (Mr. Small The Watch-Repairer Man). It appeared that the group had everything going for them, the songs, the image, (was there another band of that era who wrote so many catchy songs in such a short period?) and the musicianship. They didn't stand still either, as times changed the band did too. After two excellent albums and a handful of memorable singles, the band changed their name to Fairfield Parlour in 1970. Signing to the progressive and respected Vertigo label, the outfit blended their psych leanings into a more acid-tinged progressive sound while not totally forsaking their earlier approach. Still success avoided them. I can remember 'Bordeaux Rose' being a 'turntable hit' and receiving frequent on radio play, but still chart action avoided the band. Appreciation through the years eventually arrived and the band's output has been reissued many, many times. One of the best compilations of Kaleidoscope is the 'Dive Into Yesterday' CD on Fontana but that only covers part of their career. A collection of tracks cut when the band were known as The Sidekicks, 'Kaleidoscope 1964-1967 The Sidekicks Sessions' displays their R&B roots alongside some early Daltrey/Pumer originals and proved to be an interesting collection. Grapefruit Records realised that interest in the band was growing back in 2012 with the CD release of 'Further Reflections' which compiled all the bands Fontana recording from 1967 until 1969. Repertoire Records released Fairfield Parlours 'From Home To Home' in 1991 with a few bonus tracks although bafflingly didn't include that essential single 'Bordeaux Rose'. Repertoire finally made up for it with another reissue in 2004 this time including two versions of said song. An anomaly appeared in 2000, a double CD was released under the Kaleidoscope name consisting of the Fairfield Parlour album 'From Home To Home' with more bonus tracks, and a 'new' Kaleidoscope CD, 'White Faced Lady' which was recorded when the band were known as Fairfield Parlour. If this was the last word on Kaleidoscope/Fairfield Parlour it was a fine exit but just added to the mystery as to why either band wasn't massive. Melodic pop fused with elements of psych and prog, everything the band issued deserved a far wider audience than it was given at the time. Thankfully, Peter Daltrey is to this day still producing mystical, magical music. So why do we need this latest compilation? The answer is that it's the first ever collection that spans their entire history, even including a demo from 1964, 'What Can I Do' which goes back to their The Sidekicks era. The present release includes a mixture of tracks from the first two Kaleidoscope albums, a brace of songs from 'From Home To Home' and even three from 'White Faced Lady'. To complete the set three non- album singles are also featured. It really is the most comprehensive collection of the bands career to date. The additional features meanwhile make this an essential purchase for any Kaleidoscope fan. The accompanying DVD is amazing. It opens with two performances from French TV in 1967, 'Flight From Ashiya' and 'Holiday Maker' while Serge Gainsbourg and France Gall look on. Fantastic viewing. That's followed by three songs recorded for German pop programme 'Beat Club' in 1970 that were never aired. The DVD is completed by two songs, 'Dive Into Yesterday' and 'Music' performed by Peter Daltrey. Even if fans have all the above songs numerous times on CD or vinyl the DVD is worth the price of admission alone. Congratulations to all concerned in getting this wonderful archive footage finally available.
Track Listing:-
1
Faintly Blowing
2
In My Box
3
(Love Song) For Annie
4
Flight From Ashiya
5
Long Way Down
6
A Dream For Julie
7
Further Reflections) In The Room Of Percussion
8
Emily
9
Snapdragon
10
Bordeaux Rosé
11
Nursey, Nursey
12
Do It Again For Jeffrey
13
Kaleidoscope
14
Diary Song: The Indian Head
15
Music
16
The Sky Children
17
What Can I Do (Demo, 1964)
Band Links:-
https://en.wikipedia.org/wiki/Kaleidoscope_(British_band)
Play in YouTube:-
Picture Gallery:-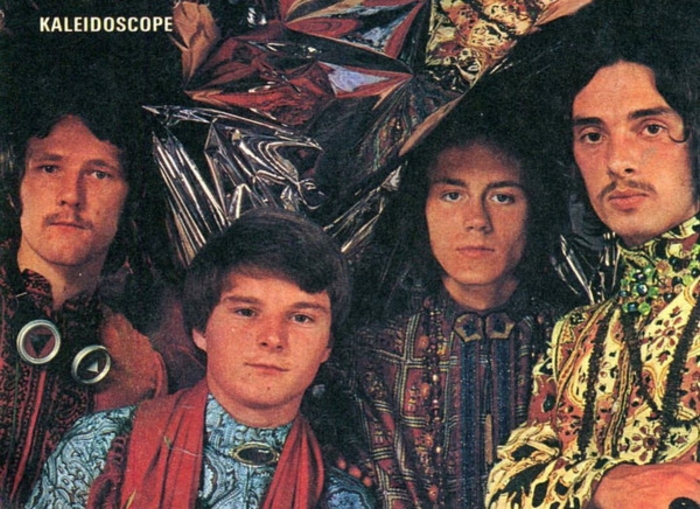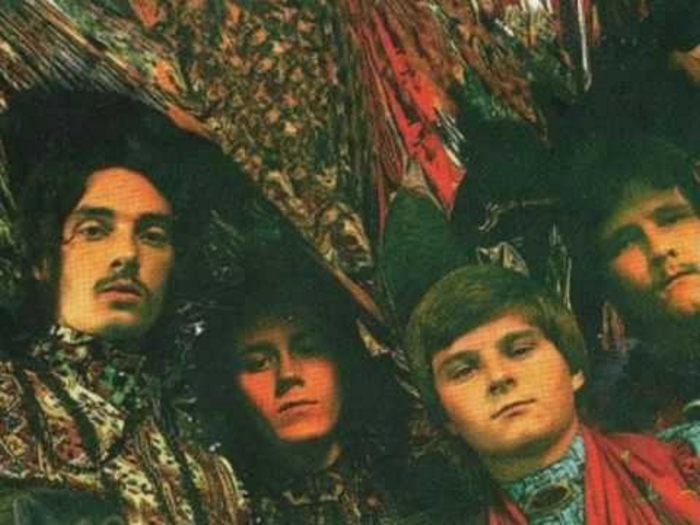 intro
Malcolm Carter examines a new compilation that covers all stages of cult 1960's outfit Kaleidoscope/Fairfield Parlour's career, and finds an accompanying DVD of archive footage makes it an essential purchase.
Pennyblackmusic Regular Contributors
---