---
published: 12 / 8 / 2017
---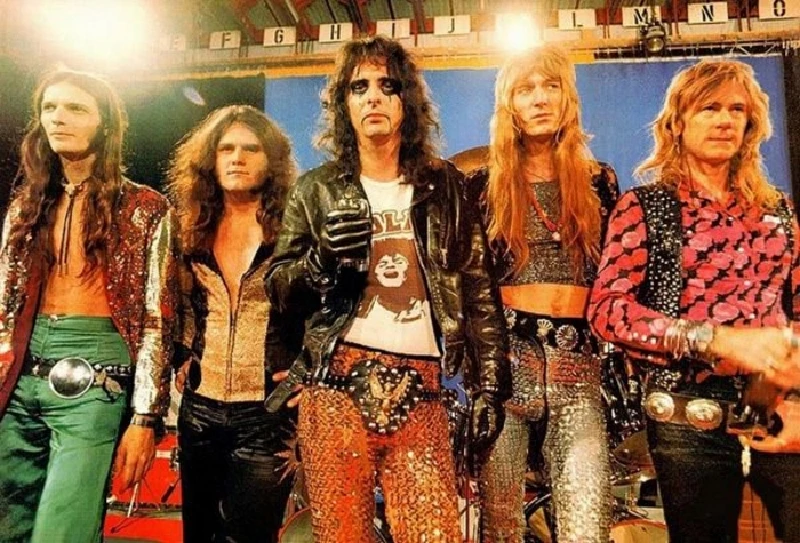 intro
Designer Cindy Smith Dunaway talks about creating costumes for the Alice Cooper Group, her upcoming book and more with Lisa Torem
Orry-Kelly outfitted Humphrey Bogart in a fedora and trench coat for 1941's The Maltese Falcon. Swinging Sixties model Twiggy was virtually christened by Mary Quant. Rapper D.R.A.M. broadcast Balenciaga when crossing the red carpet for his first Grammy. Through the decades, designers have enriched celebrity lives, even though their monikers seldom appear in large print. And what about glam rock and shock rock? Kiss and Marilyn Manson owe much of their huge fan appeal to the Alice Cooper Group couture. One cannot underestimate the value of image in the world of pop culture, yet whether on film or in the arena, all-too-often image-makers are upstaged by front-of-house icons. But why? Long standing Alice Cooper producer Bob Ezrin ('Love it to Death,' 'Killer', etc.) was mesmerized when he saw the band play at New York's Max's Kansas City. It was not merely the music which garnered goosebumps; it was the eerie makeup and anti-establishment apparel, creating what Ezrin proclaimed to be a "cultural revolution". Besides single-handedly styling the original line-up, fashion designer Cindy Smith Dunaway is also well-known as the younger sister of drummer Neal Smith, and the wife of bassist Dennis Dunaway. Dunaway humbly says she felt perfectly fine remaining behind the scenes but for all practical purposes, many feel that she was the sixth member of the original Alice Cooper Group. I had the rare opportunity to interview Cindy Smith Dunaway in Nashville, a few hours before the Alice Cooper Group original members (minus the late guitarist Glen Buxton) were set to receive an exclusive outstanding achievement award at the annual Music Biz conference (Industry Jam2) held in the Grand Ballroom of the Renaissance Hotel. They were also set to perform for the group of industry professionals and music students, a much-anticipated, multi-song set but before sunset, rockers chatted with local radio stations and press clamoured for quotes in the temporary green room. And that's when I caught a glimpse of Cindy Smith Dunaway freshening up shock rocker Alice Cooper's Raven lipstick for a kissed napkin to be donated for a fundraiser for a charity event. Her undisputed radiance quickly warmed the massive room. As soon as she pulled up a chair, I felt at home, Cindy has a natural ability to put those around her at ease and her clothing too, reflects a beguiling confidence. She wore a flowing; ultra-feminine dress one forearm was swallowed up by a cluster of shiny, sparkling, jangly bracelets. Her long, blonde hair was enhanced with her own special "Manic Panic" blend of Vampire Red, Hot Hot Pink & Wildfire, which is not surprising, as she is chief "glitterologist" for the successful hair-dye company. Excitement for the evening ahead hung in the air; it was an opportune time to talk. PB: Hi Cindy. We both witnessed the 'Spend the Night' (The 2017 Spend The Night with Alice Cooper Tour made history in Nashville by featuring a mini-set with the Alice Cooper Group original members, minus the late Glen Buxton and with the addition of current Cooper lead guitarist, Ryan Roxie) mini-set last night and tonight is another cause for celebration. How's it been for you? CSD: It's been an amazing weekend. I've seen lots of old friends, there have been a lot of old feelings embraced and a lot of excited fans. There were people crying last night in the audience and the best part is, its Mother's Day weekend and this is what I wanted. I wanted our daughters to be able to come, to be here and experience the whole thing. PB: Let's turn the clock back to when you shared space with the original members of the Alice Cooper Group. I gleaned from Dennis's book, 'Snakes' ('Snakes! Guillotines! Electric Chairs: My Adventures in The Alice Cooper Group' by Dennis Dunaway, and Chris Holdenfield, 2015) that you were not only enlisted as the costume and image designer, you doubled as a confidante. CSD: The reason I moved out to California originally was because of a phone call from Neal. I was living in Texas and going to fashion college. The band had just been in an accident, where they had lost all of their equipment. Neal called from Los Angeles; we had a conversation, "'I feel like such a loser. I don't even have a drum kit anymore and you're doing what you wanted to do; you set your goals" and I'm like, "Alright, I'm not hearing any of that", you know, little sister stuff. So I saved up a little money and went out there. I didn't know what I could do. I just decided I was going to go out and help my big brother. They had a house in Topanga Canyon at the time. I shared a room with Neal, we had a triple bunk bed, Neal, Mike Allen,-who was the roadie- and I was on the bunk bed. On the floor in what was supposed to be a "coffin-like thing", was Alice. It was just like a rectangle with a mattress in it! It was not a huge room, so you could just imagine what it was like. The house wasn't huge and we had no money. I cooked whenever we had food and usually the guys had girlfriends who would be supportive but the thing was, I needed a job. So I moved into an amazing apartment in Hollywood that was sixty dollars a month. I shared it with a friend of Michael's at the time, Linda Leis, she was fifteen, I was 18 and we're still best friends to this day. So we both got jobs sewing for this men's boutique called Inside Outside. We made groovy mod clothes. It was down on Santa Monica Blvd. One day, these two guys, Joey and Shep (Joey Greenberg and Shep Gordon co managed Alice Cooper Group from 1968-1974) came in and we started talking. They said they were managers and so on. They actually said that they managed a band called The Left Banke but I didn't find out until years later that they really didn't. I said, "My brother has this band. Do you want to come and hear them"? In the meantime, we had befriended a lot of different musicians. There was this band Rhinoceros from New York, who were living in Hollywood Hills and were getting ready to move back to New York so their house was for rent. Joe and Shep went to talk to the landlord and the band moved from Topanga Canyon to Hollywood Hills. Everybody had their own room and at one point I let go of my apartment because I had a room there. Actually it was the dining room. It was this huge, beautiful old Stucco and tile, Mediterranean style house. It was lovely and in great condition when we lived there. We went to visit it years later and it's magnificent and has been beautifully renovated. My bedroom was in the dining room, which you kind of came into from the side door—I had curtains around my bed, so I had privacy, but D.D. would come back from a date and he'd plop down and we'd talk about his date. Dennis was quiet, believe it or not, and very inhibited at the time but he would talk to me privately. The other guys would confide in me as well so I had moved in with my brother and suddenly, I had all of these other brothers. PB Did you style the group for album covers? CSD: I didn't have anything to do with 'Pretties for You' ('Pretties for You' was the psychedelic, debut Alice Cooper album, Straight Records, 1969) except for making some of their clothes but at one point when they played at, I think it was the Shrine Auditorium, that's when we had a talk and even though we still had no money, we decided on a look for the band. We talked about it and said sparkles? Why not? I designed and made an outfit for Alice for that show. It was bell bottoms with a one sleeved top in a shiny, metallic dark striped fabric. I actually still have some of the fabric. We decided on lamé and sparkles, and whenever we could afford to buy fabric, I would make things. PB: Were any of the band members prickly about wearing these original designs? CSD: No, no, not really. You get to know the personalities and what they're comfortable in and everybody had a different shape. Mike Bruce was stocky, he was a football player (American football), so obviously you can't put him in the same thing that you put Neal in, because Neal was like Veruschka and he pretty much, would wear anything that I would make him. I've always designed for Neal, on and off stage. There weren't any issues. All of the guys were really easy to dress and very open-minded and later on, when we had theme albums, I would just show them sketches and ideas and they would pick what they wanted. After I had made it, if they needed an arm cut off, or a slit here or there, I'd alter it. I got to know what each guy was comfortable in. Bless their hearts, jumpsuits, of all things, are not easy to wear (Laughs) but at that time, nobody was really doing sparkly jumpsuits. PB: I saw an early photo of those jumpsuits, which were way ahead of their time. Did you notice an emotional transformation after the guys started wearing your designs? CSD: It was more uniform. It was a group look, as opposed to a more eclectic look. Maybe one guy would wear a scarf or a group of bracelets, they'd add their own little touches but they had a more uniform look. They've always been amazing guys, amazing musicians and artists and really open to pretty much wearing anything. I didn't see any huge transformation, except that, when they would walk in anywhere together, even at an airport, they had such style. They made an entrance. I always think about that. PB: Were other acts heavily influenced by the image? CSD: I'm sure. First of all... it was L.A.!, when the band played at the Hollywood Bowl, Elton John was just flipping out over their costumes and how much he loved them and this was before he went glam. To even think that I might have inspired him to go glam is such a compliment. David Bowie really hadn't done anything like that yet in England and even he was inspired by their look, so that's pretty cool. I didn't think of myself as a designer, I was just part of the team. Do you know what I mean? PB: I'm getting a good idea. CSD: I knew how to sew. I have sewn since I was ten and I knew how to pull things together. PB: Would you have received more acclaim at a later time? CSD: Definitely. Because, first of all, there would have been more information, now, with technology, somebody does something and it's out there in minutes but my point wasn't to become famous. My point was to become part of the team, part of the family. We all had a vision and I was there to help as much as I could with that. I didn't have the desire to be onstage. I'm not a stage person. I'm a backstage person, I like helping to make the production happen. I was forced to perform sometimes, like being the first nurse (Cindy Smith Dunaway is referring to her early role during the performance of the song, 'The Ballad of Dwight Fry,' 'Love it to Death', 1971, when, dressed as a nurse in a scene with Alice Cooper, she fastened him into a straitjacket and was mean to him until he escaped and strangled her, hence the execution). I wasn't comfortable at all (Laughs) and if you see the pictures, you'll see that. Again, I did it because somebody had to do it. Now Sheryl Cooper is just amazing; with the job she does on stage. (Sheryl Cooper performed in the Alice Cooper show from 1975-1982, and then their daughter Calico Cooper took over the role, and in recent years Sheryl is back). PB: Who are your favourite designers? Now and then. CSD: Edith Head, of course. Coco Chanel, Orry Kelly, all of the designers from Hollywood's "Golden Era". I loved Alexander McQueen, his designs were mind boggling. John Galliano is amazing, I love anyone who is a free thinker and goes outside of the box. Even Chanel is getting crazier, thanks to Karl Lagerfeld but I still love Coco and what she did for fashion. She was a forerunner in so much and her story is pretty amazing. There are a lot of really cool designers out there now, as far as costumes. There's Nudie Cohn, who did all of the spectacular, sparkly cowboy suits. He's amazing! As far as inspiration, I get inspiration from looking at a chandelier, or this carpet. I keep staring at this carpet because it's amazing, the colours and pattern. I'm a super visual person, so I get inspiration from a lot of different things. PB; When did you first discover you were a visual person? CSD: When I started sewing, pretty much. I was in 4H ( a global network of youth organizations whose mission is "engaging youth to reach their fullest potential while advancing the field of youth development") because we had a single mom so I lived on my aunt and uncle's farm during the summer in Ohio. My aunt was an amazing seamstress, so she taught me the right way. If it wasn't right, I had to rip it out and do it again, which I'm really thankful for. Sewing gave me the freedom to create—I had a lot of hand-me-downs as a little girl, so when I started making my own clothes and clothes for my dolls, it gave me the freedom to express and challenge my art with endless possibilities. I always came up with my own style. PB: If your house were on fire, and you had to quickly grab three items? CSD: My husband and our two dogs. PB: Accessories? CSD: I'd probably grab the trunk full of Alice Cooper costumes and photographs of our family. As far as me, I can sew. I love fashion. I love clothes but there is nothing that I couldn't make—that's probably not a very exciting answer! There's one vintage velvet coat that I have that I love wearing, it's really cool, it has lots of beading at the bottom, I'd grab that. I have some beautiful handmade pieces of jewellery I would take but I'm literally thinking about the reality of how much I could physically carry out the door. That's a tough one. PB: Do you prefer glittery belts and bangles, scarves or feathers? CSD: I don't wear feathers or belts but I love sparkly bracelets and love to layer with scarves, which are usually sparkly. I love mixing textures that are visually stimulating. I'm very texture driven. PB: I saw a beautiful photo of you dressed in a Great Gatsby costume? CSD: That was our wedding day. We got married a year and a day after Neal did. Neal had a big, Great Gatsby themed, anniversary party. I love that era. We didn't tell anybody that we were getting married that day; we announced it at the party. I copied Daisy Buchanan's hat from the movie and found the beautiful, vintage bias cut gown with rhinestones cascading down the back, in a thrift store. I made a white linen 3-piece suit for Dennis, he looked dashing! PB: imagine you could live in any other era… CSD: I'm going to say the 1920's and 1930's because it was glamorous, or maybe the 30's and 40's. Those eras were all pretty glamorous and sparkly. There was some glam there, lots of glam! In the movie, 'The Women', I love the scene in the ladies' room, with them all powdering their noses, each wearing a magnificent gown! It would be so much fun if people dressed like that again, with such elegance and style. I also loved Mod, the clothes of the 60's. PB: I spoke to a woman who described her youth like this: "When men still wore hats…" CSD: But I think they still do. I have my grandpa's fedora. I've seen a lot of guys wearing hats, and I know plenty of women who wear all kinds of hats. I'm not a hat person but I make what I call "celebration crowns." They're elaborate tiaras, or crowns, made from objects I've collected; vintage jewellery, flowers, fabrics and of course plenty of glitter. We used to sell them in our store but now I basically make them for gifts. PB: How did you get involved in Manic Panic? (Sisters Tish and Snooky Bellomo were backing singers for Blondie and performed at Max's Kansas City, CBGB's and other popular clubs. They opened the first punk rock boutique in New York City in 1977.) CSD: I work for Tish and Snooky, who are my very dear friends but we didn't know each other back in the day. Dennis and I were touring a lot so we didn't really catch much of the CBGB's scene. Later on, we were at Studio 54 (Laughs). I met them at a convention called Chiller Theatre in New Jersey. My daughters used Manic Panic all through high school and I have to say that my daughters loved it. Dennis was signing autographs at the show and Manic Panic was right across from us in the same room. We clicked! It was like kindred spirits. Tish and Snooky were leaving the very next day for Japan for a business trip. We stayed in touch and then started hanging out. In the 90's Dennis and I had a store called Moon Hollow, and when we closed in 2008, Tish and Snooky were our only friends that helped us pack everything up. They had firsthand experience at moving a business. They asked me to make little Tish and Snooky character dolls of them. It was such a fun project. I went into Manic Panic headquarters and worked on them in the warehouse. I love to express myself and that just gave me another avenue. We started wining and dining together a lot, and eventually they asked if I would like to work there. Of course I answered yes! PB: How far along are you in the process of writing a book? CSD: It's gone through a number of different stages and phases as far as how we're going to present it. Originally the thought was to have a coffee table book of costumes but to me, there's so much more to my story than just that. So now it's going to be a combination of beautiful photographs that our friend from France, Patrick (Brzezinski) - who is an amazing photographer - has taken. He used a high-resolution camera with a giant lens. The photographs are so clear that you can zoom in until it feels like you're inside a sequin. It's amazing. You can see every little thread. That's a true insight to my world. It's funny. I met this woman last night who does rodeo clothes. She works basically in leather but with lots of crystals and so on and I asked her if she appliqués everything on by machine. She said, no, we don't have to anymore because if you appliqué, it wrinkles the fabric or even the leather. I asked, how do you stick your crystal"? ' She said, "Glue". I said, "I do, too". Well, that's now but on the Alice Cooper costumes, every single rhinestone is hand stamped with a metal backing through the fabric. I know because I stamped every single one. I look at them now and wonder how I did it. It was with a lot of patience and love. My story will be a brand new take. Dennis knows so many details about the music side. My book will be more of a personal view of what living and creating with the Alice Cooper group was like and what we went through during those highly creative times. I had a really unique situation. My take was different because my brother was in the band and the love of my life was in the band but there are things you have to go through that aren't sometimes pleasant. The thing about Dennis and I is that we talk about everything. I think that's why our relationship is so successful; a lot of love and a good sense of humour too. So basically it's going to be a combination of the costumes, and I have letters that I've written to one of my best friends that tell things that happened along the way, as well as the diaries I kept. It will be more like a scrapbook, though I hate to use that term, my story from the inside-out. If I just did a costume book, it would limit the audience or the readers. So many people are interested in what it was like, being the girlfriend or wife of a famous musician and to be part of the process that was going on, so I want to touch on all of that and a little bit of what made me the kind of person that I am. The other difference between my book and any other costume book is that we did a whole show on a shoestring budget. The Alice Cooper show was more spectacular than anything that any rock group had ever done at that time. And it was all done with very little besides collective creative will power in the very beginning. PB: Do you enjoy talking about this subject now? Do you get asked a lot of the same questions? CSD: I actually have done very few interviews, which has been my choice because I'm a very private person and I also felt that the guys were the stars and I didn't need to be out there. I wasn't that kind of a girlfriend. That's why there are very few photographs of Dennis and me out there from back in the day. We talked about that and I did not need to be in the limelight. That wasn't important to me and also, I talked about the public's view from a business perspective. I knew there were girls out there who were going to have huge crushes on the guys and those girls were record buyers. (Laughs) The night that they were inducted into the Rock and Roll Hall of Fame (2011), Den laid a kiss on me on camera. I said, "Do you realize that that is the first time that you have ever kissed me in public"? He said, "It is not"! and I said, "No, never a good one like that". We didn't need to be all over each other in public, it wasn't our style. I want people to know why that is. I feel blessed to have such a wonderful relationship and hopefully I can share what makes it work for us. PB: Were you responsible for any of the costuming last night? CSD: Just Dennis. When Alice came out with that gold, glitter suit, I was so happy. You have no idea! I was like, finally... finally! It looked amazing. I asked all the guys what they were going to wear. I asked Neal. He never responded. Mike Bruce didn't respond to me either. The day of the show I discussed it with Mike's wife, Lynette, and said Dennis will always have sparkle because he's comfortable in it, even his Billion Dollar Bass sparkles. We have sparkle all over our house. PB: Which players would form the perfect band? CSD: Pete Townshend, definitely. Dennis would definitely be in there. Neal, if he would do it. Can they be dead or alive? PB: Either or. CSD: It's all guitar players. There are too many good musicians out there and I don't think Neal would do it… oh wait, yes, he would, if Pete Townshend were in. Definitely Dennis on bass, definitely Pete Townshend. I love Tom Morello. I think he's a genius, but I don't know that he's a melodic player. He gets sounds out of a guitar that are not natural. I think he's an alien, actually. Maybe David Gilmore on guitar as well? As far as a singer? Alice? I'm pretty happy with the original Alice Cooper group. I'm really happy with that. If I were going to make a super group, I would really have to give this some thought. There are so many amazing musicians and the singer is probably the hardest to choose. Someone asked me about my favourite guitar player and I said, Stevie Ray Vaughan. I love him and I never knew that much about him but I saw a documentary and I loved the way he played. I would definitely throw Tish and Snooky in there as backup singers. PB: What do you wish for your daughters? CSD: I want them to be healthy and happy. I always told them; just know that you can put your own roof over your head. Do something that you love and just be a good person. They are amazing young women. We are so proud—I'm going to start crying. We are so proud of our kids. We waited eight years after we were married to have them. At the point when we hardly had any money, we decided to have a family. Previously, I never wanted to have kids because I thought it was more important for Dennis and I to be on the road together and I didn't want to have to drag kids along. Not that I'm opposed to it but for us, we waited. It was a crazy time but it was the perfect time for us. So yes, I want them to be happy and healthy, that's all, and experience wonderful things in life and give back, to be proud of who they are. Renee and Chelsea are really good people, they are such gifts. They're givers, they're kind, and they have a great sense of humour but look where they came from! PB: Thank you. The photographs that accompany this article are credited as follows; 1. Alice Cooper band, Beat Club, Bremen, Germany, Nov. '72, by Cindy Smith Dunaway. 2. Alice Cooper band, Canary Islands, Dec. '72 by Cindy Smith Dunaway. 4. Neal Smith, Lund, Sweden, Nov. '72 by Anders Mossberg 4. Dennis Dunaway and Glen Buxton, Lund, Sweden, Nov. '72 by Anders Mossberg. 5. Cindy Smith Dunaway, Rock and Roll Hall of Fame, Cleveland 2015 by Kendall Brenton. 6. Cindy Smith Dunaway, Rock and Roll Hall of Fame, Cleveland 2015 by Kendall Brenton. Lisa Torem would especially like to thank Paul Brenton, Dennis Dunaway and Philamonjaro for their assistance with the Cindy Smith Dunaway interview
Band Links:-
http://www.alicecooper.com/
https://www.facebook.com/AliceCooper/
https://twitter.com/realalicecooper
http://www.dennisdunaway.com/
https://www.facebook.com/dunawaysrock
Picture Gallery:-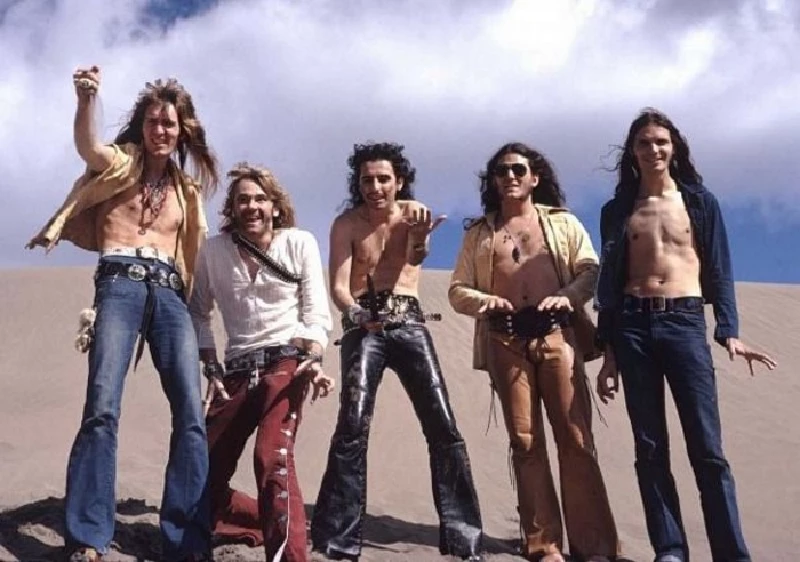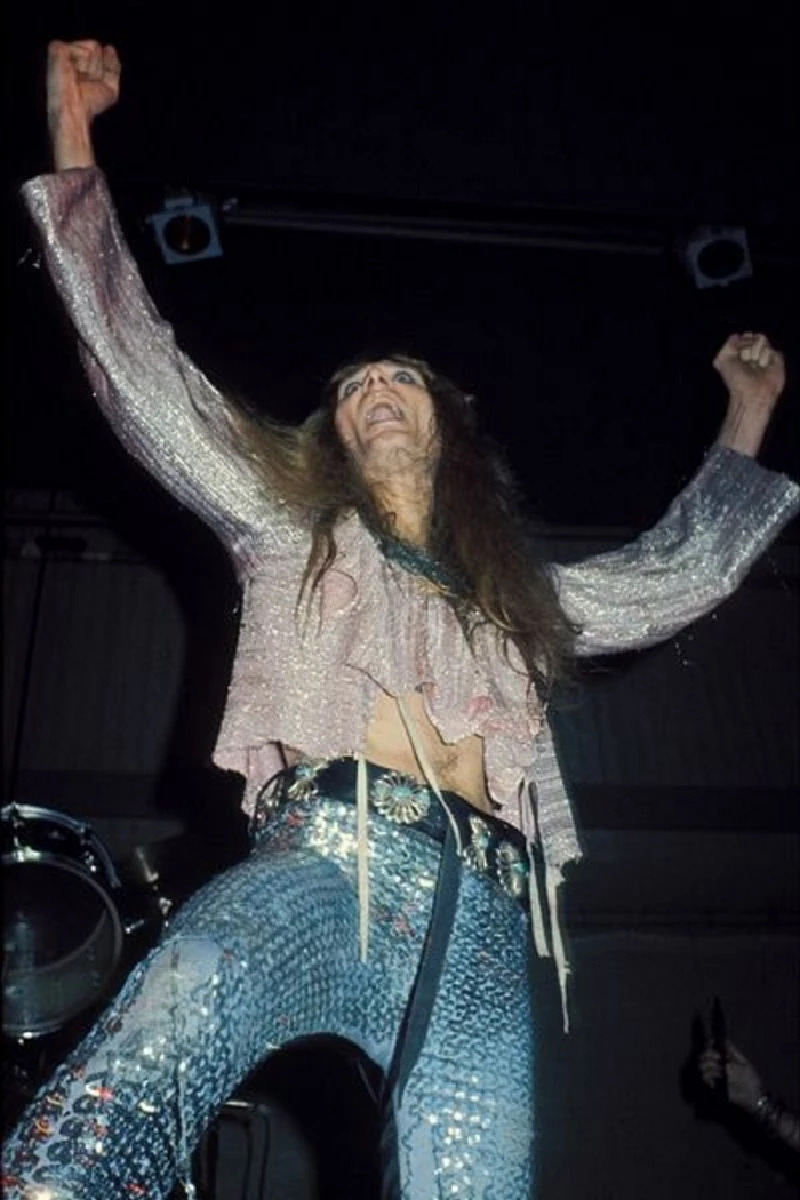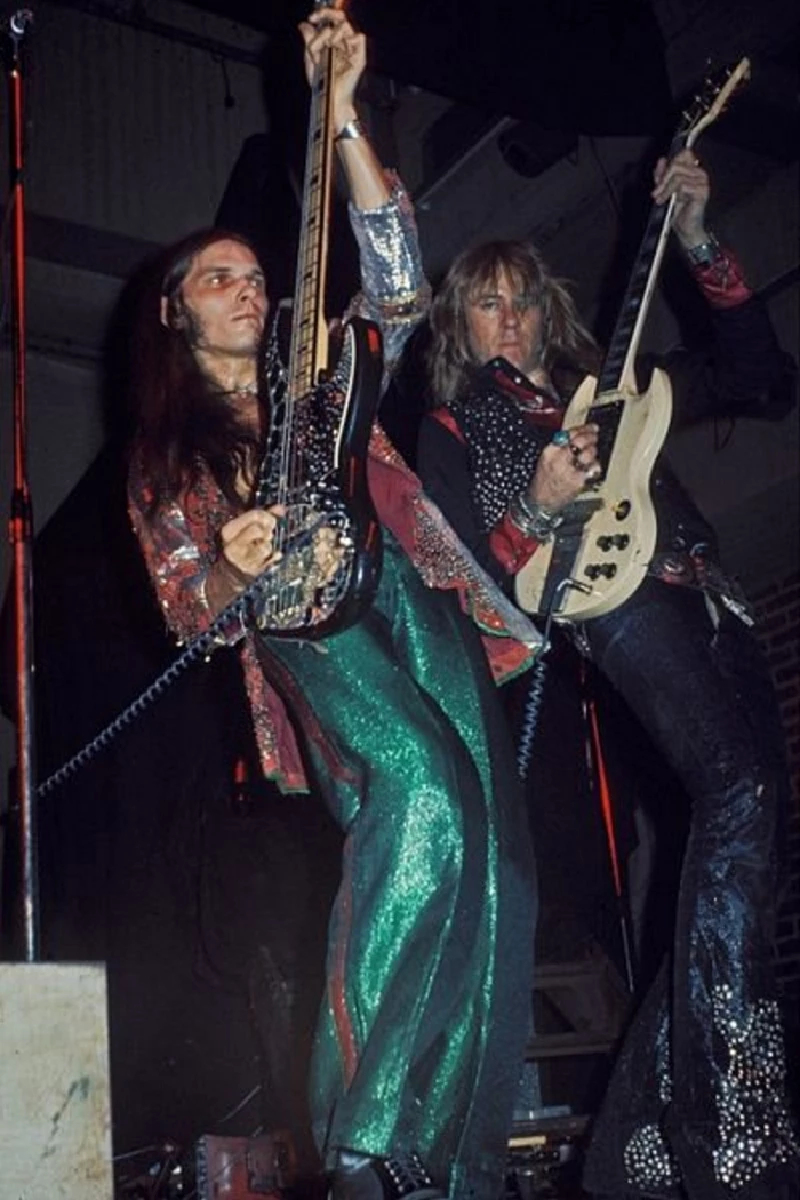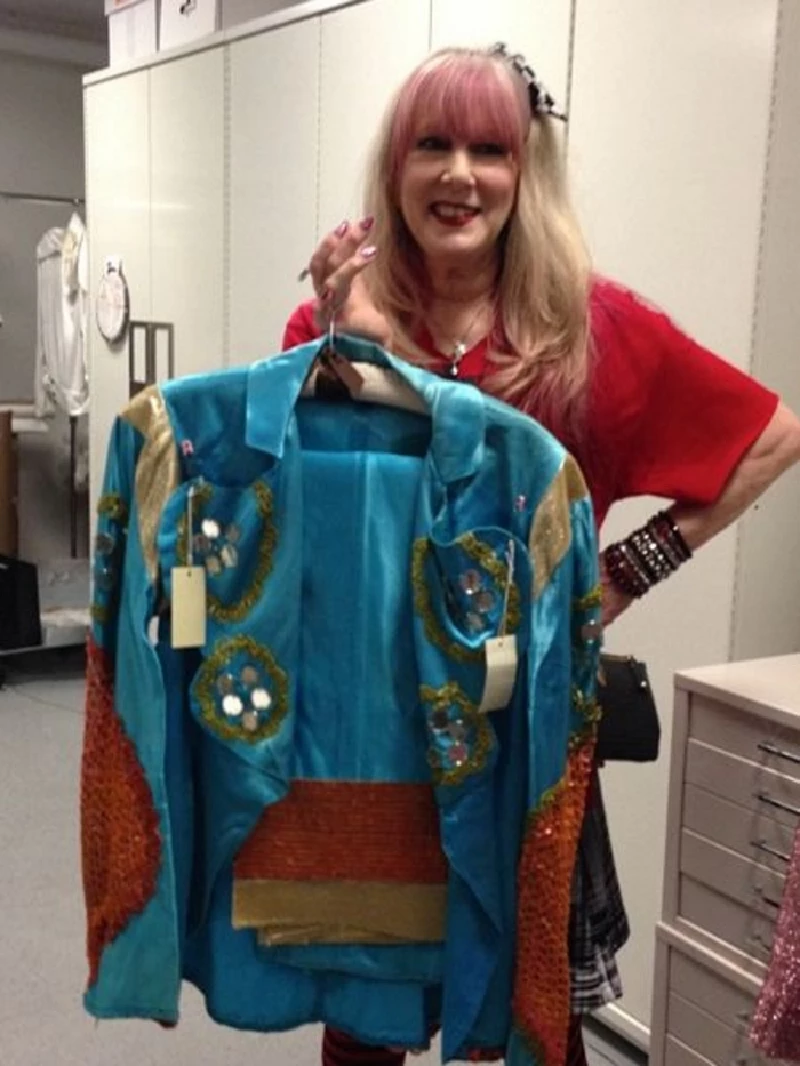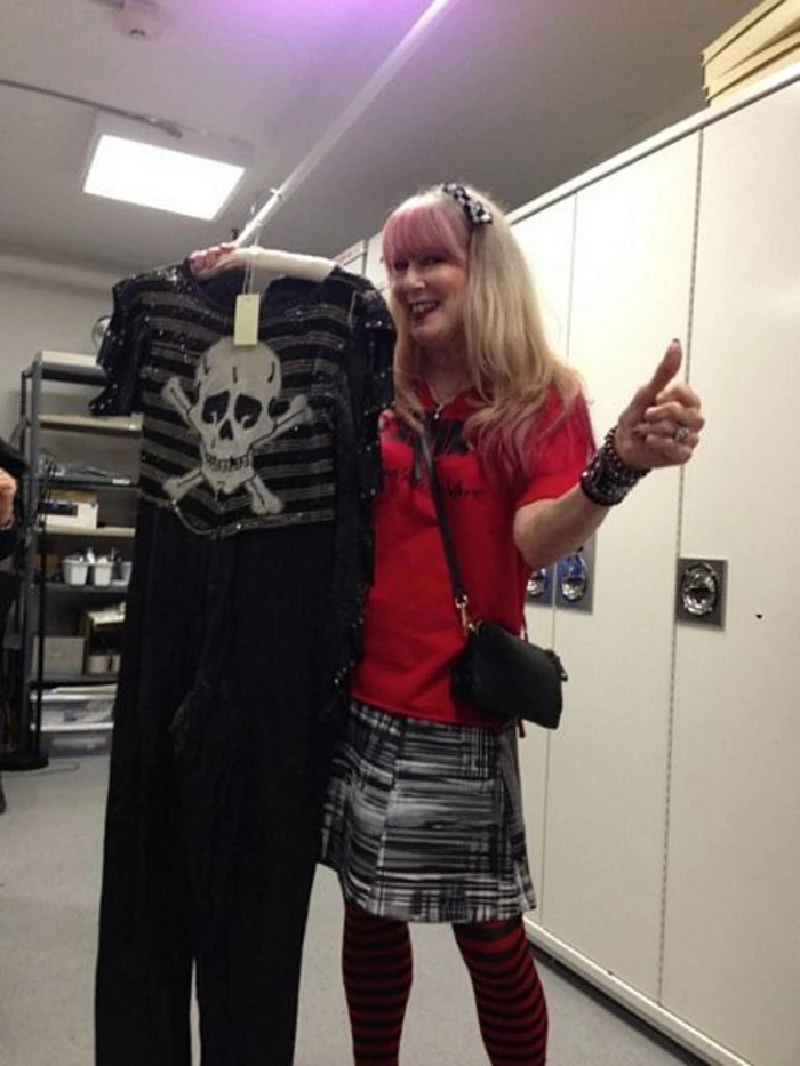 Visitor Comments:-
855

Posted By: Suzanne Prieur, Clearwater, Florida on 24 Dec 2017
I met Cindy when I was 15 years old & was close to her through much of high school. Her description of her relationship to the band parallels her those with her teen-age friends-thoughtful & always encouraging. Highly creative, that girl could sew!
---
837

Posted By: Dwight McCain , Atlanta, Georgia on 02 Jul 2017
Fantastic article. I met Cindy for the first time this last May, the day after the Alice Cooper Group reunion concert in Nashville. She is extremely nice and witty. It was a joy to finally shake hands with the creative genius that decorated music history.
---
836

Posted By: Steven Crayn , England on 01 Jul 2017
Those outfits Cindy created were the bomb, when the coolest looking band on the planet burst onto my TV screen on Top of the Pops in 1972 School was Out, I wanted to look like that when i grew up. The 70s was the greatest decade for music and fashion, and the Alice Cooper group were top of the World in terms of image and music, I Loved It to Death!
---
834

Posted By: Scott F. Feighner, Houston, TX on 01 Jul 2017
Good interview with a rarely heard from insider.
---
833

Posted By: Dauwe Steven, Ghent ,Belgium on 01 Jul 2017
I wait for the book and Great interview Thanks
---
832

Posted By: Paul Brenton, Ottawa, Canada on 01 Jul 2017
Congratulations Penny Black Music on acknowledging the founder and lead designer of the glam rock aesthetic and couture. "And I laughed to myself at the men and the ladies... who never conceived of those billion dollar babies... la da da dada!"
---
Pennyblackmusic Regular Contributors
---