---
Armstrong
-

Fragments and Curiosities: The 4 Track Sessions
published: 18 / 7 / 2017
---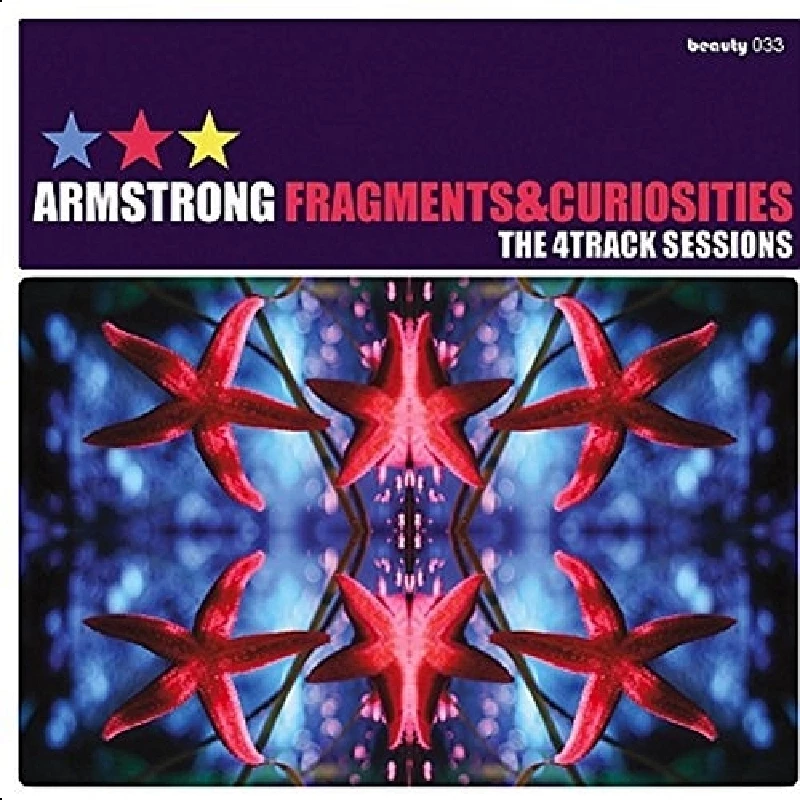 intro
Uneven but enjoyable compilation of B-sides and other obscurities from pastoral Welsh folk act Armstrong
The pastoral folk of Welsh band Armstrong is as enigmatic as it is sincere. Out of each whispered truth comes great meaning; either this, or an ever more troubled puzzle. Among the more elusive bands in Europe, the release of their collection, 'Fragments & Curiosities' does as much to deepen their riddle in their body of work as reveal answers. After the release of two acclaimed records ('Under Blue Skies' and 'Songs About Weather) comes this collection of fifteen melodic tracks made from cast off acoustic oddities, demos and instrumentals (and in another instance, a Live Rehearsal Recording, the likes of which I've never heard before). For the most part, similar to most other similarly sourced song collections, these tracks are culled from the recording sessions for those two records, a lot of material rescued as they say, off of the cutting room floor. Singer-songwriter Julian Pitts, the sometimes sullen, sometimes sunny orb around which the Armstrong universe rotates only spins heartfelt yarns. Each of these tracks drive down to core emotion, whether that be love and regret ('Pilgrim Heart' and 'Apathy Took Me") or political fortitude ('My Resistance') or the doe-eyed wonders of it all ('Crazy World"), Pitts brings the listener quickly into his world view, one that always feels to me as though it's through a foggy, rain spattered windshield. As a collector of melancholy things, Pitt's broken heart finds a space in my curio. Among the prominent comparisons that Armstrong draws is to XTC, but those similarities are, in my eye, a reach. The band simply doesn't offer the same range of psychedelic sound, depth of influence, or sheer wit as their forefathers did. Perhaps that connection comes through an association to the pastoral folk term, but that is a flimsy connection, at best. If anything, these fifteen tracks feel like cutting room material from 'Nonesuch' sessions (what was arguably XTC's least inventive album) with less of the polish, and absent all of the instrumental grandeur that garnered it a Grammy nomination. Ultimately, looking at this on its own merits, I come back to this impression: a cutting room or remix collection is always an uneven listen, and further, serves as an even more unsatisfying introduction to any band. If 'Mixed Up' had been my entre to the Cure, I would have likely never dedicated 'Love Song' to my high school girlfriend. An album like 'Fragments & Curiosities' dwells in the space of uneasy reference. Don't delve here unless you've avowed yourself of the merits of the larger albums. Those your bailiwick? This will do the trick.
Track Listing:-
1
My Resistance
2
Pilgrim Heart
3
Break It in Two (Acoustic)
4
When We Gonna Think About Life?
5
No Time to Waste
6
Rainfall (Instrumental)
7
Hard Luck Feeling
8
Can't Be Bought
9
Crazy World
10
Picture of the Bay
11
Rainfall
12
Summer's Come Around
13
Sometimes I Wish I Could Drive
14
Apathy Took Me
15
I'll Never Lie
Band Links:-
https://armstrongwales.bandcamp.com/
Label Links:-
http://thebeautifulmusic.com/
https://twitter.com/WallyTBM
https://www.facebook.com/The-Beautiful-Music-495348020570057/
Pennyblackmusic Regular Contributors
---