---
published: 30 / 4 / 2012
---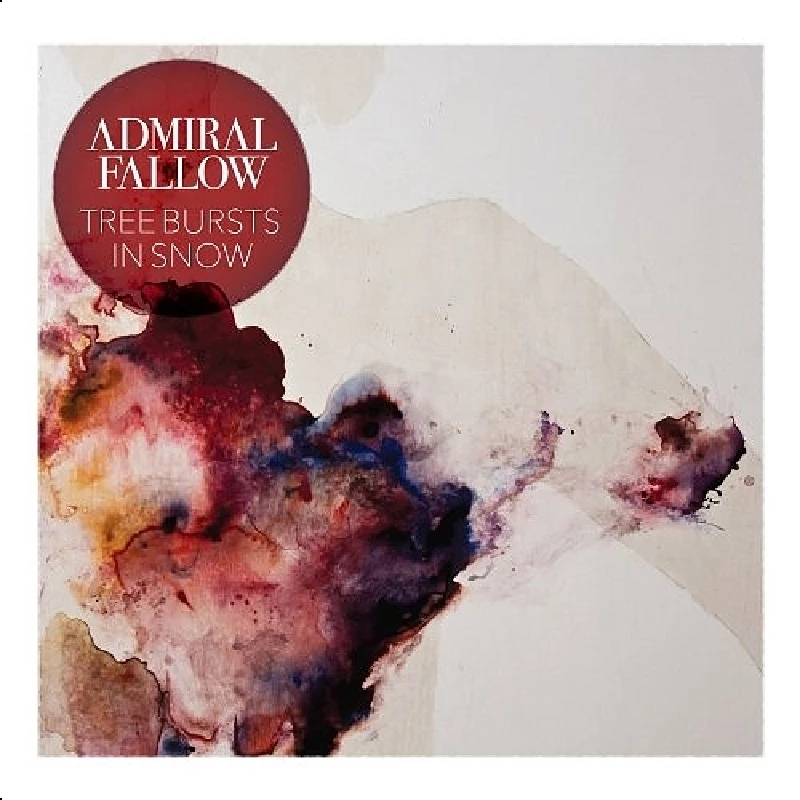 intro
Innovative amd optimistic nu-folk on second album from much acclaimed Glaswegian group, Admiral Fallow
It's been quite a year for Glasgow-based Admiral Fallow. Their track, 'Squealing Pigs', was aired to an estimated 113 million when it was shown during the advertisements for this year's Superbowl. The track was also used in NBC's 'Chuck' and has received considerable airplay, particularly in North America. Other highlights of the past year include an opening slot for Snow Patrol and a performance on the BBC Hogmanay Live show. Produced by Franz Ferdinand, Teenage Fanclub and Mogwai producer Paul Savage, this, the group's second album comes two years after their critically-acclaimed debut,' Boots Met My Face'. Carrying forward the intensity of their first outing, 'Tree Bursts in Snow' is a full-blooded slice of Caledonian nu-folk. Taking the Scottish influences of groups like Runrig and Big Country and blending them with Bon Iver and John Grant, the band's sound is at once charmingly parochial and intelligently universal. The album opens with 'Tree Bursts', a pared down duet between lead singer Louis Abbott and Sarah Hayes. The track features a strident vocal call from Abbott, which finds a gentle counterpoint in Hayes' lilting answers. The track builds to an energetic climax, reminiscent of Elbow or even, musically, Sigur Ros. Second track, 'The Paper Trench', is a balls-out rocker, with a particularly well-executed double-tracked vocal – Abbott's vocal harmonies are lifted straight from traditional folk. The stand out track for me is 'Beetle in the Box'. While it is musically more contemporary than other tracks on the album, this contrasts well with a vocal duet between Abbott and Hayes whose harmonies are superbly arranged. The slower pace of 'Old Fools' perhaps illustrate the band's gift for melody which is easily overlooked amongst the energetic production of the remainder of the album. That is not to say, however, that the album is in any way lacking in melody – each of the tracks has its own distinct and well-crafted tune. Images of war prevail throughout the album, but they are filtered through a lens of optimism. Nowhere is this more apparent than on the wonderful 'Isn't This World Enough'. Lyrically simplistic yet never naïve, I can imagine the song becoming the band's sing-along anthem – it seems made to close a set at summer festivals the world over. Upon my first listen, I have to say that I didn't really enjoy 'Tree Bursts in the Snow'. However, after a second and third listen I found a great deal to like, even love, about the band, their philosophy of optimism and, in particular, the album as a whole. I particularly enjoyed the fusion of old and new, the blend of traditional folk forms and modern song-writing. I can see myself coming back to this album time and again. It's an infectious affair, filled with great songs, great sentiments and plain and simple great music. You can't really ask for more than that.
Track Listing:-
1
Tree Bursts
2
The Paper Trench
3
Guest Of The Government
4
Beetle In The Box
5
Old Fools
6
Isn't This World Enough?
7
Brother
8
The Way You Were Raised
9
Burn
10
Oh, Oscar
Band Links:-
https://www.facebook.com/AdmiralFallow
https://twitter.com/AdmiralFallow
https://www.youtube.com/user/AdmiralFallow
https://plus.google.com/113145578662727810840
https://www.instagram.com/admiral_fallow/
Label Links:-
http://www.nettwerk.com/
https://www.facebook.com/nettwerkmusicgroup
https://twitter.com/Nettwerkmusic
https://www.youtube.com/user/NettwerkMusic
https://instagram.com/nettwerkmusic/
Pennyblackmusic Regular Contributors
---