---
Fire Engines
-

Interview with Davy Henderson
published: 13 / 3 / 2012
---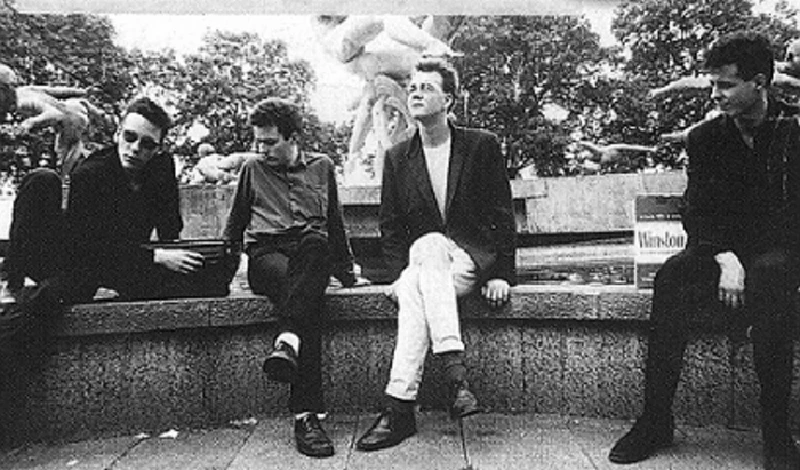 intro
Jon Rogers talks Davy Henderson from Edinburgh-based post-punks the Fire Engines about his group's brief, but influential history
Along with up and coming post-punk bands like Orange Juice, the Scars and Josef K, the Fire Engines were part of a burgeoning Scottish music scene that erupted in the late 1970s and early 1980s that was epitomised by the releases on Postcard Records. Although while the likes of Orange Juice are still fondly remembered, the quartet from Edinburgh that made up the Fire Engines are perhaps the most neglected despite being the most important and forward-thinking. The band was formed in 1979 and comprised David (Davy) Henderson, (vocals and guitar); Murray Slade (also on guitar); Russell Burn (drums) and Graham Main (bass). The group had formed out of the Dirty Reds, who had the screen and theatre actor Tam Dean Burn in its ranks. This band seems to have now been etched into Scottish rock mythology and, according to Henderson, had a "bad reputation around Edinburgh", perceived as "beat-up fucks" but in reality Henderson saw themselves as going through an "experimental phase" under the influence of Beat writers like William Burroughs and Jack Kerouac. Burn left to pursue his acting career and Slade, previously in a band called Station Six, joined up with the band becoming the Fire Engines, the name taken from a 13th Floor Elevators song. The band would take more than just the name of the song but stylistically, they were inspired by the wails and thundering rhythm on the original late 60's recording. Unlike other Scottish bands like Aztec Camera and the Associates who were exploring the possibilities of the newly fashionable synthesizer, the Fire Engines seemed to have more in common with the harsh, discordant anti-rock sounds that had been coming out of New York and the no wave scene, especially James Chance's the Contortions and Teenage Jesus and the Jerks. "We wanted to be like James White [aka Chance]; super-sparse. We played to our strengths, which were minimal." Although, talking to Pennyblackmusic, Henderson is keen to dispel the impression that the band was, largely, influenced by American acts. "We were into loads of stuff from everywhere," Henderson says. "The James Chance thing, some of it seemed to me - i.e. somebody who could not play but liked wearing guitars - easy to play and intentionally simplistic, which imbued it with primitive power. Some of Captain Beefheart's stuff is also like that." Similar to these bands, Henderson and the others had initially been inspired by the spark ignited by punk, but had wanted to take the music into more adventurous areas. The band took inspiration from a host of home-grown influences, a list he is more than happy to reel off: "Clermiston Woods, Will Hay, Moore Marriot, Graham Moffat, Bernard Youens, Geoffrey Hughes, Billy Daintie, Angus Groovy, Karl Denver, MetroPak, tThe Scars, TV Art, 'Time's Up' bootleg by the Buzzcocks, 'Dragnet' by the Fall, 'We are All Prostitutes' by the Pop Group, the Prefects, ATV, the Slits, the Subway Sect, Murray Melvin, the art college film club, 'The Loneliness of the Long Distance Runner', second-hand clothes, Larry's Lunchette, the Fast Product flat, London in 'Repulsion', carbolic soap, Salisbury Crags, the Scott Monument, early morning Edinburgh, Future Legend..." While it's easy to draw parallels with the Fire Engines and James Chance, another early influence was the more unlikely James Brown. "Around that time we stayed in Rodney St in Edinburgh, in a basement flat that had a drying green at the back. There was a 24 hour café across the street and an ABC Ritz picture house next door. The only way into the flat was through the bedroom window though it was possible to exit via the front door... There was always records on in that space and 'No New York' was a pretty popular album, especially the Contortions tracks. Also James Brown 'Live at the Apollo' from 1964 we were in awe of, we could never dream of emulating anything approaching the Famous Flames but we heard and saw the symmetry in James Chance, creating his own negative of it in James White & The Blacks. They were funny and electrifying... I remember when 'Get Up and Use Me' popped up as a title to me it was always pretty James Brown... when my mother heard the single she said. "David, you sound like the devil"... the best review I've ever had." And while the band's gigs were perhaps not quite as confrontational as watching James Chance, they were, by all accounts, frenzied affairs. Short. Sharp. Shocks. Usually lasting no more than 15 minutes, at best. "What's the point in getting the audience bored?," asked a rhetorical Henderson in the 'NME'. "Where's the value there? Is it the amount of time you're on or the amount of excitement you get out of it?" Henderson, expands on that for Pennyblack: "There was incitement and a confrontational energy surrounding the Dirty Reds. There always seemed to be a lot of agitation. There was a lot of loose adrenaline shooting around at our performances, guitars getting broken at YMCA's, self-mutilation, metallic knock-out." Despite the rather obvious differences in style .the band once supported the then rather young U2 with Henderson recollecting that during the soundcheck, Bono, the U2 singer, cracked out 'Ave Maria'. Henderson's one word comment is "plank". In one way the band's hyper, jittery music was the antithesis of Brian Eno's concept of 'ambient' music, merely there as background music - or even musak - to be playing whilst you did something else more important. Instead the Fire Engines urged the listener to 'Get Up and Use Me' or even 'Insert Yourself'. The listener was urged to be active rather than Eno's passive listener, if they were listening at all. The Fire Engines hit the ground running with their first single, 'Get Up and Use Me' with 'Everything's Roses' on the flip, and put iy out on their own Codex Communications label in late 1980 after recording it in a bungalow in a suburban street in Fife with producer Wilf Smarties, whose only recommendations to the band were to "just keep going". It showed that highly inventive and original ideas were coming out of the Scottish capital. Henderson and Slade traded bursts of spiky, angular and dissonant guitar lines that writhed about as if in agony while the lyrics told a tale of unhealthy obsession - in abrupt, sharp outbursts. "It was a Saturday in 1980," as Henderson recollects. "We recorded our whole set twice and had some pizza. The whole thing cost £45 including the pizza." In just over two minutes the band had simultaneously wrestled back the concept of the guitar riff from bloated and pompous rock acts, but also fired off a warning shot to all those overly-synthesised, overly-produced bands that had started cropping up, like OMD. Not that any typical rock posturing could be found on the record. At the heart of the record was an insistent, nagging, repetitive bass and shrill guitar lines that seemed to be caught in a spasm and throwing out random lightning bolts. Burn's drumming mainly consisted of bouncy snare hits and the 'singing' was really little more than shrieking. Despite a strong backing from the UK music press, most notably the 'NME'. the single could only manage a relatively lowly #9 in the indie charts and never came close to troubling the national chart, let alone the Top 40. There was something of a tug-of-love played out between the two key Scottish indie labels over who was going to get the band. Alan Horne was keen for the group to sign to his Postcard label, which was starting to build a following thanks to his latest signing, Orange Juice. Horne even put them on the same bill as Orange Juice and Josef K in the hope that people would associate the Fire Engines with being a Postcard band. But also interested was Bob Last, who owned Fast Product. Perhaps a key factor in the Fire Engines aligning themselves with the latter was location. Fast Product was based in Edinburgh, while Postcard was situated in Glasgow. According to Simon Reynolds in his book 'Rip it Up and Start Again', the two label entrepreneurs had very different views on how an independent label should operate. Horne, with Postcard, wanted to brake the grip the major labels had on the pop charts whilst Last saw his indie label as merely a stepping stone for a band who would sign to a major at the first opportunity. Last recalled to Hogg that he had "no real idea of what I wanted to do with it" when he'd started the label, not even knowing if he wanted to be involved with music, and all he had was the corporate identity which had been inspired by a mixture of Situationist ideology and the Buzzcocks' debut release 'Spiral Scratch'. The rivalry between the two men was heightened when Last seemingly swiped the Fire Engines right from under Horne's nose. Horne was all set to release a live set by the Fire Engines on his newly formed off-shoot I Wish I Was a Postcard. but Last snatched the band up at the last minute for his own new label Pop Aural. Ironically Last had ditched his original label and started the new one, as he wanted to move in a more commercial direction and see if he could get an act into the charts whilst still remaining independent. "It was principally intended as a response to the fact that what we'd been stirring up at Fast Product had filtered into the mainstream," reflected Last to Hogg. "We needed to get ourselves on the radio." The band eventually signed with Last in 1980 after the band appeared in a theatre production of 'Why Does the Pope Not Come to Glasgow?' The show was part of the Edinburgh Fringe and ran from 18 August to 6 September at Napier College with tickets priced at the princely sum of £1. The production was put on by Theatre PKF, which had been formed by George Byatt, described by Henderson as "an anarcho-syndicalist ex-army officer". The company's productions were a little different from the usual theatre work. "As Henderson explains,. "the productions ere collaboratively directed by members of the company, no hierarchies, all decisions were made through discussion, with individuals being allowed to state their case uninterrupted in the style of the pow-wow established by North American Indians. The discussion method would form the second act of all Theatre PKF's productions with the audience invited to take part." While much has been made of the rivalry between Last and Horne. Henderson claims to have no recollection about the supposed hostility between the two label founders. Henderson sees the decision to go with Pop Aural as a "departure from normality," and anyway he has no recollection of ever being offered to make a record with Postcard. The abrasive style of the band continued on the eight track release 'Lubricate Your Living Room (Background Music for Action People!)', which was a collection eight songs which surfaced in January 1981. The release was a wry comment on consumerist neurosis - initial copies of the record itself came in a plastic carrier bag. And song titles like 'Plastic Gift' and 'New Thing in Cartons' left the listener in little doubt where the quartet's views lay. The record's lo-fi approach, seemingly 'live in the studio', picked up on punk's DIY aesthetic but radicalised that further by rejecting any sort of stale rock notions too. Even today, the band's early songs are still striking and inventive - mostly short, sharp stabs that invariably last less than three minutes. The guitars are as sharp as porcupine spikes, the vocals (when there are some) harsh and abrasive and the drums wonderfully trashy. Not only was the music radical but so was the format they were released on. Apart from the odd shriek or chant it was mostly instrumental - which is hardly going to endear it to the record-buying masses. Similarly, at eight songs it was a bit too short to be a full album, but too long to be a single or even an EP. The 12" record itself played at an LP speed of 33rpm but retailed at the budget price of £2.49. If this was Last's assault on the UK charts, he had a funny way of going about it. As Henderson confirms, the whole idea was Last's, an idea in which the band "happily took part in." While the band would still remain interesting, they wouldn't recapture that initial excitement or brilliance. Up next was the single 'Candyskin' which saw the band move in a more pop direction - there was even a melody (albeit a grating one) that you could, almost, hum too. It also featured six string players, who had been hired by Last and their part had been arranged by Simon Best. And Henderson made a valiant attempt at some 'proper' singing, complete with a strong nasal delivery. Harking back more to their origins was the B-side 'Meat Whiplash'. A frantic burst of energy which pitted some breakneck guitar against a driving drum beat. As Henderson sees it, Last preferred 'Candyskin' while the band liked 'Meat Whiplash' more. 'Candyskin' was played on BBC Radio 1's 'Roundtable', a review show of the latest releases. On that week were the songwriting and production team of Nicky Chinn and Mike Chapman, who won three Ivor Novello awards by the time their partnership split up in 1983, and voted it as the best song that week, but with the worst sound ever. The Fire Engines moved even more into the realms of traditional pop with the follow-up single 'Big Gold Dream' later the same year. It could be seen as, possibly, the band's attempt to gain the commercial success that had eluded them so far. If that was the intention it certainly fell flat, reaching only #15 in the indie charts. There was a large slice of irony to go with it all, not only in the song title but the cover, conjuring up the image of the Beatles' 'butchers' sleeve, it had the band draped in raw meat. Originally the band wanted to get access to the local slaughterhouse for the shoot but they weren't too keen on letting in intruders with cameras and so, as Henderson says: "We bought some steaks from Safeway and a bottle of baby oil and commenced to the Pop Aural living room in Keir Street, Edinburgh followed by a steak dinner at 56 Sciennes." The reference being not to fine dining but to the location of an upmarket clinical psychologist practice. In the 70s and 80s the Sciennes area was known for its student and cheap accommodation. While the title track did the band little favours the song was backed by the much more inventive 'Sympathetic Anaesthetic', an abrasive slab of Joy Division-style bass and shrill, discordant guitars that rumbled along, going nowhere in particular but doing it rather well. It was, as Henderson states, the only song that the band recorded virtually spontaneously. "Slade had his idea intact in his mind, with room for elaboration built-in, [but the song was] made up on the spot. We did two versions, I sat out on the second take as I felt surplus to requirements and the others whipped it out - effortlessly, unprecedented, guitar playing. A new lightning melody connection to nothing that's gone before or since." And that was pretty much it. In an attempt not to grow stale the band just fizzled out after an appearance on BBC2's youth arts review show 'Riverside' - where they shared a dressing room with Alice Cooper. "We never really split up," states Henderson. "We just don't play together anymore. We still love each other." Even for Last, he saw no point in the band carrying on and told them he wasn't going to release any more of their records. He later told Brian Hogg: "I felt that they couldn't go on repeating the same formula; in retrospect it would seem less magical. The gesture had, in fact, been done." Looking back, Last told Reynolds that he saw the band as "a transitional thing because they weren't glossy [...] The Fire Engines were so abrasive you could get away with using a string section without it being kitsch. But after a while, I told them they couldn't go on doing what they were doing, 'cos it'd just be less of the same." Henderson then went on to form Win with Burn, who were managed by Postcard founder Alan Horne, and then Nectarine No. 9. His current band the Sexual Objects debut album, 'Cucumber', came out in 2010, and their second album is due out later this year.
Picture Gallery:-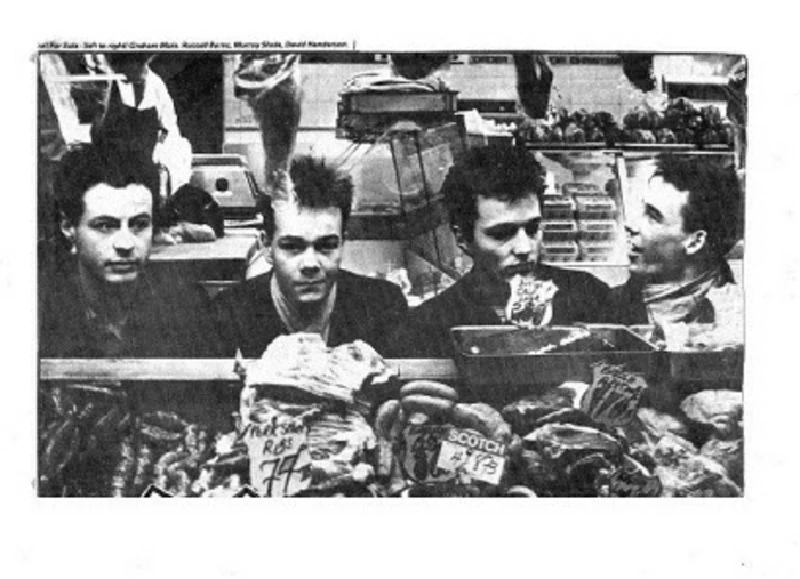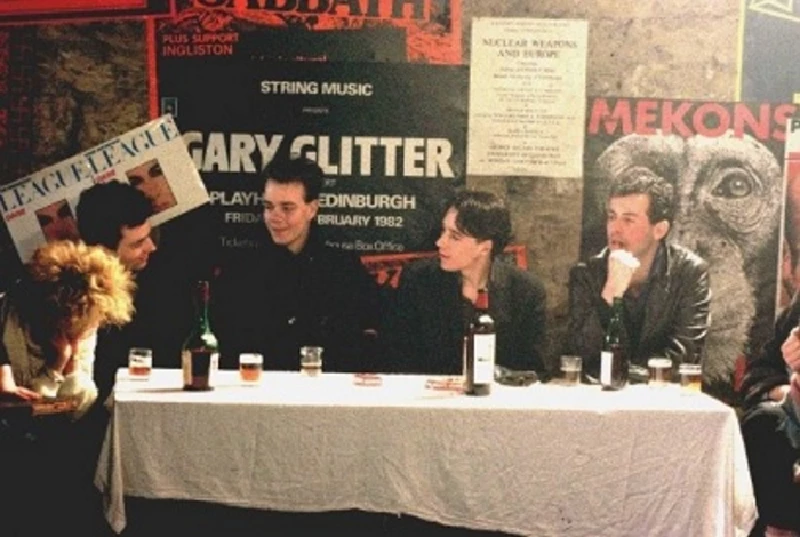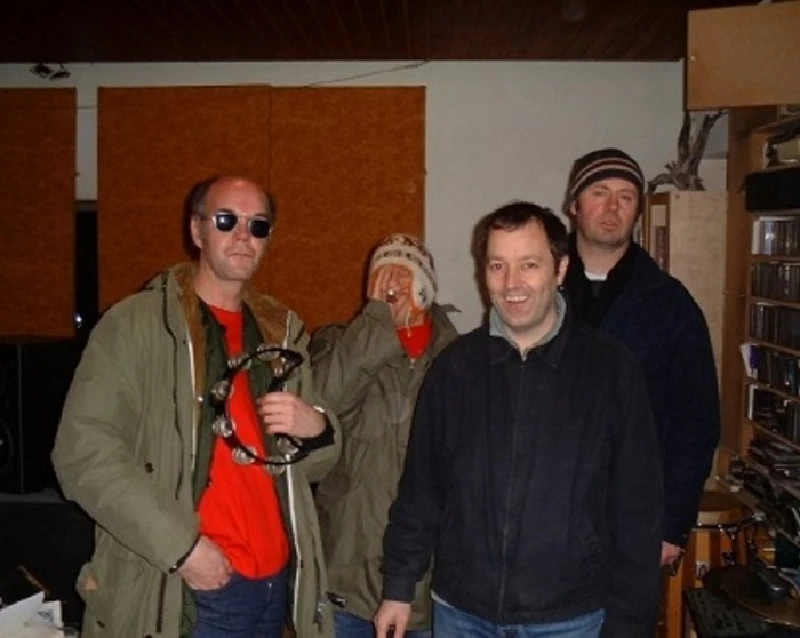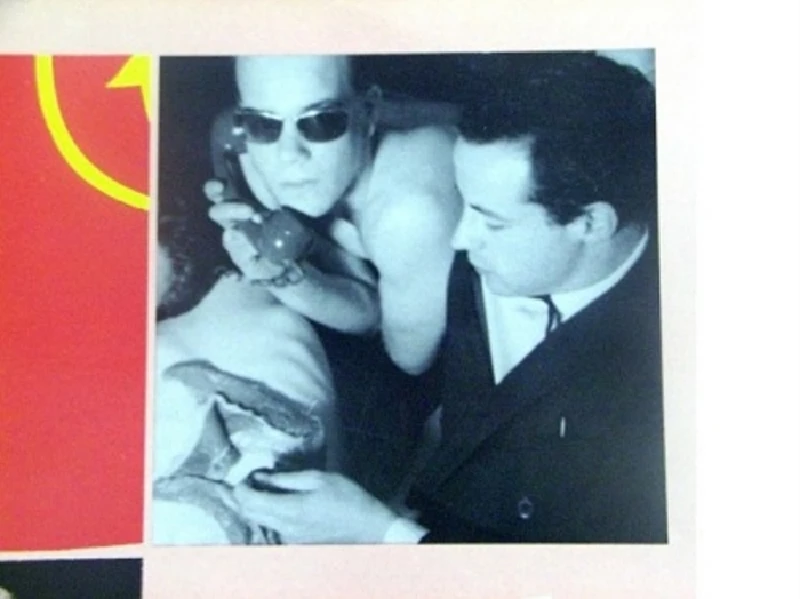 Visitor Comments:-
556

Posted By: suplex, London on 25 Apr 2012
Fire engines and win did loads of records, and they are hardly obscure.
---
552

Posted By: Myshkin, London on 17 Apr 2012
Now, I don't want to make this a personal thing at all, far from it. But what is with this writer? I'm sure he's a nice guy 'n' all and he clearly seems to know his music (which too many music critics nowadays seem to neglect) but does this writer deliberately go out of his way to be deliberately obscure in the bands he writes about. I may not want to hae pieces on this site about the latest pop sensation but lets have some articles by this writer on bands that have actually released more than one single - or barely more than that.
---
Pennyblackmusic Regular Contributors
---