---
Miscellaneous

-

A-An American Prayer
published: 3 / 10 / 2011
---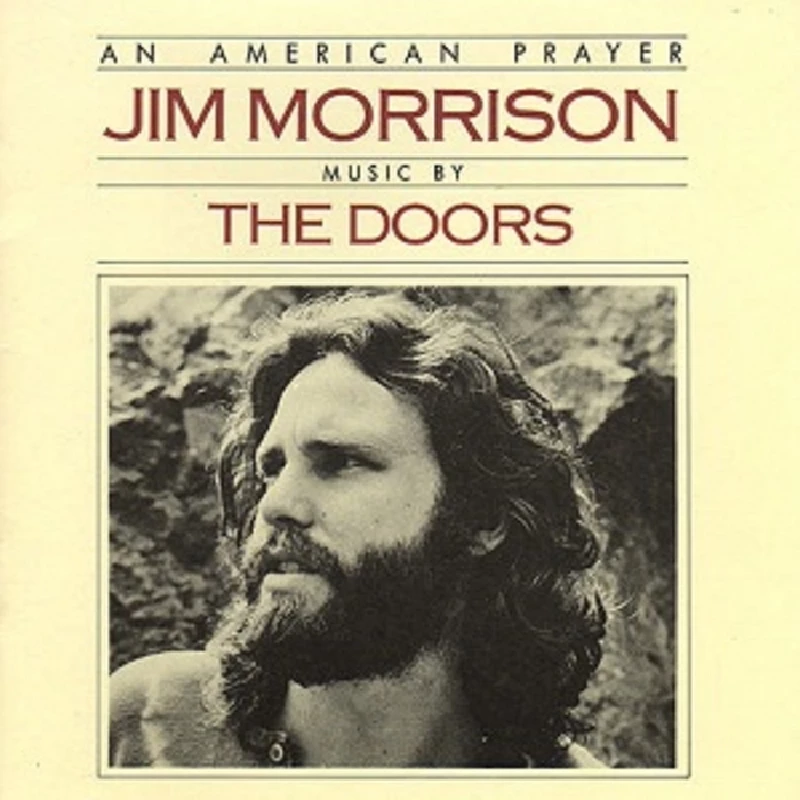 intro
In his new column, Andy Cassidy will be looking alphabetically at a different subject in music each month. He begins with the letter 'A' and the Doors' final album 'An American Prayer', which was recorded in 1978, seven years after Jim Morrison's death
I think it's probably safe to say that by 1978 the Doors were a spent force. Their charismatic frontman and main lyricist Jim Morrison had died seven years earlier in Paris, and the group's efforts without him were a poor reflection of their previous work. Indeed, today, if you were to ask the average music fan how many albums the Doors released, they'd probably name the big six: 'The Doors', 'Strange Days', 'Waiting for the Sun', 'The Soft Parade', 'Morrison Hotel' and 'LA Woman'. Few would mention 'Other Voices' or 'Full Circle'. Few probably own them. Few have probably even heard them. Released six months after 'LA Woman', and a mere three months after Morrison's death, 'Other Voices' was something of a mixed bag. Although recording started before his death, Morrison contributed no vocals to the album, and he provided no material. The album's vocals were handled by keyboard player Ray Manzerak and guitarist Robbie Krieger. Both are competent singers, but neither is up to the standard of Jim Morrison. Lyrically and musically the album lacks maturity and subtlety – 'I'm Horny, I'm Stoned' being one of the more memorable songs, purely for a lyric as banal as the title. Surprisingly, the album fared reasonably well in the charts, peaking at number 34 in the US. The single, 'Tightrope Ride', did less well, reaching a lowly 71. Despite this moderate success, however, the chart performance must have been a disappointment to the Doors and to Elektra executives alike. The remaining three members of the band released one more album as a trio, and yet again it was disappointing artistically and commercially. 'Full Circle', despite some pretty impressive artwork, was, in my view, a terrible record and the single, 'The Mosquito' (lyrical highlight, "no me moleste mosquito, just let me eat my burrito), was and remains an embarrassment to me as a Doors fan. I came to the Doors in 1991 through the Oliver Stone movie. I was a teenager, and 'The Doors' summed up everything I was looking for in a band; terrific music, oftentimes incredible lyrics, a controversial front-man to irritate my parents – everything! I remember the summer of '91, spending my time reading every book on Jim Morrison and the Doors I could get my hands on, watching videos of performances, and haunting my local record store (the late, lamented Stereo One in Glasgow) when my meagre student budget permitted me to buy every album I could find. Not surprisingly, I could only get the first six albums in Stereo One – it was a small independent store, and everything I heard was magnificent (with some slight reservations about 'The Soft Parade', which I then considered their poorest album). I literally played those albums over and over until I knew every note. My obsession and subsequent proselytizing paid off when an old school friend caught the bug, and I was thrilled when he turned up one day with 'Other Voices' and 'Full Circle'. I hated both albums, but I was two steps closer to a complete set of studio albums. There was just one to go – the elusive 'An American Prayer'. The story of the album goes something like this: on his twenty-sixth birthday, Jim Morrison booked studio time and used it to record some of his poetry. It was recorded, but never used. In 1975, the remaining Doors split up, but they re-united in 1978 to record 'An American Prayer'. They disbanded again soon afterwards and have never re-united. The album divides fans and critics to this day. With the exception of the opening phrase which is lifted from the live epic 'The Celebration of the Lizard' and a live version of 'Roadhouse Blues', the album consists of Morrison's recitations over mainly new music by the remaining Doors. Musically, the album features the Doors at their tightest, most melodic and most inspired – the sense of finality one gets from their recording of 'Albinoni's Adagio' with Morrison's 'A Feast of Friends' is at once terribly affecting and intensely satisfying and a perfect way to close out not only the record but also their recording career. Morrison's poetry has been criticised over the years, and certainly there are some instances of immaturity, but over the course of the album there is some truly wonderful narrative verse. Personally, I feel that the criticism his work receives is nothing less than snobbery – the consensus among scholars seems to be that a "pop" singer is incapable of writing poetry of any cultural worth. Just listen to 'Texas Radio and the Big Beat', 'Horse Lattitudes' or 'When the Music's Over' and you'll get a sense of the power Morrison's words convey. For me 'An American Prayer' is a fabulous coda to the Doors' career and a great epitaph for Morrison. Furthermore, in my view, it is one of the best Doors albums. I find that it has everything that I'm looking for in an album – great performances, great music and great lyrics. Sometimes I find it listening to 'An American Prayer' a somewhat sad experience, similar in many ways to Pink Floyd's 'The Final Cut'. Mostly, though, I feel a sense of satisfaction. I feel happy that the remaining Doors performed so well and utilised Morrison's words so beautifully. Like any album there are flaws, but they are few and far between in what I consider to be one of the Doors' best sets. 'An American Prayer' is not an album for everyone, but among fans of te Doors it is every bit as essential as the "canonical" six albums – I'd say it's pretty much as good as any of them, and, perhaps, captures a more accurate portrait of the enigma that was Jim Morrison than any of their other albums. As last hurrahs go, I'd say this is one of the best.
Visitor Comments:-
482

Posted By: Myshkin, London on 19 Oct 2011
Neat article there, Andy. Personally, can't stand The Doors, especially the leather-clad walking cliche that was Jim Morrison. So he'd read a bit more than the usual illiterate rocker and skimmed a few verses by William Blake and the likes of Kenneth Rexroth. But because of that he felt he was 'qualified' to (over) indulge in some pretentious sixth-form level free verse involving snakes, Odiepal desires and dead rats. Prat. I'll give him his due though when he dropped all that silly rubbish he could write some very touching songs.
---
Pennyblackmusic Regular Contributors
---