---
Various

-

All Those Times We Spent Together: A Tribute to the Television Personalitie
published: 8 / 7 / 2010
---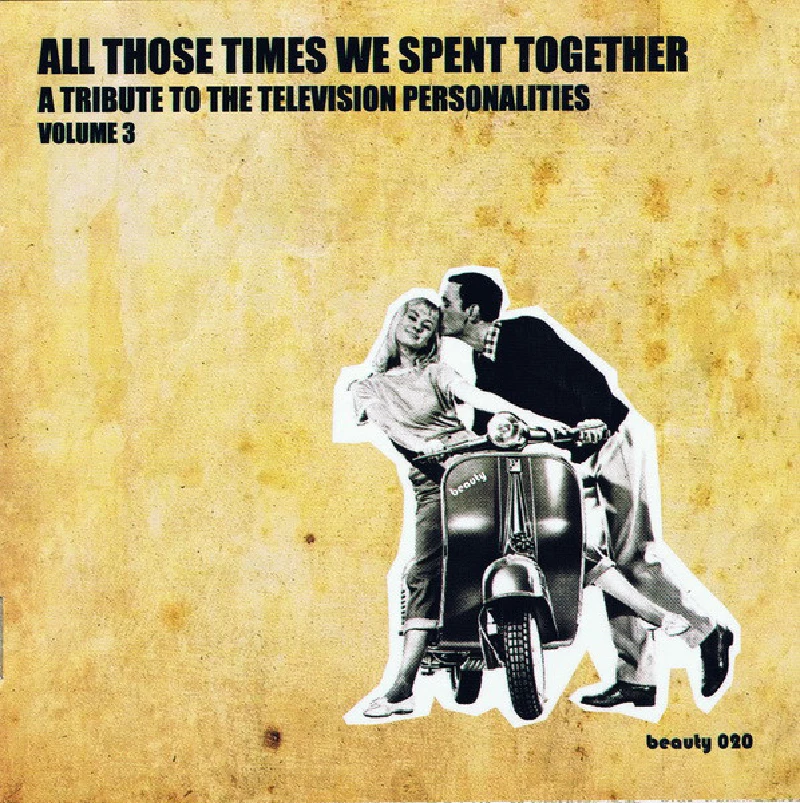 intro
Admirable Television Personalities tribute album from Canadian label The Beautiful Music, the third in a series of ten that it planning to release
Canadian indie label The Beautiful Music has committed itself to releasing ten Television Personalities tribute albums over the next few years. It is an idea that is both bonkers and admirable, as if the label is trying to make up for all the praise and recognition that the band has sadly missed out on over its 30 plus year existence. Tribute albums are often quite hit and miss, but for TVPs fans, the songs are familiar and much loved, and several bands offer a fun and different take on the song they perform. After the Years' spiky version of 'This Angry Silence', Anorak Girl take a kitschy electro pop approach to 'Smashing Time' It sort of sounds like a solo effort from the girls from the Human League, which is great, and seems to suit the song. Blue Petal's arrangement of 'A Good and Faithful Servant' is fairly faithful to the original, slowing it down and giving it a swinging, waltzy beat, but capturing the sentiment of the song nicely. A Smile And A Ribbon's take on 'Magnificent Dreams' sounds a bit Electrelane-like, and has a nice innocent, childish vibe to it. Sarandon take 'And Don't the Kids Just Love It' and sharpen up the 60s garage rock influence within it, making it more overt. The Painted Word unsurprisingly takes 'The Painted Word' and adds a breakbeat to it, which, with the Beatles-ish backwards guitar and tambourine, makes it sound a bit like an early Britpop song. Good on them for being daring and trying something a bit different though. Amida's loose, de-anglified version of 'In a Perfumed Garden' reminds me a little of Pavement, and therefore gets two thumbs up. Armstrong's nice harmonies and simple, arrangement of 'This Heart's Not Made of Stone' is another highlight; different enough from the original to stand up on its own, but keeping the sentiment of the original. Cineplexx gives 'I Hope You Have a Nice Day' a sort of lo fi Phil Spector treatment, while Apple Orchard strips away the 80s jangle of 'The Dream Inspires' and replaces it with Sloan-meets-Belle and Sebastian indie pop. La Grande Illusion Gainsbourg-ifies 'Glittering Prizes'; it's unexpected, but surprisingly good. The alt-rock version of 'The Man Who Paints the Rainbows', supplied by the oddly-named Bunnygrunt, is another good one; it's a natural adaptation that is different but doesn't feel forced. Versions of 'This Angry Silence' book-end the compilation, with Boyracer's closing take making it sound very Buzzcocks-like. A few arrangements don't quite work, but thankfully, 'All Those Times We Spent Together' is more hit than miss.
Track Listing:-
1
The Years- This Angry Silence
2
Anorak Girl- Smashing Time
3
Blue Petal- A Good And Faithful Servant
4
The Model Spy- I Know Where Syd Barret Lives
5
Jo Bartlett- If I Could Write Poetry
6
A Smile And A Ribbon- Magnificent Dreams
7
Sarandon- And Don't The Kids Just Love It
8
The Painted Word- The Painted Word
9
The Hi-Life Companion- King And Country
10
Amida- In A Perfumed Garden
11
Armstrong- This Heart's Not Made Of Stone
12
Languis- Paradise Is For The Blessed
13
Cineplexx -I Hope You Have A Nice Day
14
Out Of Nowhere- 14th Floor (The Psychedelic Electro Mod Mix)
15
Apple Orchard -The Dream Inspires
16
La Grande Illusion- Glittering Prizes
17
Jim Jasmine- A Sense Of Belonging
18
Bunnygrunt- The Man Who Paints The Rainbows
19
S/T- When The Dolphins Leave The Sea
20
The Meek- All My Dreams Are Dead
21
Cootie Shot- Jackanory Stories
22
Jeremy Gluck & Superczar- King And Country
23
Boyracer- This Angry Silence
24
JC Brouchard W Dave Bartholomews New Orleans Jazz Band- Reves De Grandeur (Magnificent Dreams)
25
The Afternoon Tea- Jackanory Stories
26
The Puddle- You Are Special And & You Always Will Be
27
Arnau Obiols Gali- The Prettiest Girl In The World
28
The Coosticks- Me And My Big Ideas
29
The Milestone Band- Honey For The Bears
30
Golden Teardrops- I Remember Bridget Riley
31
Two Angry Men- The Glittering Prizes
32
The Painted Word- Scream Quietly
33
Black Umbrella- Where's Bill Grundy Now?
34
Babybee- A Picture Of Dorian Gray
35
Tac's- Le Petite Illusion (Intermission)
36
Except The General- Geoffrey Ingram
37
The Pristines- The Painted Word (Minimal Mix)
38
Humdrum- Part Time Punks
39
Palmflower- Jackanory Stories
40
Simon Goalpost- Where's Bill Grundy Now?
41
The Airwaves- We Knew Where Syd Barrett Lived
42
The NoMen- A Picture Of Dorian Gray
43
Neil Mooney- Any Love Is Good Love
44
Isaac Snazell Thackray- Silly Girl
45
Nicholas Maycroft- I Want To Be A Bartlebee
46
Television Personalities- Arthur The Gardener (Live Berlin 1980)
Label Links:-
http://thebeautifulmusic.com/
https://twitter.com/WallyTBM
https://www.facebook.com/The-Beautiful-Music-495348020570057/
Pennyblackmusic Regular Contributors
---