---
Miscellaneous

-

Interview with Kenny Paterson
published: 13 / 2 / 2010
---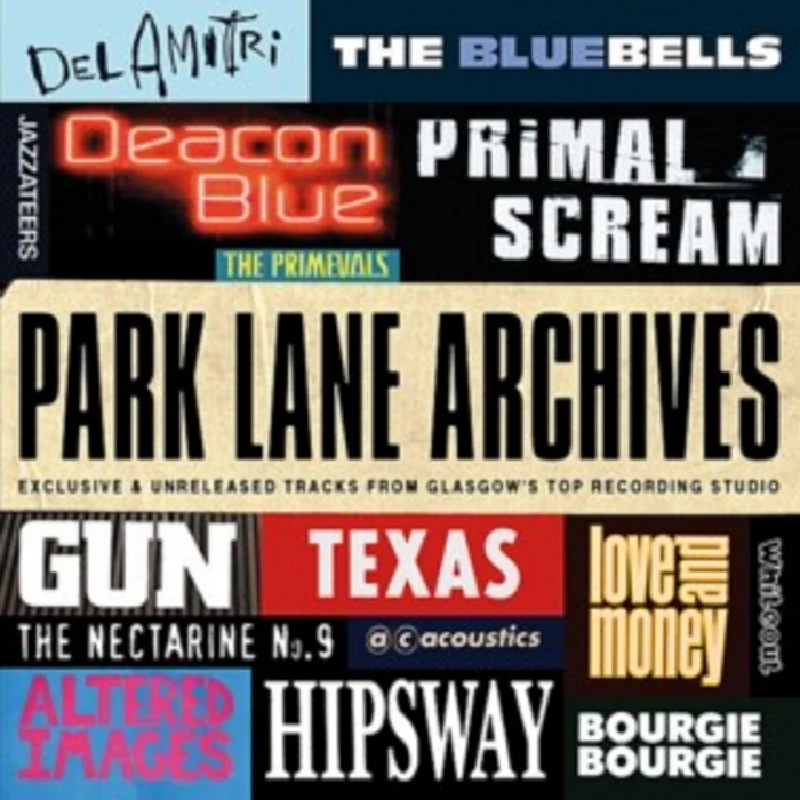 intro
Kenny Paterson was a studio engineer from the mid 1980's to 1990's at Glasgow's legendary Park Lane Studios. John Clarkson chats to him about his new retrospective CD, 'Park Lane Archives', which compiles together tracks from many of the artists who recorded there
Situated approximately halfway along the busy Pollokshaws Road on Glasgow's Southside, and in between Jimmy Moon's guitar shop and the Bay Horse Pub, there is opposite Queens Park a somewhat indistinctive alley. At the end of this little alley there is an equally indistinctive building. Many of those who live in the Queens Park district have probably never given this anonymous-looking building a second glance. For two decades, however, this former stables and one-time premises for a removal firm was one of Glasgow's premier musical institutions, the Park Lane Studios. The Park Lane Studios has seen pass through it illustrious local names such as Primal Scream, Altered Images, Texas, Del Amitri , the Bluebells and Texas . While it is closed its doors as a recording studio and commercial outlet in 2002, forced into liquidation by the rise of home recording, Park Lane, which is now used as a rehearsal and writing space by several local acts, is fondly remembered by many of those on Glasgow's fertile 80's and 90's musical scene, including Kenny Paterson. Paterson was one of the studio engineers at Park Lane and has recently compiled together an album, 'Park Lane Archives', which released on Jungle Records features twenty two of its acts. He began working there as a seventeen year old in 1985. Paterson was a guitarist at the time, playing and doing session work with several local acts. "I had just left school and didn't really know what I wanted to do" he recalls. "I knew that I wanted to play guitar, but knew also that I had to get a real kind of a job as well. I was very lucky to get a job at Park Lane." "Park Lane was getting busier at the time and they were looking for someone else. I used to hang out at Jimmy Moon's next door and first became aware of it that way. Government training schemes were available at the time, so after helping out for a few days on a big country session I basically talked myself into a job." Although Park Lane Studios was used by occasional international acts such as INXS and the Pet Shop Boys both of whom recorded there, the bulk of its trade was Glaswegian. Many local bands would record demos there and then once they had signed deals on the back of those demos would often return there to record their albums. Del Amitri was a particular example, recording its first self-titled indie album at Park Lane over three weeks in 1985, and then having signed to A&M Records returning to it to record parts of all five of its subsequent studio albums between 1989 and 2002 there. "The studio had a reputation as a world class studio," says Paterson, talking about its popularity both amongst local groups and also amongst record labels, who were largely content for bands to stay at home in Glasgow rather than move to London to record in one of the major studios there. "The acoustics were naturally good at Park Lane and any money that we got back we put into buying new equipment. We were always on the cutting edge with technology." "It also made a lot of sense. It kept the budget down and, while the producer would come up to Scotland, the band would be able to get home at eleven 'o' clock at night or whatever. It wasn't such an intimidating environment for them. Some of the bands did go to London to work in the major studios, but they didn't necessarily get as good a result from doing so. It was better all round really." "I think the personnel of the time had a lot to do with it as well," continues Paterson. All its studio engineers were in bands. Bobby Paterson was the bassist in Love and Money and Kenny MacDonald was the drummer in Bourgie Bourgie, so we all came at it including myself from a musician's point of view. We all could understand what it was like from the other end of the spectrum when you are under pressure to deliver some kind of performance." Despite several of the key players of the Scottish music establishment of the past twenty years, including Bobby Gillespie, Sharleen Spiteri, Johnny McElhone, James Grant, Justin Currie and Clare Grogan, being regular visitors to Park Lane, Paterson remembers it as being anything but glamorous. In his first few years there, its owner Rab Andrew was continuing to manage a decades-old family-owned removal business and would regularly send the young teenage Paterson out on removal runs. "Rab really kept me down to earth and grounded," he laughs. "He used to send me out to do removals until the sessions started. You would move out some old lady into a retirement flat and that would all be done by eleven in the morning. Then you would have an hour to set up the studio and then you would work on the sessions until late." For the 'Park Lane Archives' compilation, Paterson elected to focus on demos and other unreleased tracks. "There seemed to me to be no point in putting together a compilation of the best things that came out of the studio and which a lot of people would have heard already," he explains. "I wanted to put something on the compilation which hadn't been available before. Bands don't really have that luxury of putting down demos now. They might put down a wee sketch on Garage Band on their laptop or something like that, but originally you spent a lot of money to get good demos to get your record deal or to present yourself to producers. A lot of ideas went into a lot of those demos and I thought they were worth releasing." The compilation includes the original demo versions of chart hits such as Texas's 'I Don't Want a Lover' , the Bluebells' 'Young at Heart' (recorded without Bobby Valentino's infamous violin) and Gun's 'Better Days'. There is also an alternative mix of Primal Scream's early song 'Velocity Girl' and an unreleased track from Altered Images, 'Now That You're Here'. It also features songs from bands such as Love and Money, the Primevals and the Kevin McDermott Orchestra, who while popular in Scotland never made the breakthrough over the border, and others from acts such as the Kissing Bandits, Whiteout, the Rutkowski Sisters and Paterson's own band Slide who got away . Paterson made his selection from tapes that had been left in storage at Park Lane and also others that his father had discovered in the family home. "I wanted to make it a collection of material that hadn't been heard and with bands that hadn't quite made it as well as those that did," he says. Paterson left Park Lane in 1995 to move to London and has spent the last fifteen years living there. He has worked as an engineer and a producer with various band.s He spent several months touring America with Texas and also worked for Ian Broudie. He is currently an engineer for Pete Doherty. "It is a very personal choice of tracks" he says. "I played my first gigs, for example, with the Kissing Bandits. They used to go to the Isle of Arran and have jam sessions with the Primevals and Lloyd Cole and the Commotions. I remember really fondly getting to play with them and those jam sessions and blues weekends. That is why I wanted to put the Bandits on 'Park Lane Archives' because I had good times with them and, of course, they also made some great records." "It has been a great way for me to reacquaint myself with people," he concludes. "There are some people on the album that I have seen quite regularly over the last fifteen years and others that I had almost completely lost touch with. The whole album is all about the people and all about the songs. It was a really special time." As analogue onto which all the Park Lane tapes were recorded starts to fade out as a format, 'Park Lane Archives' is a timely testimony to an unique era in Scottish music history. It chronicles the early recordings of some of its best known acts and also some of its lost bands who now await rediscovery.
Visitor Comments:-
645

Posted By: Al Thornton, Glasgow on 22 Sep 2013
I remember Kenny well from my time rehearsing and recording at Park Lane with GUN. Kenny is a lovely bloke and also remember working with him when he played with Slide. Fond memories.
---
Pennyblackmusic Regular Contributors
---