---
Flo & Eddie
-

Phlorescent Leech and Eddie/Flo & Eddie
published: 24 / 5 / 2008
---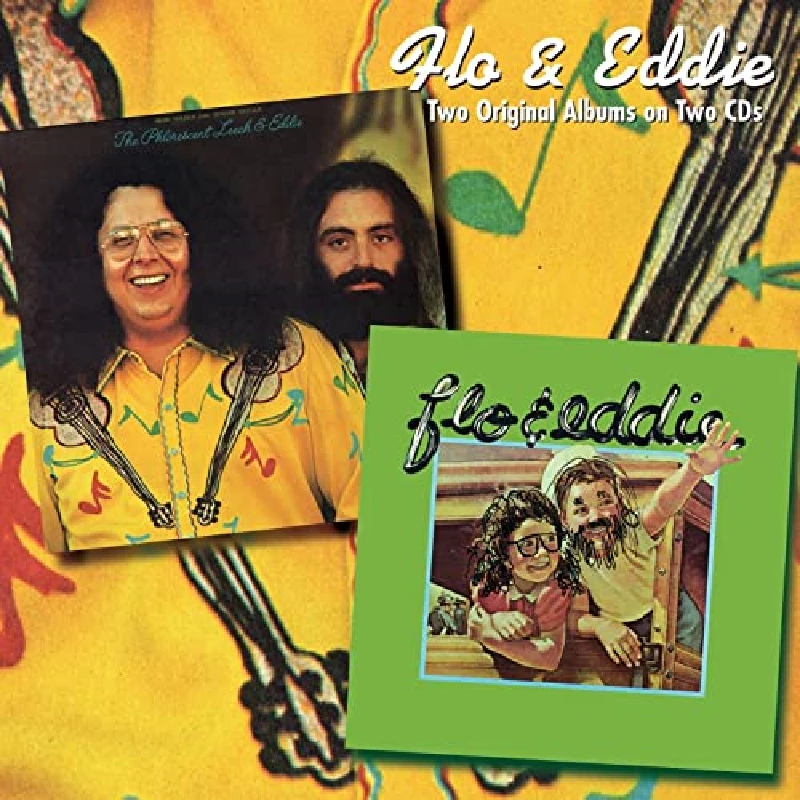 Label: Floedco
Format: CD
intro
Excellent retrospective double CD from former Turtles stars Flo & Eddie, which compiles together two albums, 'The Phlorescent Leech and Eddie' and 'Flo & Eddie', which have inexplicably been out of print since their release in 1972 and 1974 and proves to be exemplary pop of the highest quality
Hardly household names, yet scratch just a little beneath the surface of Flo & Eddie, and their background reveals quite an impressive CV. Flo, aka Howard Kaylan, and Eddie, aka Mark Volman, were the nucleus and creative driving force behind 60's folk-rock outfit the Turtles, best known for their hardy perennial 'Happy Together'. When the Turtles disbanded in 1970, Kaylan and Volman were invited to join Frank Zappa's Mothers Of Invention, adopting the names of two former Turtles' roadies – The Phlorescent Leech And Eddie - due to contractual issues. Appearing in Zappa's '200 Motels' movie, the pair also witnessed the devastating casino fire in Montreux in 1971 that also destroyed the Mothers' equipment and most famously became the subject of Deep Purple's classic 'Smoke On The Water'. In the early 70's the pair made their first inroads as back-up singers memorably contributing to several T. Rex hits including 'Get It On' and 'Hot Love'. Indeed, such was their talent as back-up singers they went on to be regarded as among the most in-demand in the business, featuring on songs by Bruce Springsteen, Psychedelic Furs, The Ramones, Ozzy Osbourne, Blondie and Roger McGuinn to name but a few. So, that's the background in summary, which brings us to the two albums included here. Both 'The Phlorescent Leech and Eddie' and 'Flo & Eddie' have inexplicably been out of print since their original release in 1972 and 1974 respectively, making their debut on CD on this 2-fer issue. Worthy of mention in the same breath as power pop pioneers Badfinger and the Raspberries, their vocal prowess clearly wasn't their only strength - a proliferation of melody, arrangement and song writing ability as evident as their interpretive abilities – 'Flo & Eddie' (disc two) opener 'If We Only Had The Time', the ambitious closing epic 'Marmendy Mill' alongside excellent covers of the Small Faces' 'Afterglow' and the Kinks' 'Days' offering all the proof you'll need. Flo & Eddie, a more muscular album than its predecessor was released to coincide with their slot as openers on Alice Cooper's 'Billion Dollar Babies' world tour in 1973-1974. Featuring Cooper's then guitarist Steve Hunter on several tracks – 'Another Pop Star's Life' the most obvious example, the album was also produced by Cooper's producer at the time, Bob Ezrin. While 'Flo & Eddie' probably has more to recommend it, the duo's debut, 'The Phlorescent Leech And Eddie' shouldn't be neglected and while its scope and execution may not be quite so dynamic it's still a fine pop record in its own right. A couple of minor hiccups aside – the duo's occasional forays into quirky humour don't always hit the target – that's also true to a lesser extent on the follow-up though by far and away the majority of the album comes highly recommended. The likes of 'Thoughts Have Turned' and 'Strange Girl' in particular are exemplary pop nuggets of the highest quality. Adventurous, fun and pretty damned entertaining throughout, consider these hidden gems justifiably unearthed.
Track Listing:-
1
Flo And Eddie Theme
2
Thoughts Have Turned
3
It Never Happened
4
Burn The House
5
Lady Blue
6
Strange Girl
7
Who But I
8
I Been Born Again
9
Goodbye Surprise
10
Nikki Hoi
11
Really Love
12
Feel Older Now
13
There You Sit Lonely
14
If We Only Had The Time
15
Days
16
You're A Lady
17
The Original Soundtrack From "Carlos And De Bull"
18
Afterglow
19
Best Part Of Breaking Up
20
The Sanzini Bros.
21
Another Pop Star's Life
22
Just Another Town
23
Marmendy Mill
Pennyblackmusic Regular Contributors
---