---
Icicle Works
-

Shepherd's Bush Empire, London,27/10/2006
published: 22 / 11 / 2006
---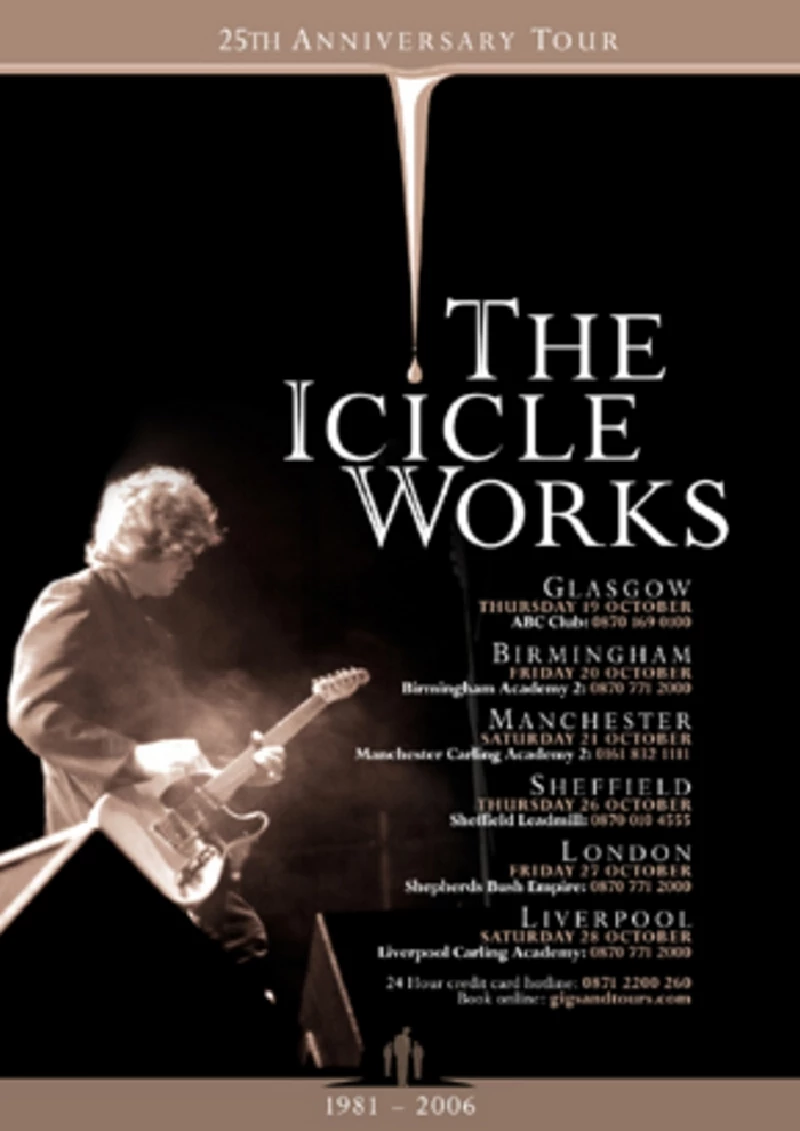 intro
Anthony Strutt enjoys a perfect night of a reflection of how he spent his youth on the London date of the 25th anniversary tour of his favourite band of all time, the Icicle Works
The Icicle Works are my favourite band of all time. Why ? Because your favourite band of all time should be the band that you lived with, grew up with and bought every new release on the day that it first came out, and the Icicle Works were all that and more to me. News of this show to celebrate their 25th anniversary was leaked out as early as January and I bought my ticket as soon as they became available at some point in the spring. It was never ever going to be the original 3 piece of Ian McNabb, Chris Layhe and Chris Sharrock. That's long gone, but when I arrived early at the gig and had a pint in the Shepherd's Bush local Wetherspoon I was surprised to find it was full of a whole army of original Icicle Works fans, many of them pushed into concert T-shirts from that era which I had also bought at the time and can barely squeeze into these days. As I chatted to them, I discovered they had not kept the faith. They may have seen Ian McNabb the odd time since he went solo and bought a few of the solo albums, but on the whole had largely lost interest in what their favourite singer/songwriter is doing now. As someone that : a) Still has faith in this scouser even when he can be big headed (Yes, you McNabb). b) Loves the guy because he still believes what he is doing means something to him and his fans I feel sorry for this audience whom have come to worship the old days, and have as a whole largely ignored a lot of everything he has done since. His last studio album,' Before All of This' was a stunning return to form. The last time I saw him was in a restaurant before a gig at the Islington Bar Academy. He was playing under the name of Ian McNabb, but had exactly the same line up of band with him as he also had tonight playing as the Icicle Works. He decided in the restaurant that night he was going to play Icicle Works' songs all night. He didn't in the end, but mostly did, so maybe he was road testing in the small environment of the Islington Bar Academy what we ended up with at the several times larger Shepherds Bush Empire. Prior to the gig, I had been playing their 1984 debut album , 'The Icicle Works', to death, which has just been remastered on a double and a limited-to-1,500 copies 3 CD box set. A lot of people in the pub, while having good taste, hadn't really moved on much and were still in a 1980's bubble land. After the original line-up broke, "Little" Chris Sharrock has been the most successful, having played drums for Robbie Williams for the last 10 years or so. He left the Icicles Work to join the La's, something which it took me years to forgive him for, and he has also played for World Party and former Specials frontman Terry Hall Chris Layhe saw the Manchester gig of this tour and then slagged it off in 'The Liverpool Echo' because he could see the mistakes in the performance as he would do really. A lot of my friends refused to go as they loved the original band and also saw the second line up, but now we are up to the fourth line up they didn't really want to screw around with their memories which I can understand. I decided beforehand that this was the Icicle Works of the 21st Century and that's the way I basically treated it. Once inside I checked out the merchandise stall. The only new Icicle Works stuff available was the new box set, a new poster and a new and expensive T shirt. There were also lots of old out-of-print solo McNabb CDs, some at very over-the-top prices, but that was good as its brought fans up to date. The current line up of the Icicle Works is Ian McNabb, the only original member ; Roy Corkhill on bass guitar and backing vocals who was also in the second line up, Richard Naiff from the Waterboys on keyboards and organ, and finally former Dodgy member Matthew Priest on drums. They came on stage at about 9 pm. After McNabb tuned up his guitar, the more-than- full downstairs area was treated to 1985 heads-down rocker, 'When It All Comes Down' which is Jack Kerouac's novel 'On the Road' in song form. The rather drunk crowd sung the chorus back as if they had waited for this since 1991, the last time the Icicles Work played live. First album track, 'In the Cauldron of Love', was next. It was slow-paced in comparison, slower-paced too than the original mix with a weird mix of guitars, and some very heavy drums. In between 'In the Cauldron of Love' and the next track 'Up Here in the North of England' , which was a 12 inch only single, McNabb told us "Thank you, folks. We have a long show, so we are just going to play the songs" and then added, "It's so good to see so many familiar faces. I missed you." At the time 'Up Here in the North of Englanf' was recorded Liverpool was painted in a very bad light by the Southern press. It is a little bit anti-Southern city, but was still enjoyed by this London audience. Ian then put on his rickenbacker and the band played the jangly and dubby 'Little Girl Lost', a take on the Doors. He encouraged the crowd to sing it to him which they lovingly did. '7 Horses Deep' was an anthem from the 1985 second album, 'The Small Price of a Bicycle', which many Icicles Works army are hoping for a remaster from Beggars too. Not touched since the early days and not played in McNabb's solo years at all, it was well received. 'Out of Season', which came next, is from the first album, and was way ahead of the game both lyrically and musically than most of the other bands in the charts back in 1984. It is a song about real love and meeting your future father-in-law for the first time. 'Starry Blue Eyed Wonder' was a B side and started off with just a vocal assisted by an organ before it picked up speed and turned into a right little rocker. 'Blind' is the title track of the last Icicle Works album by the original line-up. During that original time, the band were always moving on, never staying with one style, McNabb was once shouted at in the street for releasing a dance track called 'The Kiss Off', which was basically a Prince-style dance rhythm track which only himself and I understood. 'Blind' is blues based. Rehearsals for this turned the track into a 10 minute number but tonight it lasted just 7 minutes. 'Shit Creek', which is also on the 'Blind' album, followed. It was again very long and is a 70's heavy metal rock number. 'Melanie Still Hurts' from the Icicle Works' final 1990 LP, 'Permanent Damage', came next. 'Rapids', again from 'The Small Price of a Bicycle', came after. McNabb told us that it hadn't been played on stage since the days of the original line-up. After this Ian thanked Beggars for believing in the band and giving them hits when it meant something and then plugged the box set. The band then launched into 'A Factory in the Desert', which has surreal lyrics but is a great little rocker. The band's favourite number of this tour, 'What She Did to Your Mind', came next. From the 'Permanent Damage' album, it is a revenge track about what your lover has done to you and your revenge on her. 87's 'Evangeline' followed, and, unusually not incorporating Them's 'Gloria' as an ad lib, was a sing-a-long number. 'Understanding Jane' was another sing-a-long track and brought the main set to an end. When the band come back on stage, McNabb said "I would now like to do the whole of my new album which is a concept album." The band then launched into playing some freeform jazz weirdness that had a hint of Pink Floyd. about it before flowing into the Icicle Works classic, 'Hollow Horse'. 'Love is a Wonderful Colour' followed which was the song that put them on 'Top of the Pops' back in 1983. It wasn't a touch on the original as the sound in the venue lost Roy's bass solo intro, but remains the band's ultimate pop hit. They then left the stage before they joined us again for their first ever hit, 'Birds Fly(Whisper to a Scream)', which as usual featured a version of the Who's 'Magic Bus. Towards the end, Richard and Mcnabb played about with a theremin which went on for too long, and so ended a perfect night of a reflection of how I spent my youth.
Picture Gallery:-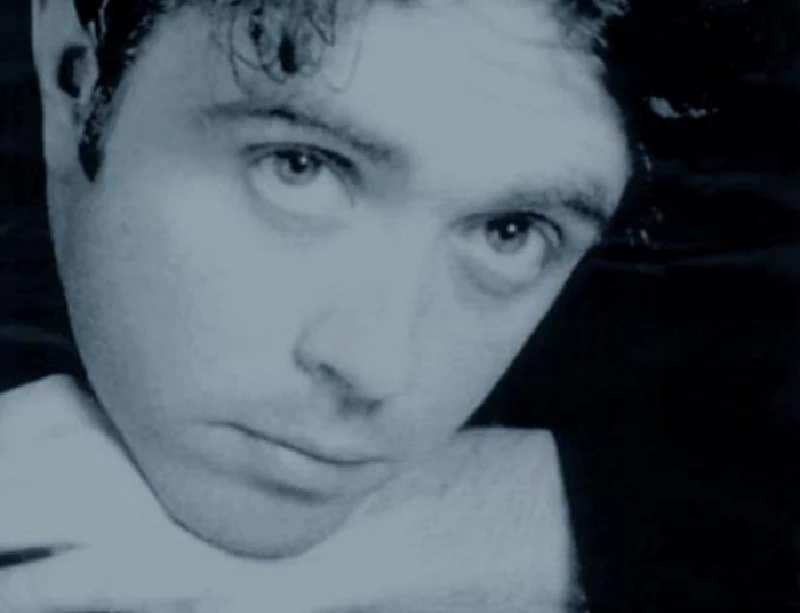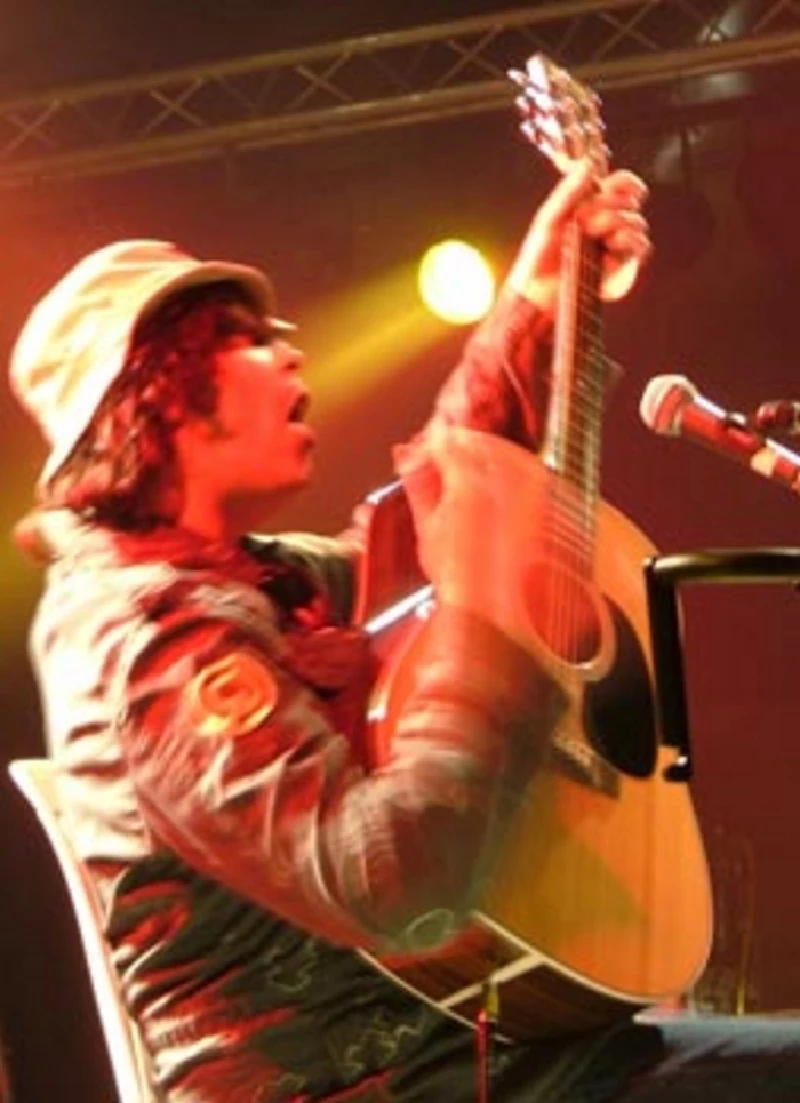 Visitor Comments:-
670

Posted By: Dino Sinforiani, Kilmarnock, Scotland on 02 Dec 2013
Have always been a fan of this guy, amazing songwriter and performer. Just saw him perform in Glasgow at the weekend and he sounds as good as he ever has, please please catch this man live as he never gives less than 100%.
---
interviews
---
Interview with Chris Layhe (2011)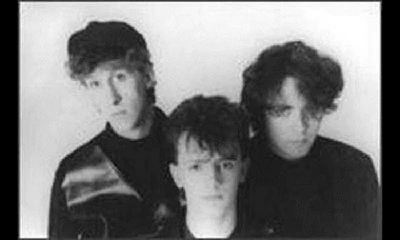 Anthony Strutt chats to Chris Layhe, the bassist with 1980's Liverpool new wave band the Icicle Works about his years with the groupo, and what he has been doing since their 1988 break-up
features
---
Happy Times with the Icicle Works (2006)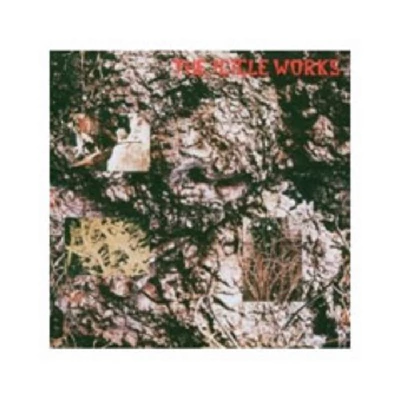 In the latest in our series, in which our writers write about the importance of music at memorable times in their lives, Anthony Strutt tells of meeting the Icicle Works and happy times with their 1984 self-titled debut album as a backdrop
related articles
---
Ian Mcnabb: Live Review (2015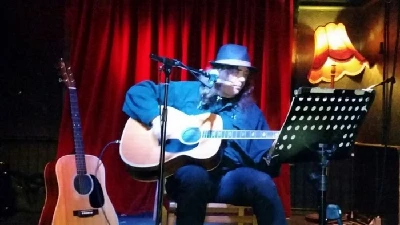 Anthony Strutt watches Icicle Works front man Ian McNabb return to Leicester for his first show in almost two years and play a storming two hour plus solo set
Pennyblackmusic Regular Contributors
---