---
Dead Moon
-

Echoes of the Past
published: 7 / 11 / 2006
---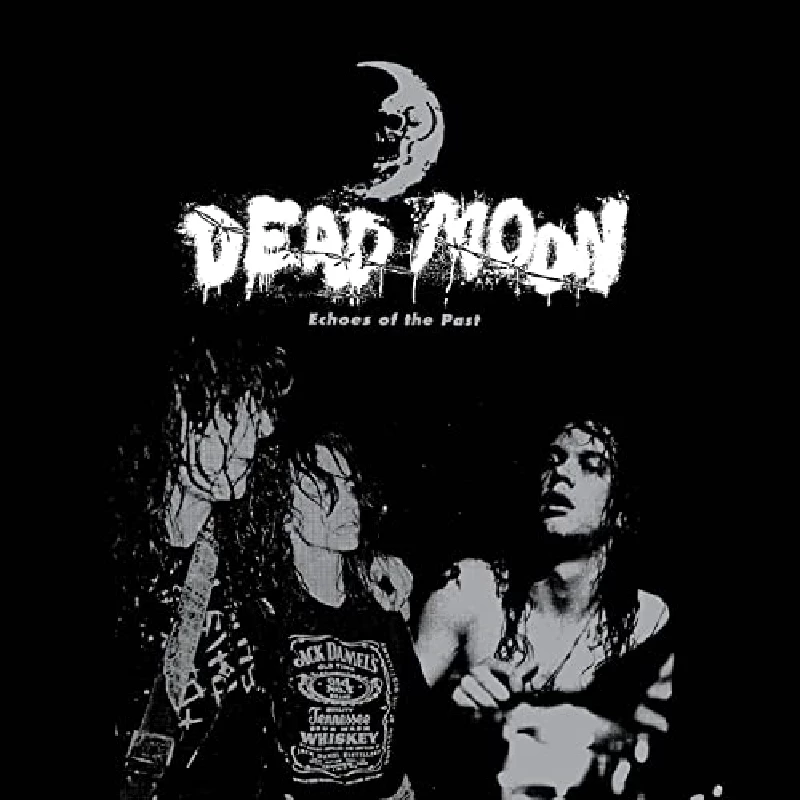 Label: Sub Pop
Format: CD X2
intro
Sprawling double CD retrospective on the Sub Pop label from long-serving Oregon-based garage rock three-piece, Dead Moon
Recently released by Sub Pop, this sprawling 49 track retrospective is a megawatt wake-up call to anyone thus far unfamiliar with Dead Moon, the should-be legendary, near-cult outfit from Clackamas, Oregon. Ingrained since their inception with an admirable spirit of independence and dedication to their craft that very few, if any, could equal, the distant roots of Dead Moon can be traced as far back as 1964 when Fred Cole, the band's songwriter, principal vocalist and guitarist, made his recording debut with the Lords. A multitude of outfits and stylistic departures followed over the ensuing years, the best known of which was probably the Lollipop Shoppe (previously the Weeds) whose 1967-released 'You Must Be A Witch', is justifiably regarded by many as a Nuggets-era classic, before Dead Moon formed in 1987. Fred Cole augmented the newly formed trio with wife Toody on bass, and drummer Andrew Loomis, a fan of Fred and Toody's pre-Dead Moon folk/country duo the Range Rats. And 19 years later, the now 7-time grandparents' led-trio, with around 16 studio or live albums and a multitude of singles under their collective belts are still kicking up a storm wherever they play – and that's quite regularly. At the time of writing the band are well into a European tour – no UK dates sadly, before returning to the US for further dates. 'Echoes Of The Past' while not offering any previously unreleased material, nevertheless collates a multitude of tracks from their album and single releases from their 1988 debut LP 'In The Graveyard' up to 2001's 'Trash And Burn'. All tracks are in glorious mono as originally intended – almost all of Dead Moon's output has been cut on a 1954 mono lathe bought by Toody as a birthday present for Fred - the same lathe used to cut te Kingsmen's 'Louis Louis' no less! Now that is rock n roll! Celebrating 20 years together in 2007, Dead Moon could very well go on forever, though only as long as all three founding members remain in the band – they've all vouched the band would not go on should anyone not wish to continue. Featuring material originally released on their own Tombstone Records imprint in the US, with their long time German licensee Music Maniac releasing most of their records in Europe, 'Echoes Of The Past' actually represents Dead Moon's second time hook-up with Sub Pop, the band having released a limited edition Sub Pop Singles Club 7" back in 1993, though oddly neither side of that appears here. That's a minor omission though as the 49 tracks that are included ought to whet the appetite of any fan of no holds barred primal rock n roll. That said Dead Moon are no one trick pony; occasionally and successfully incorporating more subtle moments amongst their punk, blues, psychedelic rock n roll stock in trade, all of it performed with a direct, no frills approach and often white hot intensity. Recorded loud and intended to be played the same way – ideally VERY LOUD, Dead Moon's plug-in, play and record approach makes for some of the most menacing, dangerous and visceral rock n roll you'll ever hear. And while I've sadly never had the pleasure of seeing the band live myself, they're on-stage reputation is immense. If their 1991-released 'Live Evil' set is anything to go by, that live reputation is more than deserved. The likes of 'Graveyard', 'Dead Moon Night', '54/40 Or Fight' and 'Black September', classics all, should be in any self-respecting rock fans collection. Still going strong, their most recent album 'Dead Ahead', came out in 2004 and a DVD documentary entitled 'Unknown Passage: The Dead Moon Story' has just been released. If uninitiated start with 'Echoes Of The Past' and make Dead Moon part of your present and rock n roll's future. They deserve it and you won't be sorry.
Track Listing:-
1
Graveyard
2
Evil Eye
3
I Hate the Blues
4
Dead Moon Night
5
My Escape
6
A Miss of You
7
Walking On My Grave
8
Johnny's Got a Gun
9
I'm Out Nine
10
Kicked Out - Kicked In
11
Unknown Passage
12
Jane
13
Dagger Moon
14
DOA
15
Over the Edge
16
Running Scared
17
Room 213
18
54/40 or Fight (Live)
19
A Fix On You
20
Sorrow's Forecast
21
Castaways
22
Down the Road
23
Fire in the Western World
24
Can't Do That
25
13 Going on 21
26
Destination X
27
Black September
28
Poor Born
29
Cast Will Change
30
Running Out of Time
31
Psychodelic Nightmare
32
Area 51
33
Somewhere Far Away
34
Diamonds in the Rough
35
Going South
36
I Won't Be the One
37
Point of No Return
38
Last Train
39
Rescue
40
On Another Plane
41
Ricochet
42
The Way It Is
43
These Times with You
44
40 Miles Of Bad Road
45
Never Again
46
Sabotage
47
Day After Day
48
It's O.K.
49
Too Far Gone
Label Links:-
https://www.subpop.com/
https://www.facebook.com/subpoprecords
https://plus.google.com/+subpop
https://twitter.com/subpop
http://subpop.tumblr.com/
https://www.youtube.com/user/subpoprecords
Pennyblackmusic Regular Contributors
---