---
published: 18 / 10 / 2005
---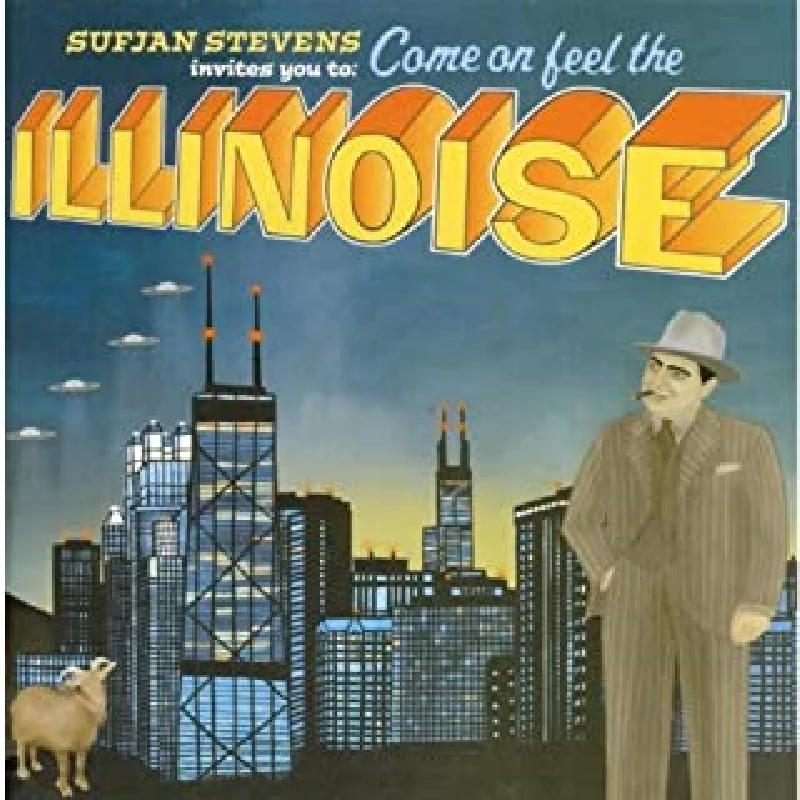 intro
Winsome folk pop from maverick American singer-songwriter, which is totally "revelatory, intriguing and spellbinding"
Sufjan Stevens latest opus 'Illinois', aka 'Come On Feel The Illinoise' has been around for quite a few months now so let me state right from the off for the benefit of any latecomers that it's an absolutely fabulous record. Being of a certain age I was immediately drawn to the album via its alternate title having dabbled with the joys of 70's chart toppers Slade in their heyday, which corresponded with the formative years of my record buying habits. Their 'Cum On Feel The Noize' was a particular favourite I still have a lot of time for, although I suspect it was more likely Quiet Riot's US hit version that Stevens was alluding to. Anyway before I digress any further, let me reassure more sensitive souls that Sufjan Stevens certainly has not donned stack heel boots, make up nor adopted clipped power chords for the second of his mooted sequence of albums in tribute to the 50 states of America following his 2001 'Michigan' set. Instead, he, together with numerous guest collaborators has succeeded in composing and performing one of the most revelatory, intriguing and spellbinding records I have heard for quite some time. While Stevens occasionally veers close to pretension, he's not unafraid to have some fun with his lyrics and music from time to time either, which indicates he doesn't always take himself too seriously despite the fact that he's evidently put a lot of background research into the creation of this album. Numbering 22 tracks in total, almost half of which are comprised of relatively brief instrumentals, the titles alone might make you wish it had come packaged with an accompanying manual such are their seeming impenetrability e.g. 'THE BLACK HAWK WAR, or, How to Demolish an Entire Civilization and Still Feel Good About Yourself in the Morning, or, We Apologize for the Inconvenience but You're Going to Have to Leave Now, or, "I have fought the Big Knives and will continue to fight them until they are off our lands!" That's all right then! Isn't it? I think!? Confused? You might justifiably well be by now, but please persist with it; while the album can admittedly be a little verbose and complex at times these wondrously beautiful, ambitious and more often than not actually deceptively accessible songs, instrumentally blissful which combined with Steven's voice, a much more effective and engaging instrument than he seems to consider it himself, are a joy to behold. By turns sweet natured, insightful, inspirational and bewildering, Sufjan Stevens has delivered one of the albums of the year and whilst my appraisal of it is somewhat belated, hopefully it will prompt other latecomers to seek it out. Whether it's winsome folk-pop or sonic adventure that excites you, I very much doubt 'Illinois' will disappoint.
Track Listing:-
1
Concerning the UFO sighting near Highland, Illinois
2
The Black Hawk War, Or, How to Demolish an Entire Civilization and Still Feel Good About Yourself In the Morning, Or, We Apologize for the Inconvenience But You're Going to Have to Leave Now, Or...
3
Come On! Feel the Illinoise! Part I: The World's Columbian Exposition Part II: Carl Sandburg Visits Me In A Dream
4
John Wayne Gacy, Jr.
5
Jacksonville
6
A short reprise for Mary Todd, who went insane, but for very good reasons
7
Decatur, or, Round of Applause for Your Step-Mother!
8
One last "Whoo-hoo!" for the Pullman
9
Chicago
10
Casimir Pulaski Day
11
To The Workers of The Rock River Valley Region, I have an idea concerning your predicament, and it involves an inner tube, bath mats, and 21 able-bodied men
12
The Man of Metropolis Steals Our Hearts
13
Prairie Fire That Wanders About
14
A conjunction of drones simulating the way in which Sufjan Stevens has an existential crisis in the Great Godfrey Maze
15
The Predatory Wasp of The Palisades Is Out To Get Us
16
They Are Night Zombies!! They Are Neighbors!! They Have Come Back From the Dead!! Ahhhh!
17
Let's hear that string part again, because I don't think they heard it all the way out in Bushnell
18
In This Temple As in The Hearts of Man For Whom He Saved The Earth
19
The Seer's Tower
20
The Tallest Man, the Broadest Shoulders Part I: The Great Frontier Part II: Come to Me Only With Playthings Now
21
Riffs and Variations on a single note for Jelly Roll, Earl Hines, Louis Armstrong, Baby Dodds, and the King of Swing, to name a few
22
Out of Egypt, into the Great Laugh of Mankind, and I shake the dirt from my sandals as I run
Band Links:-
http://sufjan.com/
https://en-gb.facebook.com/Sufjan-Stevens-73949695413/
https://twitter.com/sufjanstevens
Label Links:-
http://asthmatickitty.com/
https://www.facebook.com/asthmatickitty
https://twitter.com/asthmatickitty
https://www.youtube.com/user/asthmatickitty
Pennyblackmusic Regular Contributors
---