---
published: 12 / 8 / 2005
---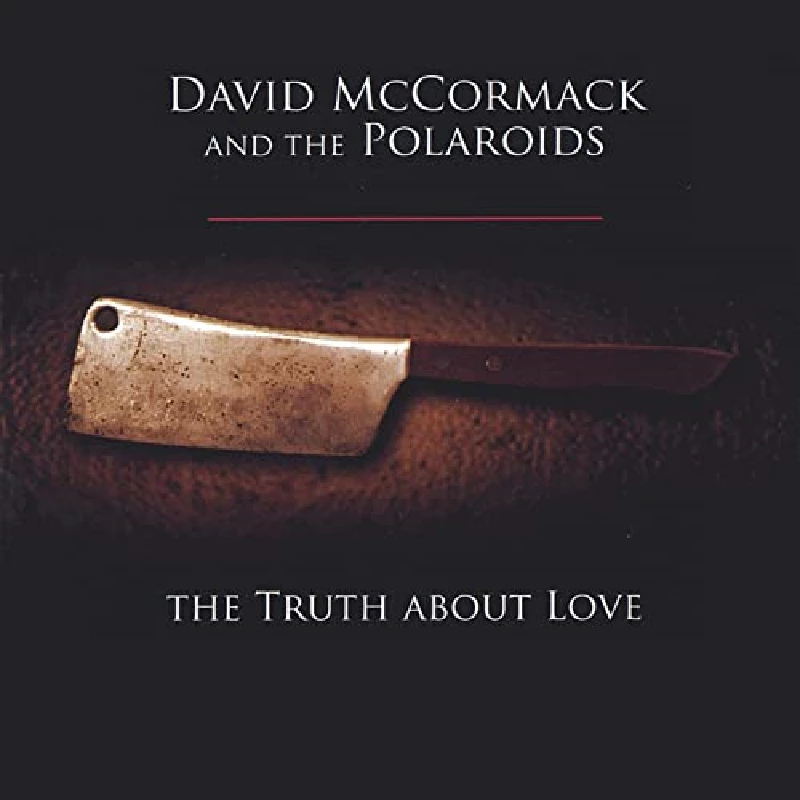 intro
Heartbreaking, but melodic and ultimately second album from Australian singer-songwriter David McCormack with his band the Polaroids
David McCormack is highly regarded as a songwriter and performer in his native Australia but for those of us unfamiliar with his previous work with Custard or even his first album with the Polaroids it would appear from the meat cleaver on the cover and some of the song titles like 'I'm Going To Execute Yr Ex-Boyfriend' and 'If You Leave Me (I Will Hunt You Down And Kill You') that finding out 'The Truth About Love' has pissed him off somewhat and we are in for a bumpy ride. But the title track and first song on the album dispel any doubts that McCormack has produced a tuneless, bile ridden album informing us that love is all bad. The song starts like a Pulp single, complete with lush orchestral arrangement and ends like it was pulled off an imaginary Flaming Lips Greatest Hits collection. But it's not a twee love song; someone obviously has upset Mr. McCormack; "love is like poison, it goes straight to your heart and that's when the blackouts start" but at least McCormack has turned his heartbreak into a collection of melodic songs which are immediately accessible. The first three songs on the album are cut from a similar cloth, pure pop with mature, interesting lyrics and strong melodies. It's not until 'I'm Going To Execute Yr Ex-Boyfriend' that the mood changes, coming across like the Doors meeting the the Knack, it's a song that could have been cut any time within the last 40 odd years yet still sounds fresh. 'Hypnotist Of Lady (Part 1)' throws up another side of McCormack, although not as far removed from his pop leanings as Part 2 of the song which closes the album, it's a menacing, rockier McCormack we meet here totally at odds with the following 'Liquor Store' another stunning melody and another slice of gorgeous orchestral pop. It's a strikingly beautiful song, despite the song being about burning down the liquor store. With its slide guitar 'Lonely' captures a country mood, with McCormack sounding particularly world weary on lines like "I've been lonesome now for most of my life" and with Sarah McGregor adding some angelic vocals the song adds another facet to McCormack's repertoire. The following 'Up The Pass' carries on this melancholic feel. 'Goodbye From Tomorrow' which could be a love song to Marilyn Monroe, is a standout on the album. Just McCormack on acoustic guitar and organ and Wayne Connolly (who co-produced the album) on bass with just a touch of strings here and there, it's a touching love song of sorts; ending a relationship before it's really begun because "one day it will all go sour" anyway, there's not many songs that come to mind that take a similar stance. Heartbreaking, especially when McCormack double tracks his vocals at the end of the song. It's always a good sign when an artist who is new to you makes you want to check out their previous work and this is the effect that McCormack has had on me. Tracking down the Polaroids' first album and anything by Custard is next on my agenda. It just goes to show you should never judge a book (or CD) by it's cover. This is a much more varied and thoughtful album than its sleeve would suggest. 'The Truth About Love' is an outstanding release; it's full of surprises and throws more up with each repeated play.
Track Listing:-
1
The Truth About Love
2
Who Can It Be?
3
Woolloomooloo Sunset
4
I'm Going to Execute Yr Ex-Boyfriend
5
Who Could You Love?
6
Hypnotist of Lady (Part I)
7
Liquor Store
8
Lonely
9
Up the Pass
10
You Are Over Me
11
If You Leave Me (I Will Hunt You Down and Kill You)
12
Goodbye From Tomorrow
13
2.13 A.M.
14
Hypnotist of Lady (Part Ii)
Label Links:-
http://www.laughingoutlaw.com.au/
https://www.facebook.com/laughingoutlawrecordsandmanagement
https://laughingoutlaw.bandcamp.com/
Pennyblackmusic Regular Contributors
---